Love blintzes, but don't love the work of making the crepes? These simplified mini blintzes even look adorable and pretty on the plate.
The "modern-day (cheese) blintz" is there to simplify your hectic life. So, this year skip making the crepe/blintz skins and pull the wonton wrappers out.  Half the time, with all the heart and tradition left in the "blintz." Life simplified.
Additionally, the triangular shape of these blintzes gives them a fun, chic, edge. The welcoming flavor of citrus is refreshing, and the vanilla bean paste brings it home.   
When working with wonton wrappers be sure to always keep them moist, by covering them with a damp towel/ paper towel.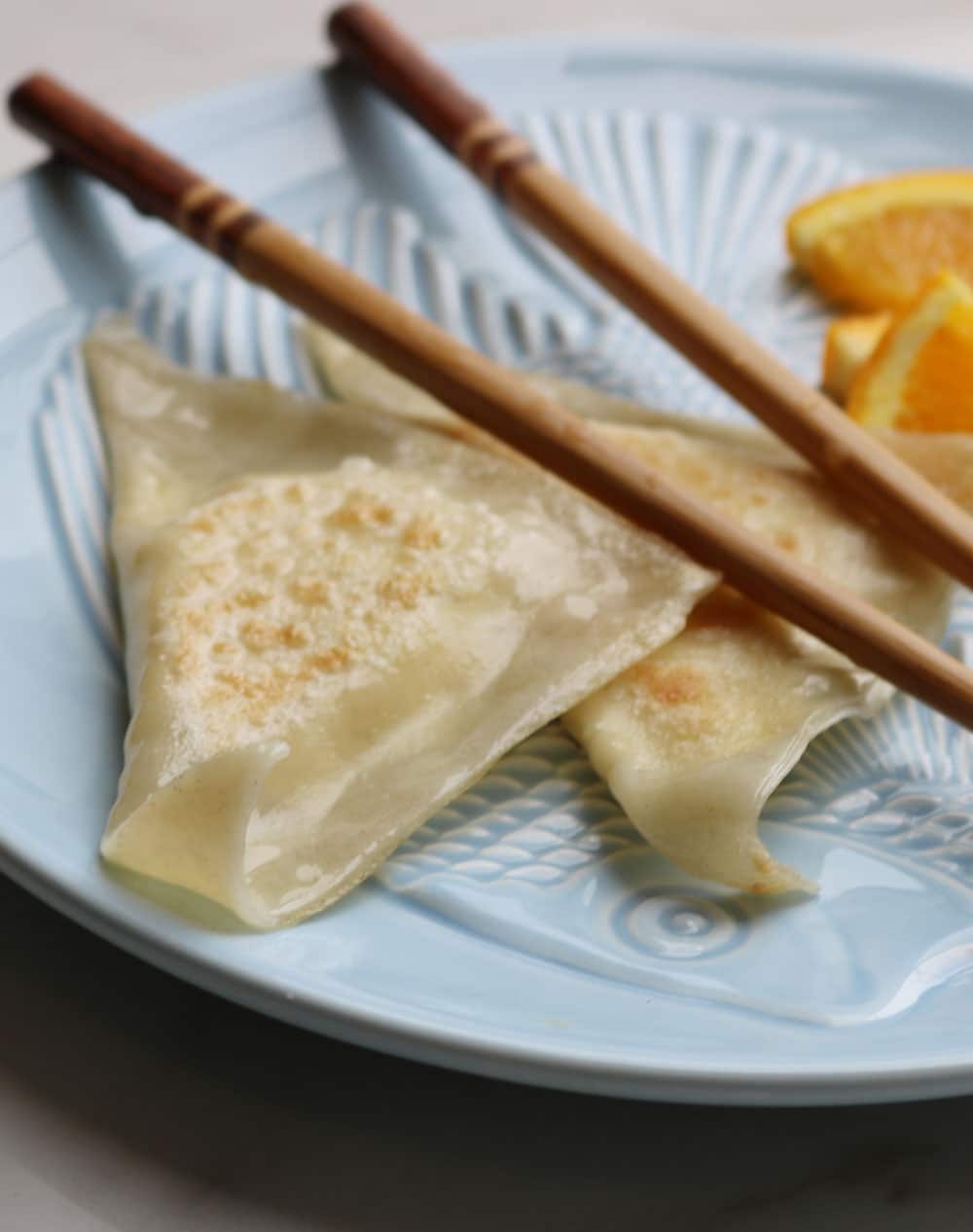 Modern Day Cheese Blintzes
Serves:
24 blintze triangles
Ingredients
Cheese mixture:
8 ounces whipped cream cheese
1 teaspoon orange zest
1 tablespoon freshly squeezed orange juice
1 teaspoon vanilla bean paste*** or vanilla extract
1 tablespoon sugar
Pinch of salt
Egg wash:
1 egg
1 tablespoon whole milk
1 package square wontons
Grapeseed or canola oil, for frying
Instructions
In a medium bowl, combine cream cheese, orange zest, freshly squeezed orange juice, vanilla bean paste, sugar, and salt. Using a hand mixer or a whisk, combine all ingredients.
Working with 5 or 6 wrappers at a time, spoon 1½ teaspoons of cheese mixture in the center of each wrapper. Lightly brush half the edges of each wonton with egg wash. Fold the wontons in half diagonally to form a triangle; pinch together the seams as you push air bubbles out.
Transfer prepared wontons to a parchment-lined baking sheet. Place in the refrigerator for 20 minutes (this is so they stay nice and tightly sealed).
Bring a wide pot filled halfway with water to a rapid boil. Place 5-6 wontons in the pot , depending on the width of the pot. Do not overcrowd the pot. When the wontons rise to the top, give them an additional minute to cook.
Heat a frying pan over medium-high heat. Add a tablespoon of oil to the hot pan. Using a slotted spoon, remove the wontons from the water. Drain excess water, to prevent oil from splattering, then place into the hot frying pan. Pan fry the wontons for 1-2 minute on each side, until golden.
Transfer to a serving plate. Feel free to garnish each plate with thin orange wedges.
Prep ahead: The raw blintzes can be frozen and boiled and pan-fried fresh before serving.
***Nielson Massey Madagascar Bourbon Vanilla Bean Paste is highly recommended. It has a CRC hechsher and can be purchased on Amazon