The quickest way to that classic pot of soup.
I asked the rest of the Between Carpools team: does this count as a recipe if I used those bags of minestrone soup mix?
And they said: Yes, of course!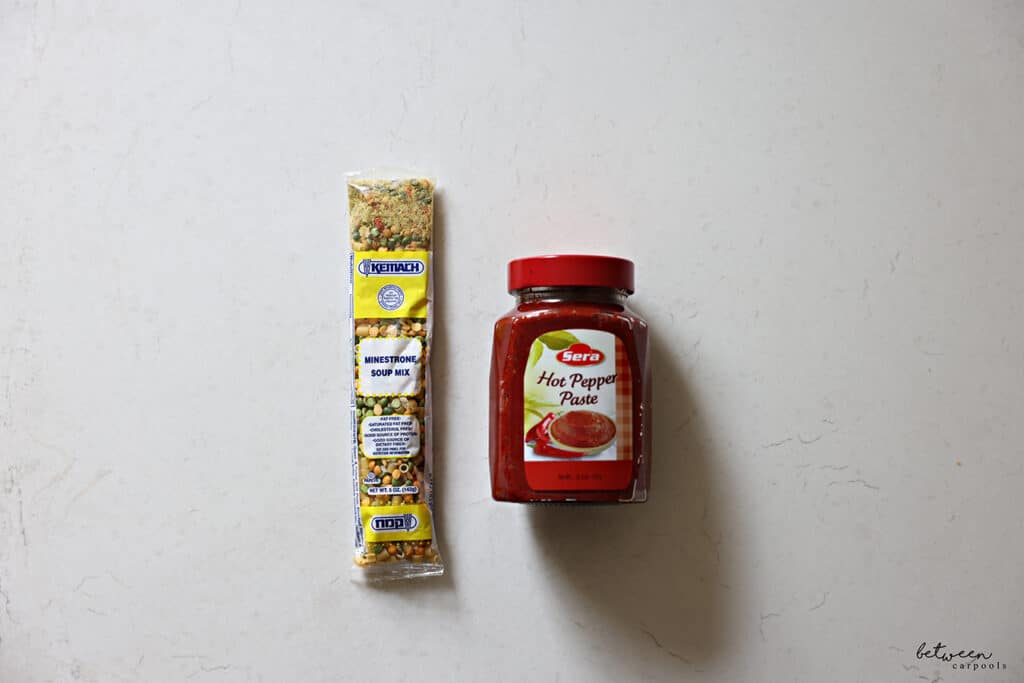 We're not always in the mood to both chop and measure ingredients (just a little bit is ok!) to have a great, chunky minestrone soup. I use hot pepper paste, for an added zing, but it really isn't necessary. I found it at a local Asian market with a Badatz Hechsher. Please make sure the one you buy does have a Hechsher.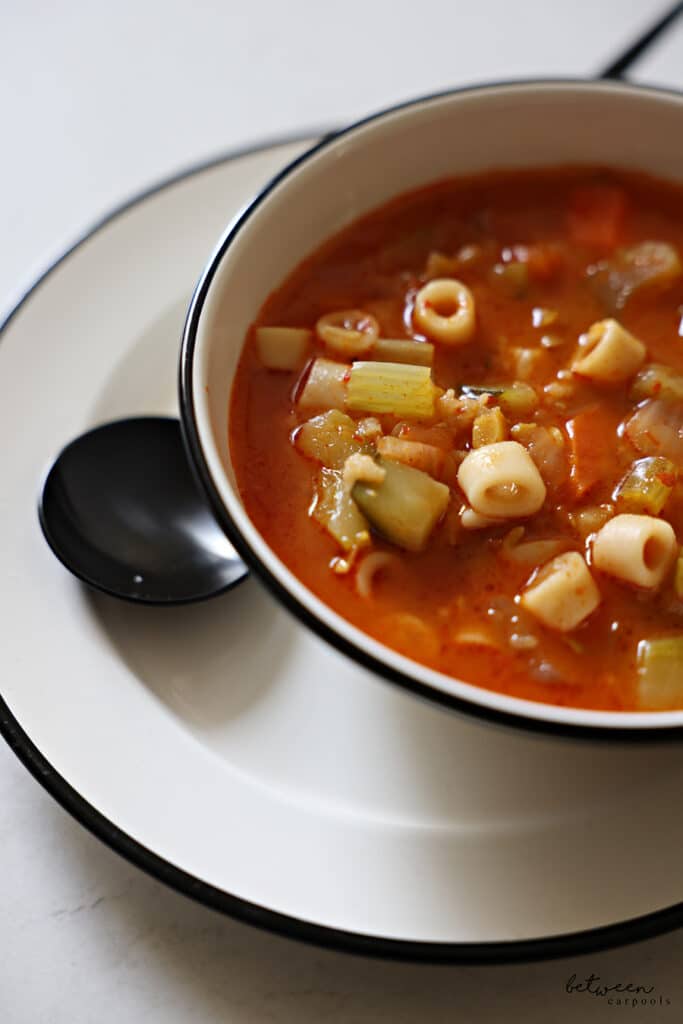 This one is so easy and so good. And you'll be in and out of the kitchen much quicker vs. the all-from-scratch version.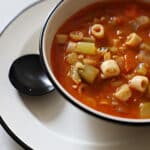 Print Recipe
Easy Minestrone Soup
Ingredients
1

tsp

oil 

1

medium onion,

diced 

1

large carrot,

diced 

1

medium zucchini,

diced 

2

celery stalks,

sliced

1

tomato,

diced 

1

tsp

salt,  

for sprinkling

pinch black pepper,

for sprinkling

3

tbsp

tomato paste

(or hot pepper paste, for an added zing) 

1

(5 to 6 ounce)

bag minestrone soup mix 
Instructions
Heat oil in a saucepan over medium heat. Add onion and saute until soft, 3-4 minutes. Add carrot, zucchini, and tomato. Season with salt and pepper and cook another 4 minutes.

Stir in tomato paste. Let cook another few minutes.

Add soup mix and about 6-8 cups water. Bring to a boil. Lower heat, cover pot mostly (leave it open a bit) and simmer for 1 hour. (No additional seasoning is necessary.)
FOR EXCLUSIVE CONTENT AND A PEEK BEHIND THE SCENES, MAKE SURE TO JOIN OUR WHATSAPP STATUS HERE. JOIN OUR WHATSAPP GROUP AND WE'LL LET YOU KNOW WHEN A NEW POST IS UP!