Gifting a cookbook this Chanukah? If you loved
Simply Gourmet,
then you'll love Rivky's next book:
Simply.
There are so many recipes you'll love!
If you missed the first post about Rivky Kleiman's new book, check it out here along with a recipe for Rivky's Sweet and Tangy Chicken (the perfect family-friendly dish!).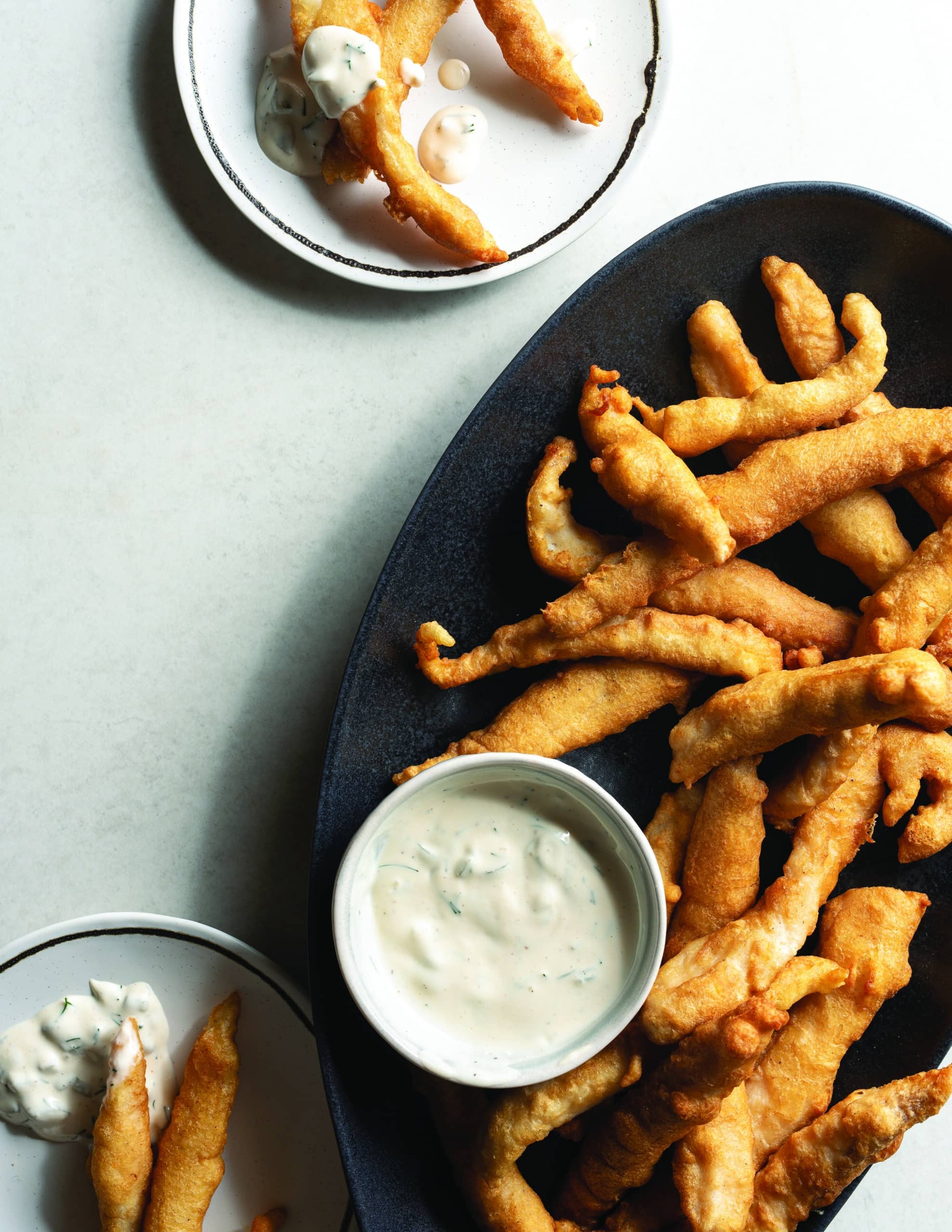 These Battered-Dipped Tilapia Strips are another fun family favorite and the dipping sauce combo is amazing.
Get Simply now at Artcroll.com here!
Or, Get Simply on Amazon here!

Batter-Dipped Tilapia
Need dinner in a pinch? This quick fish dish with its pillowy exterior and lemony tartar sauce will still taste delicious even the second time around.
Ingredients
1-1½ lb skinless tilapia fillets
½ cup flour
½ cup cornstarch
1 tsp baking powder
1 tsp baking soda
1 tsp garlic powder
½ tsp sea salt
½ tsp coarsely ground black pepper
¼ tsp cayenne pepper
1 egg
⅔ cup cold beer
oil, for frying
Tartar Sauce
½ cup mayonnaise
1 Tbsp lemon juice
2 Tbsp chopped capers or chopped dill pickles
1 Tbsp fresh dill or 1 tsp dried dill
½ tsp Dijon mustard
kosher salt, to taste
black pepper, to taste
Instructions
Prepare the tartar sauce: Combine tartar sauce ingredients in a small bowl. Whisk well. Set aside.
Prepare the fish: In a large bowl, whisk together all dry ingredients. Add egg and beer; whisk until combined. Set aside.
Add 2 inches of oil to a small saucepan. Heat over medium-high heat until oil reaches 350°F. Lower heat to medium to maintain temperature at 350°F.
Meanwhile, cut fish into strips or nuggets; add to prepared batter. Stir to completely coat fish pieces.
Place a few batter-dipped pieces of fish into the hot oil; do not crowd pan. Fry until lightly golden, about 30-60 seconds per side. Transfer to a paper towel-lined cooling rack to drain. Continue with remaining fish.
Serve alongside tartar sauce.
Variation: Tilapia can be substituted with turbot, fluke, or flounder.
FOR EXCLUSIVE CONTENT AND A PEEK BEHIND THE SCENES, MAKE SURE TO JOIN OUR WHATSAPP STATUS HERE.