You know those starters that simply make the whole table look beautiful? This one is that starter. It's festive, easy to prep, and totally delicious too. 
We were really smitten by this salad by this salad by Elky Friedman…yes, it's gorgeous and the perfect starter for Rosh Hashanah. And, like most recipes we try to bring you on Between Carpools, it's easy. But the best reason why you should make this salad is what happened after these photos were taken…when it was eaten up very quickly and completely for our lunch. -BCP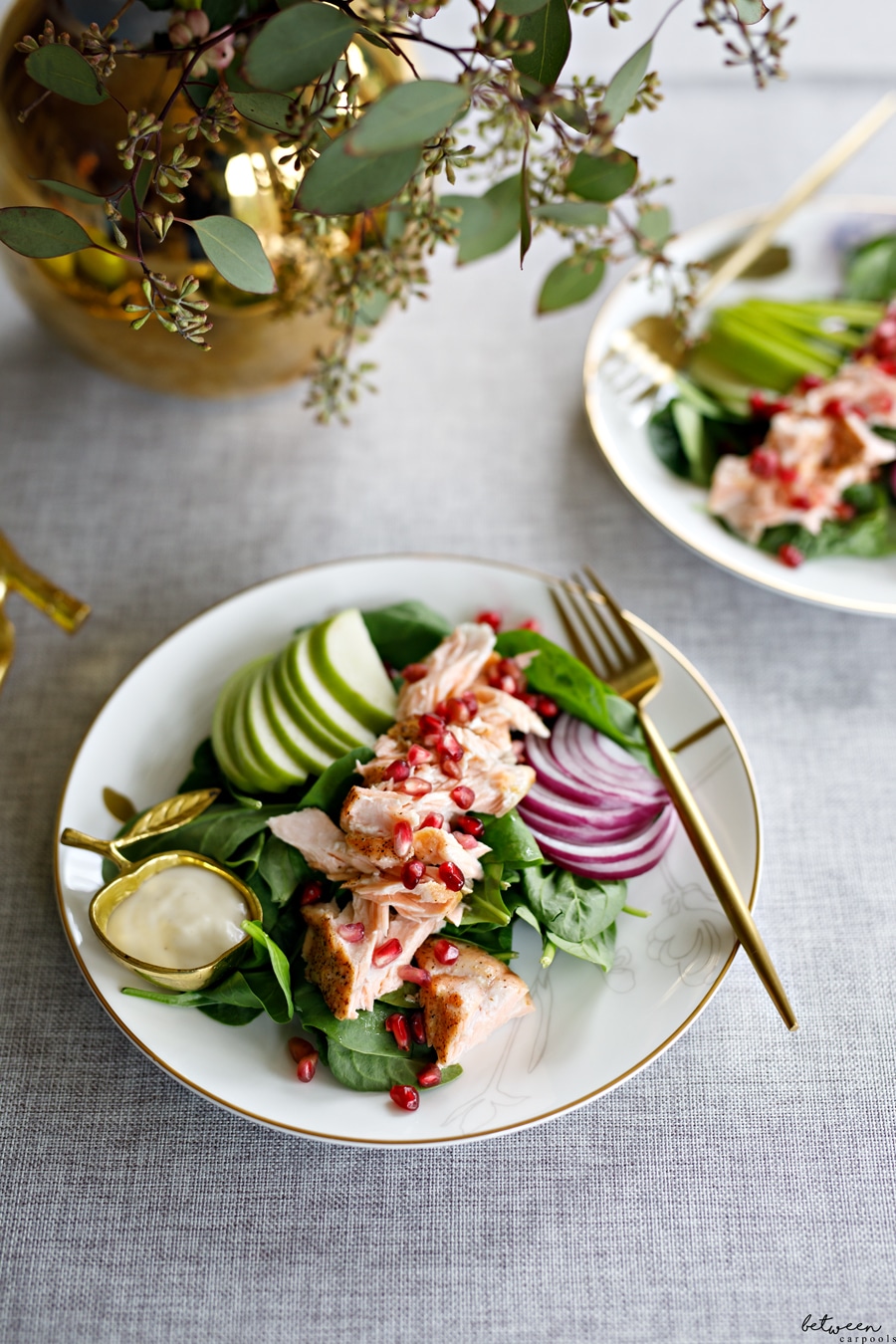 Apple, Pomegranate, and Salmon Salad
Ingredients
Salmon:
1 lb salmon, skin removed
salt
pepper
2 tbsp olive oil
2 tbsp lemon juice
1  garlic clove
Salad:
12 ounces Romaine lettuce (or 1 ½  heads)
2 green apples, sliced
1 medium red onion, thinly sliced
¾  cup pomegranate arils
Dressing:
½ cup light mayonnaise
2 tbsp olive oil
2 tbsp vinegar
2 tsp sugar
3 tbsp champagne
½ tsp salt
dash of pepper
Instructions
Preheat the oven to 350F
Season the salmon with salt and pepper. Then whisk together the olive oil, lemon juice and garlic. Pour over salmon. Place the salmon in oven for 15-20 minutes. Let cool.
Once fish is cooled, flake it with a fork and set aside.
In a large Salad bowl, combine the lettuce, green apples, red onion, and pomegranate arils.
Top with flaked salmon pieces
In a container combine the mayonnaise, olive oil, vinegar, sugar, champagne, salt and pepper.
Pour over salad. Toss to serve.
Yields: 8-10 servings