Want to know what the Between Carpools girls use often and love the most? This is the ultimate kitchen list.
All of us have our favorite kitchen stuff. The items that don't owe us any money. The ones we'd buy again in a heartbeat. These are them. The all-year-round favorites that we find invaluable.
And while this list will definitely be useful for those of you who are stocking up a kitchen for Pesach, you're likely going to want to keep your new kitchen acquisitions for all year (or get another).
Sure, you can make Pesach with one pot, one mixing spoon, and one knife (of course, that depends on which pot and knife it is!)…but it's nice to build up your kitchen supply a little every year so that you're fully equipped by the time you're hosting for Yom Tov.
So…want to hear about our besties in the kitchen? Read on…
Cookware
When I got married, I received numerous sets of pots and pans as gifts. My mother said, "Return 'em all. With the credit, you'll get a set of All-Clad." They may be pricey but All-Clad is worth it. You'll have them forever and ever. Add new pots to your set when you spot them on sale. -Victoria
Need a good quality set of pots on a budget? I find that Farberware is consistently reliable and offers great dollar-for-dollar value, especially when they'll be used only once per year, such as on Pesach. -Victoria
This is my favorite frying/griddle pan. I use it daily to scramble or fry eggs, or warm up blintzes and pancakes. I find it fits a lot and is easy to handle. -Renee
The first Pesach we stayed home, I got this Swiss Diamond Non-stick frying pan as a gift from a friend/client and we literally survived the Yom Tov with this one pan, a knife and a grater. Two years later, the pan is still good as new and I don't know if I can afford the entire set, but it's definitely a favorite. My go-to frying pan for all year round, though, is the Calphalon non-stick set. You can find it here though lately I have been seeing them at Costco. -Shaindy
Bakeware
To me, Pyrex Grab and Go Bakeware is simply too good to be true. Bake in them. Serve in them. Store in them. Rewarm in them. The only thing I don't like is that plastic covers aren't oven-safe, so I do need to replace them with foil when rewarming. -Victoria
Pre-cut parchment paper—It's cheaper than on a roll and more convenient. -Shaindy
Good quality baking sheets make all of the difference when baking. Whether you are preparing meringues, cookies or roll cakes, you need at least 3 pans at all times. The disposable kind are just not the same. -Renee
Disposable Counter Liners. These are the best! No mess, simply line the counter, wrap and dispose. I don't start cooking/baking without these. My mother has been using these for as far back as I can remember. She had the plastic company custom cut them for her and she stored them in bulk. Although I cannot find them in bulk these days, you can order them here in packs of 15. – Shaindy
Gadgets
This is the only pizza cutter you'll ever need. -Leah
The only peelers you should own are simple Swiss ones. And my suggestion is to own as many as possible. -Leah
Every chef will tell you that a good knife is all you need in your kitchen. What they forget to mention is that you need a good sharpened knife. I recently learned how to properly sharpen a knife (YouTube tutorial, where else?) and I've been doing so a few times a week. All you need is a Rod Knife Sharpening Steel (read: inexpensive) It is a two-minute habit that will improve your chopping skills tremendously. -Renee
I call these knives made by Victorinox "Jewish knives" because they're sold in many local stores and though they come in many colors, many of us tend to buy them in red, blue, and green for meat, dairy, and pareve uses. They're pretty inexpensive, but I find that they're unbeatable for everyday uses when you need a paring knife. Keep a few in your drawer. Icel makes a similar product that's also good. -Victoria
OXO plastic measuring cups are brilliant. You can view the measurements from on top and the sides. If you get one measuring cup it should be this one. -Leah
I don't like peeling garlic. I don't use frozen garlic cubes either. I find it much easier to buy the cloves already peeled and use a heavy press such as this one for easy minced garlic (thank you Leah!) -Victoria
I find countertop mandoline contraptions to be a little scary. I love my little handheld ceramic mandoline. It's easy to store in the back of the drawer, it's light, and couldn't be easier to use. -Victoria
There is a little dance everyone does with the hotplate, moving food up and down so that nothing gets too cooked/burnt. The solution to that is to use some cookie racks. It keeps the food off the hot plate so it doesn't sit directly on it but still keeps the food warm. I like to put a rack over half the hotplate so that the soup sits directly over the hotplate while the kugels and chicken sit on the rack. -Leah
I recommend a few of these for storing different oils during Pesach (buy the oil in bulk). Speaking of crepes, this is my favorite crepe pan. Yes I know, I have expensive taste in pots 🙂 but, you will thank me. -Renee
My friends make fun of my ice cream scooper collection. Sigh. They just don't understand how different ¼ inch in diameter can be! You need to understand that I use ice cream scoopers primarily to scoop up cookie dough. Chocolate chip cookies need to be gooey and huge so I use the medium scoop. Almond chews need to be dainty and perfect so go with the small. The big one is good for regular ice cream scooping. This is just the beginning. There are more sizes, but I will leave that for another day. And yes, I love these Zeroll scoops, they offer great long-lasting quality. -Renee
This is most probably my favorite gadget of all time. Prepare a mousse, ice cream or layered dessert in a boring 9- x 13-inch pan and watch it become fabulous and pretty with this ingenious scoop and stack by Cuisipro -Renee
I love these Dual-Sided Magnetic Measuring Spoons. Having a double set of measuring spoons—one for wet ingredients and one for dry—is all well and good, but who really wants to have to store two separate sets? These handy measuring spoons not only solve the wet/dry issue but also nest perfectly and stay together with magnetic handles. They are seriously genius! – Shaindy
I don't have a particular brand that I like, but I like using plastic bendable cutting boards for meat and chicken. -Leah
Storage
I'm adamant that all the storage containers in my fridge be the same type, this way they stack uniformly. I use these Ziploc Twist n' Lock containers for dairy/pareve things in small quantities. For larger quantities, I use the ones I stocked up on in the fall, as described in this post. -Victoria
OXO pop containers are the cure for your pantry! They are strong, beautiful, and stack wonderfully. I don't think you need to own too many. Buy them to fit your confectioners' sugar, brown sugar, and cocoa in this size. And cereals/flours and sugar in the larger one. I like to buy 4 cereal containers and only have 4 flavors available at a time. You can use a few of the smaller ones to keep Splenda packets, cholent beans, and other little things that look messy when they're on their own. Pasta containers aren't necessary. How often do you cook only part of a box? -Leah
Mason jars! So many uses, in the fridge, in the pantry, in the oven…at home or on the go. I recommend owning a dozen in every size. -Victoria
We all know that every respectable Jewish home needs that iconic cake on the kitchen counter come Friday morning (I hope you are getting my humor here). But, where do we store said cake? In this fabulous cake holder by Guzzini of course! I own one for Pesach as well since it is so versatile and kid-friendly (light enough for a toddler to lift and not break). Happens to be it makes for a great gift as well. -Renee
Ever wondered how to store/display toothpicks in a fashionable way? Here is your answer. How cool is that? Pretty enough to bring to the table. -Renee
Lazy Susans are great for storing things in narrow cabinets. And wooden lazy Susans make it look that much prettier. I like to keep basic spices and salts at the first cabinet over the stove so that it's easy to grab them while cooking – Leah
Tabletop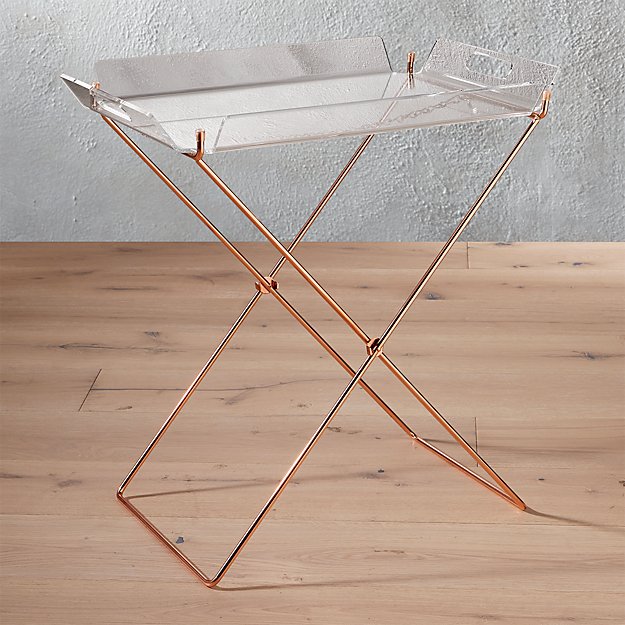 This is more next-to-the-table than table-top, but I love my acrylic tray table from CB2.com. Usually, the person who sits at the head of the Shabbat table has fewer things in reach (unlike those of us who sit in the middle). I put this table on my husband's side and put personal dishes of his favorite dips and salads, truffle salt, an ice bucket, etc. so that all those little things are still in reach even when the main dishes are on the table. -Victoria
Sure, many salads and dips are homemade, but we all like our store-bought versions too. I like to take some out to add variety, color, and an endless array of choice to the table…though there's lots more stuff to put away at the end of the meal too. From the first moment I saw them, I thought The Decorizers were a genius idea. Less work, less dirty dishes. -Victoria
Appliances
Pesach means many cakes that start with a snow. Nothing works as well as a Kitchen Aid standing mixer for a beautiful snow. I bought mine last year (on a Kollel Budget sale) and now I have one for Pesach as well. It is a splurge, but one that actually makes so much sense. Also, invest in an extra bowl or two. And a spare whisk, of course. (Links not included because each Kitchen Aid version has its own specific bowl; don't want to confuse you.) -Renee
Of all the small appliances I own, there are two that I use on a constant base (not including the coffee machine). One is my panini press/sandwich maker. I've used this one for the last 6 years, but I've beaten it up plenty (taking it on every vacation will do that) and it's due to be replaced. Though Big Boss will always have a special place in my kitchen memories, I'll likely go with the Cuisinart next for its durability. -Victoria
The other small appliance I pull out almost daily is my Ninja. If you're not going to spring for a Vitamix, or don't blend often enough to warrant one, this is the next best at a much lower cost. If you already have a food processor or don't need separate jars for meat and dairy, you can also go with this version. -Victoria
I find investing in a good citrus juicer is key, for many reasons: a) we use lots of lemon juice over Pesach (mayonnaise, salads, cakes…) I like to juice many at a time and store them in mason jars b) my kids really like this job! I give them a crate of oranges and they are busy for an hour preparing juice for everyone. Use these plastic bottles (no toiveling necessary and good for on-the-go) to store the prepared juice. -Renee
Everyone will tell you that to make a good kugel you need a good recipe. But honestly, 90 percent of a good potato kugel starts with the food processor you use (or grater). This Braun food processor comes with what everyone calls the "kugel blade" and bonus an electric lemon squeezer. Read more kugel tips here and here. -Leah
Make a lot of "lukshen" for Pesach? Then you definitely want to own an electric griddle. Multiply your favorite recipe by 4 and you'll have a mountain of lukshen in no time. Just cover the whole griddle with batter—no need for little circles. When you have a stack, roll 'em up and slice into strips. -Esti
Immersion blenders should be considered a necessity. If you make a lot of soup, you'll want to have for both meat and dairy—and even parve if you like to keep your options open. It definitely helps to have one for Pesach, too. I've been using a similar version of this Braun model (the chopper is very useful for small sauces or dips like pesto) since I got married, but there are more inexpensive options like this one that should work well for the less frequent use on Pesach.-Esti
I'm personally not into gadgets and I don't mind peeling vegetables by hand, but this Electric Potato (vegetable/fruit peeler) is a must if you want to get your kids involved and have one less job to do. It keeps my kids busy for hours and really ends up being a help… and with all those potatoes and apples to peel, that's one thing we can never have enough of! -Shaindy
I've tried many slow cookers and this one by Cuisinart is my favorite by far. I can't even explain why, but I get perfect results every time I use this and it's not just me, my entire extended family will vouch for this. If you're looking for a new one, try this. -Shaindy