Creamy and just yummy and so comforting…no one gets tired of THESE scalloped potatoes.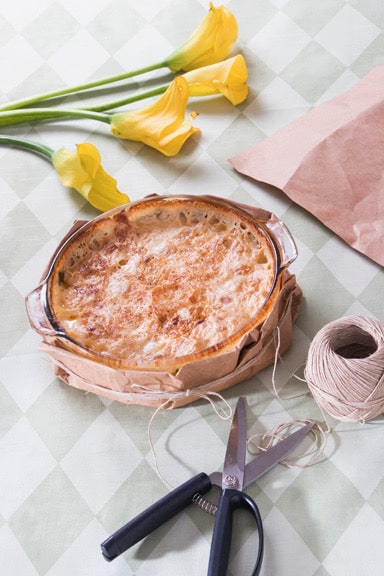 This is fabulous served the same day you make it (it can be made the night before and rewarmed, but do not freeze). It's creamy and a real favorite all year round and on Pesach. And though I first created this recipe years ago, last year, Victoria mentioned to me, "I want to make Scalloped Potatoes for Pesach. There was one recipe that my family loved that I used to make every year, but now I can't find it." It turns out, mine was the same version she had tried. I was able to supply the recipe and now you can all enjoy it too.

Scalloped Potatoes
Ingredients
9-10 large potatoes
2 large onions
6 Tbsp oil
5 Tbsp flour or potato starch
½ cup mayonnaise
3½ cup chicken stock
½ tsp salt
- pepper and paprika
Instructions
Preheat oven to 350ºF.
Saute onions in oil for 7-8 minutes until clear and soft. Add the flour/potato starch, stirring well. Add the mayonnaise and chicken stock. Let cook 2-3 minutes until sauce thickens. Set aside.
Peel and slice the potatoes into ¼-inch thick slices.
Pour 3-4 ladles of sauce on the bottom of a 9- x 13-inch pan. Spread a layer of potatoes going clockwise around the pan. Spread sauce over the potatoes. Add another layer of potatoes and end with sauce on top. Sprinkle top with salt, pepper and paprika (sauce, potatoes, sauce, potatoes, sauce). If you use a Pyrex or any taller dish, you can have 3 layers of potatoes and 4 layers of sauce.
Bake for about 1½ hours.