Go ahead, choose a fruit, any fruit. I choose plums. Then make this long time favorite. In minutes.
It was always there when I was growing up. And you'll still always find it on my mother's menu during the late summer and early fall: plum pies. Sometimes, she makes doughier or cake-like versions, with plums sinking into the batter. The first version I ever published, back when I was writing for Mishpacha, was a blueberry-and-plum tart with both fruits in a batter.
A few years later, when I was writing my cookbook, Fresh and Easy, I tried to track down the source of my mother's recipe. I couldn't find it so I decided not to include it in my book.
Some time in 2012, one day out of nowhere, I came across a recipe in the New York Times.  Plum tortes. It seemed so familiar. Almost identical to the recipe my mother used (My mother always made hers with less plums and some blueberries). And there I discovered how much everyone else loved this torte, not just in my family.
Fast forward to 2017.
Today, this is the quickest recipe I could pull together for unexpected guests. The batter comes together quickly with a spoon and a bowl. And I pull out any fruits, whether they're fresh fruits in season, frozen or canned. It's a great dessert to end a Shabbos meal. This time of year, I rotate between making this and this other plum galette.
I've made this in a Pyrex baking pan, in individual ramekins (½ plum per ramekin) and in tart pans (the prettiest way by far, as shown).
I thought it was time to share it with Between Carpools readers. After all, BCP is all about us busy women. What's better to share than a recipe that has been made again and again over a time span of 30 years and is still loved by all?
So I made a few plum tortes and brought them over to Esti Waldman to shoot. Then I got ready to write this post with all my tricks, tips, and adaptations.
And the New York Times beat me again. When finding the link to post, I noticed that last year, they added a link on the bottom listing the adaptations people have made to the recipe over the years. Including all of my adaptations!
It just goes to show…this classic basic recipe is worth adding to your repertoire.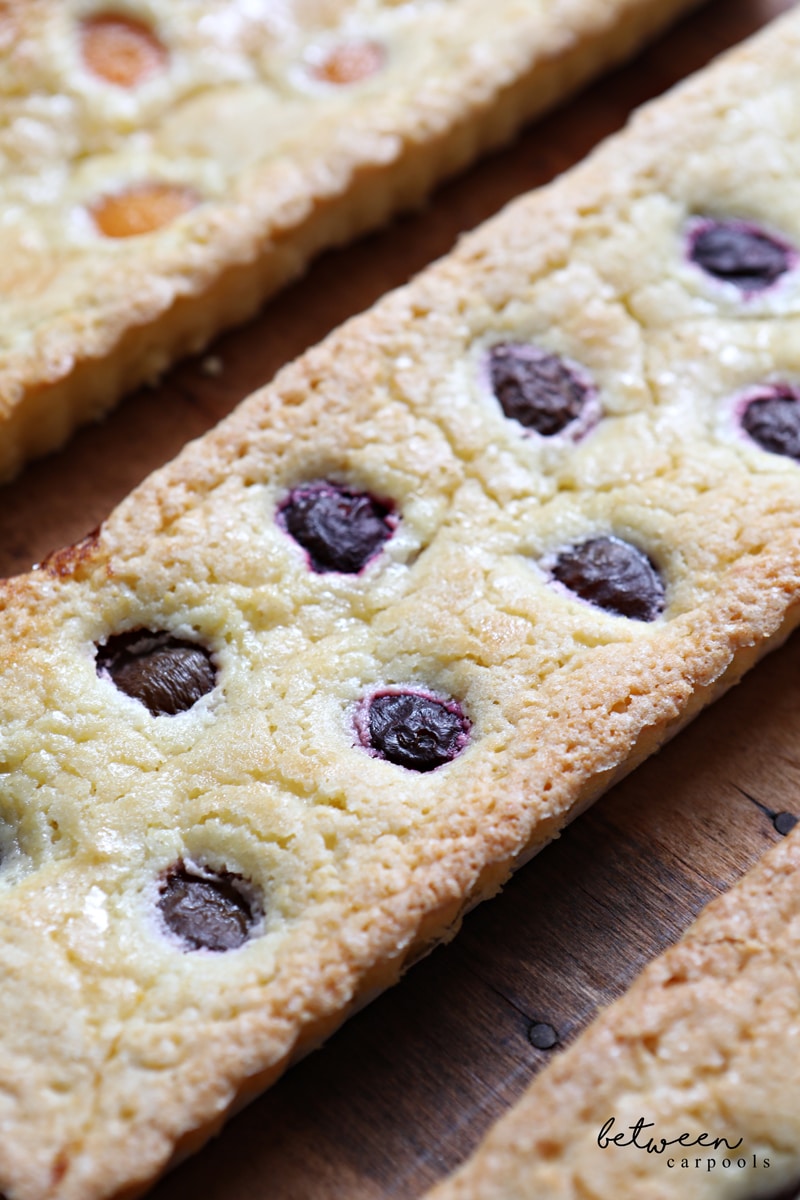 To make this recipe in a tart pan as shown in the photo, use a 14 inch x 5 inch tart pan with a removable bottom. Spray the tart pan well in the corners and a little on the bottom. Line bottom with some parchment paper so that it's easy to transfer onto a serving plate.
Plum Torte
For the original New York Times Recipe, click here.
My adaptations: I add about 1 tablespoon flour to the batter so that the fruit doesn't sink so much and it looks prettier. I'm also stingier with the baking powder for the same reason. The NY says to put cinnamon, but we're not fans so we skip that. Hungarian plums are in season right now.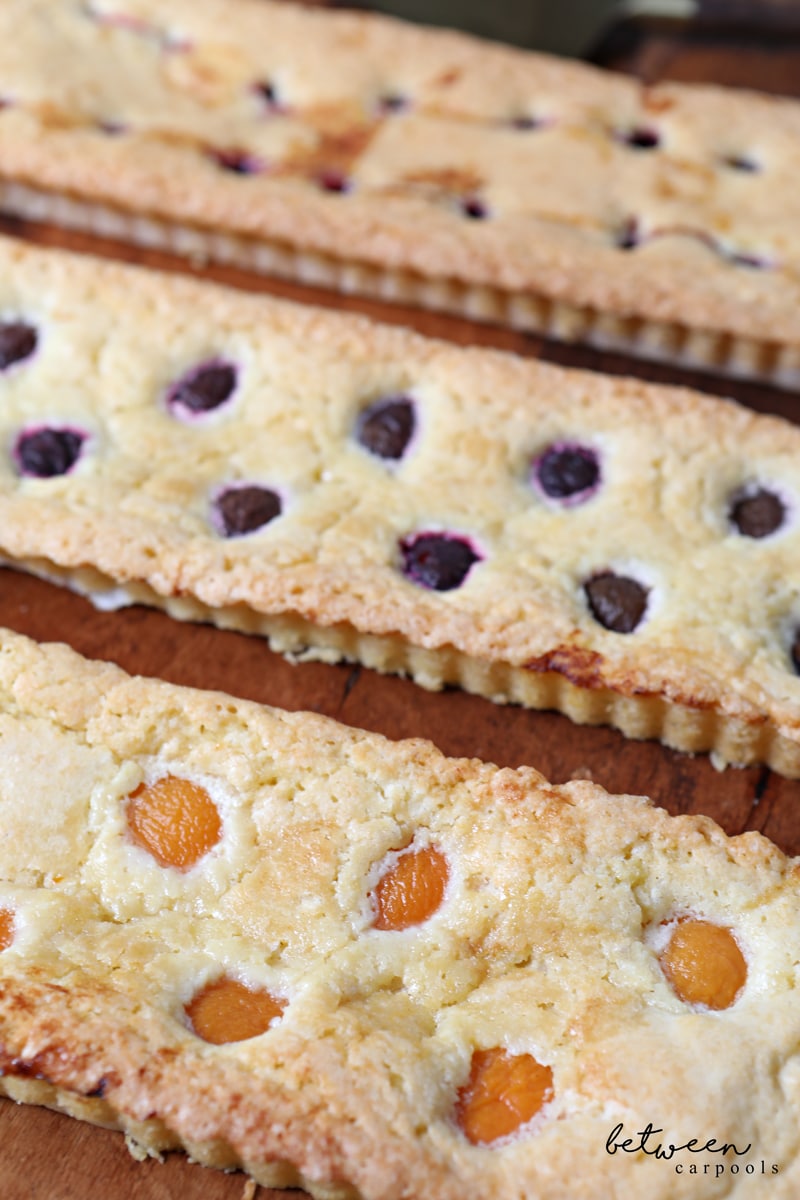 Plum Torte
Ingredients
1 cup sugar
1 stick margarine (½ cup), softened
1 cup flour (plus 1 tablespoon)
1 scant teaspoon baking powder
2 eggs
Fruit of your choice, such as canned apricots, fresh plums, or frozen cherries, cut in half or pitted.
Sugar and lemon juice
Instructions
Preheat oven to 350ºF. Prepare a tart pan by spraying well in the corners and a little on the bottom. Line bottom with some parchment paper so that it's easy to transfer onto a serving plate.
In a bowl, combine sugar, margarine, flour, baking powder, and eggs. Using a spoon, mix it until combined. To make a few at a time, I prepare multiple bowls, and add to each bowl, one cup sugar, then one cup flour…
Place batter into a tart pan. The batter will look scant, but it rises over the fruit as it bakes.
If using frozen fruit, defrost fully. If using canned, dry them slightly, so that they aren't very wet. Line up fruits over the batter. Sprinkle fruits with sugar and drizzle with a little lemon juice.
Bake for 45-55 minutes. Remove and cool; refrigerate or freeze. You can serve it at room temperature or rewarm it briefly.
Tortes shown in photo, from left to right: Canned apricots, Plums (use the small variety during Fall, such as Hungarian/Italian), Frozen cherries