We asked Susie what her family loves and what her fans love…and discovered one more little culinary secret.
Everyone has a "favorite Susie Fishbein recipe." But with 2600 recipes to choose from throughout 9 books, do we have lots of favorites in common? Or better yet, do we share favorites with the Fishbein family themselves? We called Susie to find out.
BCP: What is your family's favorite recipe?
Susie: There's too many to list but here are some standouts: Sesame Noodles, Wonton-Wrapped Chicken, Cauliflower Popcorn, Sweet Potato Soup with Maple Roasted Pecans, Pretzel Crusted Lamb Chops, Yemenite Beef Soup, Pesto Salmon, Silan Bosch Challah, and Warm Runny Chocolate Soufflés.
Wonton-Wrapped Chicken with apricot dipping sauce
Reproduced from Kosher by Design by Susie Fishbein with permission from the copyright holders ArtScroll/Mesorah Publications, LTD.
 I know another product on the market has already coined the phrase "Bet you can't eat just one." But even someone who could stick with a single potato chip could not stop at just one of these outstanding appetizers.
Wonton wrappers are available at most supermarkets. They are usually kept with the produce, near the Asian vegetables. The ones called for in this recipe are the smaller 3 1/2-inch square ones. The larger wonton wrappers are really for egg rolls.

Wonton-Wrapped Chicken
Ingredients
Marinated Chicken:
3 teaspoons brown sugar
2 teaspoons salt
4 cloves garlic, minced
4 teaspoons dry sherry
2 teaspoons cornstarch
6 tablespoons vegetable oil
1 teaspoon soy sauce
1 pound boneless, skinless chicken breasts (about 3 cutlets), cut into approximately 32 (1-inch) squares
Wrappers:
1 (12-ounce) package wonton wrappers
2 cups peanut oil
Apricot Dipping Sauce:
12 ounces apricot preserves
4 teaspoons yellow mustard
4 tablespoons teriyaki sauce
Instructions
Marinated Chicken:
In a small bowl combine the brown sugar, salt, garlic, sherry, cornstarch, vegetable oil, and soy sauce. Mix the chicken squares with the marinade; cover and refrigerate for 8 hours or overnight.
Wrappers:
Lay the won ton wrappers in a single layer. Place 1 square of the marinated chicken in the center of the won ton wrapper. Dab a small amount of marinade on each of the corners. Fold the wonton over the chicken by bringing each of the corners to the center of the square, overlapping slightly, like a squared envelope.
Heat the peanut oil in a large skillet until hot. Cook the wonton wrapped chicken for about 2 minutes per side, turning once.
Apricot Dipping Sauce:
In a small bowl, blend the apricot preserves, mustard, and teriyaki sauce. Serve 4 wontons on each plate with the dipping sauce in the center.
Yield: 8 servings
Notes
Note: Won tons may be fully prepared and frozen flat in a single layer and then put in plastic baggies for storage. To reheat, bake at 475 degrees for 10 minutes.
BCP: Which recipe do you think is the most popular from all your cookbooks?
Susie: Amongst Conservative Jews, Tri-Color Gefilte Fish; amongst Orthodox, Cauliflower Popcorn.
Cauliflower Popcorn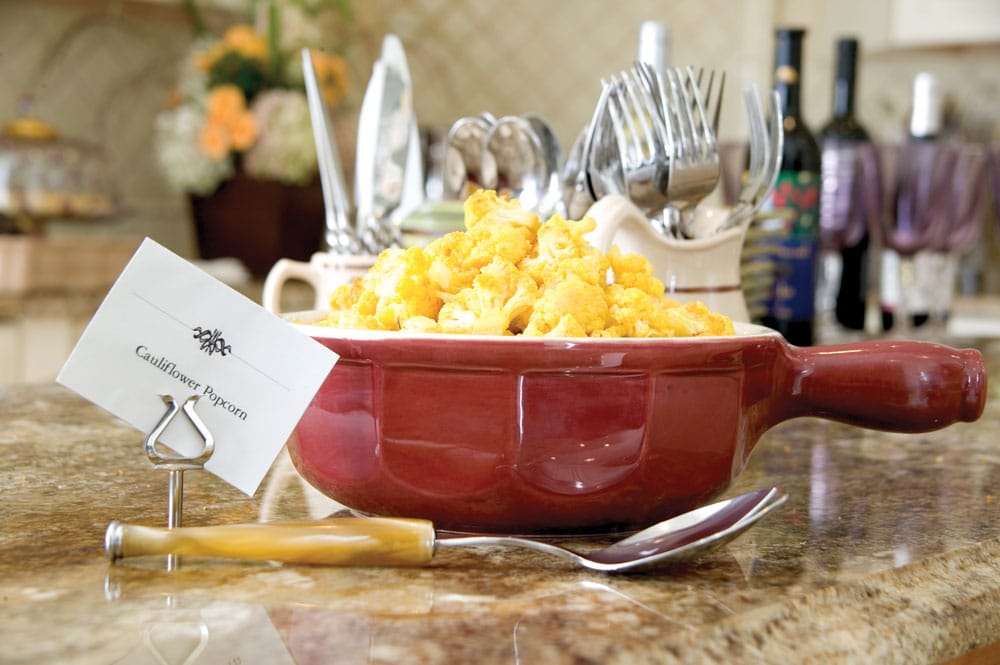 Reproduced from Kosher by Design Entertains by Susie Fishbein with permission from the copyright holders ArtScroll/Mesorah Publications, LTD.
You will pop these gorgeous golden carb-friendly treats into your mouth like popcorn. The simple high-heat roasting method brings out the natural sugars of the vegetable, and the spice combination works great in both flavor and color. Don't cut florets too small because they shrink while cooking.

Cauliflower Popcorn
Ingredients
2 heads cauliflower, cut into medium-sized florets, stems discarded
1 teaspoon fine sea salt
2 teaspoons sugar
1?4 teaspoon onion powder
1?4 teaspoon garlic powder
1?2 teaspoon paprika
1?4-1?2 teaspoon turmeric
6-8 tablespoon olive oil
Instructions
Preheat oven to 450?F.
Line a jelly-roll pan or baking sheet with parchment paper.
In a large bowl, combine the salt, sugar, onion powder, garlic powder, paprika, turmeric, and oil. Add cauliflower florets and toss to evenly coat.
Place in a single layer on the prepared sheet.
Roast, uncovered, for 30-35 minutes, until the largest pieces can be pierced with a fork. If the tops begin to become too brown, toss the cauliflower during the baking process.
BCP: Is there a dish you make that's not really a recipe but you make all the time? Something that your family loves but you couldn't put in a cookbook because it's either embarrassingly simple and/or uses ready-made or store-bought ingredients?
Susie: Showtime Chicken. I use my Showtime Rotisserie Grill and Paul Pudhommes Barbecue Magic Spice for an amazing rotisserie chicken.
Yemenite Beef  Soup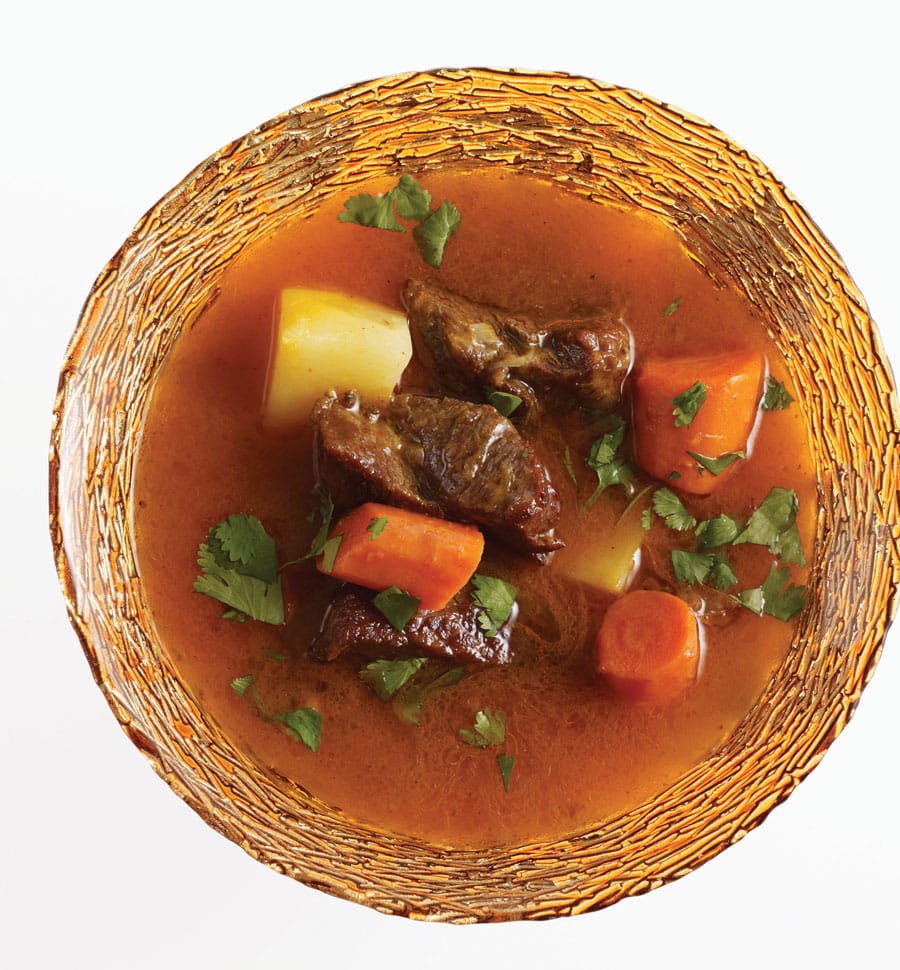 Reproduced from Kosher by Design Cooking Coach by Susie Fishbein with permission from the copyright holders ArtScroll/Mesorah Publications, LTD.
Hawaij is a flavorful Middle Eastern spice mixture. It is delicious but not fiery; a basic version contains cumin, cardamom, turmeric, coriander, and black pepper. You can buy it at any well-stocked kosher supermarket or on the internet.
If you have the time, refrigerate the soup overnight. Before you reheat the soup, remove the solidified layer of fat from the top.

Yemenite Beef Soup
Ingredients
3 tablespoons canola oil
2 pounds beef marrow bones
1½ pounds cubed shell roast or beef stew meat
1 onion, peeled, cut into ½-inch dice
6 cloves fresh garlic, sliced
2 teaspoons hawaij Yemenite spice mixture
¼ cup tomato paste (from a small can)
3 carrots, peeled, cut into thick rounds
6 cups chicken stock
2 large or 3 small russet potatoes, peeled, cut into large chunks
chopped fresh cilantro for garnish
Instructions
Heat the oil in a large soup pot, over medium heat. Add the beef marrow bones. Stir, cover, and cook for 5 minutes. Add the beef cubes, cover, cook for 10 minutes longer, until there is some brown coloring on both the bones and the meat.
Uncover the pot and add the onion and garlic; cook for 5 minutes. Sprinkle in the hawaij. Stir and cook for 3 minutes. Stir in the tomato paste, coating the meat and bones. Cook for 3-4 minutes to deepen the tomato flavor. Add the carrots and stock. Cover the pot. Turn the heat to low and cook, simmering for 1 hour. Skim off any foam or fat.
Add the potatoes. Cover and cook for an additional hour.
Discard the bones. Ladle soup into bowls. Garnish with chopped cilantro.