Panna cotta only looks fancy but it's really simple to make.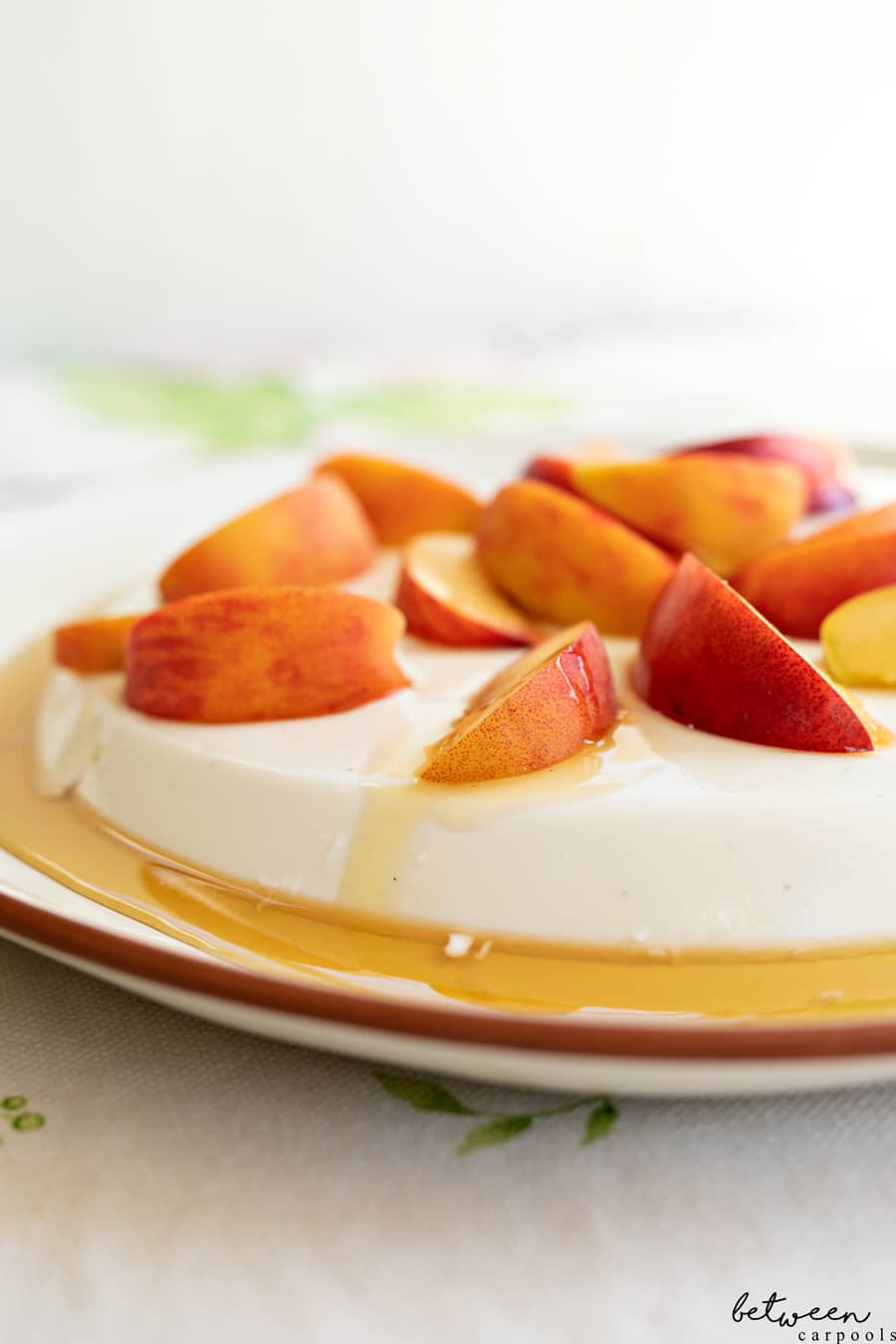 This Shavuos, this panna cotta — a creamy, dreamy custard-like pudding —  is taking cheesecake's place. It's doused in maple syrup and piled high with peak season fruit. Every creamy spoonful is perfectly sweet and refreshing!
Panna Cotta looks and tastes fancy but is incredibly quick and easy to make, and if it takes you more than five minutes to put together, you're taking too long! You can have my word that its super easy to make cause otherwise I would not have had the liberty to share it with you!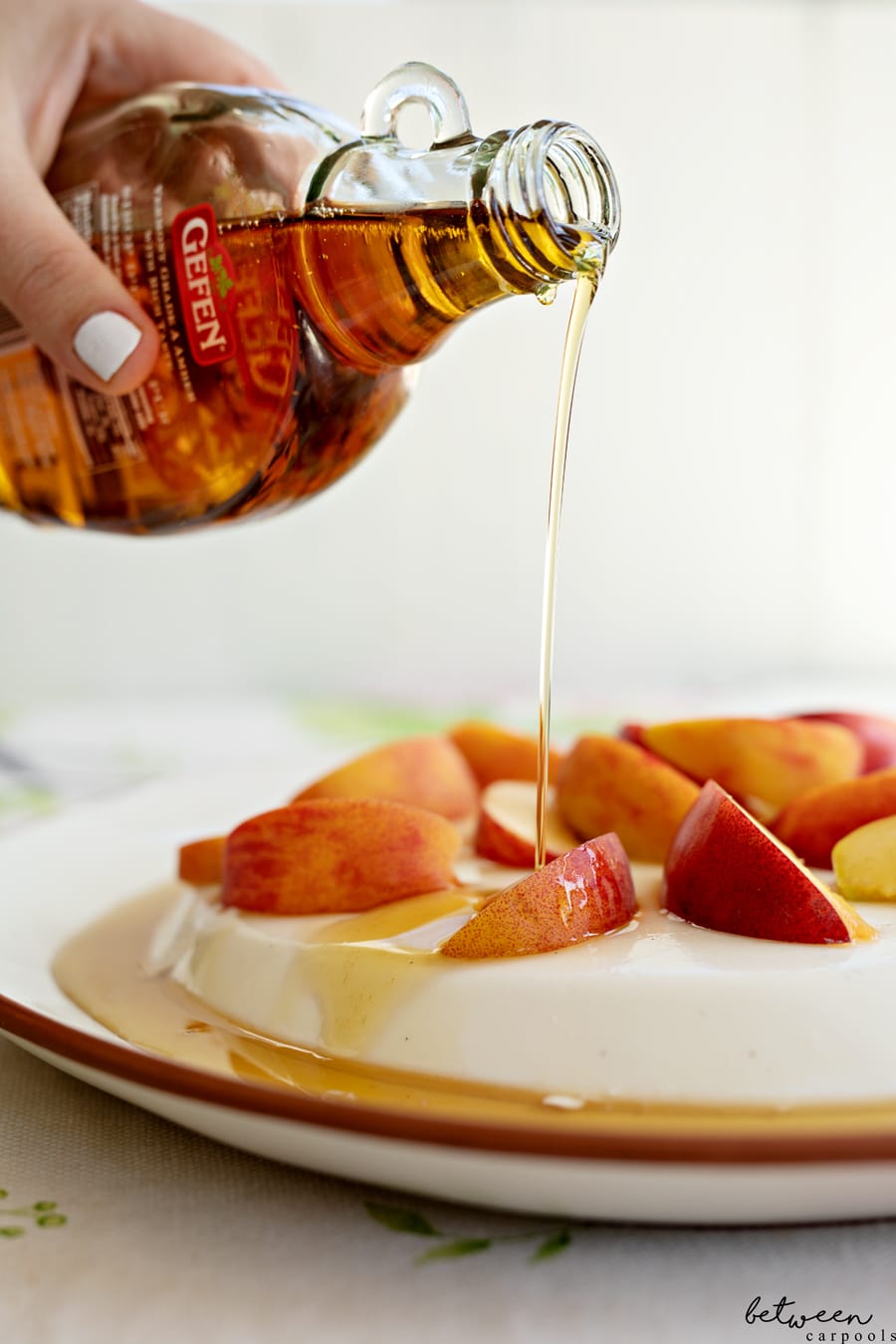 Happy Shavuos!

Ricotta Panna Cotta with Nectarines and Peaches and Maple Syrup
Author:
Sarah Chana Gruskin
Ingredients
1 envelope unflavored powdered gelatin/Jello (about 2½ tsp.)
¼ cup cold water
Canola oil spray (to coat pan)
2 cups whole-milk fresh ricotta
⅓ cup confectionary sugar
½ tsp. pure vanilla extract or vanilla bean
½ tsp. kosher salt
1½ cups half-and-half or heavy cream, divided
Garnish /topping:
3 medium peaches, cut into ½"-thick wedges
3 medium nectarines, cut into ½"-thick wedges
¼ cup maple syrup, for drizzling
Instructions
Pour ¼ cup cold water and ½ cup half-and-half into a small saucepan and sprinkle gelatin evenly over; let sit 10 minutes to soften (this prevents the gelatin from clumping and ensures the gelatin dissolves evenly).
Meanwhile, coat a 9.5"-diameter pie dish or cake pan with a thin film of oil; set aside. Combine ricotta, powdered sugar, vanilla, salt, and 1 cup half-and-half in a food processor.
When gelatin is softened set over low heat. Cook, stirring with a heatproof spatula, until gelatin is completely dissolved, about 5 minutes (DO NOT let mixture boil- boiling destroys gelatin's ability to set *).  For a clear, uniformly set mold, be sure the gelatin is completely dissolved before adding remaining ingredients.   Scrape mixture into food processor and process until completely smooth, about 30 seconds. Pour into prepared pan and chill until set, at least 4 hours. Cover loosely with plastic wrap or foil after 1 hour (be sure not to place anything on top).
Run a butter knife or small offset spatula around sides of panna cotta to loosen the edge and break the suction. Press a serving plate firmly over top. Quickly invert in one motion; set plate down. Gently lift the empty pie dish as it breaks suction.  Pour maple syrup over the top then pile peaches and nectarines. Feel free to drizzle some more maple syrup on top of the fruit.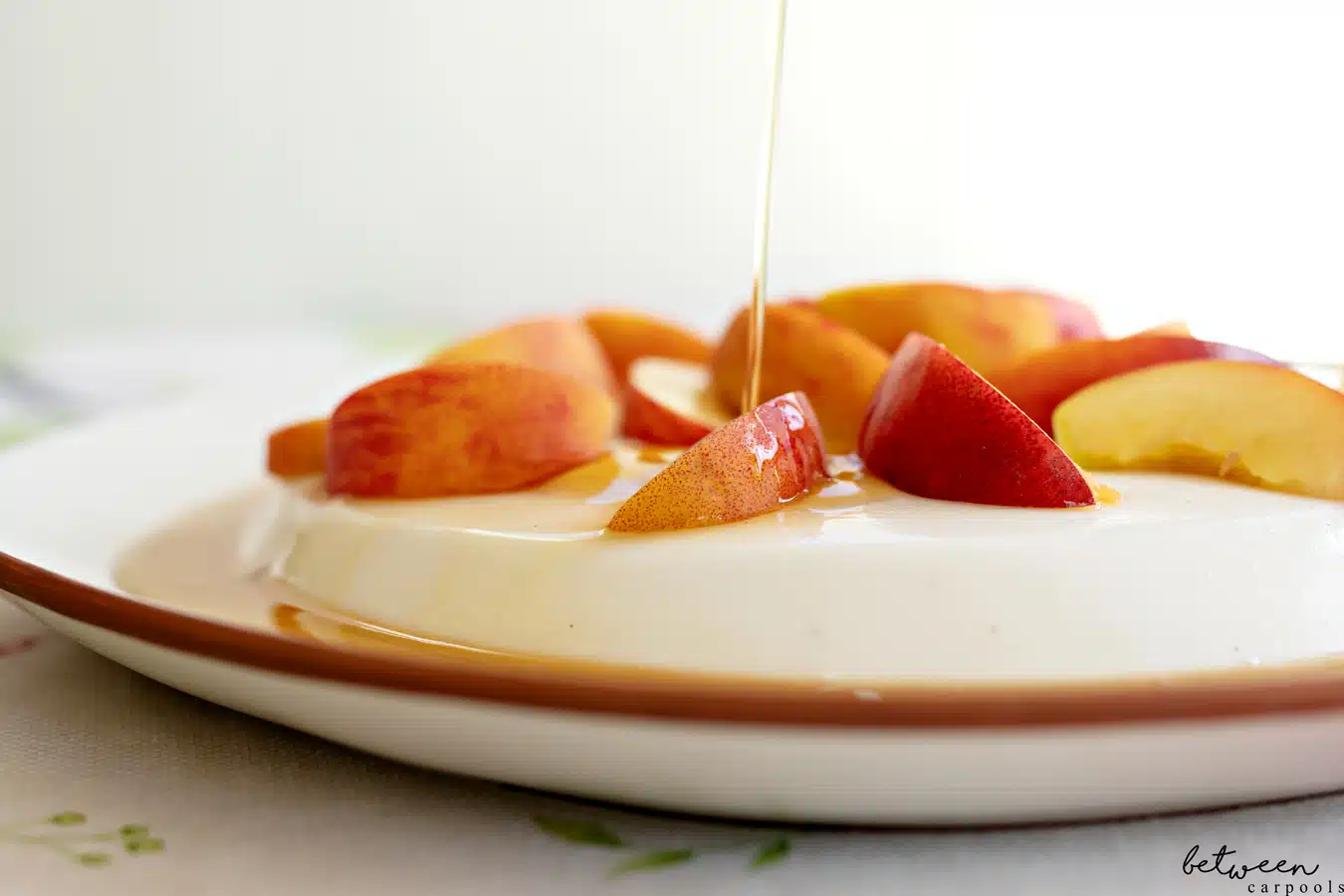 Struggling to lift the panna cotta from the pan?!
Fill a baking dish or similar vessel with hot water. Lower bottom of mold into water 5 seconds, then lift it back out. When inverting panna cotta it should easily slide out.
Make ahead: Panna cotta can be made 2-3 days ahead of time refrigerated. Reserve maple syrup, and fresh fruit for just before serving.   Feel free to make individual mini ones in a large muffin pan.