Need to pack lunches for work and don't know where to start? These wholesome lunch and snack ideas are enjoyable, filling, and feel-good.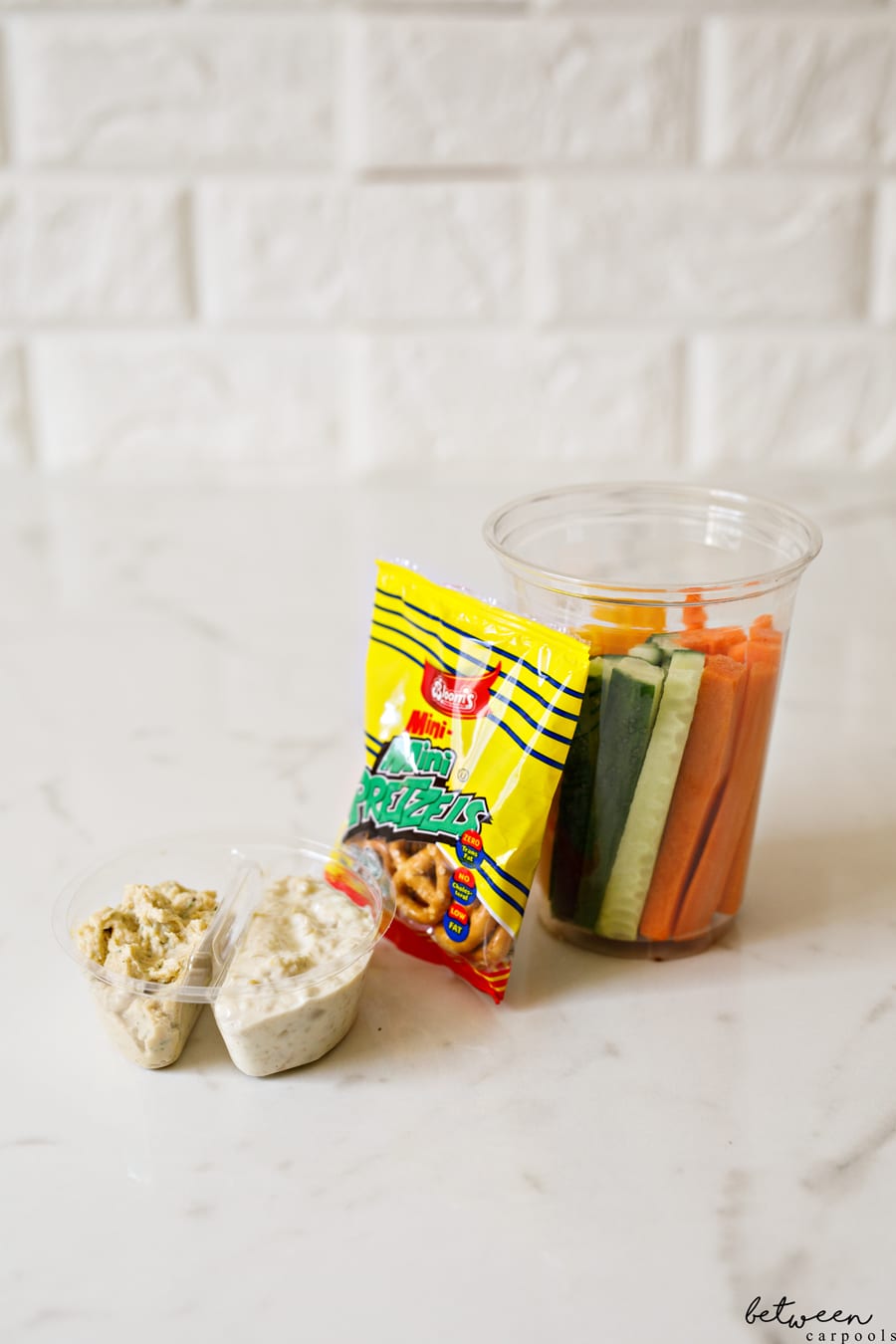 Snack
Veggies & Pretzels with Chummus & Olive Spread
This is an easy snack idea that anyone in the family would love having around when they need a midday pick-me-up. You can add the chummus and dip to an insert, or include a mini individual package of chummus (or guacamole) in the cup instead. The veggies combined with the carbs from the pretzels and protein from the chummus make this a feel good meal or snack anytime of day.
Lunch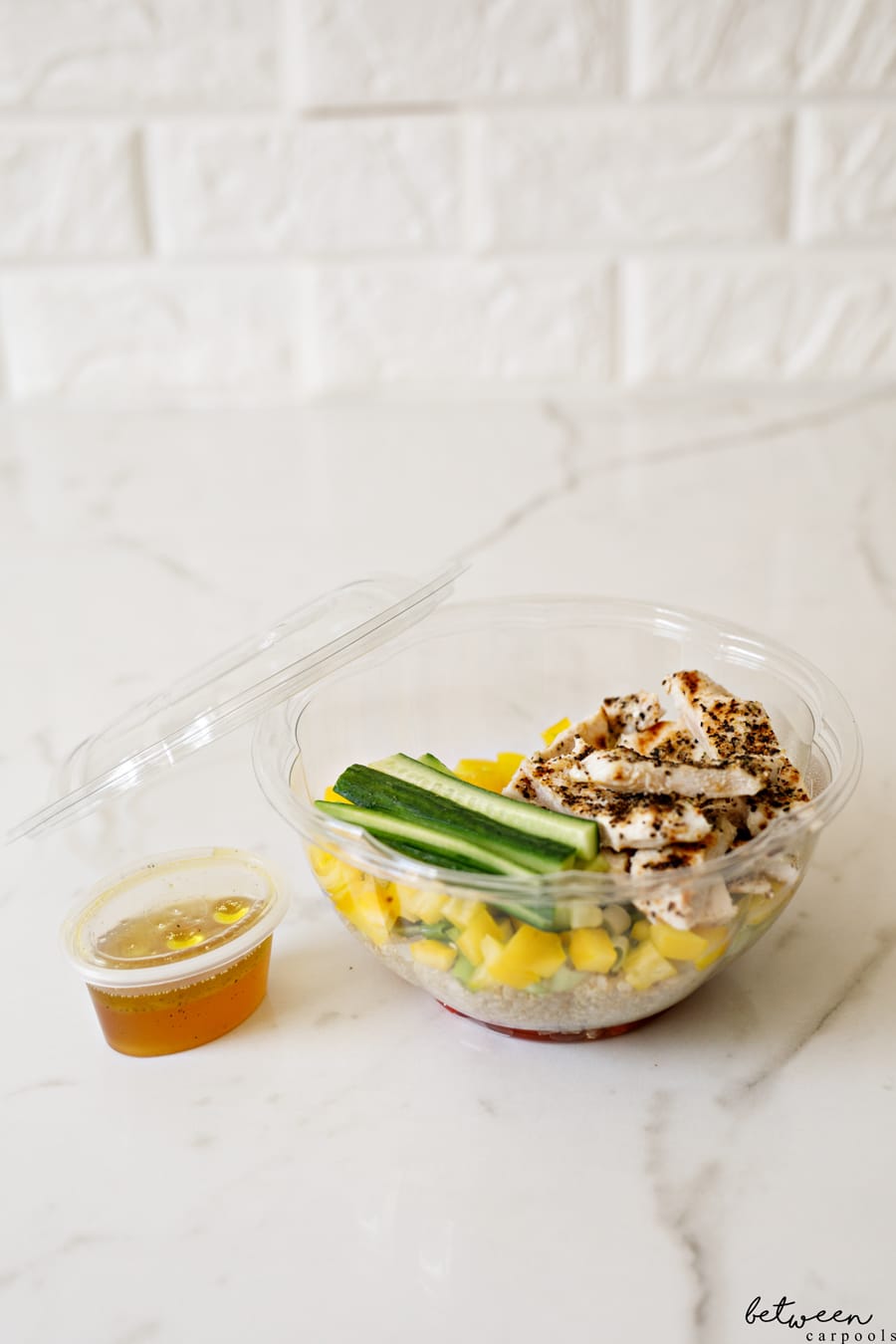 Lemon & Garlic Grilled Chicken Salad with Quinoa and Veggies
Anyone would be full after a lunch of chicken and a grain, but the problem with a chicken-and-rice meal or something similar is that it needs to be enjoyed hot. Not this one! We swapped the rice for quinoa (although rice, barley, wheat berries, farro, or bulghar would all work) and added a dressing and chopped veggies. The dressing puts this in the "salad" category so it's delicious even when cold. But unlike lettuce-based salads, this works as a filling meal. Combine the grilled protein of your choice + cooked grain + veggies + dressing in a separate container and you have a great make-ahead meal solution. 
The Quinoa: Prepare quinoa according to package instructions. Add a finely chopped sauteed onion (this makes a big difference) and season with salt to taste. Cooked quinoa will remain fresh for 3 to 5 days in the fridge.
The Veggies: Our salad includes tomatoes, chopped pepper, and chopped scallions. Some fresh parsley would also be a welcome addition. 
The Chicken: We seasoned our thinly sliced chicken with salt and garlic pepper (a spice blend of mostly garlic and pepper) and cooked on a hot grill pan (so it gets those nice grill marks) with olive oil for just a couple of minutes on each side. 
The Dressing: This one combines Juice of ½ lemon + 1 Tbsp sugar or Splenda + 1 teaspoon salt + 1 crushed fresh garlic clove + 4 tablespoons olive oil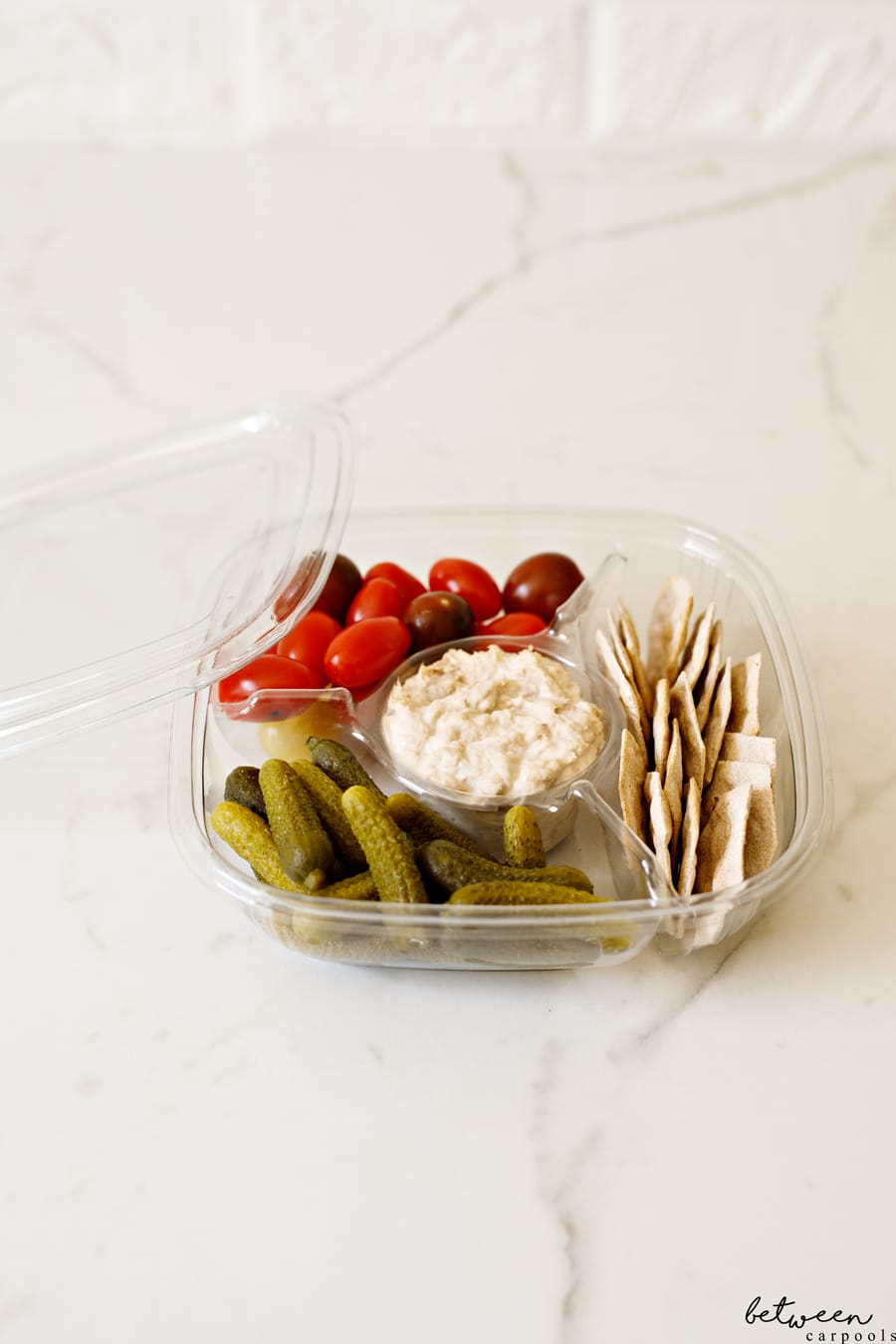 Tuna + Crackers + Pickles + Tomatoes
Do you need a solution that'll take less time, but be just as nutritious and filling? A four-compartment container makes it easy to prep a few meals like this one in advance and store in the fridge, ready to be grabbed and enjoyed later in the day. 
Note: These containers keep all the components of your meals and snacks separate so they stay fresh. They're inexpensive and can be purchased in bulk. We purchased these locally at Center of Town in Lakewood and some are available on Amazon.
Many reusable options are available as well.
Click here for to-go breakfast ideas. 
Originally appeared in Nshei HaSiyum Magazine