Fresh, simple seasonal ingredients make this whipped feta dish shine. 
This whipped feta dish received rave reviews from everyone who tasted it.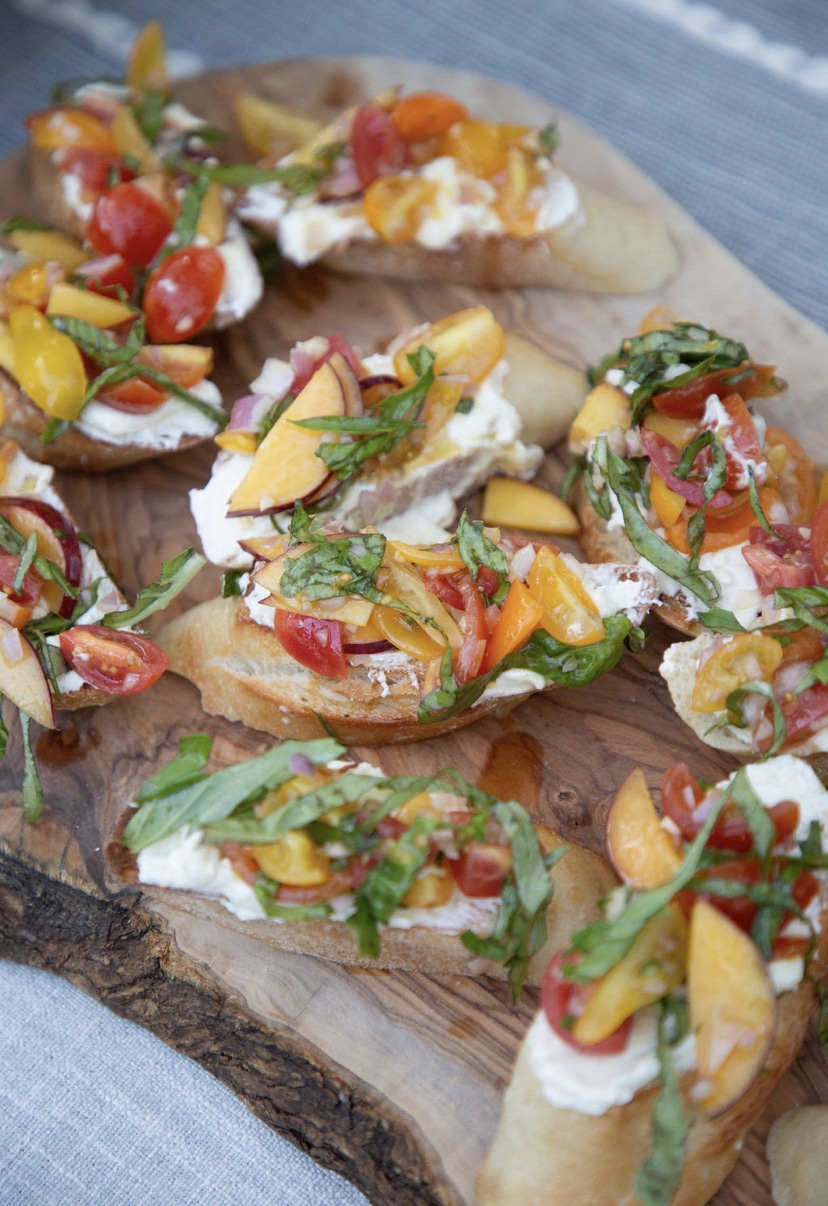 Whipped Feta Canapes
Ingredients
Bowl 1:
2 cups feta cheese, crumbled
½ cup cream cheese at room temperature
⅓ cup extra virgin olive oil
1 large lemon, freshly squeezed
½ tsp kosher salt
¼ tsp fresh pepper
Bowl 2:
2 shallots, minced
1 garlic clove, minced
2 Tbsp apple cider vinegar or red wine vinegar
⅓ cup olive oil
½ tsp kosher salt
¼ tsp fresh pepper
1 carton of cherry tomatoes (2 lbs) , quartered
1 large peach, diced
2 tbsp fresh basil, julienned
2 tbsp fresh tarragon, leaves lightly sliced
25-30 diagonal baguette slices ½ inch thick, toasted
3 tbsp toasted pine nuts
Instructions
Prepare the feta cheese mixture. In the bowl of a food processor, pulse to combine cheeses, 15 seconds. Add olive oil, lemon juice, salt and pepper, and process until smooth.
Prepare the vinaigrette. Combine the shallots, garlic, and vinegar in a bowl and mix. Whisk in the olive oil, salt and pepper. Add tomatoes and peach and stir gently. Set aside for 10 minutes. Stir in the basil and tarragon.
To assemble the canapés, spread each slice of bread with a generous amount of whipped feta. Using a slotted spoon, place the tomatoes/peach mixture gently on top. Put the canapés on plates and scatter with the pine nuts. Sprinkle with extra basil and tarragon.
About Adele:
Adele Beiny- runs a lifestyle company, Life's Looking Good, based in Los Angeles CA. She defines her business of lifeslookingood.com as a platform and resource that help guide her clients through elevating how they look and how they live. A large portion of that being the art of hosting and tablescaping. Adele is passionate about creating modern twists on traditional Jewish holiday looks. 
About Layla:
Layla Zirkind- Los Angeles, started her career in cooking and food styling very early on. She's always been looking for ways to express her creativity, and food was a fun way for her to channel it and turns out—she's amazing at it. She creates truly unique dishes that you won't find in the typical cookbook.
Her inspirations come from the beauty of minimalist cooking, using less rather than more. She believes that often in food, the simplest, cleanest ingredients are what bring out the best in her dishes.