It's the salad that kids and adults both love. 
My kids are obsessed with Ramen Noodles. If it was up to them they would eat these noodles every single day for breakfast, lunch and supper. However, since they have a mom, their life isn't that much fun.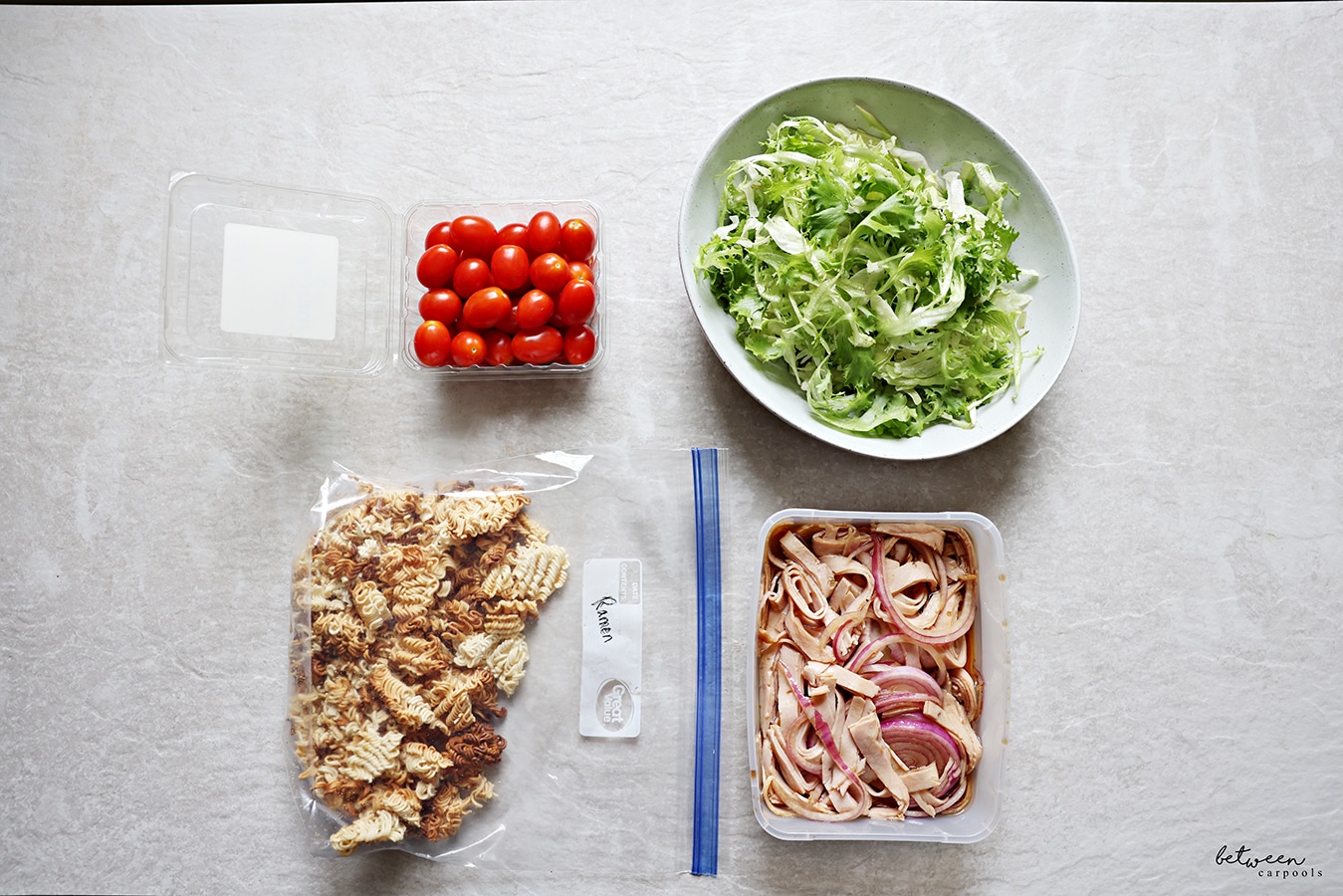 When it comes to Shabbos and Yom Tov, though, I love making them this salad from Kids Cooking Made Easy. Yes it's so easy, you can get the kids to actually prepare the salad components before Shabbos and then you've got yourself a great appetizer or salad with the main dish.

It's sweet, tangy, and it has the crunch they love. It's also the perfect salad for teenage boys that don't love salad and also great for everyone else who does.

Ramen Crunch Salad with Turkey
Ingredients
Salad:
5 slices sliced deli turkey breast, cut into strips (or more)
1 red onion, thinly sliced
1 (8 oz) bag chopped Romaine lettuce
1 pint grape tomatoes, cut in half
Dressing:
3 Tbsp vinegar
3 Tbsp sugar
3 Tbsp soy sauce
6 Tbsp oil
Noodle Crunch:
1 pkg (3-oz) Ramen noodles, throw out seasoning packet
1⁄2 cup slivered almonds
1⁄4 cup sesame seeds
1 Tbsp oil
Instructions
Prepare the dressing:
In a medium size bowl or container, combine vinegar, sugar, soy sauce and oil. Add the turkey and onion and toss to combine. Cover and refrigerate for 1 hour or overnight. This helps the onions "pickle" removing the bitterness of the onions.
Prepare the crunch:
Preheat the oven to to 350. In a baking sheet, combine the noodles broken up into small pieces, with the almonds, sesame seeds and oil. Bake 10-12 minutes until golden brown. You can freeze these weeks in advance.
Before serving:
Combine lettuce with tomatoes and turkey/dressing.Top with Ramen noodles crunch.
Since we've had different allergies over the years, we've completely omitted the slivered almonds and sesame seeds and only prepared the crunch with ramen and oil.
FOR EXCLUSIVE CONTENT AND A PEEK BEHIND THE SCENES, MAKE SURE TO JOIN OUR WHATSAPP STATUS HERE. JOIN OUR WHATSAPP GROUP AND WE'LL LET YOU KNOW WHEN A NEW POST IS UP!