We asked Chanie Apfelbaum what her family loves and what her fans love…and discovered one go-to culinary shortcut.
Chanie is always creative, inventive, and exciting. But what are the dishes that her kids request over and over? What have her fans made more than any other recipe? And what easy secrets does she go-to when there's simply not time to patchke?
BCP: What is your family's favorite recipe from your cookbook?
Chanie Apfelbaum: Mile High S'mores Pie, Kani Fried rice, Hasselback Salami, Breaded Baked Gefilte Fish, Deli Pasta Salad, World's Best Corn Muffins, Nish Nosh Mac n' Cheese, Corn Chex schnitzel, and Refried Bean Tacos.
A few years ago, I instituted meatless Mondays into our dinner rotation and after dairy Thursdays, that's my kids favorite day of the week! Being big bean-eaters, they love my refried bean tacos and something I have learned over the years is that kids love any meal that gives them options. I prepare the refried beans and put out all the toppings and they each build their own.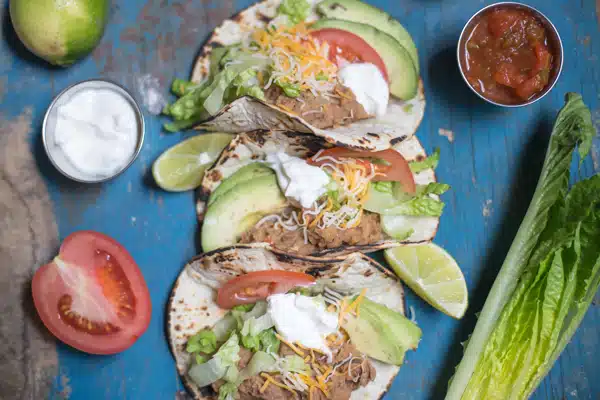 Refried Bean Tacos
Ingredients
2 15oz. cans pinto beans
2 tbsp olive oil
1 small onion, finely diced
2 cloves garlic, minced
1 tsp cumin
1 tsp chili powder
¾ cup vegetable stock
juice of ½ lime
salt and pepper, to taste
1 package soft corn tortillas
1 avocado, peeled and thinly sliced
2 plum tomatoes, diced
1 head lettuce, thinly sliced
8oz shredded cheddar cheese, optional
8oz. sour cream, optional
1 cup salsa
Instructions
Drain and rinse the beans in a colander. Heat the olive oil in a large skillet and add the onion. Saute until translucent. Add the garlic and continue to saute until fragrant. Add the cumin and chili powder and saute until toasted and aromatic.
Add the pinto beans and the stock and bring to a simmer. Cook the beans for a few minutes to soften and then mash with a potato masher until the beans are mostly smooth with some chunks of beans. Add the lime and season, to taste, with salt and pepper. For a smoother puree, blend the beans in a food processor or blender until desired consistency is reached.
To serve, heat the tortillas in a dry skillet (for a crispier taco, grease the skillet or for burnt edges, toast over an open flame) and fill with refried beans, sliced avocado, tomatoes, lettuce, cheddar, sour cream and salsa.
VARIATION: if you'd like to serve the tacos with melted cheese, place the corn tortilla in a the skillet for a minute so that it's pliable but not toasted. Add refried beans and top with shredded cheese. Cover the skillet and cook until the tortilla is toasted and the cheese is melted. Add additional toppings and serve.
NOTE: if you make the refried beans in advance and they start to dry out, just add a bit more stock to make them creamy again.
BCP: What recipe do you think is the most popular from your blog or cookbook?
Chanie: That's easy! Drunken hasselback salami!
BCP:  Is there a dish you make that's not really a recipe but you make all the time? Something that your family loves but you couldn't put in a cookbook because it's either embarrassingly simple and/or uses ready-made or store-bought ingredients?
Chanie: I think people appreciate any recipe written out, even if it's a simple one! My 2-ingredient lazy meatballs are a great example of that. I didn't share that recipe in my book because I felt it wasn't book-worthy, but it's become a blog favorite!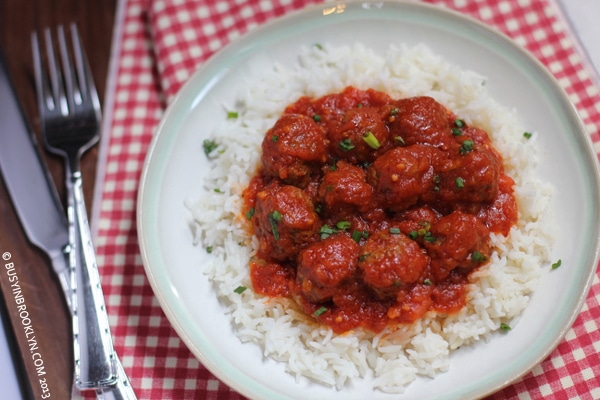 2-ingredient Lazy Meatballs
Ingredients
1 pkg ground beef (not lean)
1 jar marinara sauce
½ jar water
Instructions
Bring marinara sauce and water to a simmer. Roll ground beef into golf-sized balls and add to the sauce. Simmer meatballs gently for 1-2 hours, stirring occasionally, so meatballs don't stick to the bottom of the pot.