The ingredients couldn't be simpler. A simply cheesy buttery pasta that couldn't be more well-loved. So why haven't you made calsones yet?
I admit, when Leah and Renee suggested that we include "Calsones" as one of our basics, I thought it was a bit too simplistic. After all, there's nothing to it, any Syrian girl can make them in her sleep and none of them even need a recipe.

"Is it one of those things that every girl has to learn when she gets married?" Renee asked me.
"Of course," I said.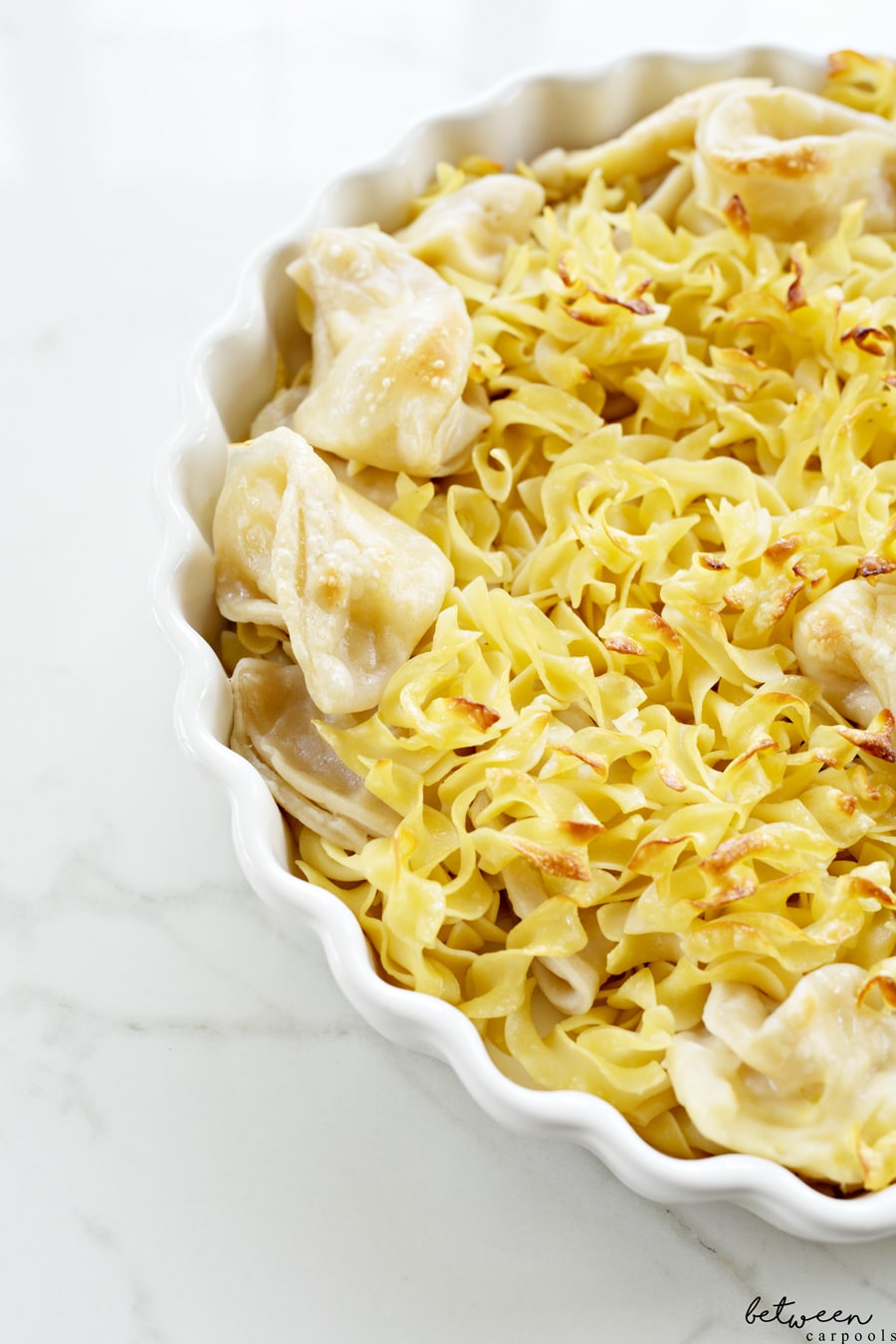 Calsones (along with sambousak) is the staple at every single dairy meal for almost every Syrian-Jewish household. It's at every break-the-fast. Any dairy Shavuot meal for sure. And it pops up during the week when the kids are lucky too.
The truth is, Calsones does deserve to break into the Ashkenaz world. It's super easy to make. The ingredients are also all super simple and accessible. And who doesn't need a new pasta dish that all the kids love? It's time for everyone to love this comforting basic.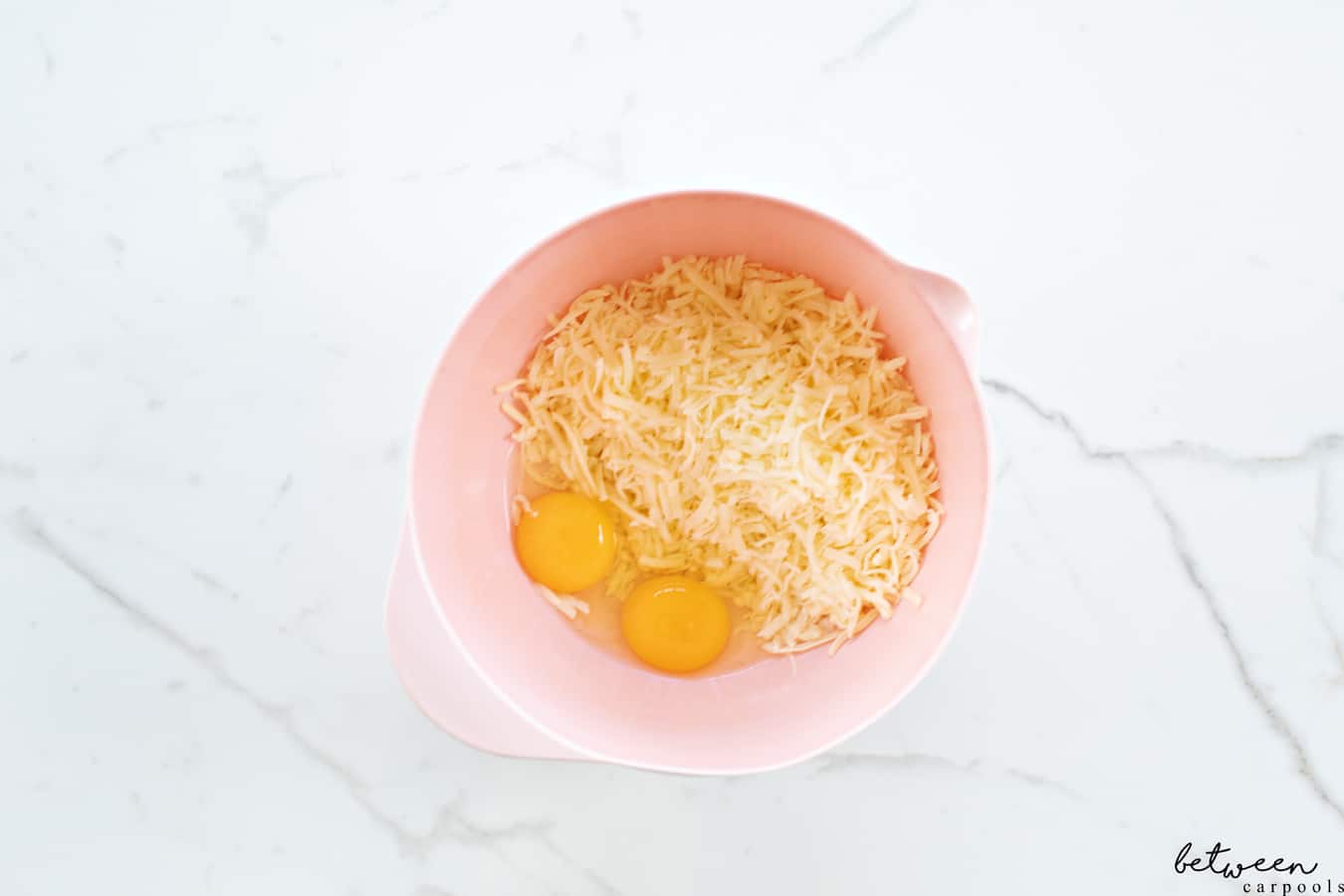 Start off by putting a large pot filled with water on the stove to boil. By the time it boils, your ravioli will be ready to cook. Now let's prep 'em. First, combine 2 eggs and 8 ounces of cheese.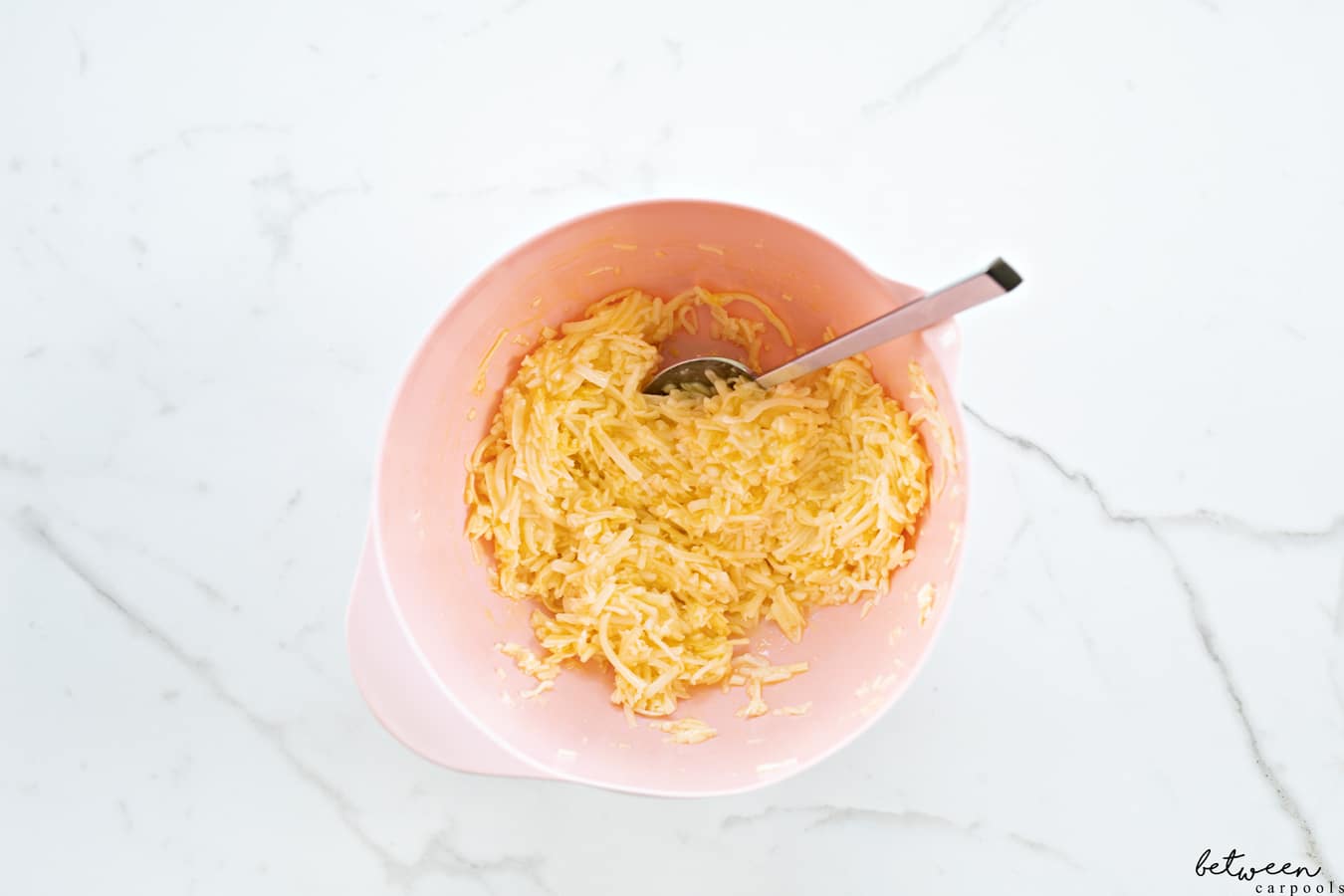 You don't really need to measure (most of us don't). The cheese should look "wet" once it's mixed but not necessarily eggy.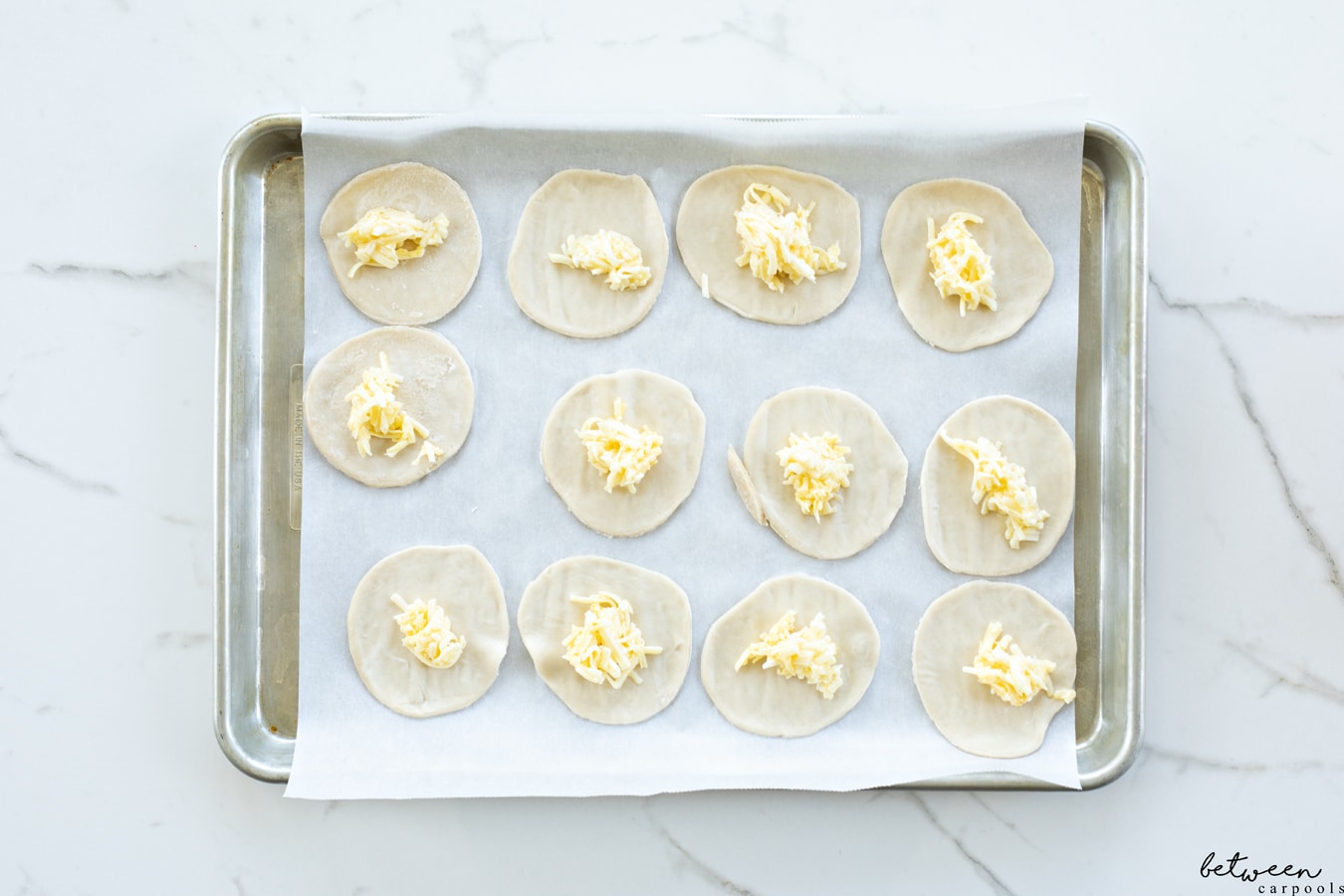 Place a spoon of cheese in the middle of each ravioli dough round. Don't leave the unfolded doughs exposed to air too long or they will dry out. Work quickly and add more doughs to the baking sheet as others get folded.
To Make or Buy the Dough:
If we were making sambousak, I'd tell you that it's absolutely essential to make your dough from scratch. It's not so hard (sambousak dough is pliable and easy to work with) and the results are incomparable to store-bought versions. The ingredients in store-bought dough aren't even the same as the buttery homemade version. When it comes to ravioli, though, I think that the store-bought doughs are a fine and practical option. It is much more work to roll and cut ravioli doughs and the results are not so different vs. store-bought doughs. So, sambousak – homemade dough. Calsones – store-bought is fine.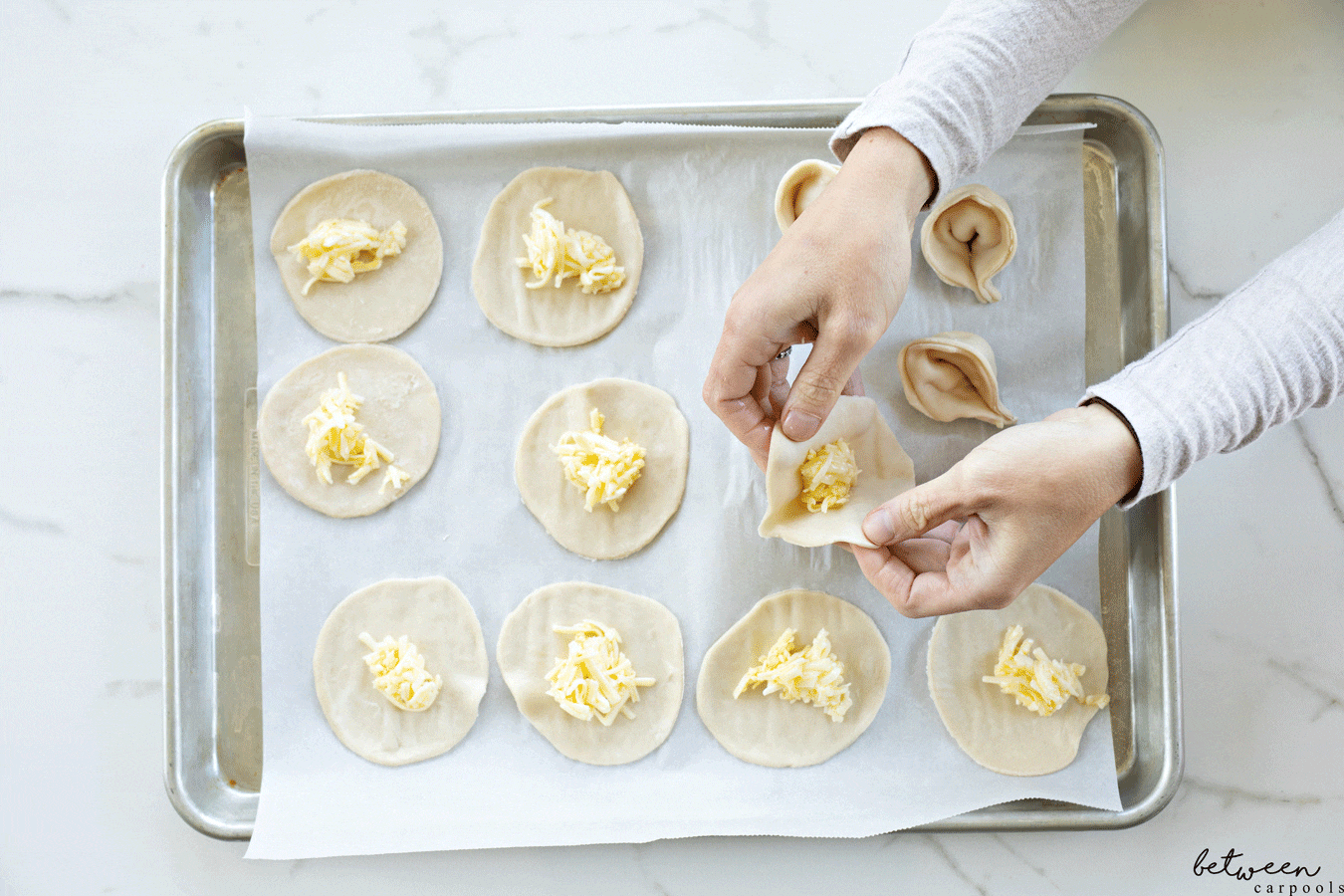 To fold, close each round into a half-moon shape.
Then pinch the two corners together. Boil the raviolis for 10 minutes, then add the egg noodles to the pot and boil an additional 8-10 minutes. Drain.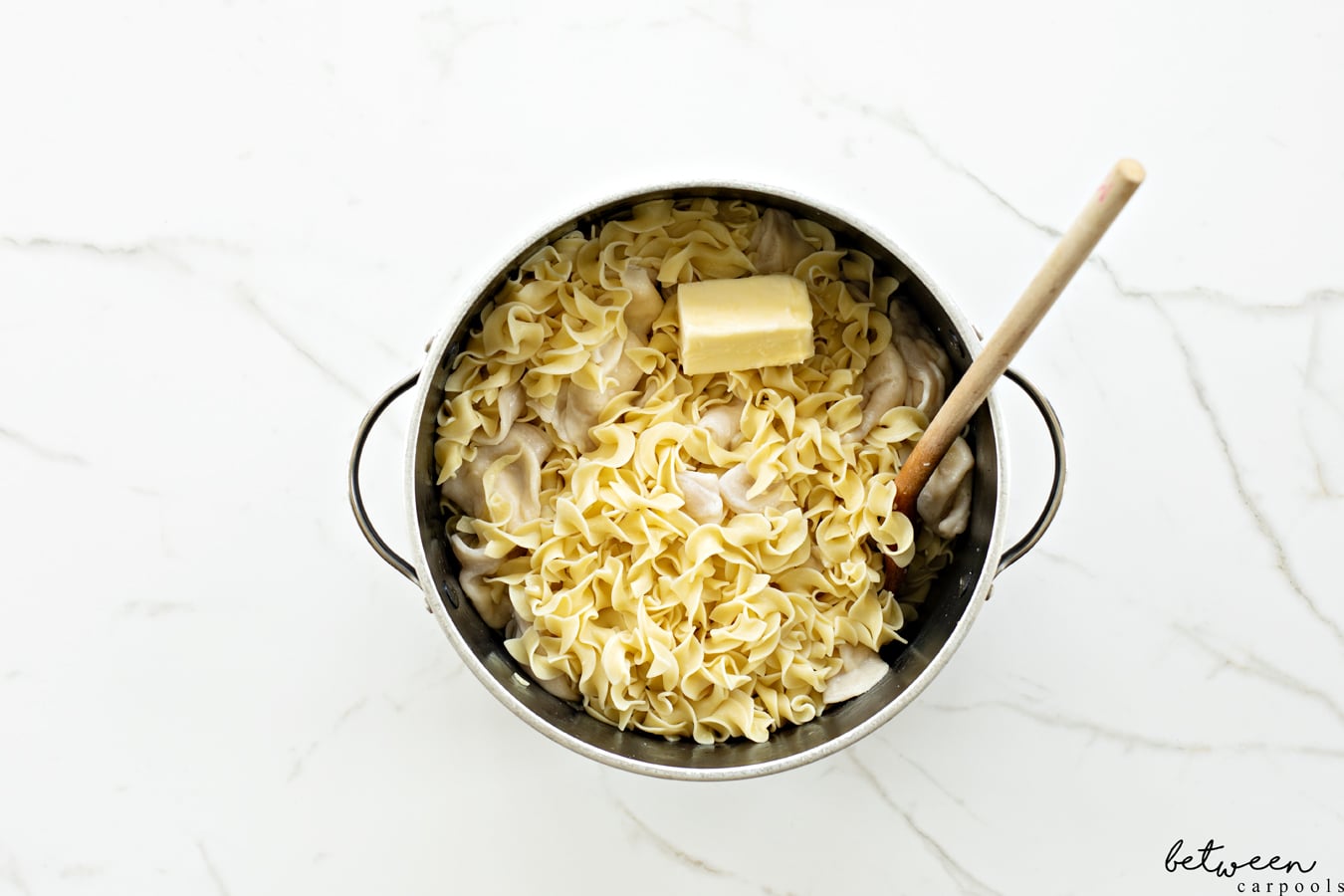 While the pasta is hot, add the butter and salt. You're really supposed to add a whole stick but I usually keep it to half. Taste and adjust salt as needed.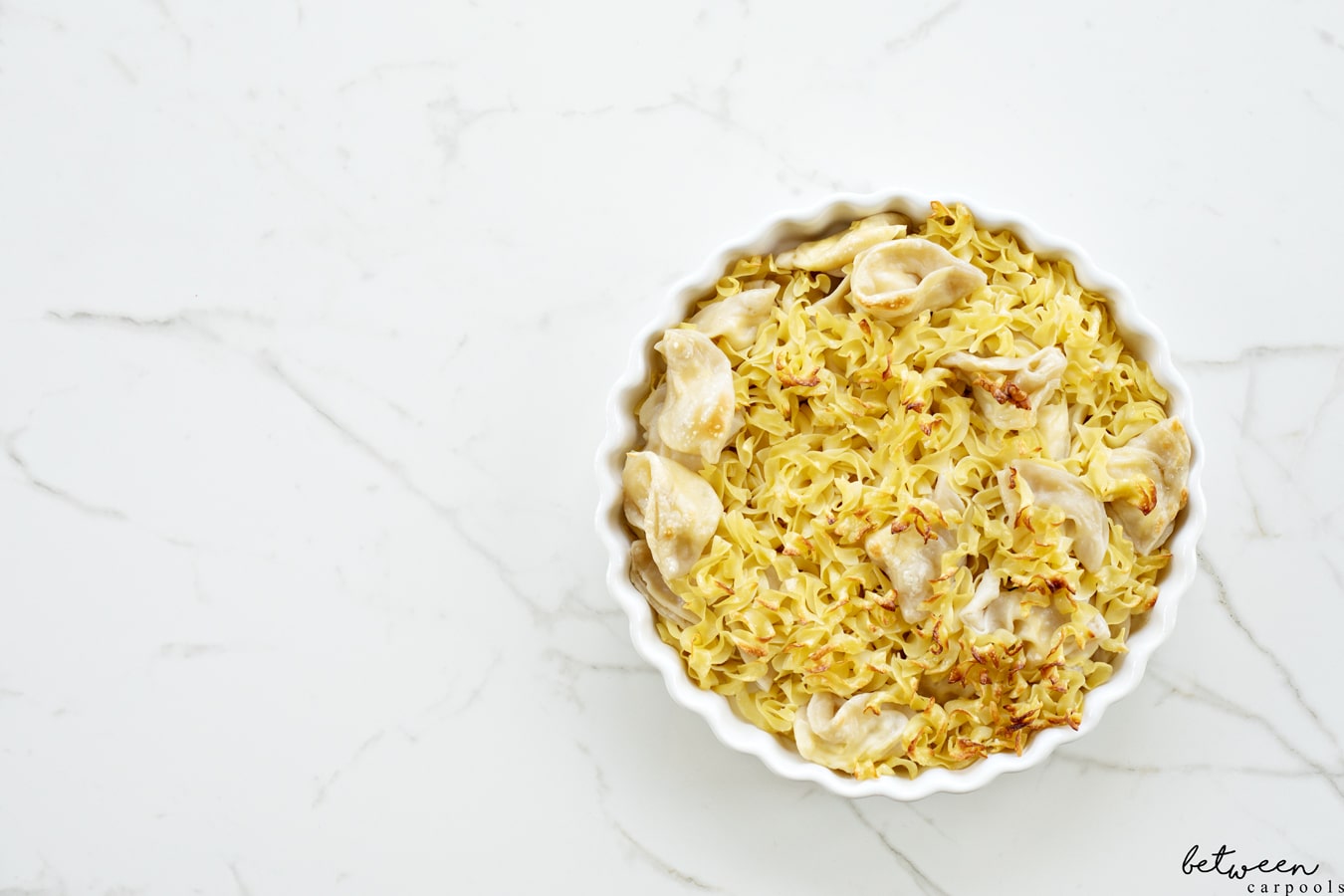 Enjoy as-is or bake until desired crispiness.
Crunchy or Soft:
Calsones is traditionally baked until it's brown and crunchy on top. Often, I need to make a soft batch (not baked) and a crunchy batch (very brown) because there are members of the family who prefer it one way or the other. I prefer it very crunchy–the authentic way; most of my kids and my husband prefer it soft (I think it's because they have too much Ashkenaz blood).

Calsones
Ingredients
8 ounces shredded muenster cheese (I also use mozzarella because I usually have that on hand)
2 eggs
Pinch baking powder
1 (36-pack) ravioli doughs, thawed
2 (12 ounce) bags medium egg noodles
¼ - ½ cup (½ - 1 stick) butter
2 teaspoon salt plus to taste
Instructions
In a small bowl, combine cheese, egg, and baking powder and mix to combine. The cheese should look wet.
Line a baking sheet with parchment paper. Place ravioli doughs on baking sheet (you won't be able to fit all of them at first, but you will as you go along). Don't leave ravioli doughs exposed to air when not in use or they will dry out.
Place a small spoon of cheese in the center of each ravioli round. Seal closed in a half moon shape, then pinch the 2 ends of the dough together. Freeze raviolis until ready to use.
Bring a very large stockpot of water to boil. Add raviolis and boil for 10 minutes. Add egg noodles and boil an additional 10 minutes. Strain and return to the pot. Stir in butter and salt.
Pour pasta into an ovenproof casserole dish and bake until pasta is golden on top, about 60 minutes. (You can omit this step or bake for minimal time if you find you like it soft rather than crispy. Or, bake for longer for extra crispiness.)
Note: If ravioli doughs aren't sold in your neighborhood, you can use wonton wrappers. Lightly wet the edges when sealing closed.
Note: Calsones is easy to prepare ahead. You can freeze big batches of stuffed ravioli doughs and boil as needed. Or, freeze or refrigerate the whole prepared casserole, whether you've baked it yet or not. Simply bake until hot before serving (keep it uncovered for crispy pasta or covered to keep it softer).