Golden onions top a cheesy tart with a perfect balance of flavors. 
This heavenly cheesy tart with caramelized onions is simply perfect.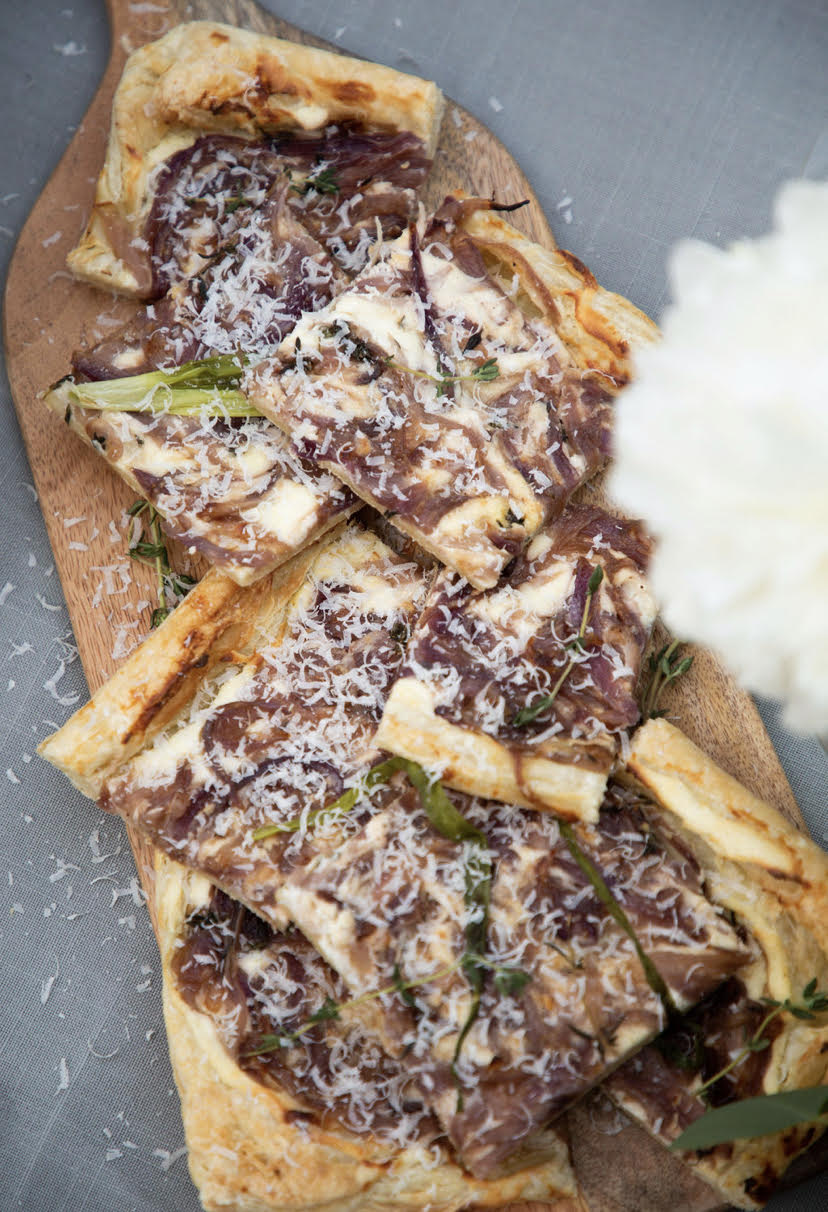 Caramelized Onions Cheesy Tart
Ingredients
4 tablespoons butter
2 large red onions, thinly sliced
4 tablespoons white wine such as Herzog's Chardonnay
2 teaspoons sugar
2 teaspoons fresh thyme leaves
½ teaspoon salt
¼ teaspoon ground pepper
1 cup ricotta cheese
1 egg
1 package puff pastry, thawed
½ cup shredded Parmesan cheese
Instructions
Preheat the oven to 350F.
Heat a cast iron pan to med/low (or any fry pan) to melt the butter. Add onions and cook until softened and golden brown and caramelized, about 20 minutes. Add white wine, sugar, thyme, salt and pepper and cook 5 additional minutes. While the onions are caramelizing, combine ricotta cheese and egg in a small bowl and set aside.
Unfold puff pastry sheets on a large parchment paper, making sure both sheets connect in the middle. Use a rolling pin or wine bottle to mend them together while rolling out the puff pastry dough slightly.
Gently fold in each side of the puff pastry sheets in approximately 1 inch to form the crust. Spread the ricotta mixture evenly over the puff pastry and lightly sprinkle most of the Parmesan cheese on top.
Add caramelized onions evenly over the cheese mixture and top the tart off by sprinkling any remaining Parmesan cheese and a few whole twigs of fresh thyme and long green parts of scallions for beauty.
Bake for 25-30 minutes, until puff pastry is golden brown.
About Adele:
Adele Beiny- runs a lifestyle company, Life's Looking Good, based in Los Angeles CA. She defines her business of lifeslookingood.com as a platform and resource that help guide her clients through elevating how they look and how they live. A large portion of that being the art of hosting and tablescaping. Adele is passionate about creating modern twists on traditional Jewish holiday looks. 
About Layla:
Layla Zirkind- Los Angeles, started her career in cooking and food styling very early on. She's always been looking for ways to express her creativity, and food was a fun way for her to channel it and turns out—she's amazing at it. She creates truly unique dishes that you won't find in the typical cookbook.
Her inspirations come from the beauty of minimalist cooking, using less rather than more. She believes that often in food, the simplest, cleanest ingredients are what bring out the best in her dishes.