These waffle dishes are so good, you'll never believe they're pareve. Perfect for an easy-prep Chanukah dessert.
You will never believe this Simple Farms pancake batter, that you've seen at the grocery lately, is pareve. It tastes like somebody made a mistake. Really good. Go-back-and-check-the-label-again-kind-of-good. Right there at the Kosherfest Simple Farm booth, after being introduced to this revolutionary new product, our minds started working fast. The ideas coming through were endless. Appetizers, dessert, crepes, blintzes. So easy! Literally, fail-proof.
Pancakes with fried chicken and Facon! Maybe even add a sunny side up egg, some maple syrup, and have yourself hip appetizer! We loved that idea. French Crepes filled with fruit and nuts, hot, fresh, and hassle-free.
All these thoughts are great but we figured for Chanukah, you'd appreciate a quick and super easy dessert. Something you don't need to plan ahead, only defrost, so to speak. Defrost the batter, that is.
Here's what we decided we will serve our families this Chanukah. Be amazed. Such elegance.
Donut Holes
One of us came up with this great idea to use this inexpensive and fun cake pop maker.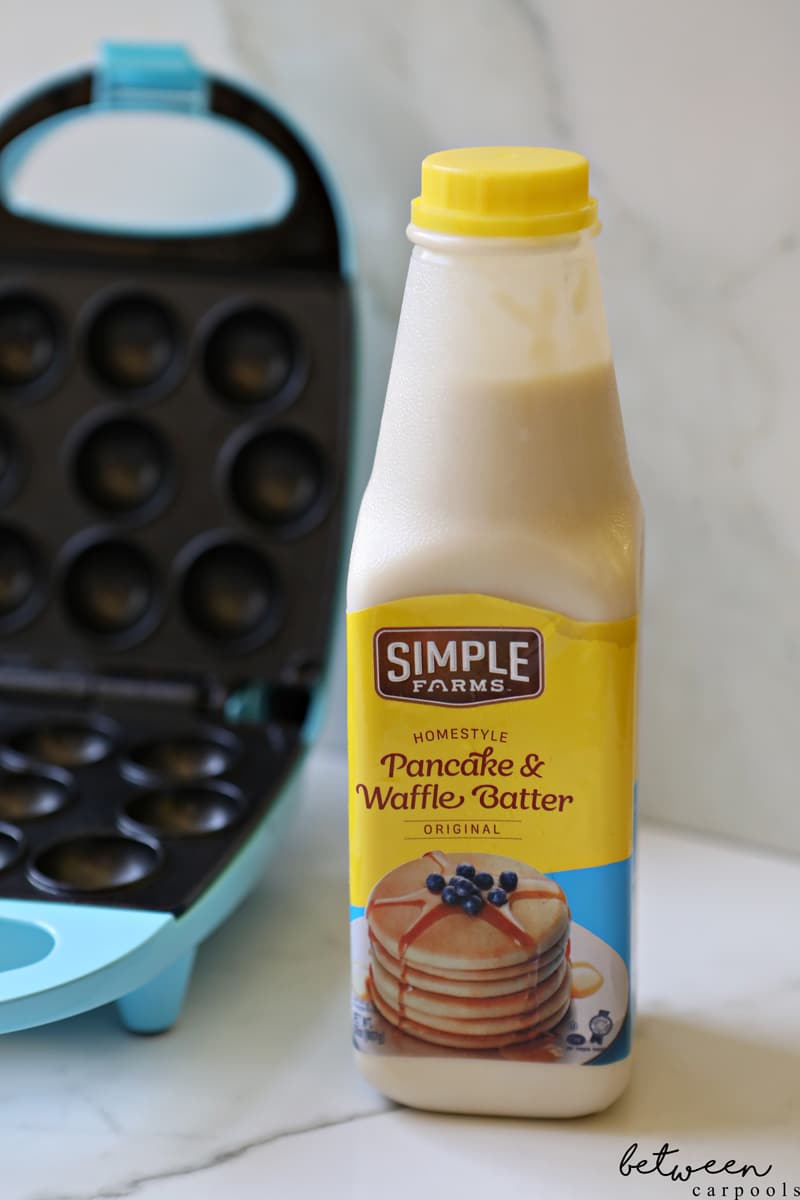 This machine will yield pretty and even balls, which you can either serve immediately or rewarm prior to serving. All you need to do is defrost your Simple Farms batter, coat the cake pop maker with some non-stick spray and fill carefully, one by one. You do not want to overfill.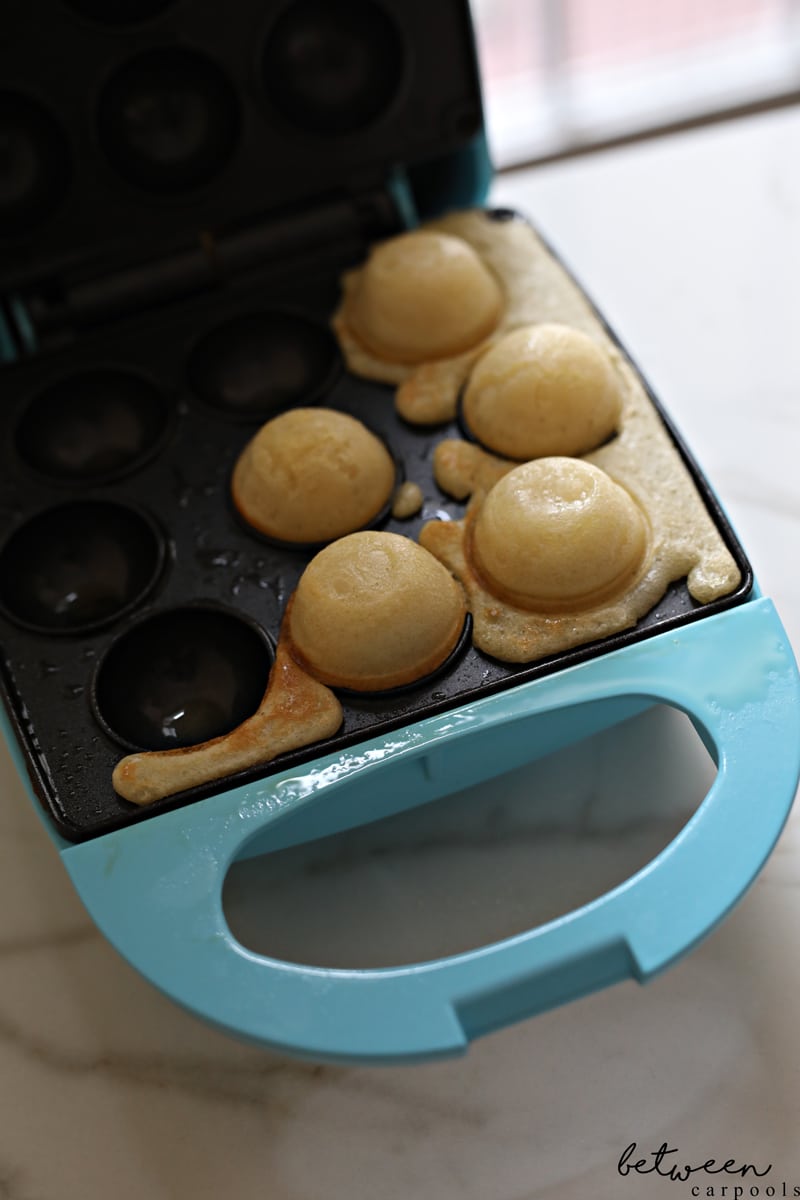 Once the pops are ready, warm up a bit of Biscoff spread or melt some dark chocolate and serve with the pancake balls. Get creative with the presentation. Here are two ideas:
This will be a showstopper, no question. Feel free to use disposable clear glasses (there are so many cool options out there nowadays!) for easy cleanup.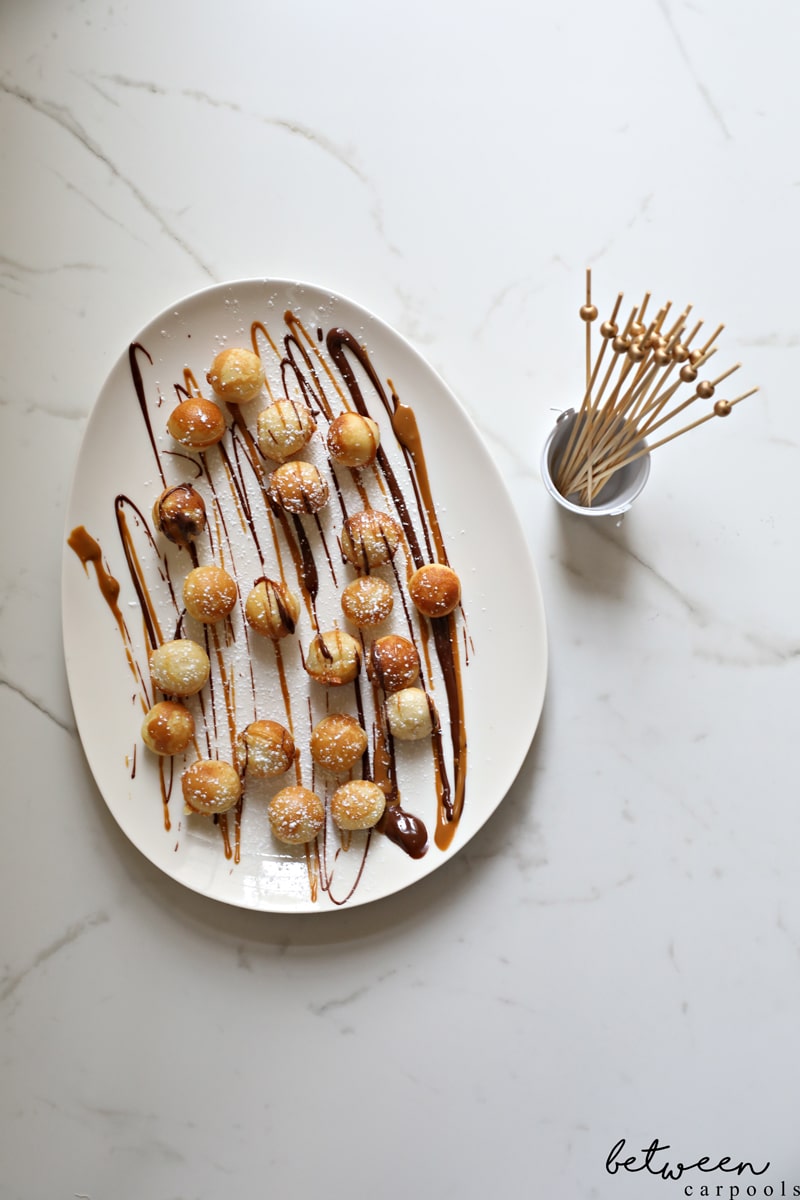 We call this the "feed a crowd" version. Both are equally delicious!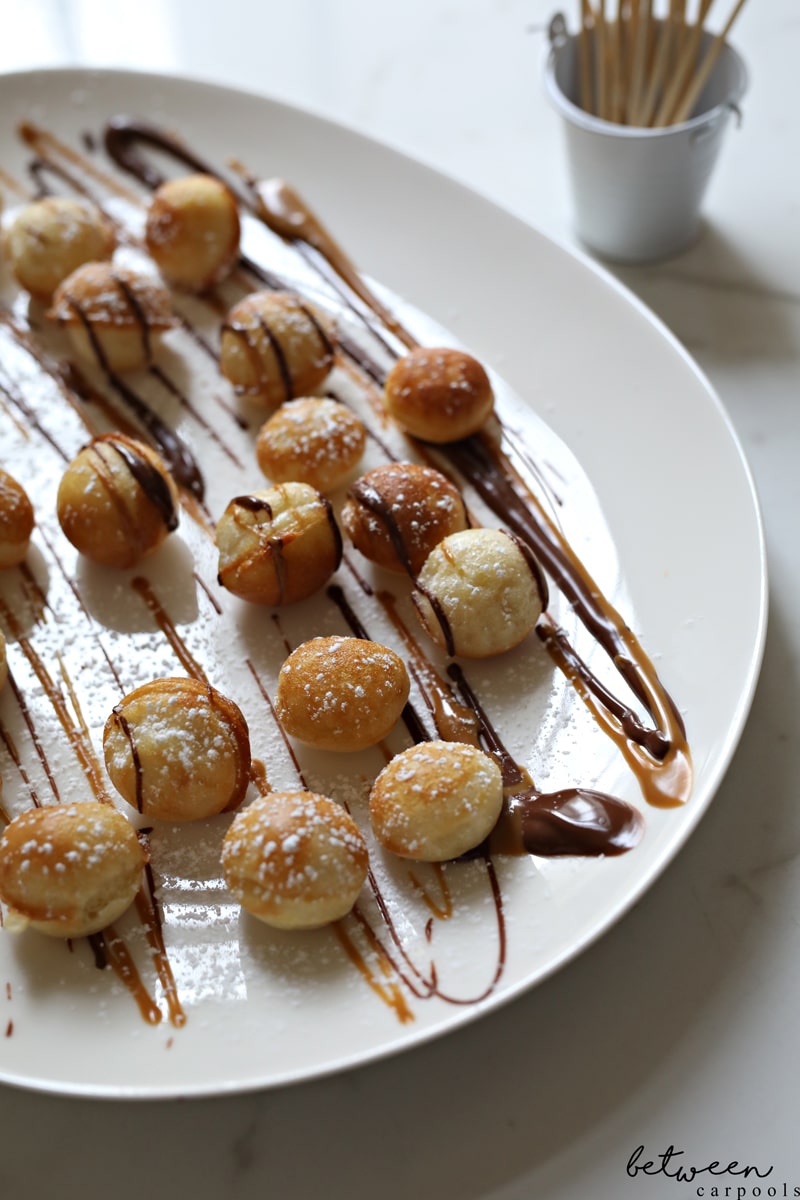 ---
Mini Pancake Stacks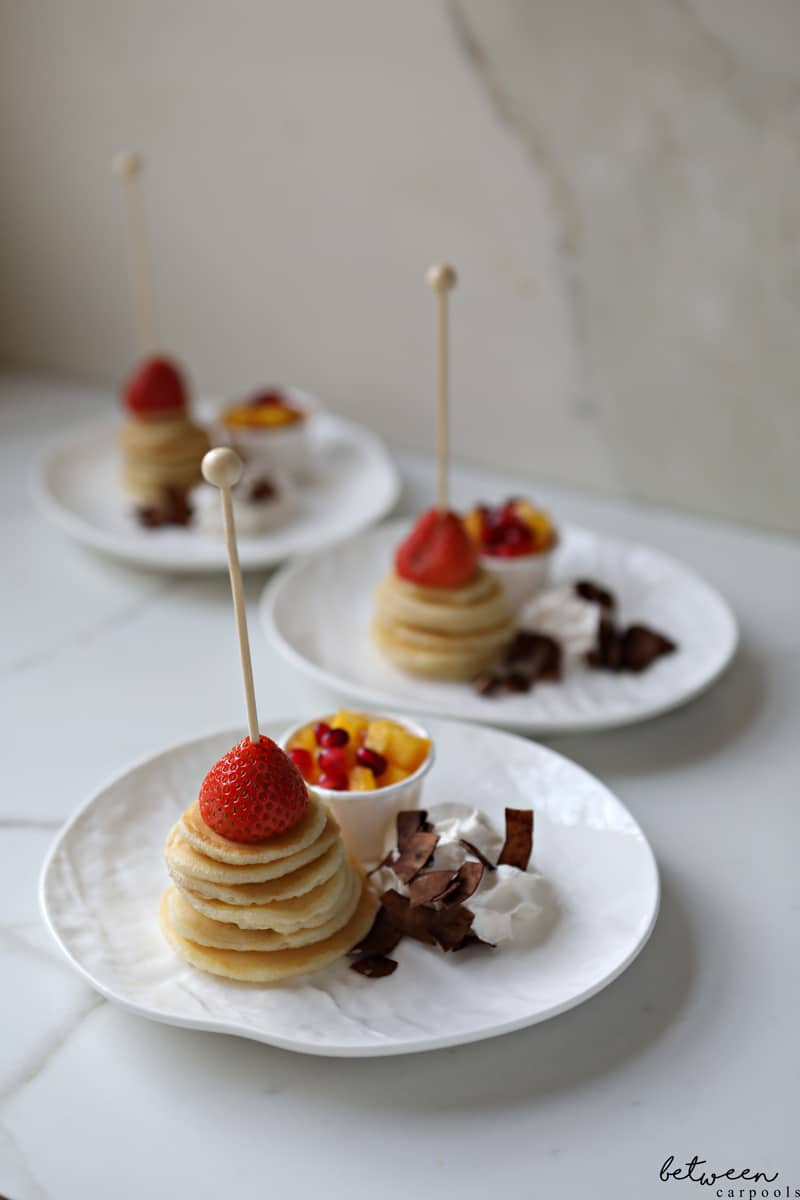 We think these are elegant and cute. Bite-sized pancakes? Definitely a winner, we are sure you will all agree.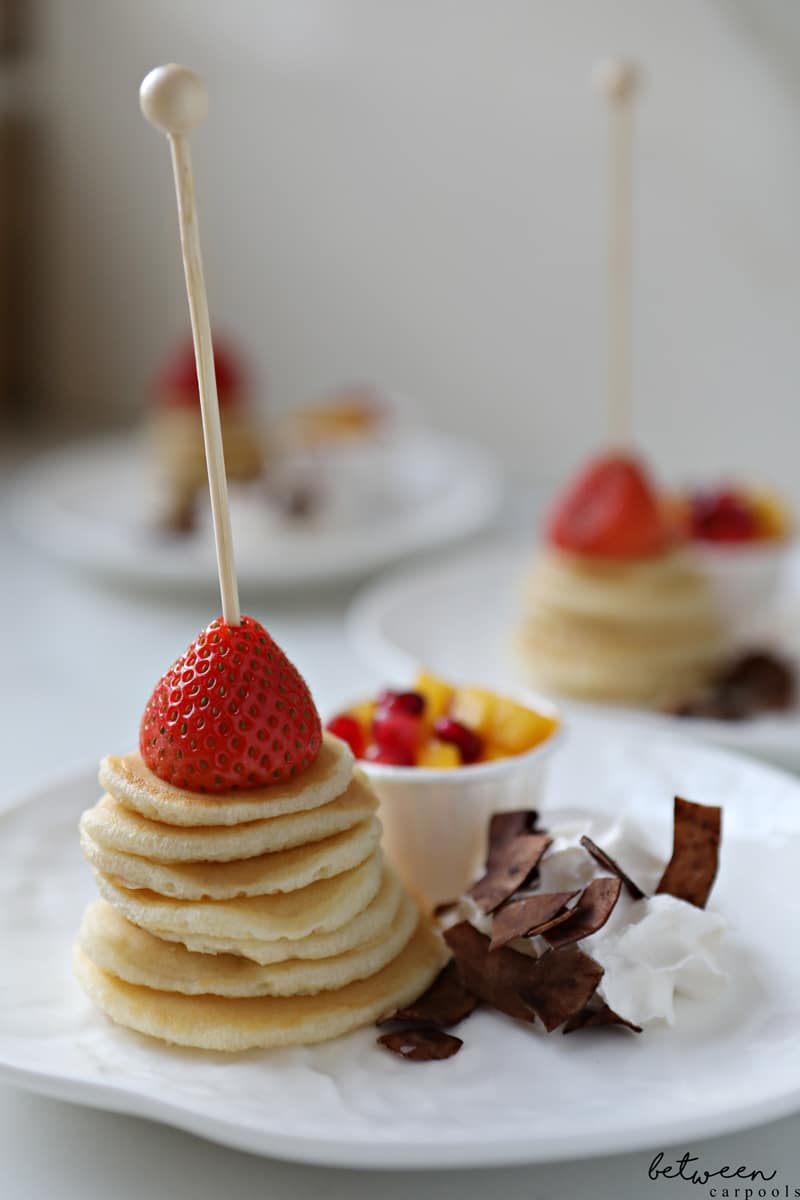 All you need to do is fry small pancakes, the smaller the better. Drop a tiny amount of batter in the fry pan and keep and eye, these cook really fast. Stack and top with fruit. Voila, breakfast for dessert is served. We added some pareve whipped cream and chocolate coconut flakes. Delicious!
---
Really really reeeeeeally last minute??? No fear. Pull these ready-to-eat Waffles out of the freezer: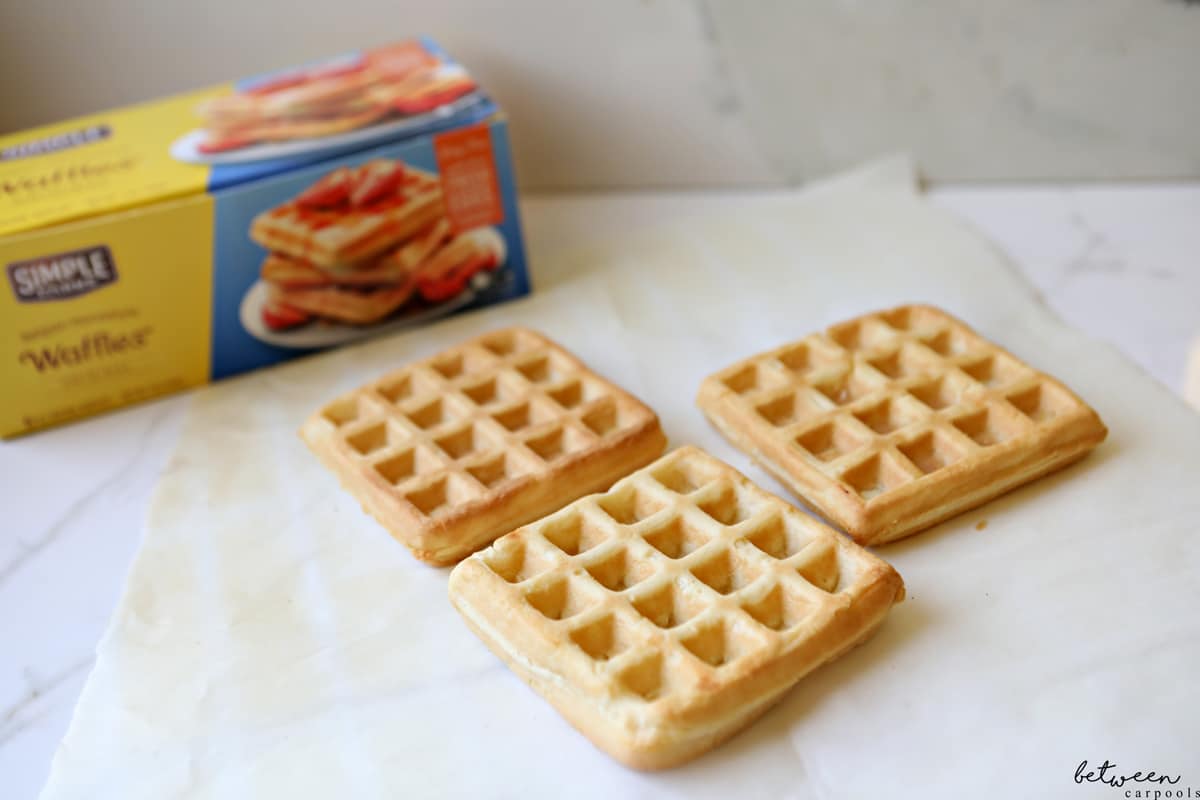 All you will need to do is heat them up in the oven (follow the instructions on the box), scoop some ice cream, drizzle with either Biscoff or melted chocolate (we do recommend both) and collect compliments. This is one dessert that never gets old. Check out how gourmet this cheat looks: