Chocolate chip cookies. Cheesecake. It's really such a classic combination.
This is an easy one you can stick in your freezer today and check off your list. Really, the concept is simple and it's not new. Chocolate chip cookie dough on the bottom. Cheesecake filling. More chocolate chip cookie dough crumbled on the top.
It just happens to be a combination that's really, really good.
Of course, the BCP version had to be 1) No Mixer. 2) If not exactly 9×13 then 9×13-ish.
First, we had to decide which chocolate chip cookie recipe to use and which cheesecake filling to use. Because, we have lots. We decided to use the Chocolate Chip Cookie recipe from Dairy Made Easy because it's both no-mixer and dairy (may as well get that butter flavor in!).
We're using the cheesecake mixture from these mini cheesecakes. Because it's simply… the simplest! Plus, if you use whipped cream cheese, you can mix the batter together in a bowl! No mixer needed! (Yup, they already whipped it for you.)
We're making this in two 8×8 pans rather than a 9×13 so it bakes nice and evenly. We don't want to be left with gooey cheesecake in the center when the edges are golden and set.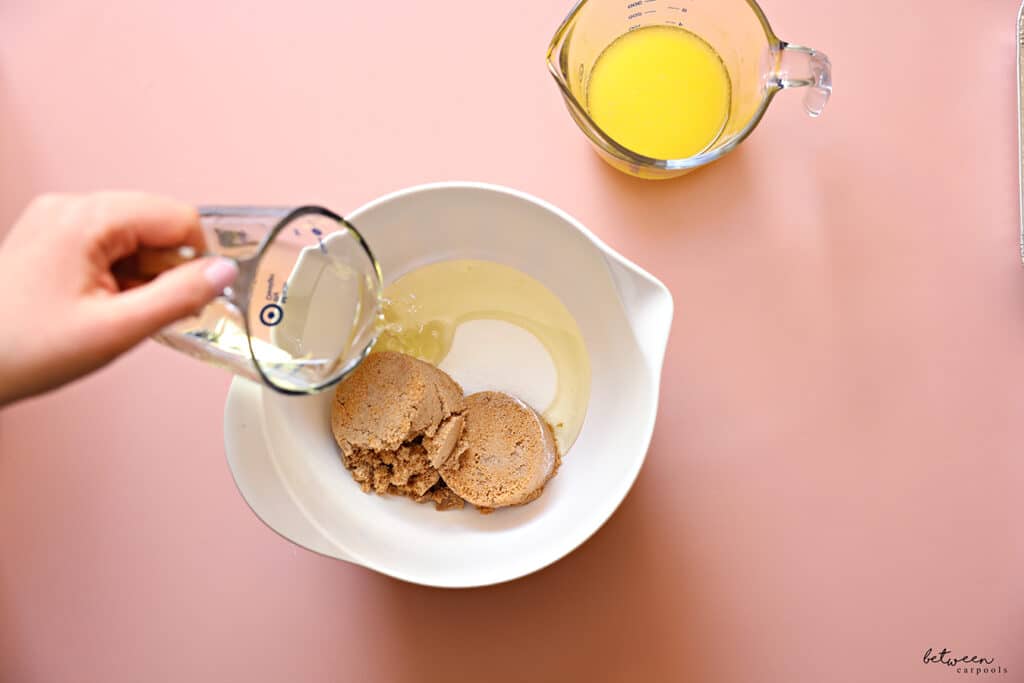 First, prepare the cookie dough.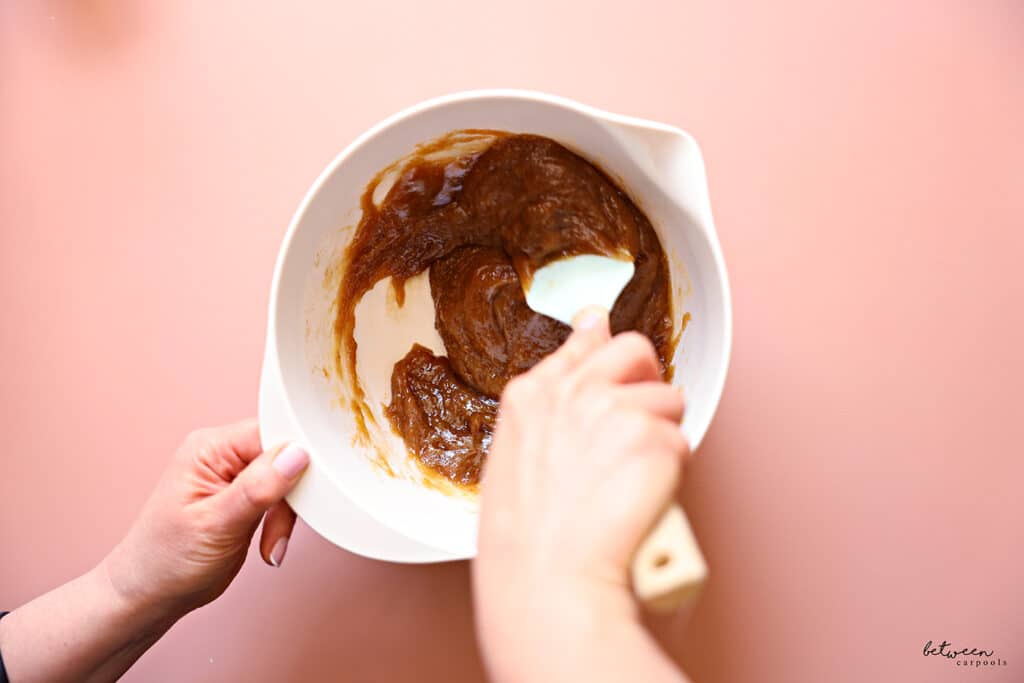 Use a fork or spatula to mix, whatever you have handy.
Notice we use the hacks we feature, like this one?
When we were preparing this, Leah poured the vanilla into the cap. Renee said, "Why did you bother? Why not just squirt it?" Bottomline: We don't really measure vanilla. A squirt or capful, whichever method you use, is perfectly ok.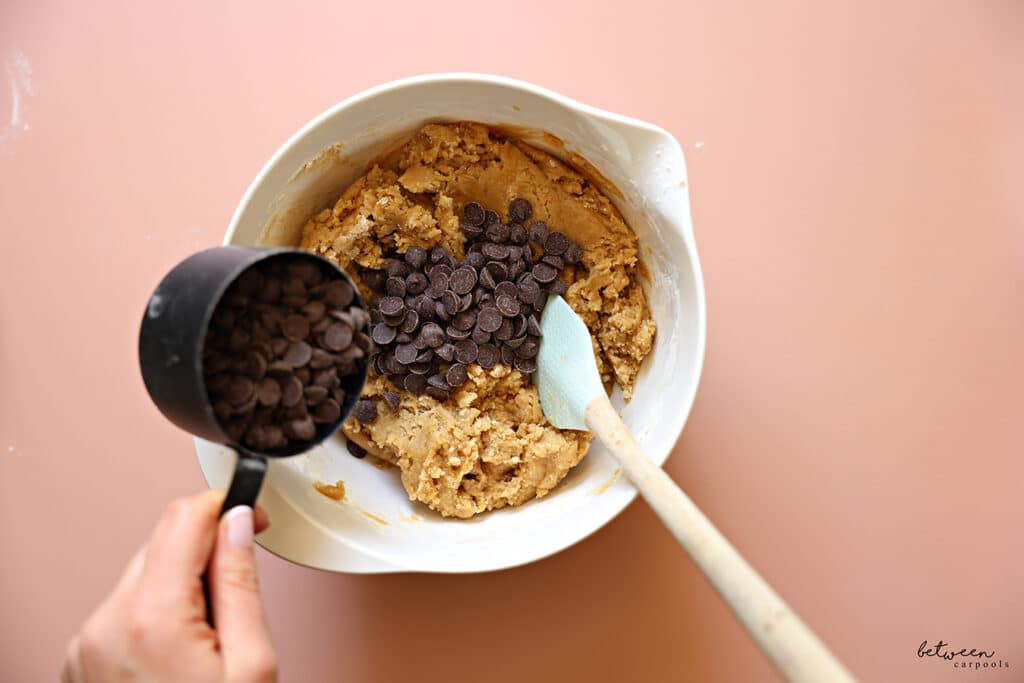 Add the chocolate chips and mix to combine.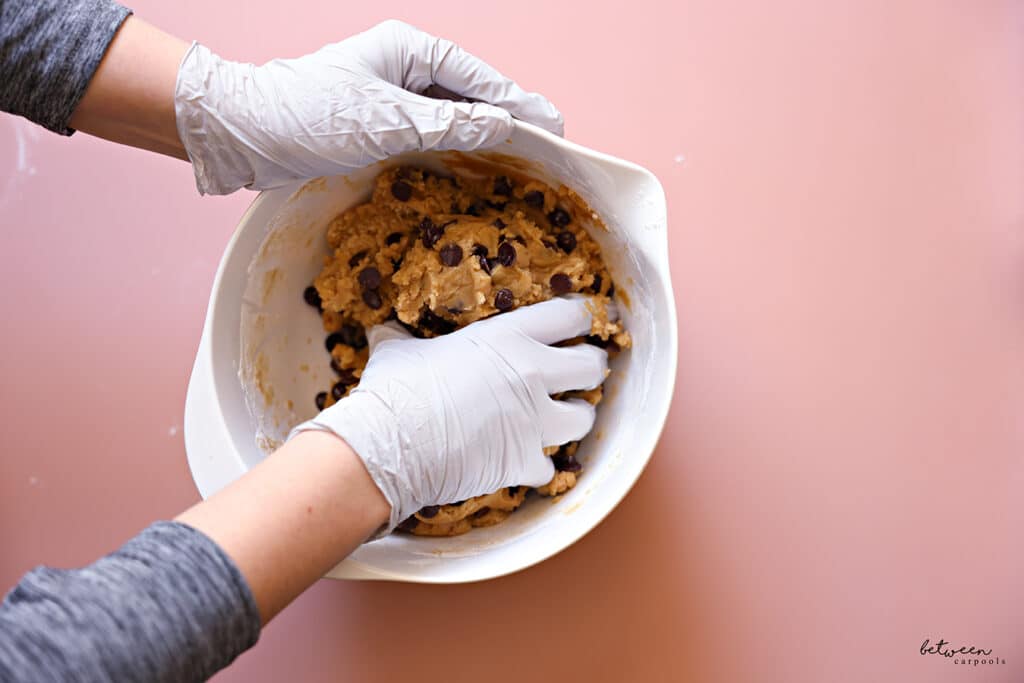 Roughly, ⅔ of the cookie dough is going to be used for the crust on the bottom and ⅓ for the crumble on top. But in case people were going to ask us, "Exactly how much?" we measured.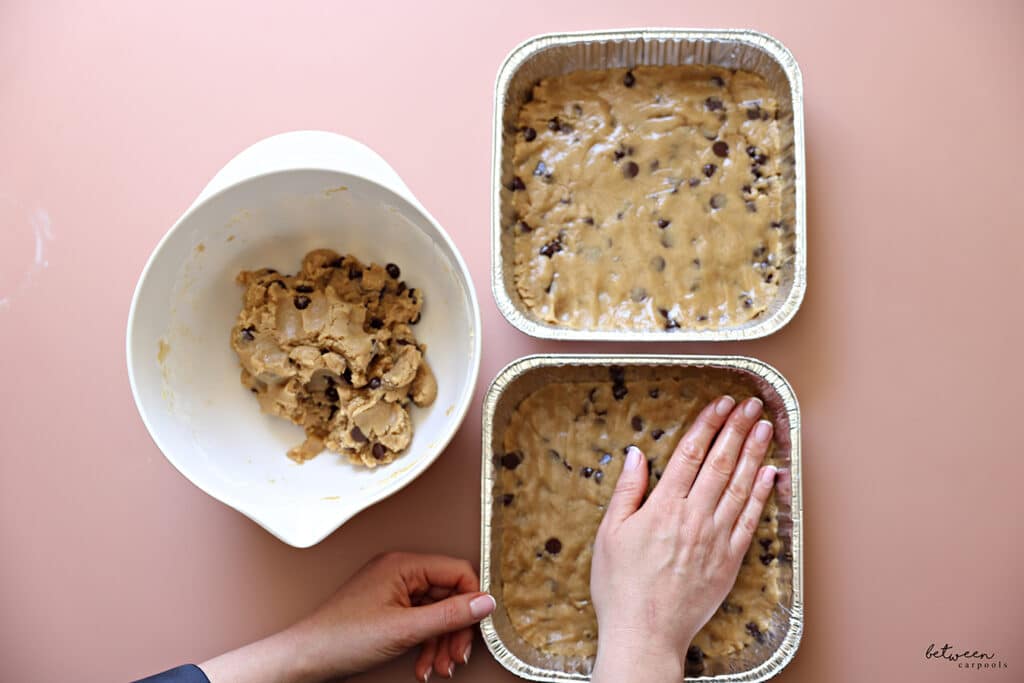 In the end, we used 1 ¼ cups cookie dough in each 8×8 pan and we sprinkled ¾ cup dough on top. But really, you do not need to be so precise.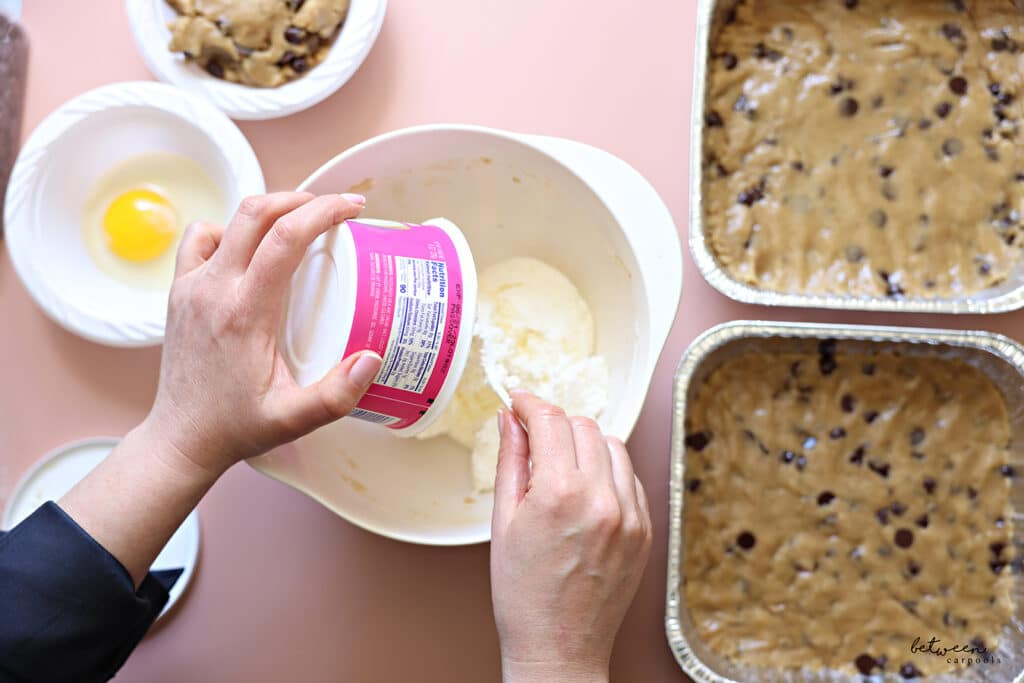 The cheesecake filling also comes together in a bowl.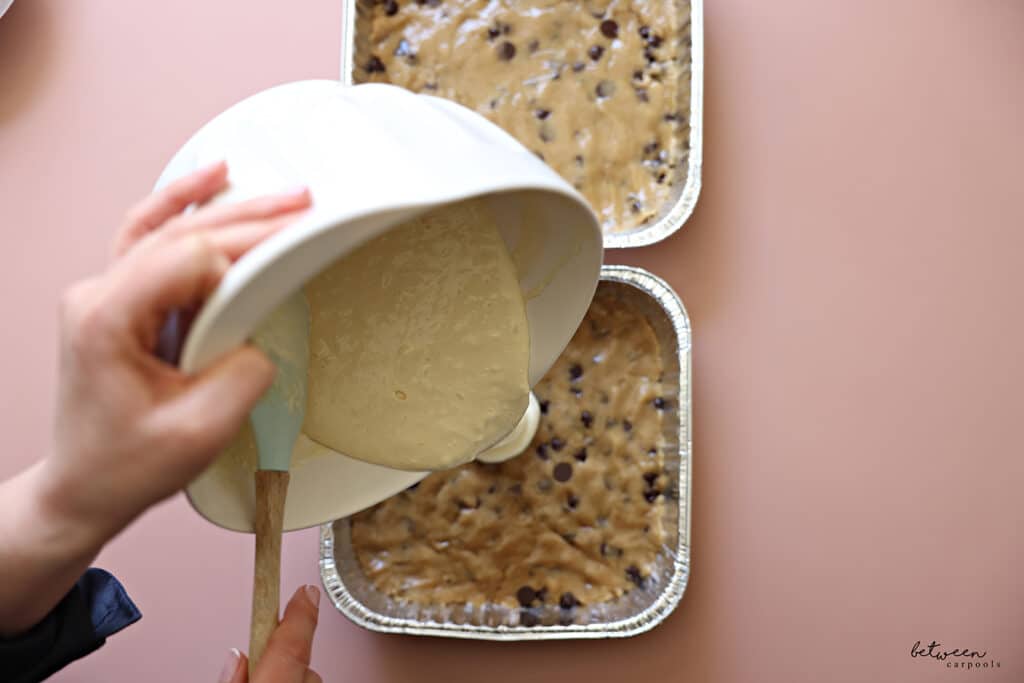 Pour half into each pan.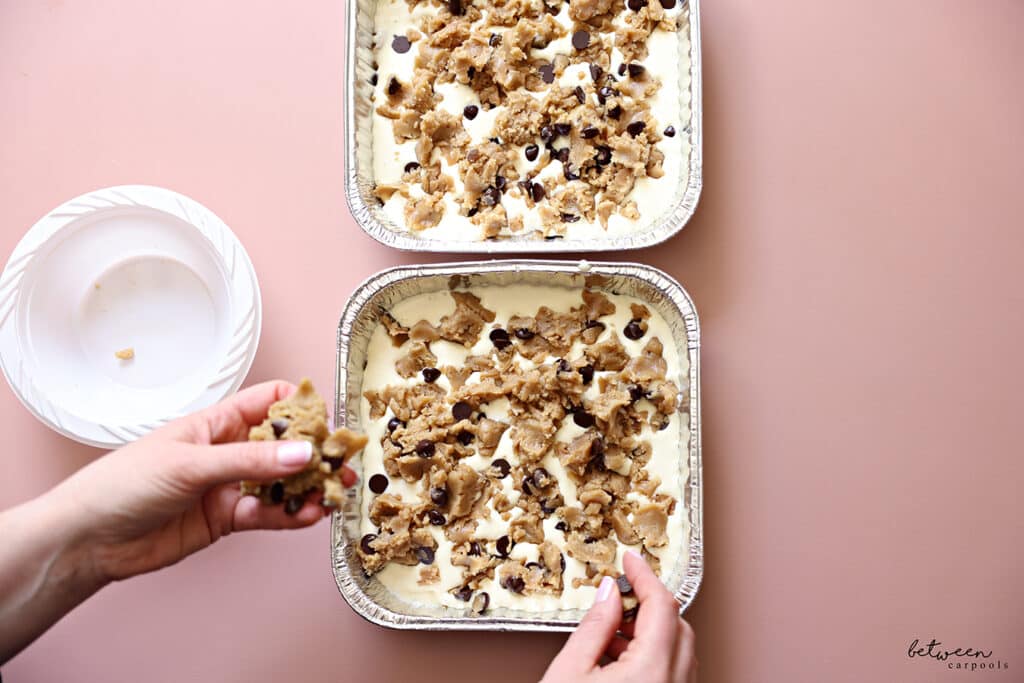 Crumble remaining dough over cheesecake filling.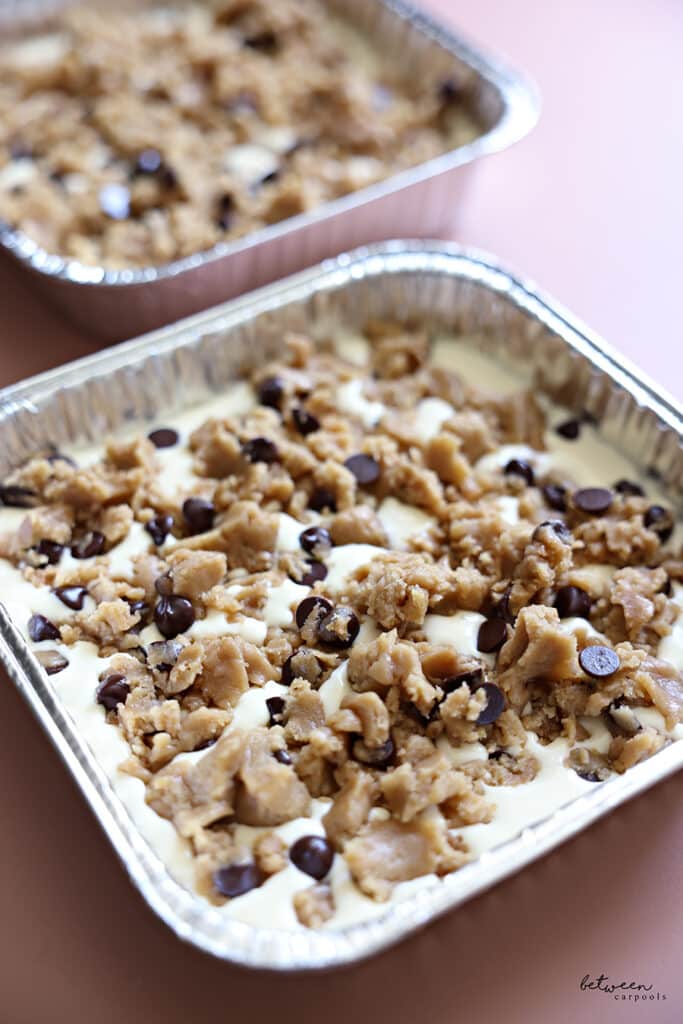 Now, let's bake!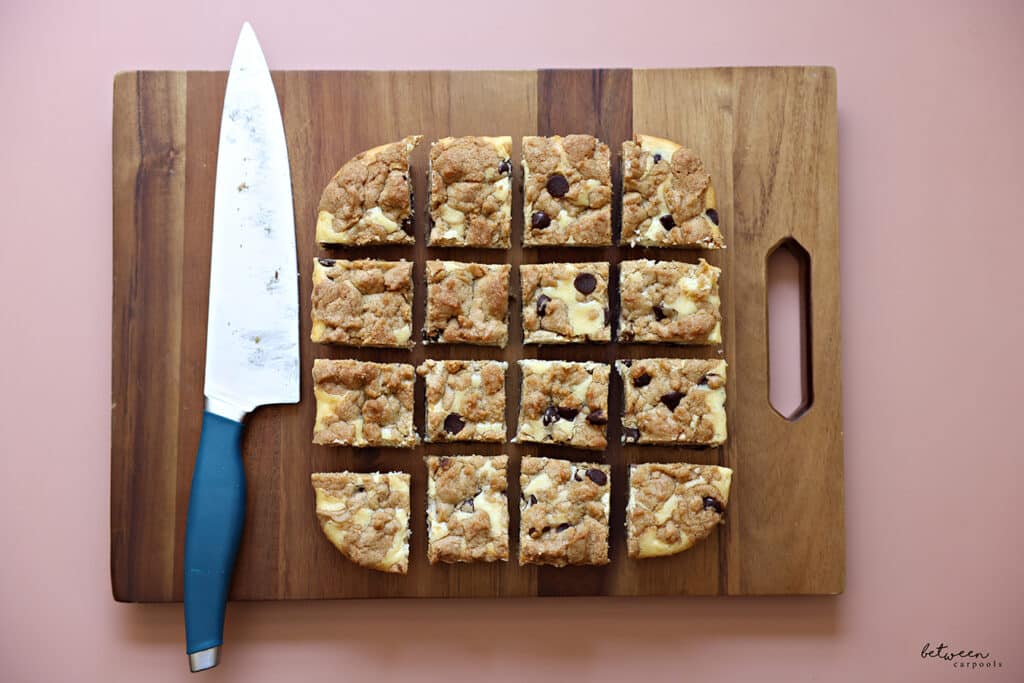 (Yes, these are going to be super popular!).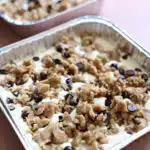 Print Recipe
Chocolate Chip Cheesecake Squares
Ingredients
1

cup

brown sugar

1

cup

sugar

½

cup

oil

1

stick stick (½ cup)

melted butter

2

eggs

1

tsp

vanilla extract

2½

cups

flour

1

tsp

baking soda

½

tsp

kosher salt

1

cup

chocolate chips
Cheesecake Filling: 
1

(8 ounce)

container whipped cream cheese

¼

cup

sugar

1

egg

1

tsp

vanilla extract
Instructions
Preheat oven to 350F. Grease 2 8×8 baking pans.

In a bowl, combine sugars, oil, and butter. Mix to combine. Add in eggs and vanilla. Add flour, baking soda, and salt and mix to combine. Add the chocolate chips and combine.

In another bowl, combine cheesecake filling ingredients.

Press ⅔ of the cookie dough into the pans (about 1 ¼ cup dough in each pan). Pour cheesecake filling on top and spread so it's even across the top. Crumble remaining dough over cheesecake filling. Bake for 35-40 minutes (We tested this in disposable pans. Baking time will be less in a glass or metal pan.)
FOR EXCLUSIVE CONTENT AND A PEEK BEHIND THE SCENES, MAKE SURE TO JOIN OUR WHATSAPP STATUS HERE. JOIN OUR WHATSAPP GROUP AND WE'LL LET YOU KNOW WHEN A NEW POST IS UP!