You know that whenever a salad is finished all the way to the bottom, it's a keeper. It's not only a keeper, it's worth sharing…We've just in time for when you need that great salad: Roasted Eggplant and Sweet Potato Salad to feed the crowd.
My mother had this salad, prepared by my aunt Yenty Roth, at a shalosh seudos. It was the first to go and her immediate thought was, "This would be good for Between Carpools." The quantities are enough to suit a crowd. You can serve it in a regular salad bowl, as shown, or layer it in a glass trifle, like my aunt Yenty did. The sesame seeds on the eggplant and sweet potatoes make those little bites particularly addictive. You can easily halve this for a smaller crowd.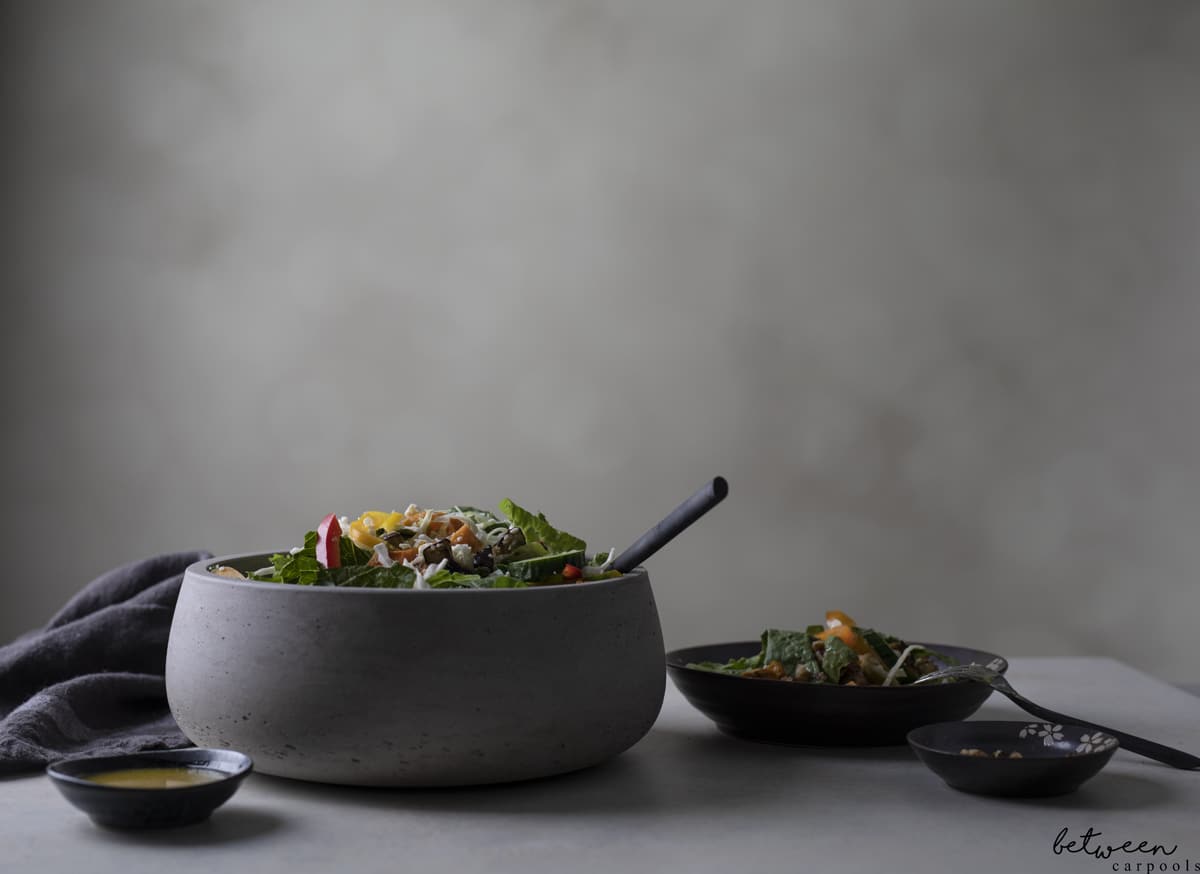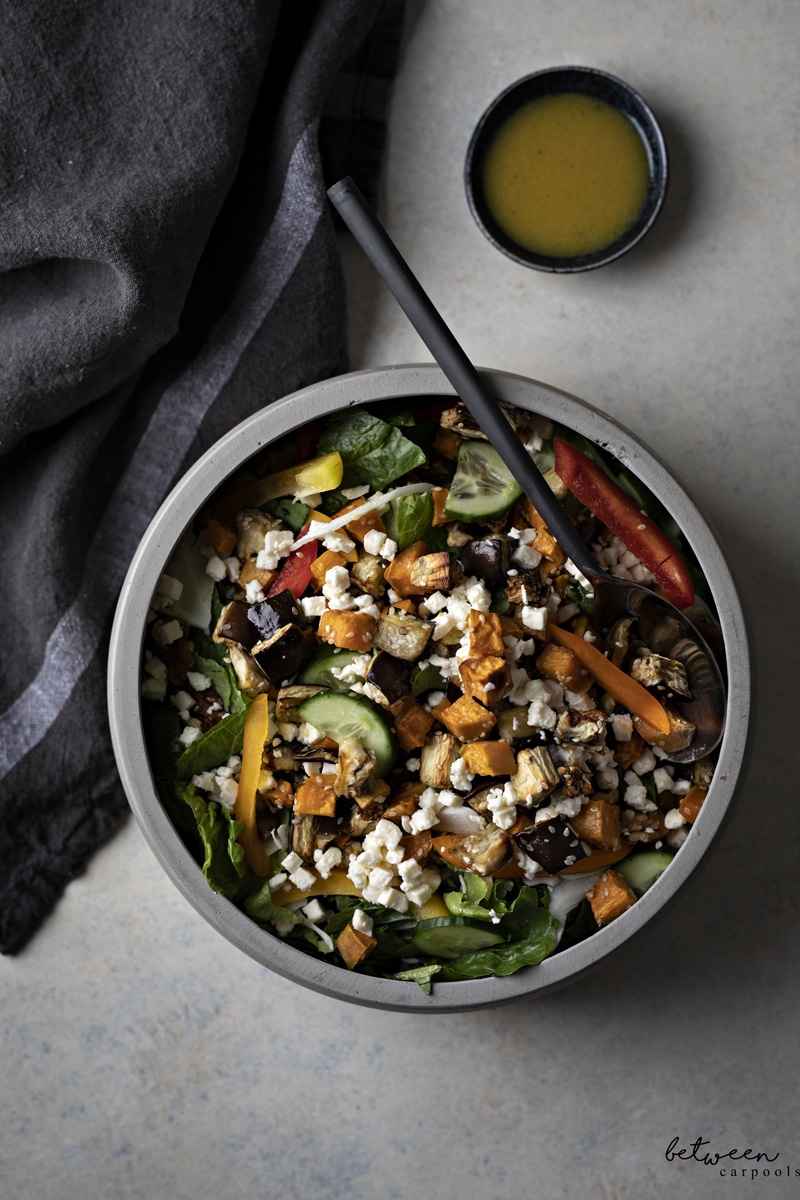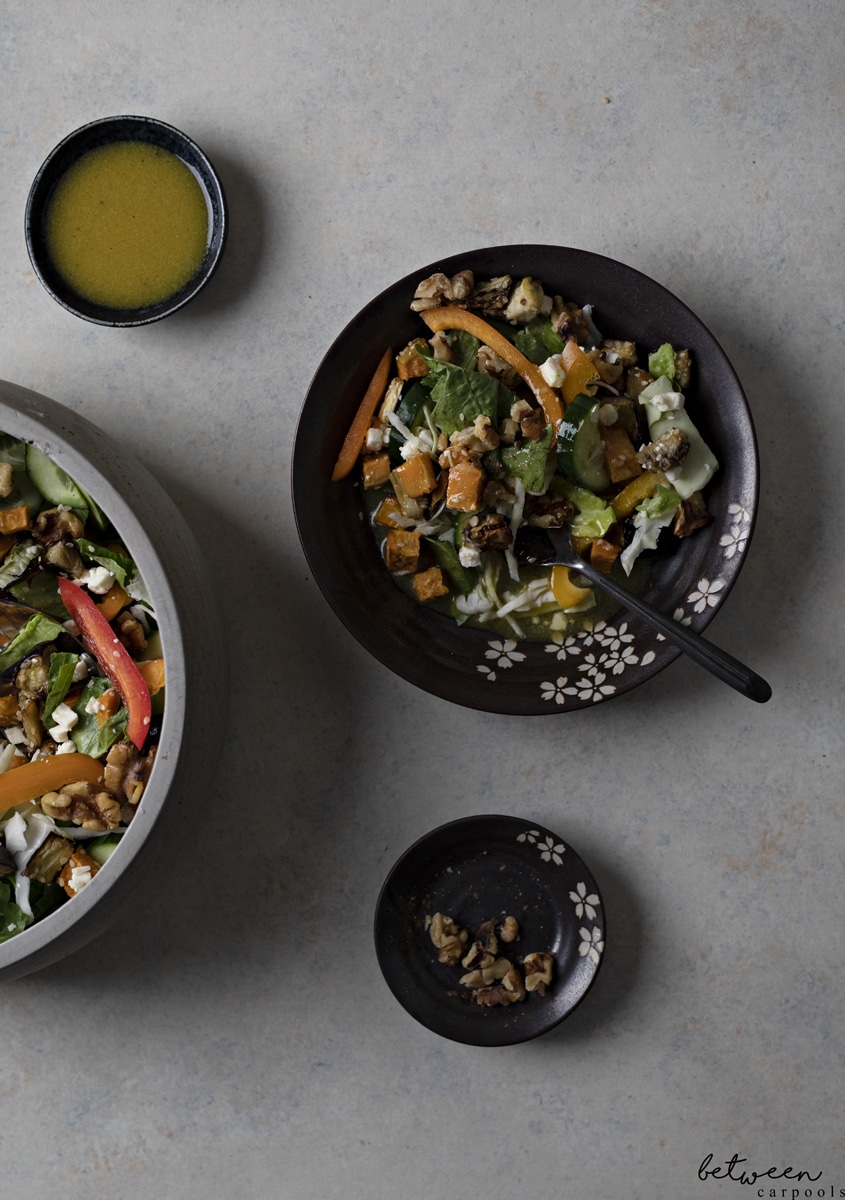 Eggplant and Sweet Potato Salad
Ingredients
2 eggplant, cubed
6 small sweet potatoes, peeled and cubed
2-3 tablespoons oil
Salt, for sprinkling
Sesame seeds, for sprinkling
24 ounces Romaine lettuce
1 English cucumber, diced
2 tri-colored peppers, sliced
¼ cup chopped walnuts
½-3/4 cup feta cheese
Dressing:
¼ cup orange juice
2 tablespoons honey
2 tablespoons mustard
1 tablespoon vinegar
⅓ cup olive oil
3 garlic cloves, crushed
Pinch crushed black pepper
Instructions
Preheat oven to 425⁰F. On a two greased baking sheet, toss eggplant and sweet potatoes with oil and sprinkle with salt. Sprinkle sweet potatoes and eggplant with sesame seeds. Bake for 20 minutes. Toss in pan, and roast for an additional 20 minutes.
Combine all dressing ingredients.
Meanwhile, add lettuce to a large bowl. Top with cucumbers, peppers, and roasted veggies. Top with feta cheese and walnuts and toss with dressing.