Not every cheesecake recipe works in a mini version. Here's how to avoid a flop and make those mini cheesecakes come out perfect every time.
I was first introduced to the Norpro Mini Cheesecake pan when Leah and I were working on Dairy Made Easy and used the pan to bake the cheese babkas featured in that book. Since then, I've used the pan for what it's meant for – mini cheesecakes – very often. Sometimes I was successful and made cute cheesecakes that looked beautiful and perfect, and other attempts were a disaster (like when my sister-in-law asked me to make for her daughter's bas mitzvah and I used the new recipe that I had tasted and loved by my friend's house). And I've learned some important things along the way.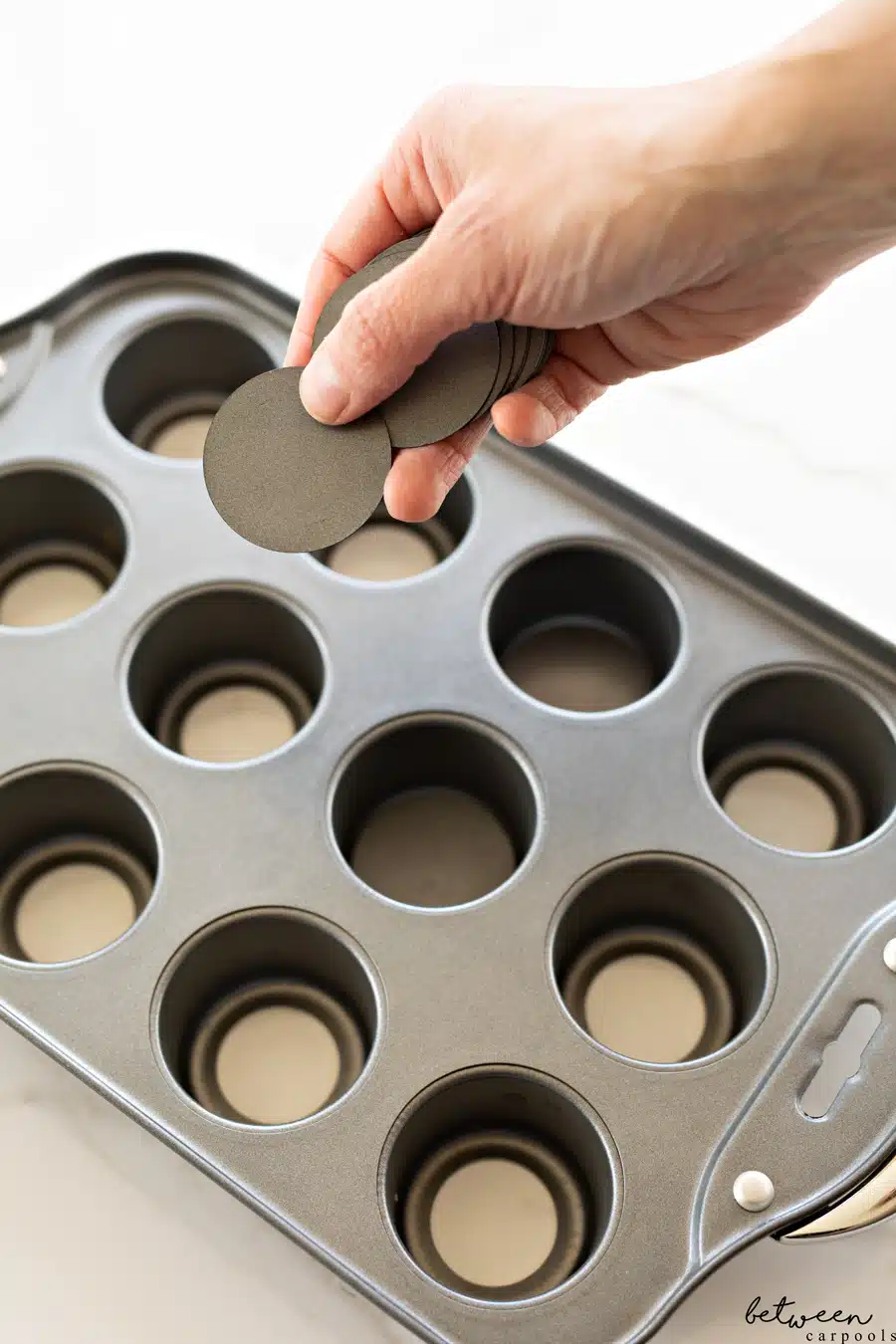 The cheaper versions of the pan will work, but I found the Norpro Mini Cheesecake Pan with Removable Bottom to really be the best (prices fluctuate but usually it's just $3-$4 more than the alternatives). Be careful not to lose those little discs! Add the discs to the pan and grease very well.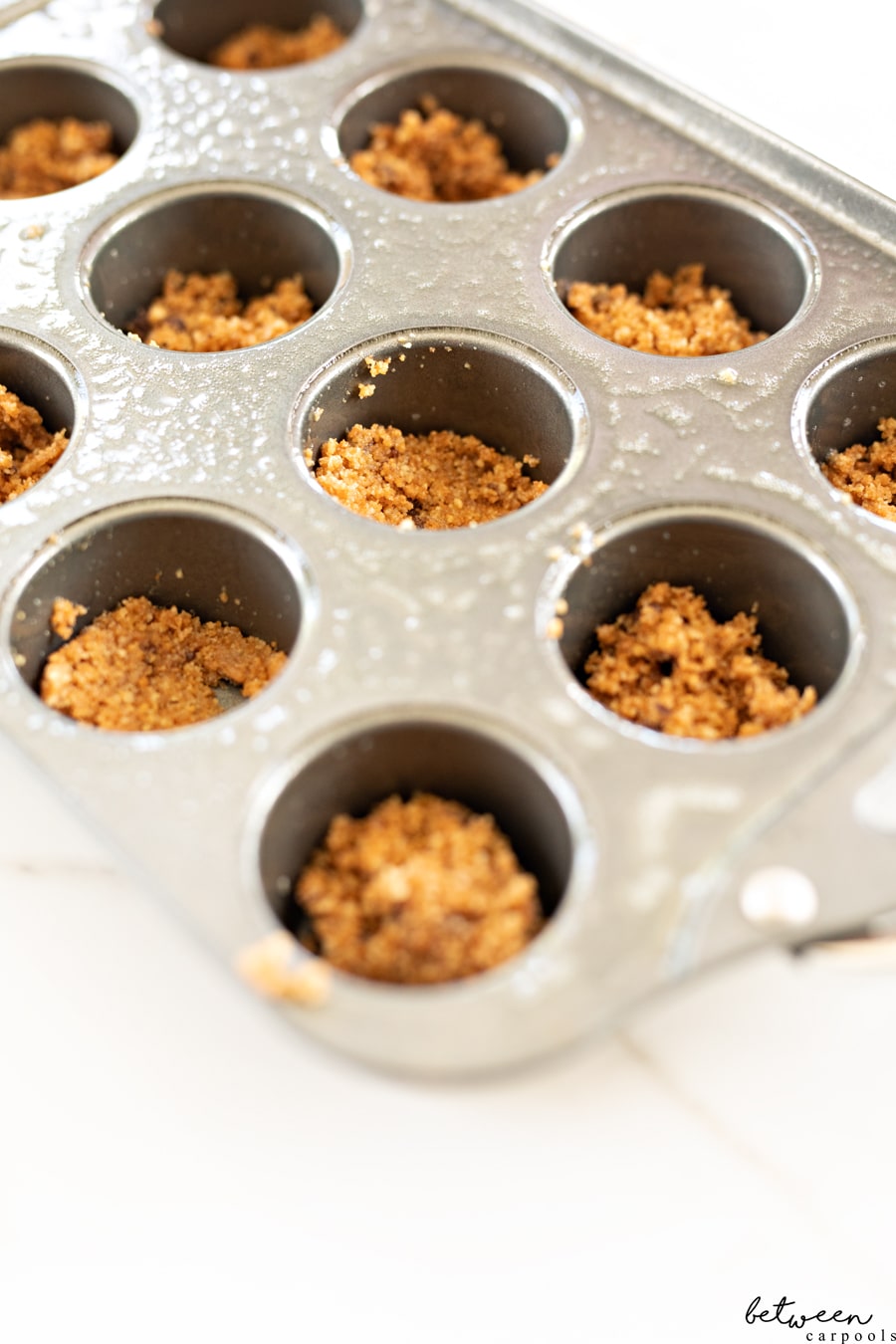 Forget graham crackers. Crush anything you want (any cookies or even cereal) and mix it with melted butter until moist. Here we crushed chocolate chip cookies.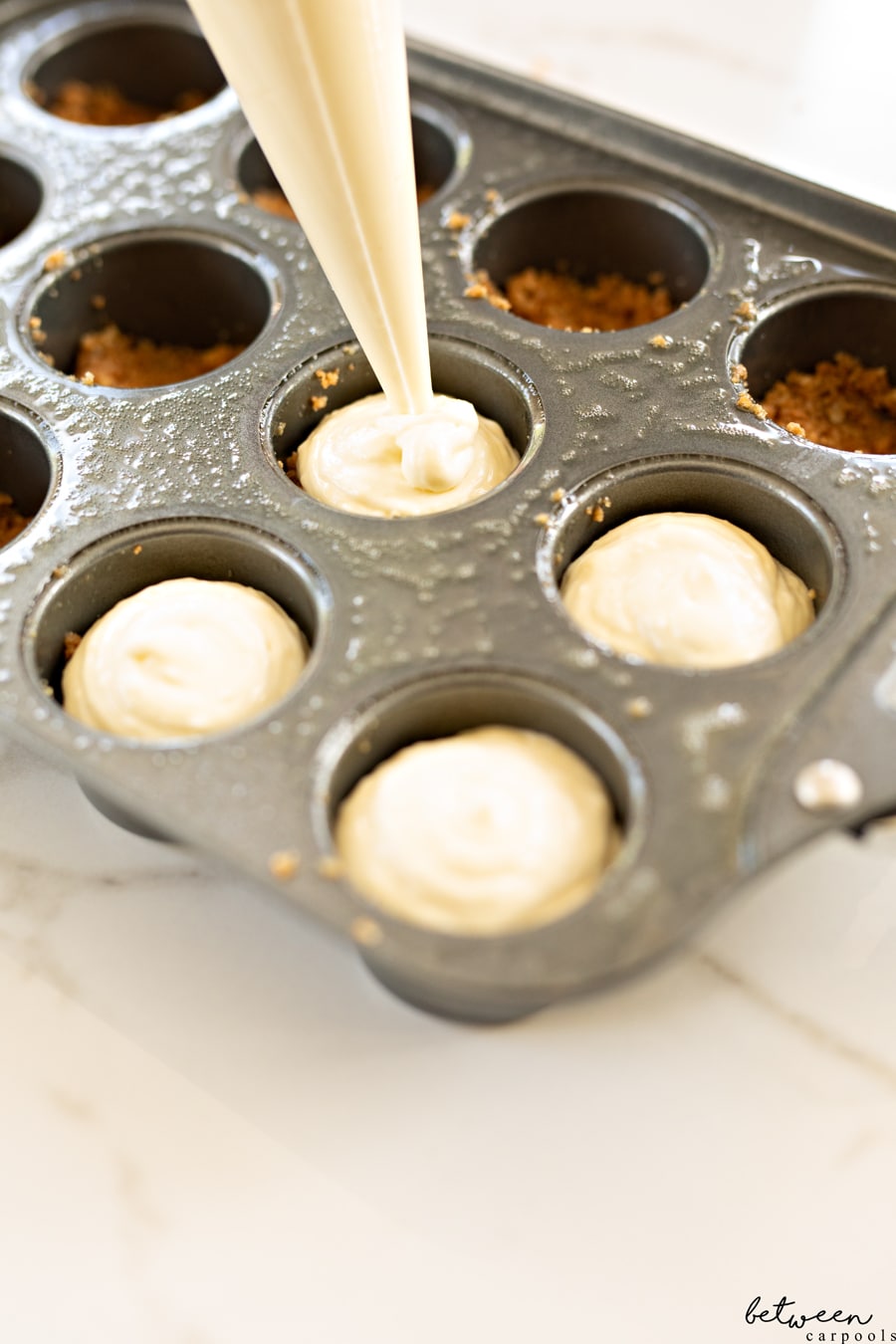 Pipe the cheesecake batter into the pan to keep things neat.
The most important tip when making mini cheesecakes is to avoid using your favorite cheesecake recipe. Some will work, most will not. Soft, creamy, fluffy batters are very nice for a large cheesecake. But if you try to put your batter in a mini pan it will simply fall apart and you'll have very messy minis. You need a simple recipe based on brick-style cream cheese and no cream, sour cream, or anything with a looser consistency. The recipe I use (below) is as simple as it gets: cream cheese, egg, sugar, and vanilla. There's no need to complicate things!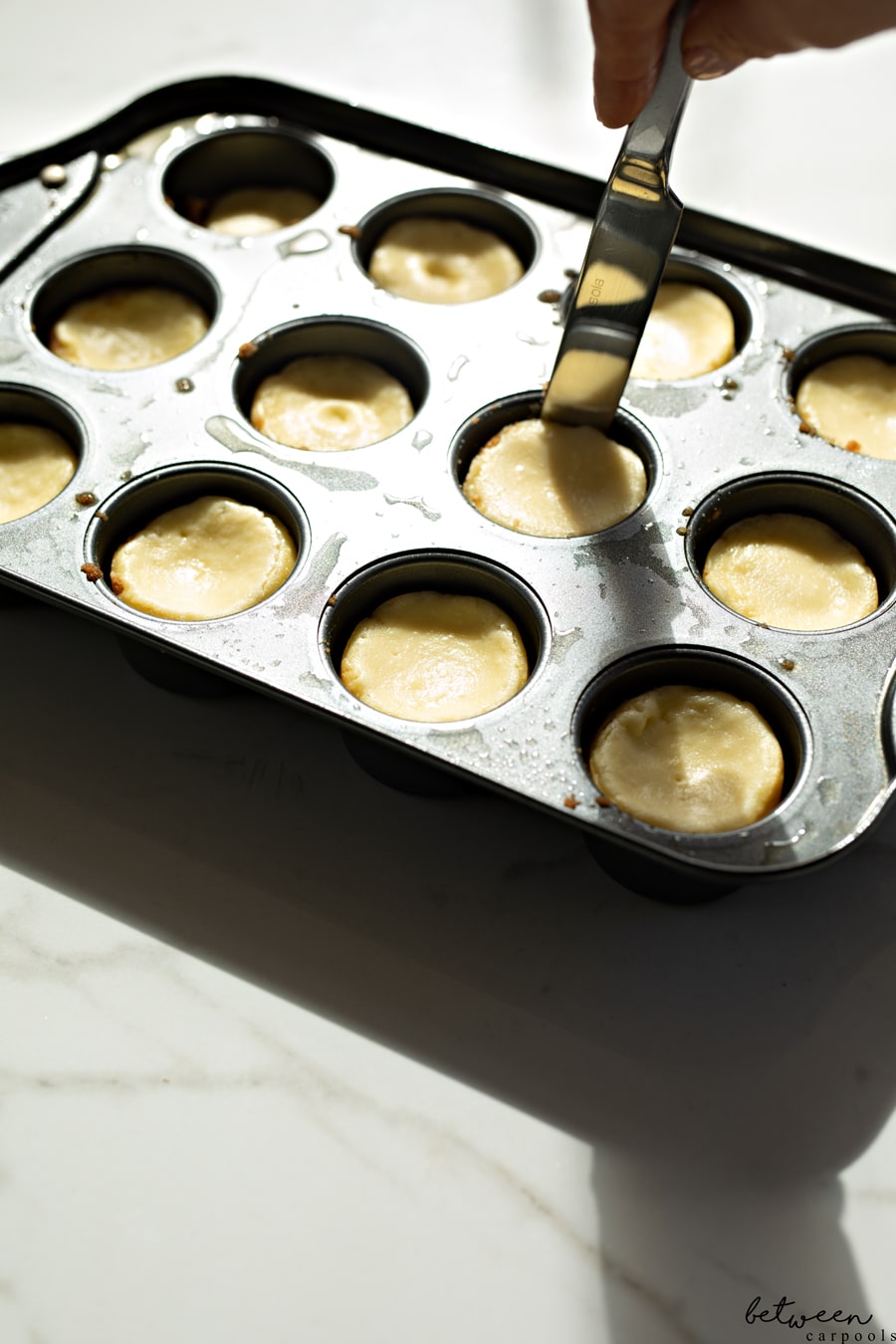 I know you want to bake more than one batch of minis. And you might only have one pan. But if you rush to take them out while they're still warm, you may end up with a mess. When the cheesecakes come out of the oven, let them cool a bit, then put the pan in the freezer. The cheesecakes will remove easily and cleanly when they're solid and cold. Once they're cold, release the edges gently with a knife.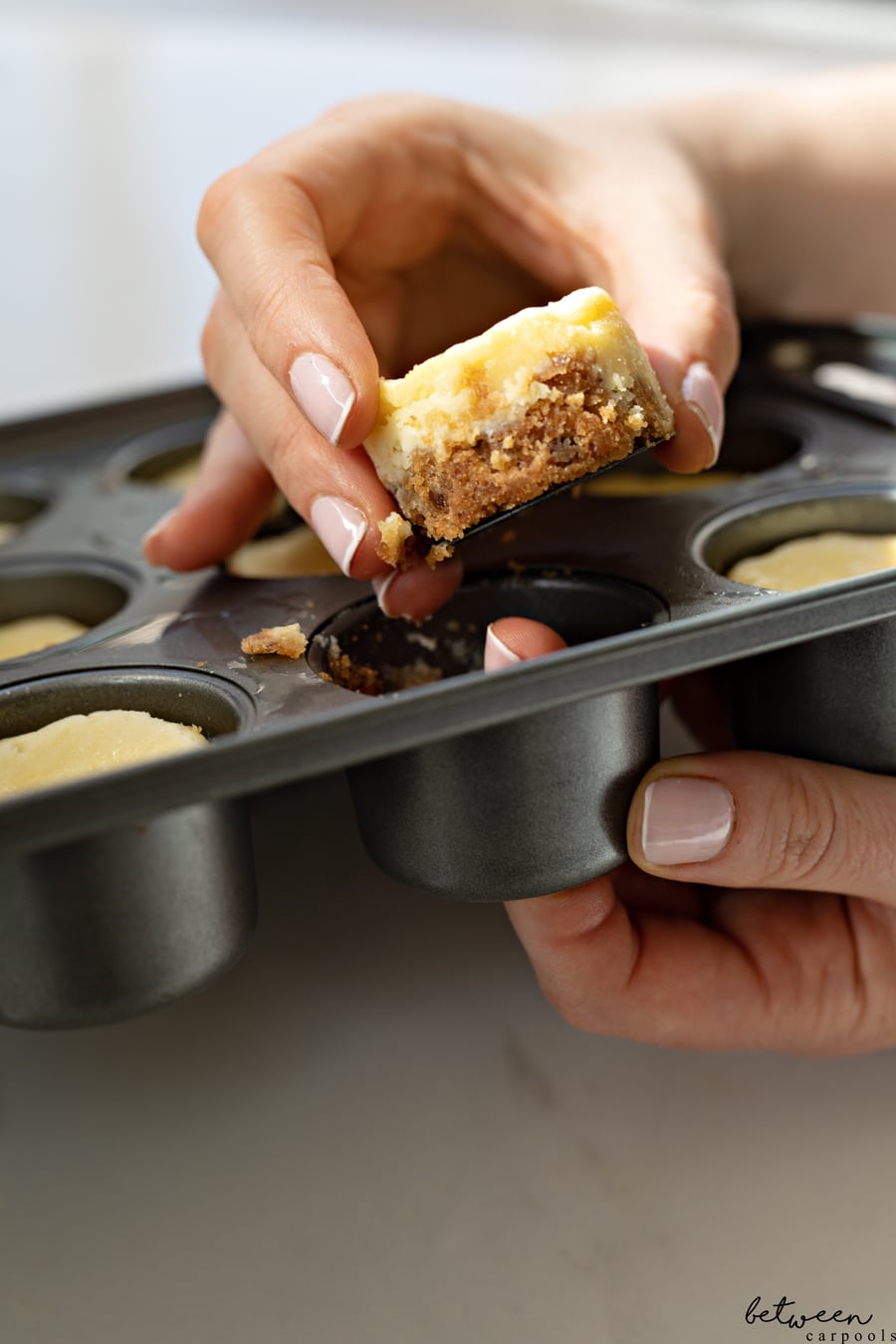 You're all set to decorate!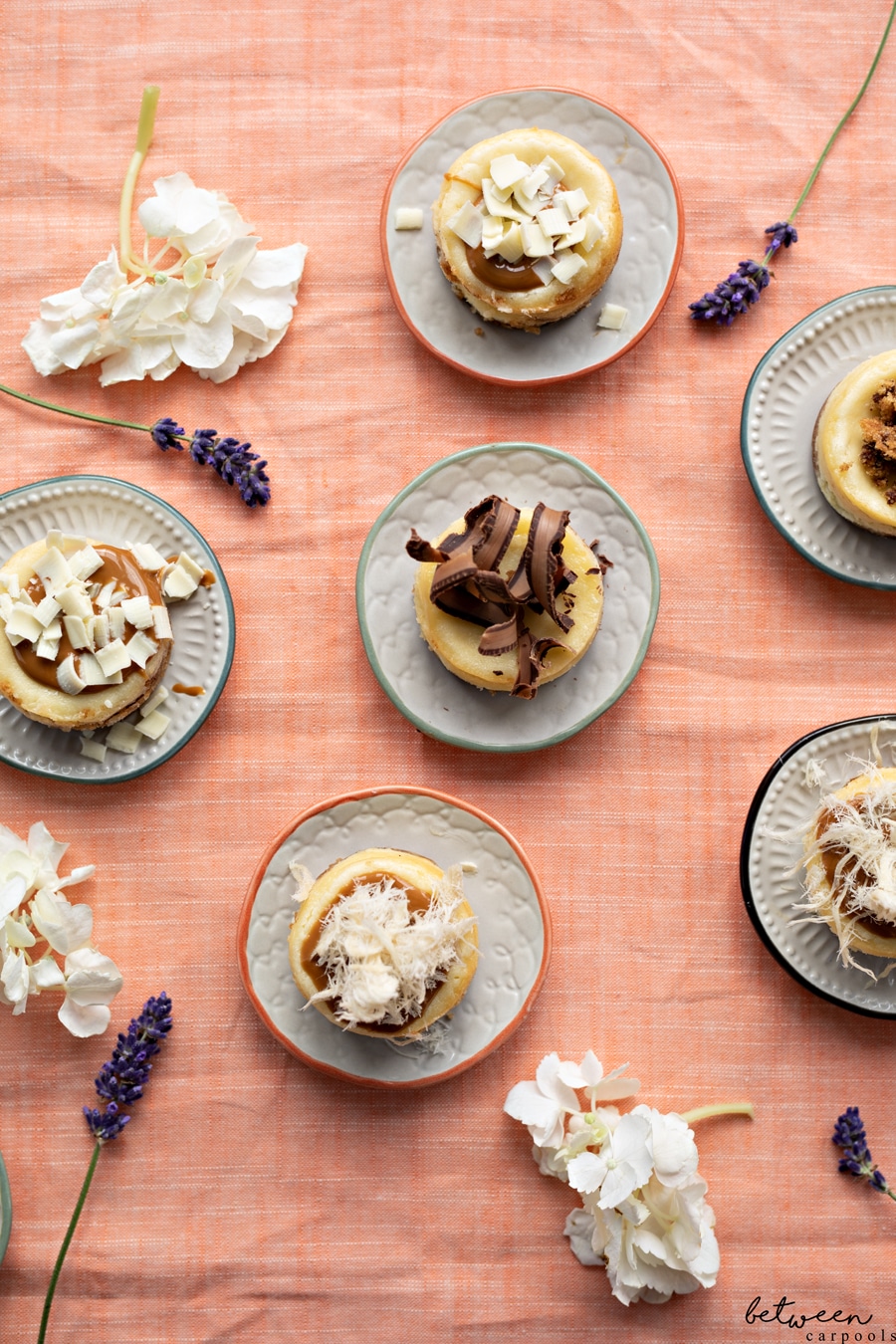 The best part about minis is that there's portion control so there's less cheesecake guilt. Plus you can vary up the toppings to suit all tastes.
Now let's make cheesecake.

Mini Cheesecake That Works
Ingredients
Crust:
Cookie crumbs of your choice mixed with melted butter (4 tablespoons butter for every 1 cup crumbs)
Batter:
1 (8-ounce) brick cream cheese
1 egg
¼ cup sugar
1 teaspoon vanilla
Instructions
Grease your mini cheesecake pan very well. Mix the crumbs and butter and press into pan (if you want to be perfect you can measure and put the same amount of crumb in each cup).
In the bowl of an electric mixer, combine cream cheese, egg, sugar, and vanilla. Pipe into pan.
Bake for about 20 minutes, until edges of cheesecake are beginning to turn golden at the top.
Let cool first on counter, then transfer to freezer. Be patient! Loosen edges with a knife and pop out of pan (pushing up from the bottom) once cheesecakes are firm and cold. Decorate as desired.