Morning or night, navel pastrami makes a perfect meal. And here's my fav ways to enjoy it.
My friends always lovingly, of course, laugh at me that I can eat anything fleishig at 11 a.m., especially when pastrami is involved. Don't you agree that it's perfect for brunch? There's something so comforting about a tender, slow-cooked, hot pastrami. Anytime, any given day.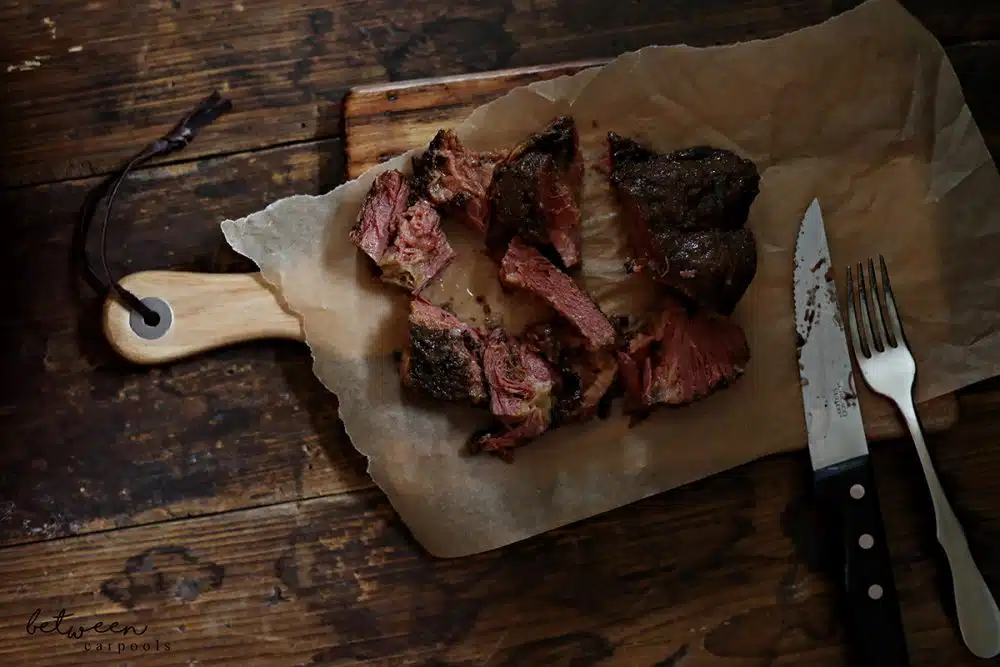 If you are wondering why I love pastrami so much you are probably cooking yours wrong. So, let me teach you a valuable lesson in pastrami prep.
There are many kinds of pastrami.  
Pastrami Cold Cuts
The classic type we're all most familiar with is cold cuts, i.e. sliced pastrami that you buy at the deli counter. It makes for a great sandwich if you treat it right, but that's a lesson for another time.
Pastrami Roasts
The second kind of pastrami is an item that butchers started selling a few years ago. It's a brisket that's covered in a pastrami seasoning. You purchase the meat raw and you cook it as you would cook corned beef, or bake it in the oven covered in water for 3 hours. You can also cook it in a bag in the Crock-Pot with water for 6 hours on low. Preferably you should buy second-cut if using this last cooking method.
Navel Pastrami
Now for the version that I prefer (and the one featured in the photos): Navel Pastrami. It's fatty. It's what pastrami was meant to be.
Navel Pastrami (such as the one sold by Meal Mart) comes in a cooking bag and is actually pre-cooked. Some stores cut the 4-pound navel pastrami into 4-5 chunks and sell each chunk individually in a vacuum-sealed bag. Many people place a small chunk of navel pastrami directly into the cholent. I prefer keeping it in the cooking bag (or vacuum-sealed bag) so that the cholent doesn't get all that fat.
How to Prepare Navel Pastrami
I learned the best trick for preparing navel pastrami from my new sister-in-law's mother.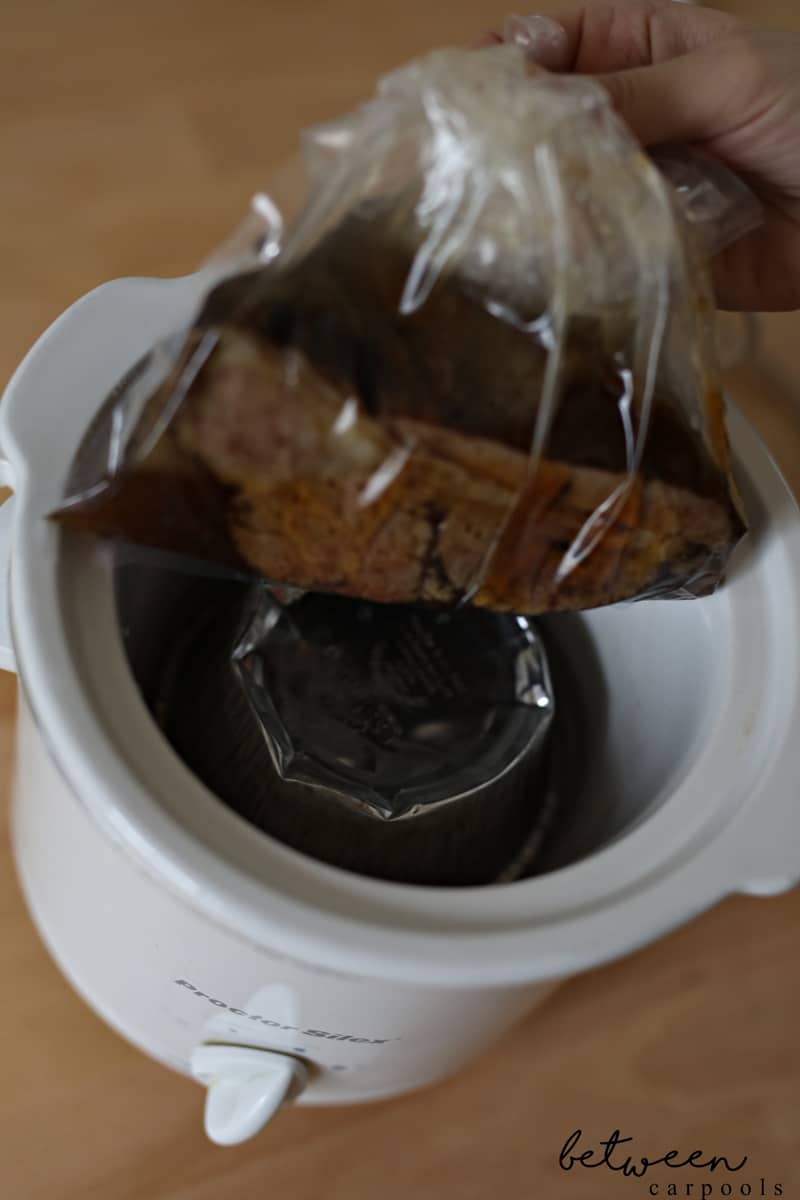 Place a small aluminum pan upside down into the slow cooker bowl. Place the navel pastrami right on top. Fill up the sides with cold water, just barely touching the pastrami bag. You don't want the pastrami to sit in the water. The purpose of the water is to "steam" the pastrami (the navel pastrami is pre-cooked). Cover and place on low heat overnight. When ready to serve, remove from bag, discard any juice that accumulated in the bag, cut into chunks, and serve with coleslaw and mustard.
When using a large pastrami, use a round aluminum or loaf pan on the bottom of a standard-sized slow cooker. When using a smaller chunk, you can steam it in a smaller slow cooker alongside your big one and serve on Shabbos morning.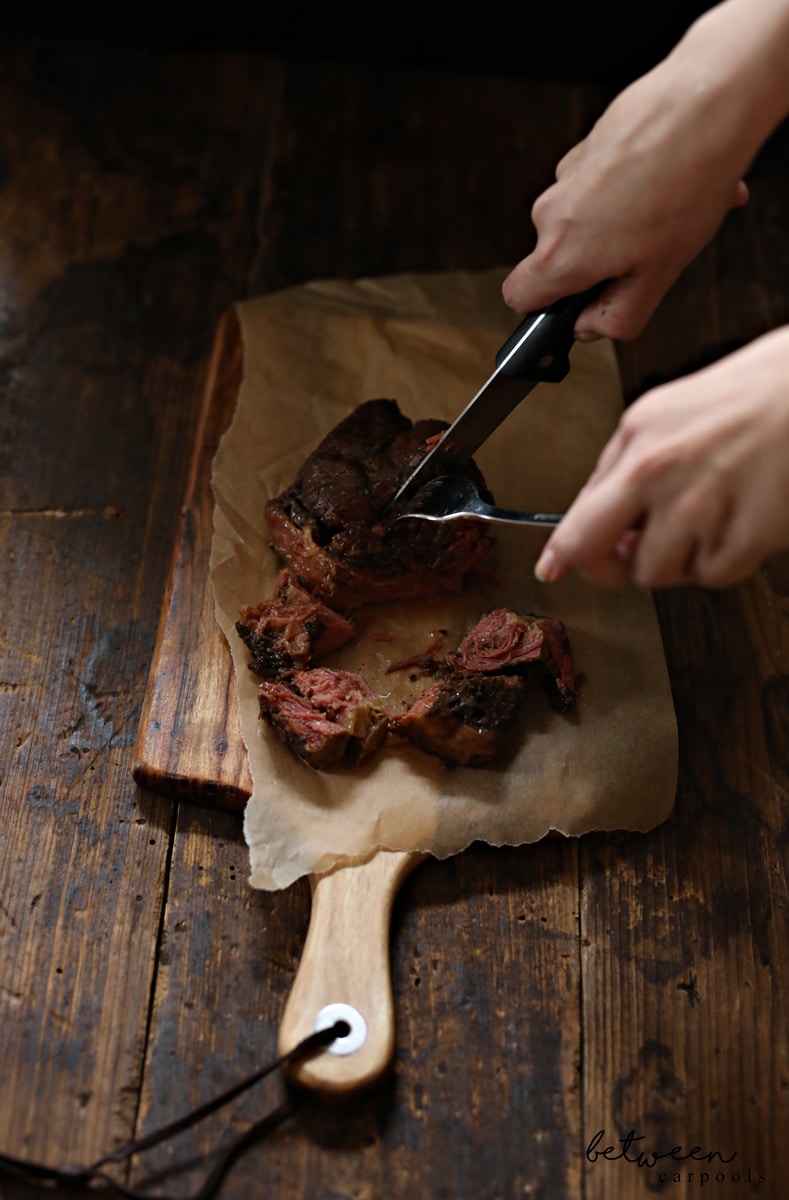 Use a knife and cut chunks (it won't cut into pretty thin slices). You don't need any glaze over it; just plain and simple is the way to go.
Want to serve this for dinner? Buy fresh baguettes and serve with lettuce, tomatoes, coleslaw, mustard, and pickles and let everyone make their own sandwich. Serve it with some onion rings and it's a perfect special meal.
ps. You will love these great slow cooker dinner ideas.