Enjoy one of your favorite simanim in this easy couscous side dish.
Such a pretty side dish, this simple couscous salad is great for any occasion and especially Rosh Hashana. Beautiful, bright pomegranate seeds give this dish a pop of pink and a surprising freshness by adding a burst of juice to every bite. And since almonds and chickpeas pack some protein, this makes a quick lunch option too.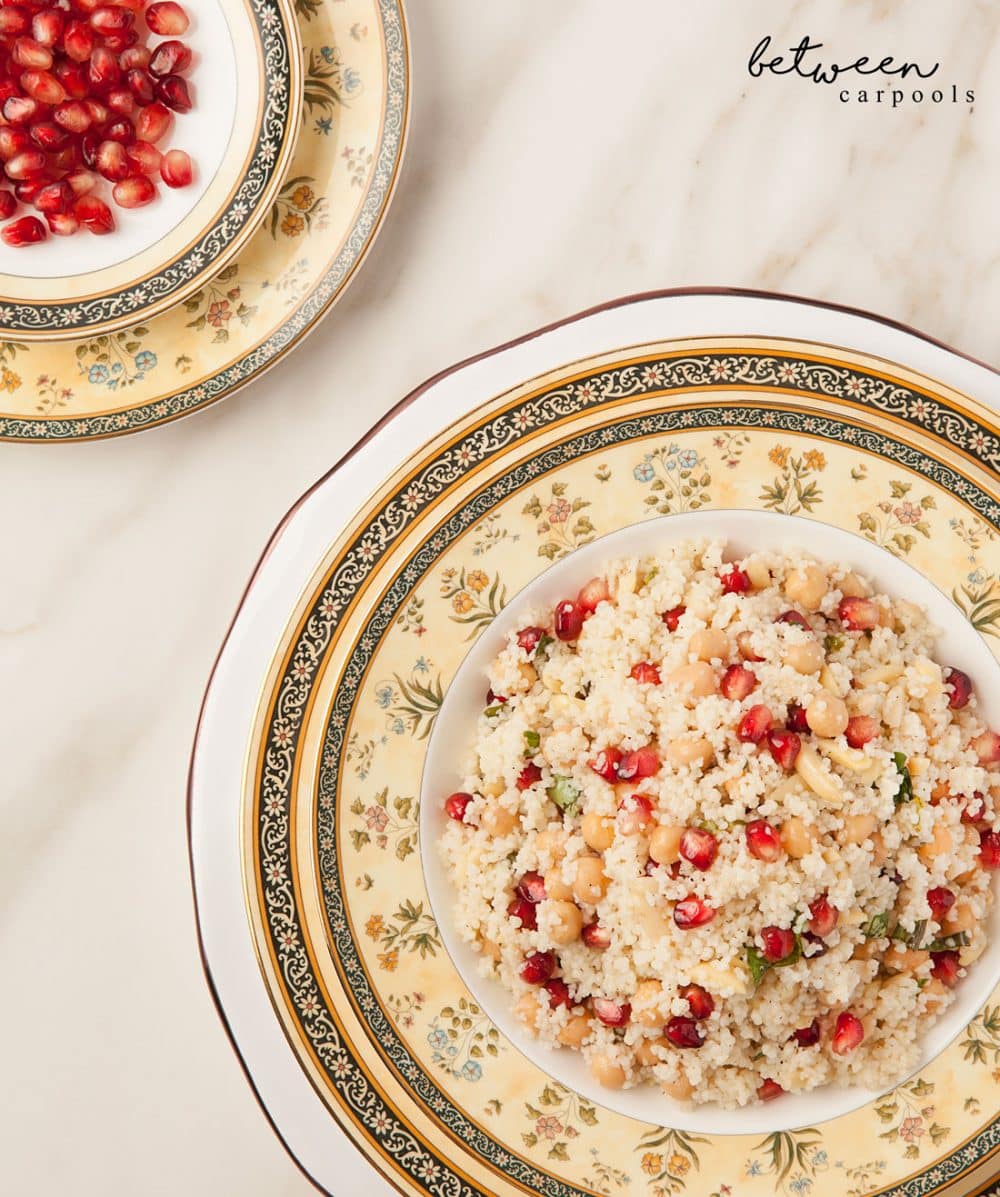 Couscous with Pomegranate Seeds and Almonds
Ingredients
Couscous:
1 cup couscous
2 cups boiling water or vegetable broth
1 can (19 oz/540 ml) chickpeas, rinsed and drained
1 cup toasted sliced or slivered almonds
1 cup pomegranate seeds
Dressing:
¼ cup extra virgin olive oil
zest and juice of 1 lemon (about 3-4 Tbsp)
2 Tbsp maple syrup
1 tsp kosher salt
½ tsp black pepper
½ cup chopped fresh basil
Instructions
Place couscous into a large serving bowl. Add boiling water; cover, let stand for 10 minutes, until water is absorbed. Fluff with a fork to separate grains. Let cool completely.
Combine dressing ingredients in a glass jar; seal tightly and shake well.
Add chickpeas, almonds, and dressing; toss to combine. Cover and refrigerate.
Add pomegranate seeds shortly before serving. Adjust seasonings to taste. Serve chilled or at room temperature.
Norene's Notes:
No pomegranate seeds? Use dried cranberries instead, adding them in step 2.
Couscous is an excellent item to have on hand in your pantry because it requires no stovetop cooking and minimal preparation.
Many people think that couscous is a grain, but it is actually tiny grains of pasta made from hard durum wheat. The bran and germ are stripped from the wheat berry; then the endosperm (semolina) is ground, steamed, and dried, forming tiny grains.