This white soup is so velvety and creamy…and it's pareve!
I first played around with this soup recipe on Tzom Gedaliah and by the time the boys had come home from school, the soup was ready and simmering on the stove. My boys (under bar mitzvah age) had not yet broken their fasts.
I didn't intend to tempt them! After all, this was a vegetable soup. It's not like I had taken pizza out of the oven.
When they walked in, though, they couldn't resist. They made themselves a bowl and broke their fasts.
"Ma, you can't have the creamiest soup ever on the stove and expect us not to!" one son said.
I was happy they loved it and I had another comforting soup to add to the repertoire for this coming winter.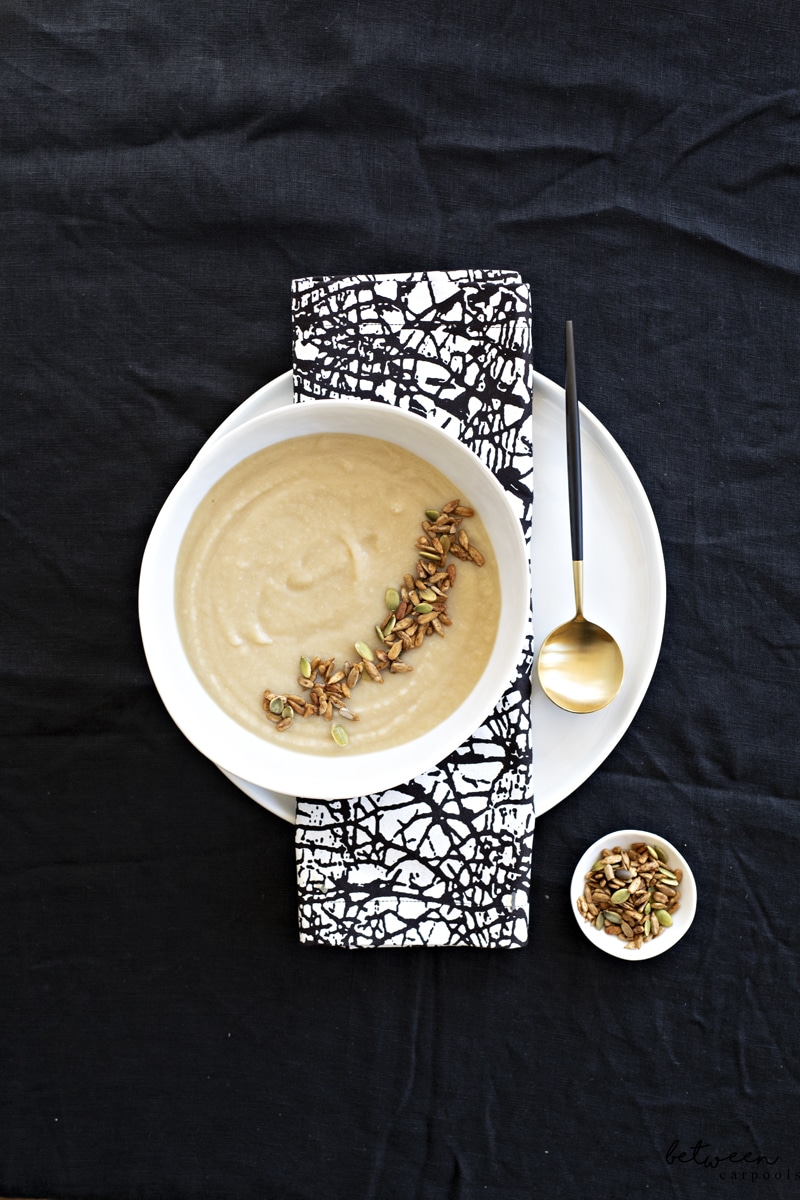 I use white sweet potatoes in this soup, a potato that we don't often think to pick up. After all, it's not orange like what you'd call a yam, and it's not a staple like a regular potato. Having a sweet flavor while retaining the white color is what makes this soup unique.
We garnished this simply with toasted sunflower and pumpkin seeds.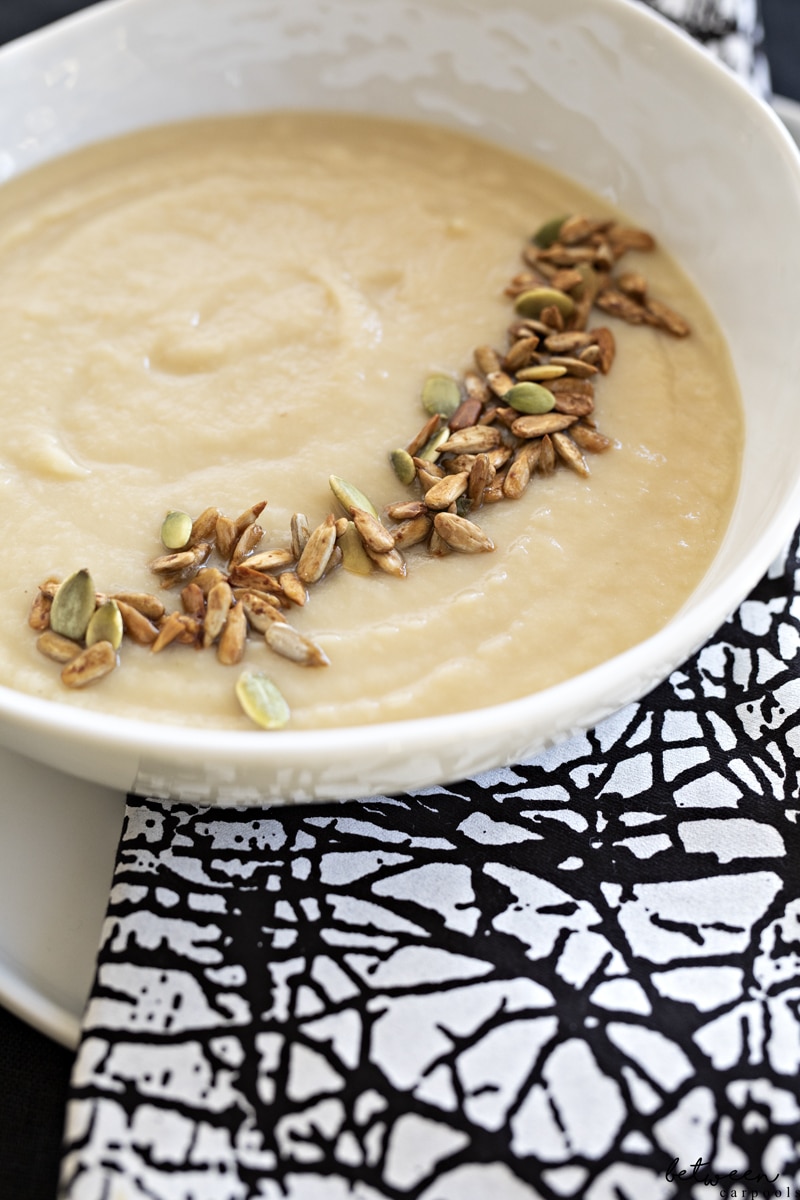 The Creamiest White Sweet Potato-Cauliflower Soup
Ingredients
2 tablespoons olive oil
1 large onion, diced
1 leek, white and light green parts only, cleaned and diced
4 garlic cloves, crushed
1 (24-ounce) bag frozen cauliflower
2 lbs white sweet potatoes, peeled and diced
6 cups water or stock
1 (13.5 ounce) can light coconut milk
Salt, to taste
Instructions
In a large pot, heat olive oil. Add onion, leek and garlic and saute over low heat until all are completely golden and tender, about 20 minutes.
Meanwhile, preheat oven to 425⁰F. Spread cauliflower on a greased baking sheet and bake for 25 minutes, until cauliflower is just beginning to turn golden.
Add cauliflower and potato to the pot. Add water or stock and bring to a boil. Cover, lower heat, and simmer for 40 minutes. Let cool.
Once soup is cooled, blend using an immersion blender while adding coconut milk, a little at a time. Blend until completely smooth. Season with salt to taste and blend again.
Substitutions That Work:
*Can't find white sweet potatoes? The regular orange sweet potatoes/yams found at all groceries will work as well.
*If you don't have leeks on hand, just double up the onions.
*Light coconut milk will keep the soup from being too rich, but classic coconut milk will make it a real treat as well. You won't discern the coconut flavor…just the creaminess!