Want to get ahead with the cooking, but don't know what you can freeze and what should be prepared fresh? Here's a guide to help.
Perhaps the most common question we receive on any recipe is in regards to freezing it. Can I freeze it? How do you reheat it?
So let's get straight to it. Really almost everything can be frozen. Correction: Everything can be frozen, the taste might just not be to your liking. It's extremely personal. Some like chicken that's been frozen and defrosted and some hate it.
As soon as you start freezing, start labeling! You might think you will remember in 4 weeks from now that the round container contains meatballs, and the square one has tomato soup, but…no. You will most definitely forget. Make sure to always label everything.
Click here to see the best way to label frozen foods and how to avoid freezer burn.
Your Freezing Guide
Before:
*Let cool completely before freezing.
*Label well.
*Cover well (if freezing in tins, use the covers that are made for the pans, not foil).
Season well. Some flavor is lost when reheating.
Appetizers:
Yes:
*Most anything in a dough can be frozen and re-warmed, except if the filling is very watery.
How: Even better if you can freeze some items half baked or raw and bake fresh. In some cases, you need to freeze components separately and assemble fresh.
Look here for some of our favorites:
Flatbreads (freeze flatbreads and meat toppings separately and assemble fresh)
Susie Fishbein's Chicken Wontons
Pastrami Pizza (freeze components separately + add greens fresh)
Scallion Quinoa Patties (freeze patties, rewarm like fried food, aioli can be refrigerated up to a week).
Pulled Beef Tacos + Taco Shells (freeze the meat and the tacos separately)
Soups: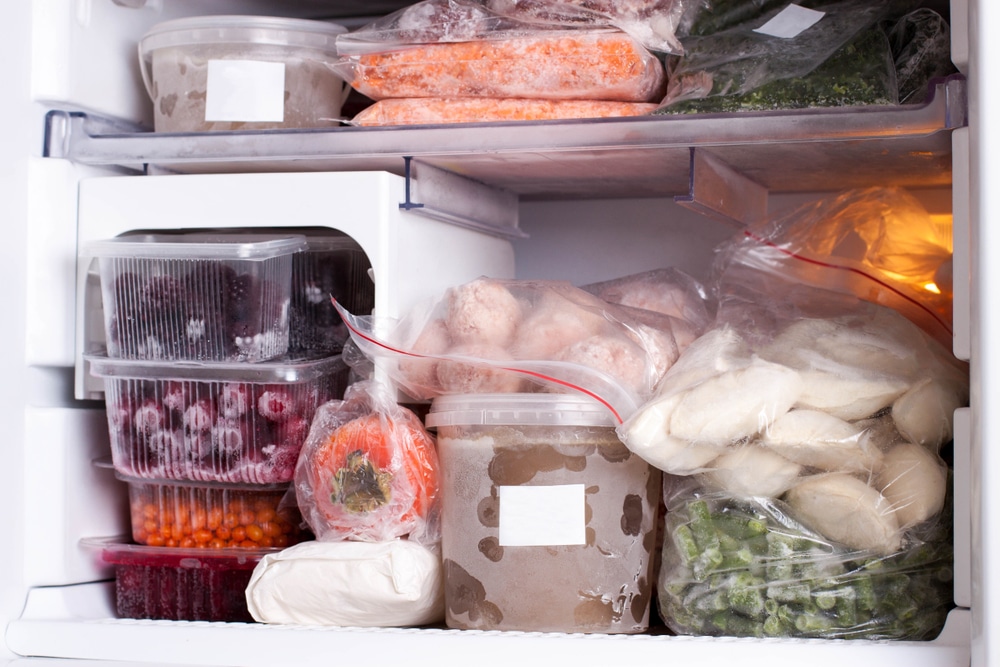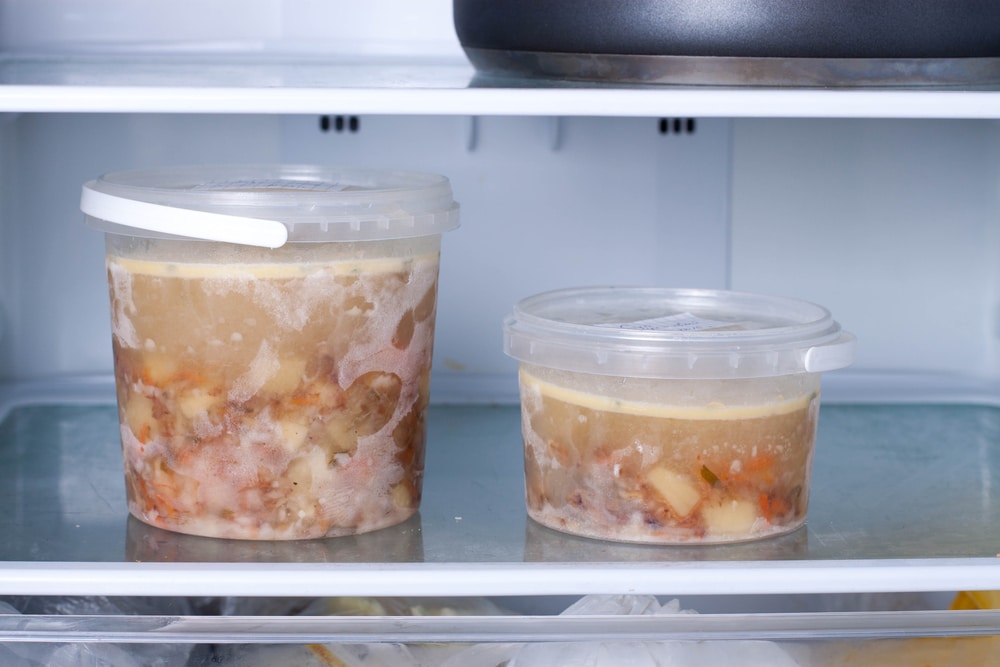 Yes:
All blended soups. You might need to add some water and re-blend when reheating.
Maybe:
Soups with chunks of vegetables get mushier. It's up to you.
How: Defrost or place frozen soup directly into a pot and reheat.
Meats
Yes:
*Any meat with sauce that cooks long and slow freezes and reheats great.
*Meatballs or any ground beef in sauce.
How: Defrost or place directly into oven from freezer. Keep covered.
No:
Meats served rare/ medium rare are best cooked fresh. For any meats that you will cook or grill fresh, freeze them raw in a marinade.
Chicken: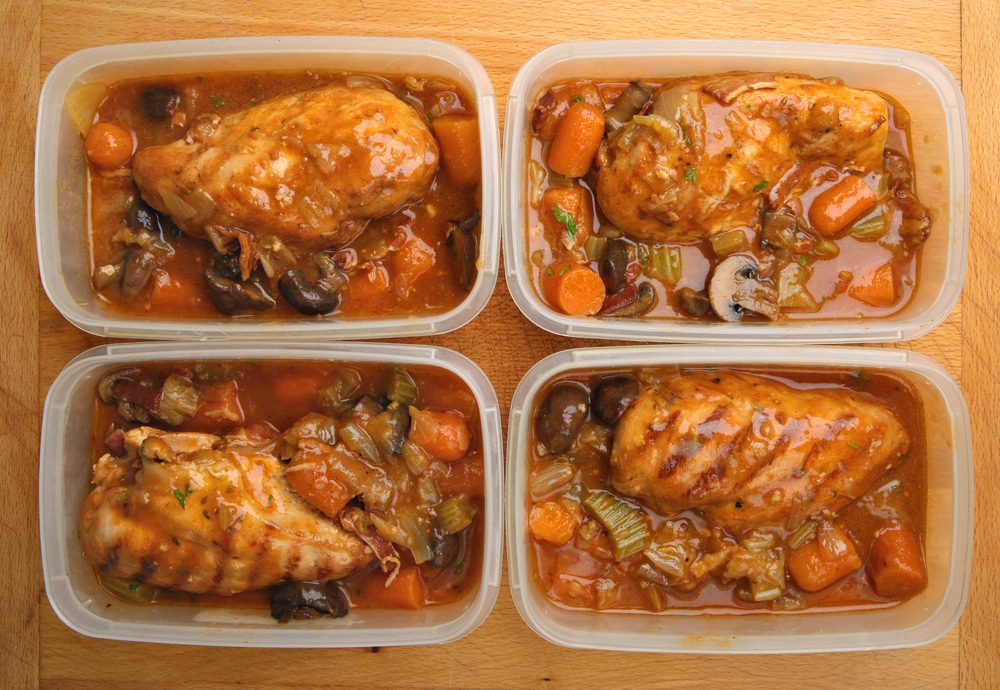 Yes:
*It's best to freeze chicken on the bone seasoned and raw, and bake fresh. Some don't mind the taste of reheated cooked chicken.
*Cooked boneless chicken with a sauce will rewarm well.
How: Thaw completely first so the chicken doesn't get overcooked while reheating.
Maybe:
Fried chicken is always best fresh. But if freezing it, see fried food tips.
Kugels:
Yes:
All freeze well.
How: For potato kugel see this post. All other ones, just place from freezer to oven and reheat very well. Anything with a crispy topping should be uncovered. Soft kugels should be covered.
Desserts:
*Most cookies, cakes, cheesecakes, and mousse-baked desserts can be frozen.
*Make sure baked goods are cool before freezing.
*Place a flat layer of cookies or bars in a Ziploc bag or aluminum pan. Separate layers using a piece of parchment paper.
*If a cookie or bar is frosted, flash freeze first (uncovered on a baking sheet) for an hour or so, then stack as noted above. Frosted cupcakes can be frozen in a single layer.
*Cakes should be first wrapped in plastic wrap. Frosted cakes can be flash-frozen and then wrapped with plastic.
*Anything mousse-based pie made with whipped topping will freeze well.
Maybe:
*Crunchy toppings on a soft cake may soften in the freezer.
Sides: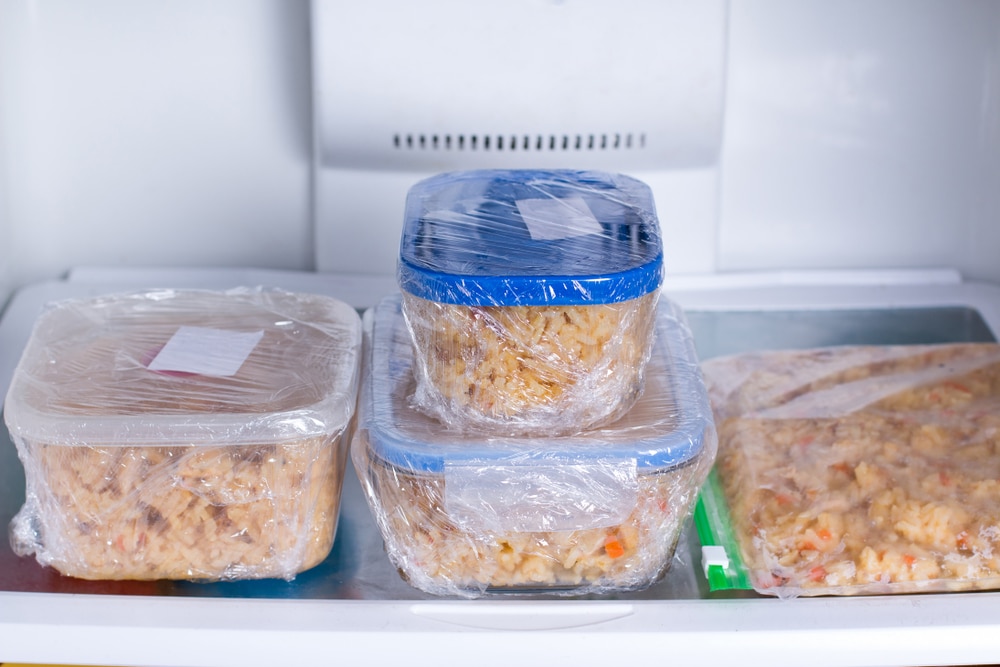 Anything that's stuffed is a great customer for the freezer.
Stuffed cabbage, kreplach, stuffed mushrooms, stuffed zucchini, stuffed eggplant – all freeze well.
Fried Foods:
Fried foods are obviously crispier and better fresh. But if you can't the best way to reheat fried items uncovered and spread out on a baking sheet. Read these tips for before and after freezing tips.
Some more tips from freezing experts Batya's Kitchen (originally published in Ami Magazine):
* Use shallow 9- x 13-inch pans, not only deep ones. "For items like blintzes, grilled meats, or muffins and brownies, you want to be able to keep them in a single layer. Shallow tins will work best when stacking and storing these items."
*"The big surprise about grilled meats. You'd think you can't freeze grilled items. Wrong! "Anything grilled is awesome frozen. Don't grill to the end. First, sear it to get the marks and retain the juiciness. Then, finish it in the oven but don't bake it until it's completely done. Leave it a little pink in the middle, let cool, then cover and freeze. When rewarming, you can stick it into a hot oven covered. For grilled chicken, it doesn't matter if you thaw or not first, the time it takes to rewarm will just be different. Baby chicken especially isn't fragile it will always be good and juicy. Keep the chicken in a single layer. Everything grilled tastes like you just made it as long as you don't dry it out!"
*And finally, Batya's number one freezing secret: Use parchment paper UNDER AND OVER every dish. The parchment paper will retain the moisture and prevent freezer burn. "After cooking, I put food in a fresh, clean tin that's lined with parchment and cover with a hard foil lid. Then, I double tin it on the bottom so it's sturdy."
Want more freezing tips and hacks? See these posts:
Do You Know What's in Your Freezer?
5 Things I Always Have in My Freezer
Have any other tips? Have freezing questions that we didn't cover? Leave us a comment below.