Farmer Cheese Cheesecake is the cheesecake we love because it's a change–the one we'll enjoy for breakfast rather than dessert. 
This is the cheesecake that was on the table when I was growing up. As a kid, I admit, I didn't really understand why the adults love it. Yet, my mother still made it–for herself!
It's the style of cake you appreciate as you get older. There's two flavor profiles in every bite…the butter in the base and in the topping…the cheese taste shining through, without being overwhelmed by overall sweetness.
Now I understand why my mother loved it, and I do the same as she did. I bake it. Even if no one will understand but me. So, bake, even if it may be mostly for you!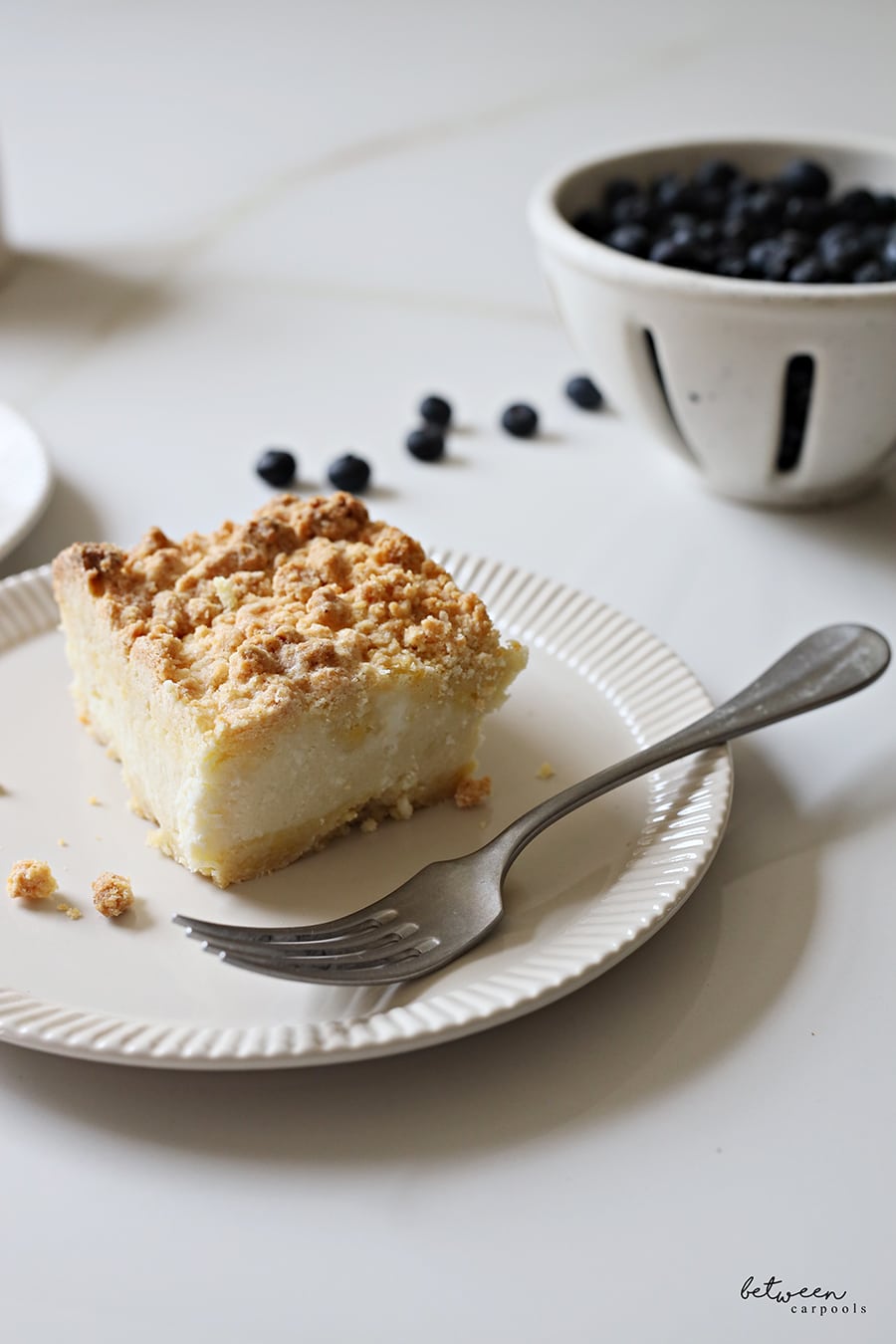 Now, for some tips.
We tested this cake a few ways. First, with all the crumbs and batter in one 9×13 pan. Then, we made a slightly lower cake in a 9×13 pan, saving some crumbs and batter for a smaller cake. We split the final batch into 3 medium (2 lb) loaf pans. We found that the loaf pan size is great when you want to pull out one cake each Shabbos. This is the size that we recommend. It's practical and you always have a ready whole cake in the freezer.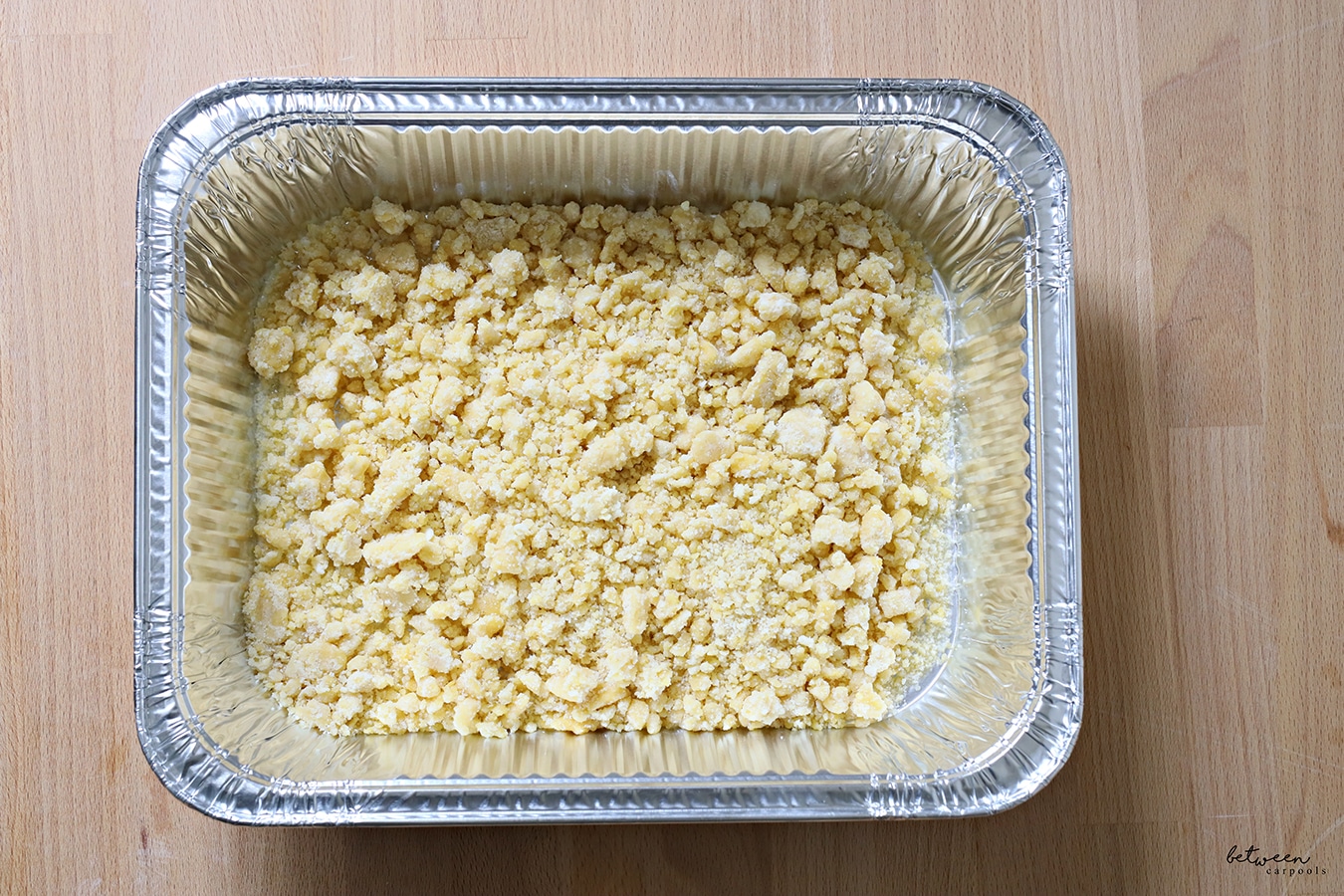 Press half the crumbs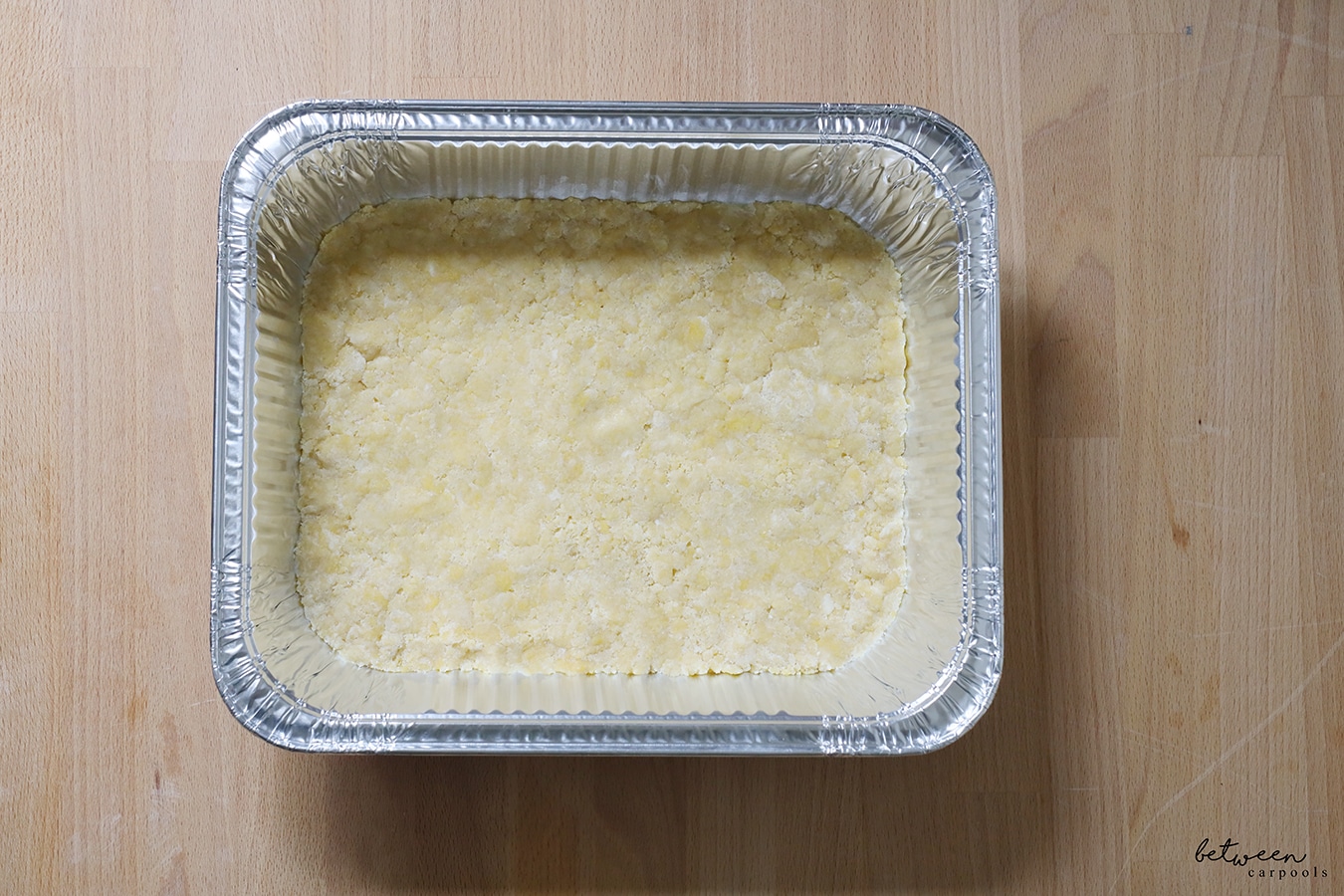 into your pan(s) as the base.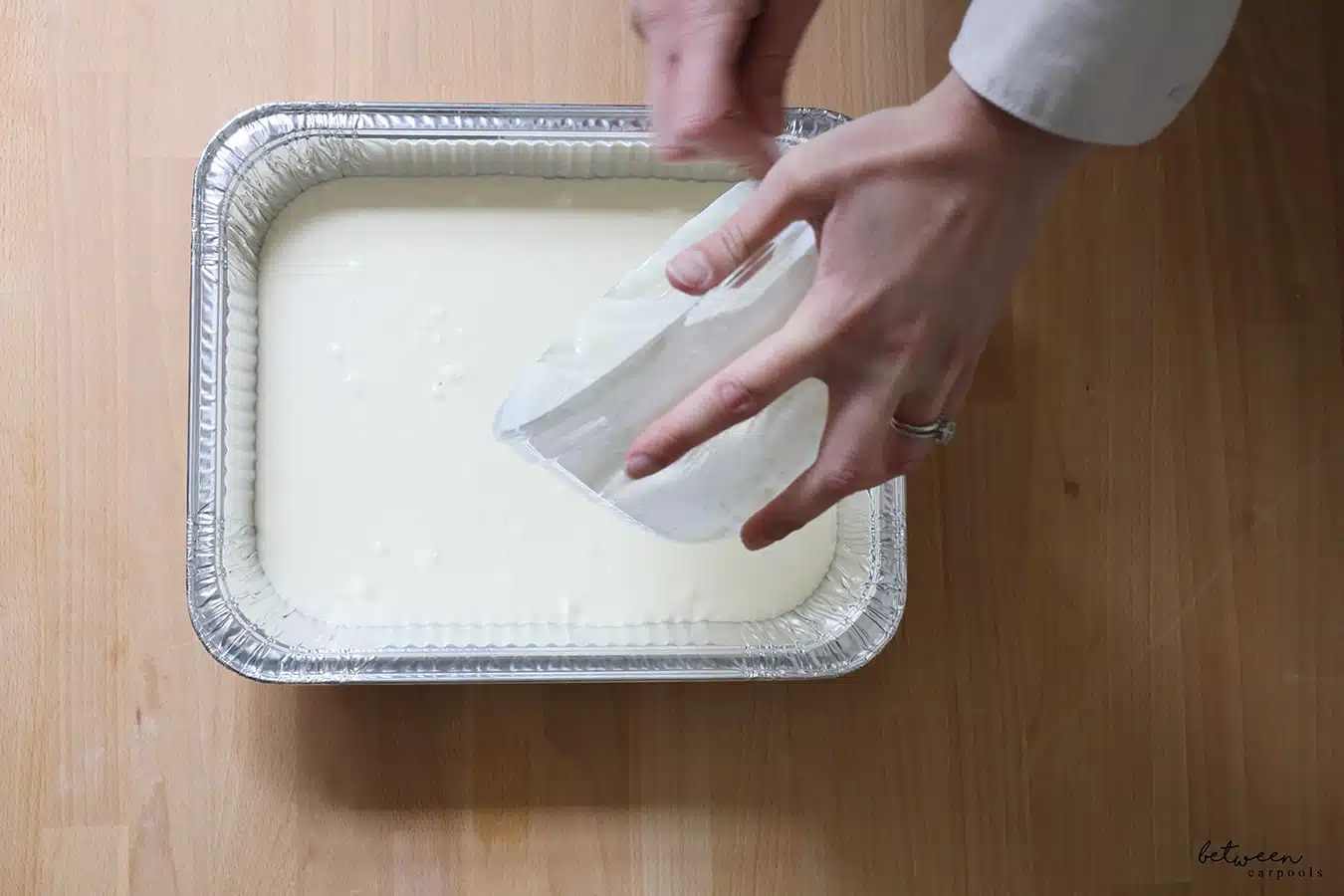 Add the filling.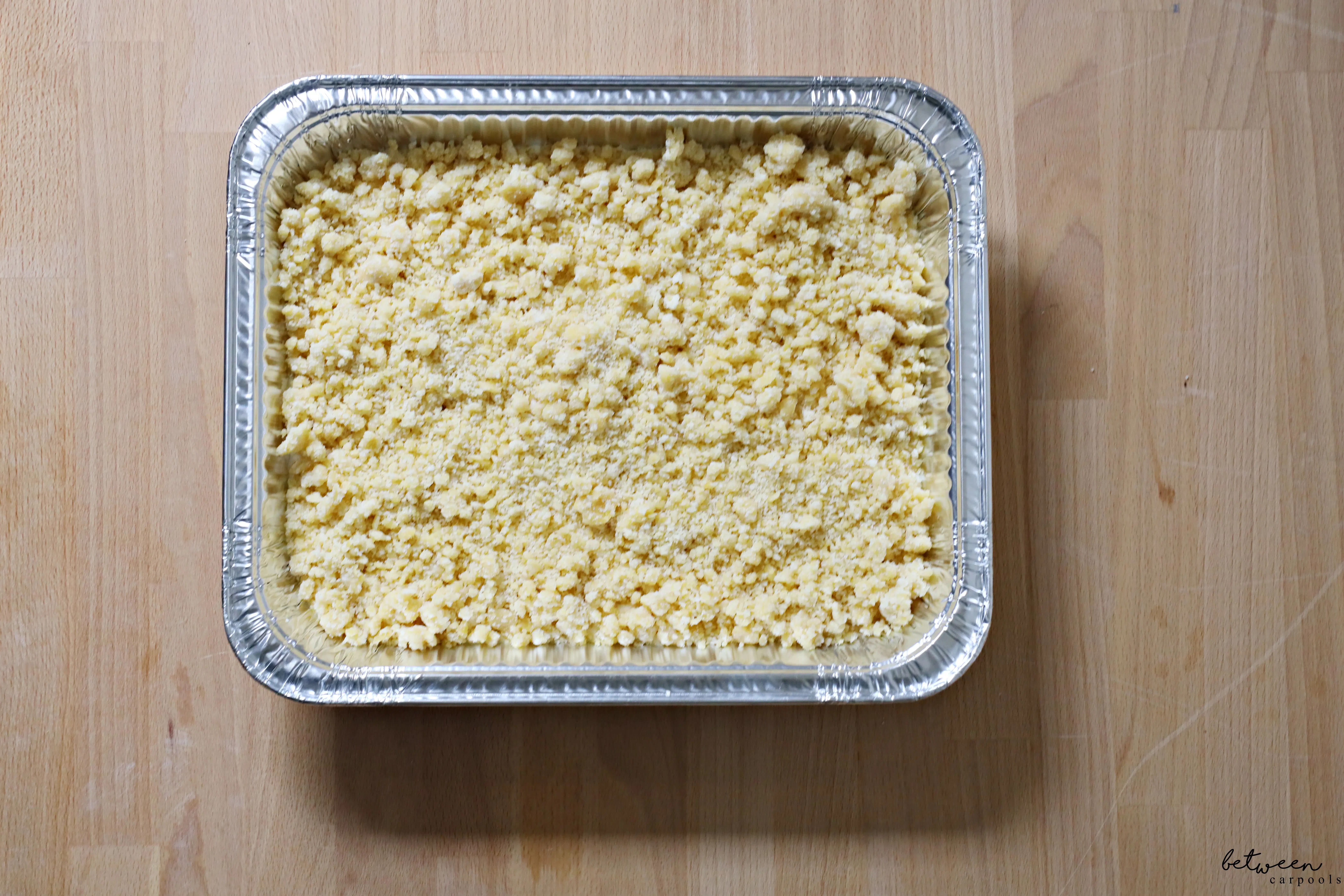 and sprinkle the remaining crumbs on top.
When the cake is cold, it's easy to remove from the pan to a platter. If you're baking this cake closer to Shavuos, you can leave it in the fridge. The crumbs will stay crispy if you leave it uncovered. If you're making it now, freeze it, but move it to the fridge the day before–it needs that full day to thaw. Enjoy it either cold or at room temperature!

Farmer Cheese Cheesecake
Ingredients
Crumbs:
3 cups flour
2 t baking powder
1 T vanilla sugar
¾ cups sugar
2 sticks butter
6 egg yolks
2 t orange juice
Filling:
16 oz farmer cheese
3 eggs
¾ cups sugar
16 oz sour cream
8 T flour
2 T vanilla sugar
Instructions
Preheat oven to 350F.
Prepare the crumbs. In a bowl, combine dry ingredients. Add butter, yolks, and orange juice and mix with pastry cutter until crumbs form.
Prepare the filling. In a bowl, combine all ingredients by hand. The mixture does not need to be smooth.
Press half the crumbs into one 9x13 or 3 2 lb. loaf pans as the base. Add the filling and sprinkle the remaining crumbs on top. Bake for 1 hour until crumbs are nice and golden.
FOR EXCLUSIVE CONTENT AND A PEEK BEHIND THE SCENES, MAKE SURE TO JOIN OUR WHATSAPP STATUS HERE. JOIN OUR WHATSAPP GROUP AND WE'LL LET YOU KNOW WHEN A NEW POST IS UP!