Because warm fruit inside a sheet of flaky pastry is not something you should miss this Tu B'Shvat. These fruit envelopes are heaven.
We call them fruit envelopes at Casa Muller, and to me, they spell Tu b'Shvat. Sure, I sometimes like to serve this as a side dish on Yom Tov as well, but definitely every Tu b'Shvat. I find these work really well alongside a nice roast. Some of you might say "hey, this sounds more like dessert! Why next to meat?" and we could turn this into that long conversation of "Why do we serve apple kugel next to chicken?!?" which is a never-ending argument.
So…you can serve them for dessert, I'll let.  
Serve them any way you like, as long as you try these. They are really, really good.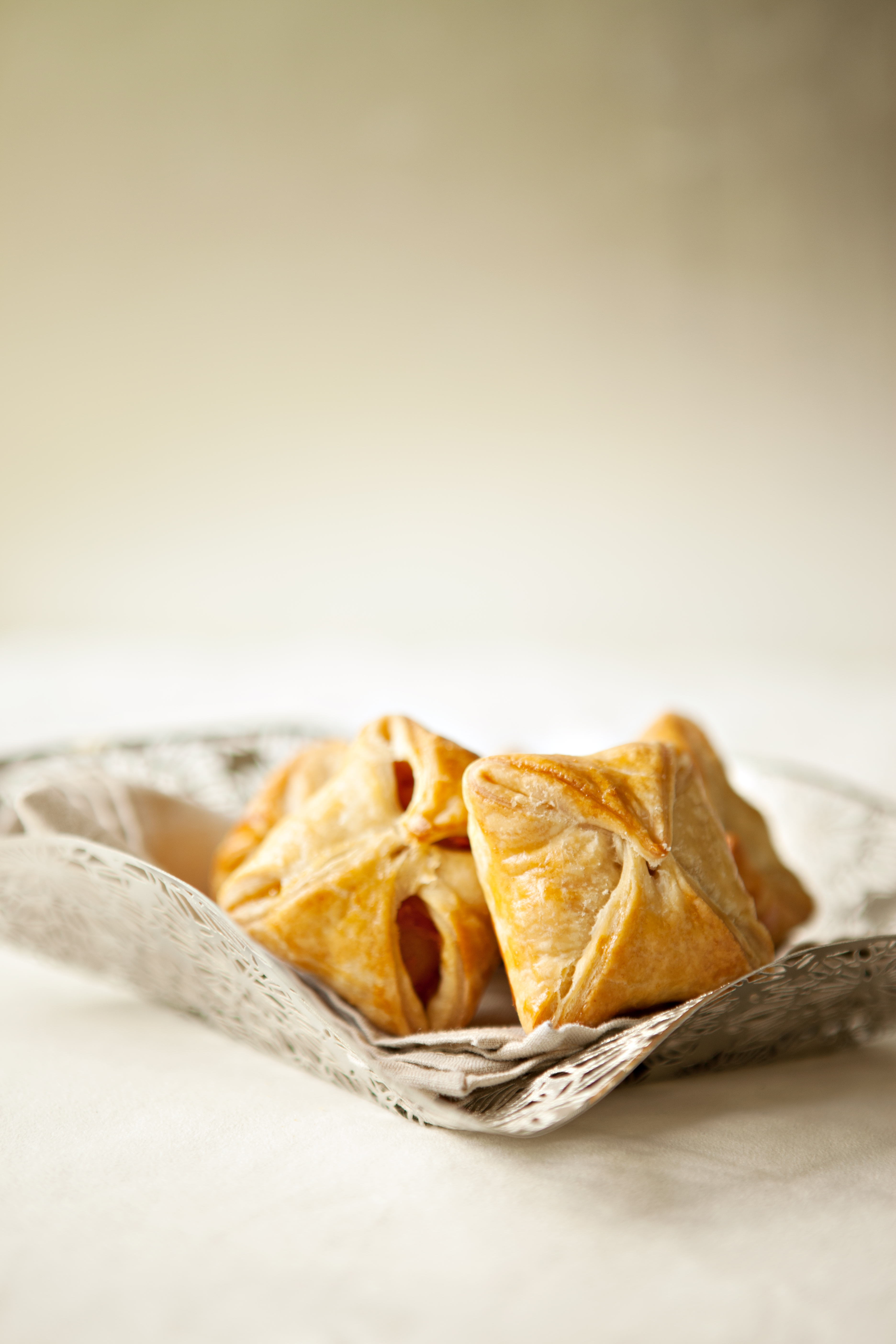 Fruit-Filled Envelopes
Ingredients
8 prunes, finely diced
2 Granny Smith apples, finely diced
8 small dates, pitted and finely diced
1 cup dried apricots, finely diced
1½ cups apple juice
1 package of 36 mini puff pastry squares
Sugar, for sprinkling
1 egg, for egg wash
Instructions
Combine prunes, apples, dates, apricots, and apple juice in a small saucepan. Bring to a slow simmer, constantly stirring. Simmer until mixture has softened and liquids have thickened, about 15 to 20 minutes.
Preheat oven to 350ºF. Line a baking sheet with parchment paper and set aside. Defrost puff pastry slightly (I like to use the puff pastry while it is still very cold. That way, you end up with uniform envelopes and less hassle). Working one square at a time, place a heaping teaspoon of filling at the center of each square. Sprinkle the filling with a tiny bit of sugar (this will render the filling shiny and golden). Bring all the corners together and like a envelope. Secure with a toothpick.  The sides don't have to be sealed; it's OK if filling shows.
Transfer to baking sheet and brush with egg wash. Bake for 25 to 30 minutes, until golden. Serve warm or at room temperature.
Note: I like to freeze these assembled, but raw and ready-to-bake (egg wash and all). That way it's ready to go, yet fresh as it gets.