If there's a Trader Joe's near you, these are the items you'll want to check out.
Back in 2019 we asked a guest to write us a post about Trader Joes (see this post). We had written about the best items from Costco, BJs, Walmart, Target, and even Aldi and we knew that the love for Trader Joes was great and it needed a post. We just were not experienced Trader Joe's shoppers.
Then, a Trader Joes opened up near our homes. I can now truly say that the hype is real. The first time I went, I followed the recommendations in the original post and got lots of items. And then I went again and again. And now, every few weeks I get a craving to go again. It's the strangest thing. Now, let's talk about the products I keep going back for!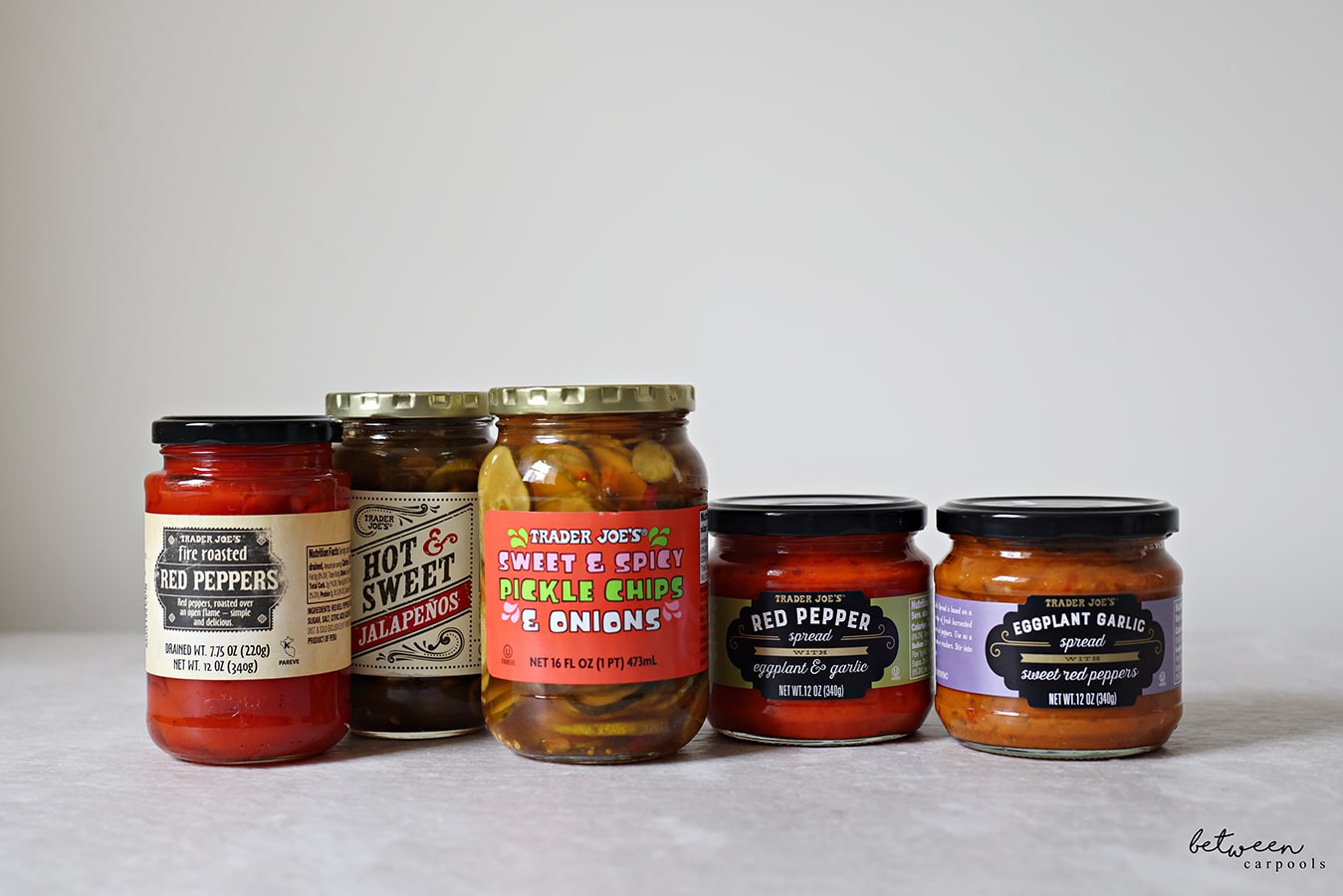 You can get jarred pickles and dips in lots of supermarkets but featured in the above photo are extremely unique. The hot and sweet jalapenos are super spicy yet sweet, perfect for those spicy-food lovers. I can't believe I'm saying this, but the eggplant garlic spread is better than most dips you buy in your local supermarket. It's shelf stable so I stock up and pull out a jar before Shabbos to eat with some challah. It's also great with leftover schnitzel. Add the eggplant spread with the schnitzel on a challah roll and you have a gourmet sandwich that's irresistible.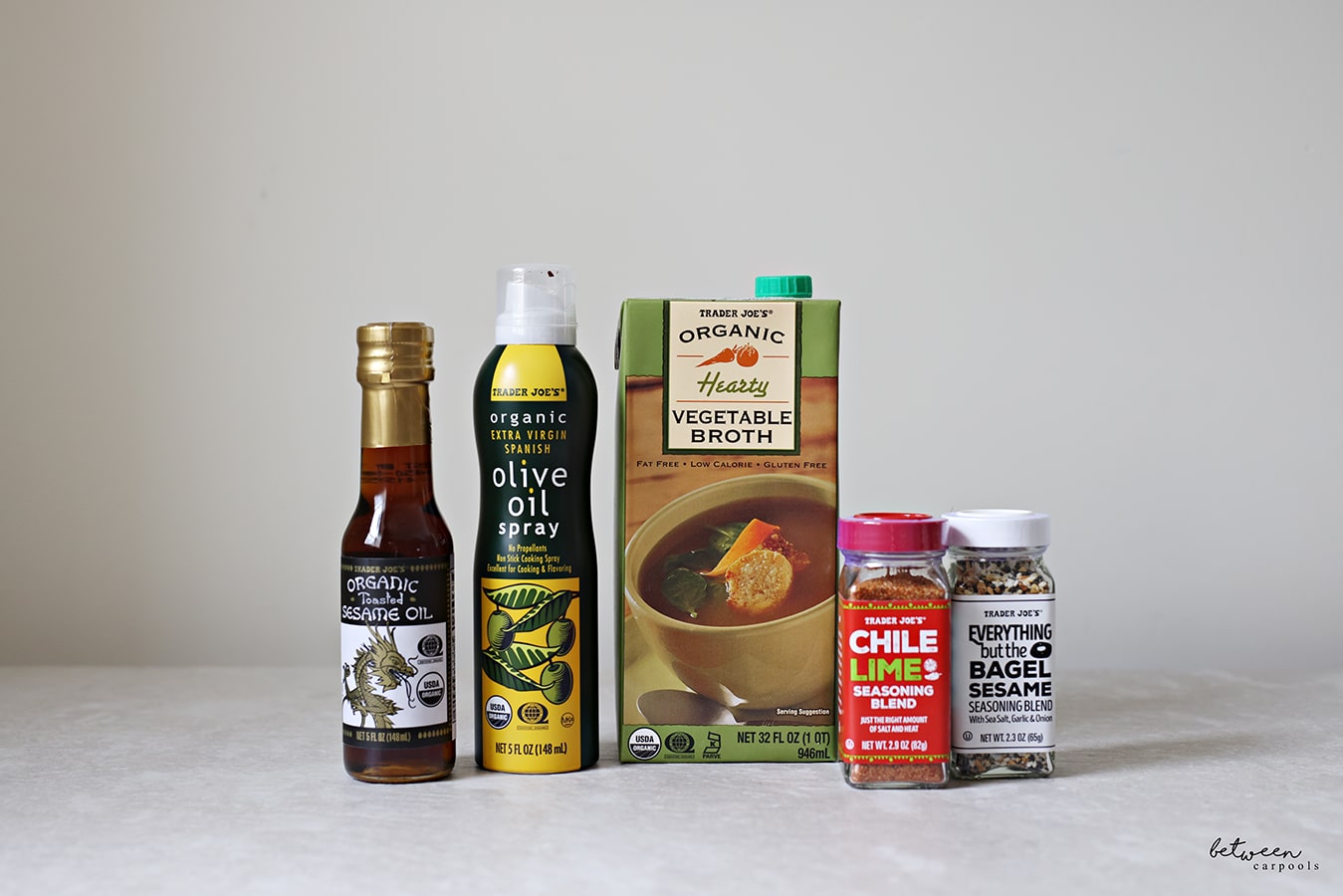 Sesame oil, oil spray, and broth are great versions of supermarket favorites. As always TJ things just taste one bit better. However their spice mixes are really where they shine. We've tried all the pareve kosher spice mixes and these 2 are our favorite. (Sorry to those who prefer others, I just don't find that I turn to the others again and again like I do with these.)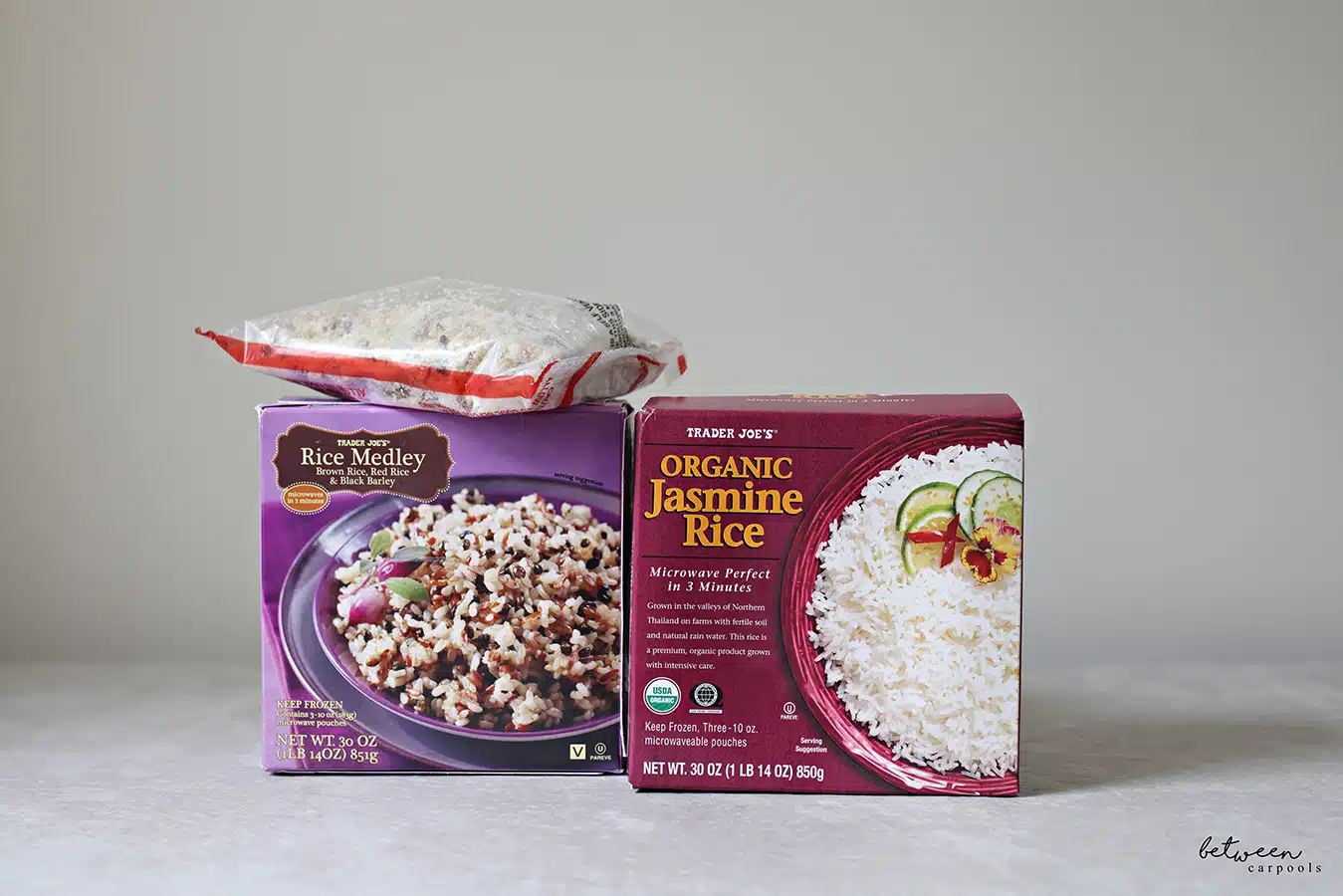 If you already love this, you can move on. If you don't know what this is, take a look at the photo and know that this will change your life. I'm not usually dramatic and don't like to say things like microwave rice will change your life, but it will. Like when you need that last minute dinner side dish for the family…Or for when you don't have enough food for that teenager who is coming home late…Or when you want to make a sushi salad for work, but don't want to cook a whole pot of rice. In the mood for fried rice? Yes you can use this rice too. We used the rice medley in this elegant side dish.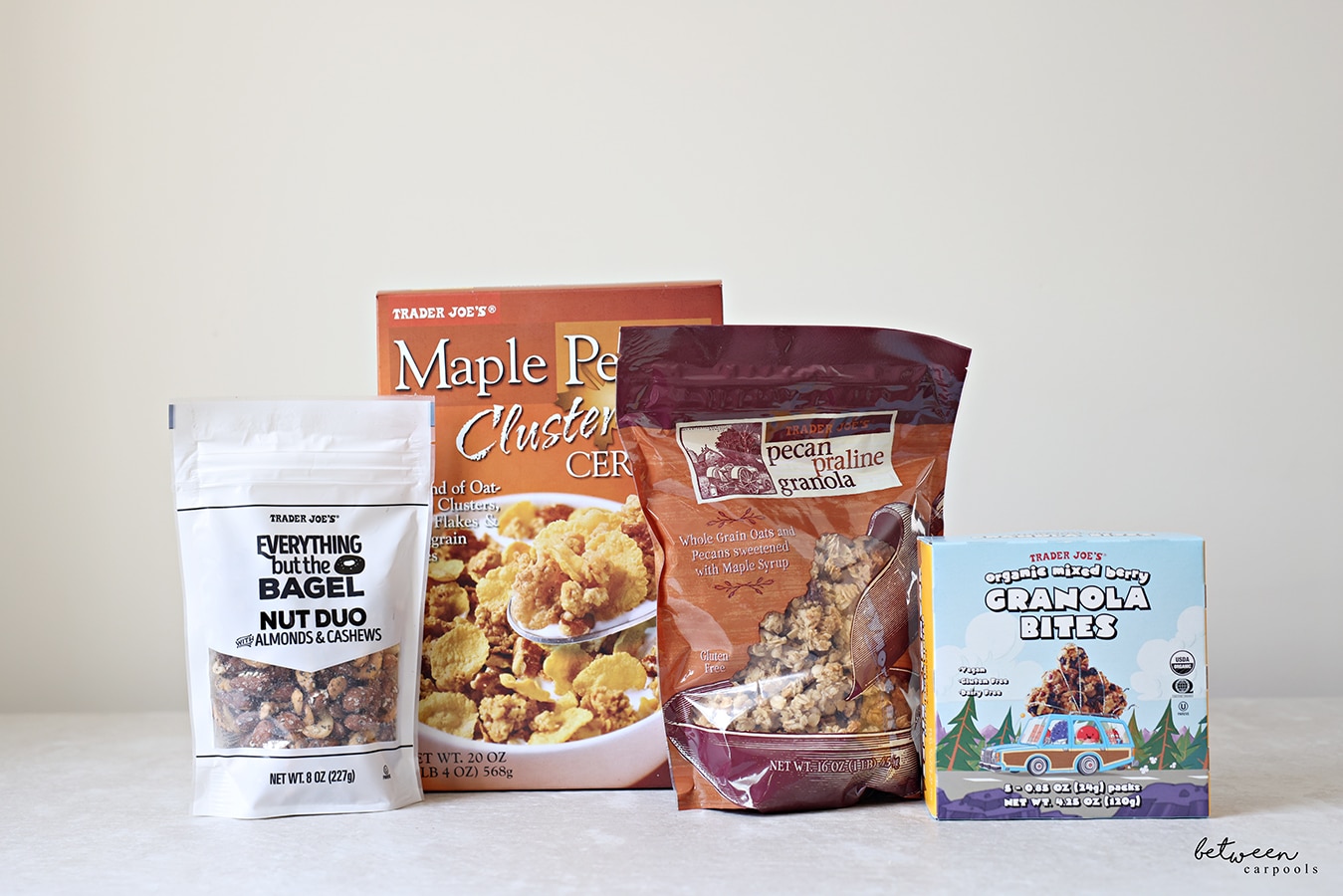 These will update your yogurts and cereals. These taste way better than any commercial store-bought granola you'll find.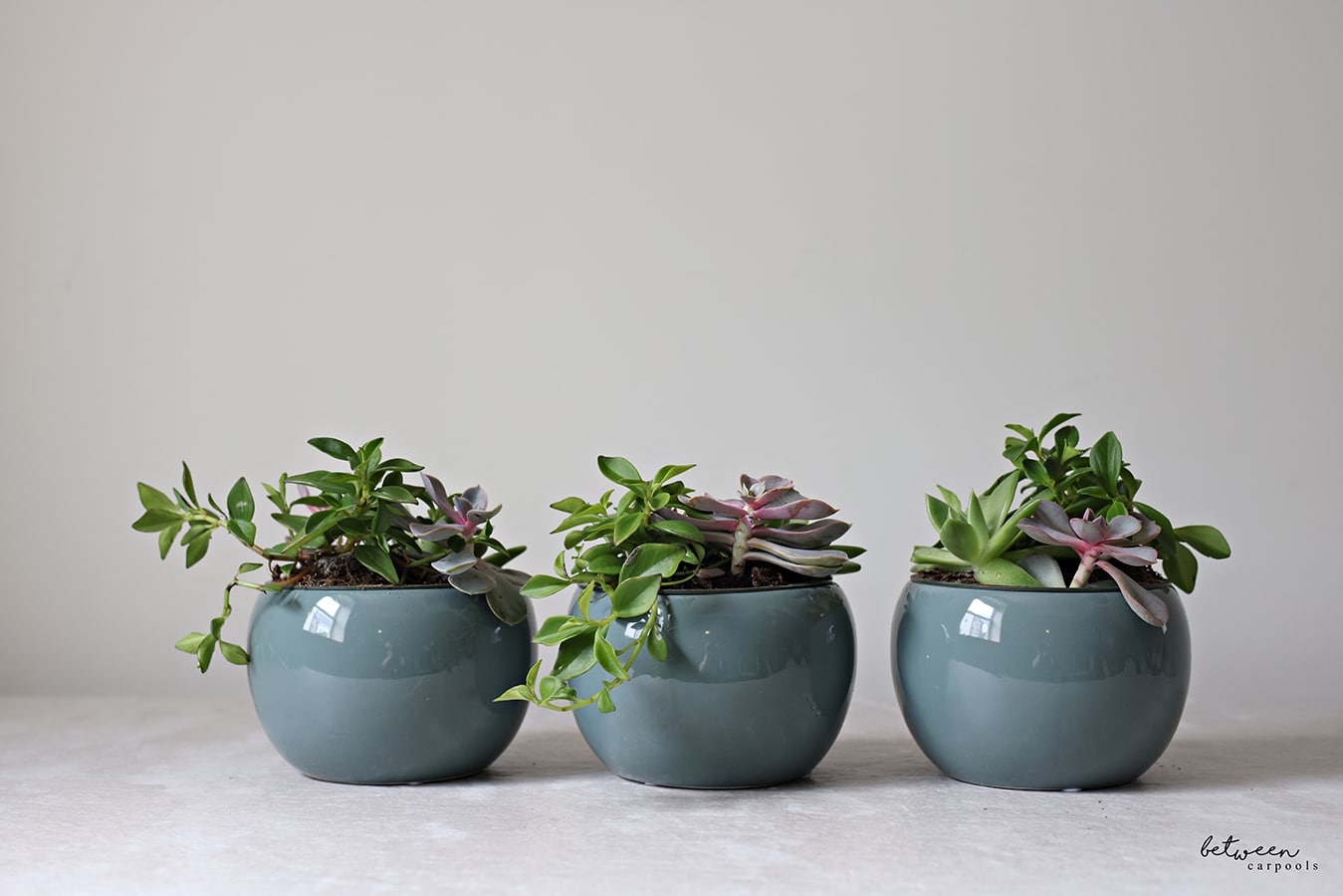 Well-priced plants? Thank you Trader Joe's. Get orchids, succulents or fresh flowers and enjoy the joy that only flowers can bring.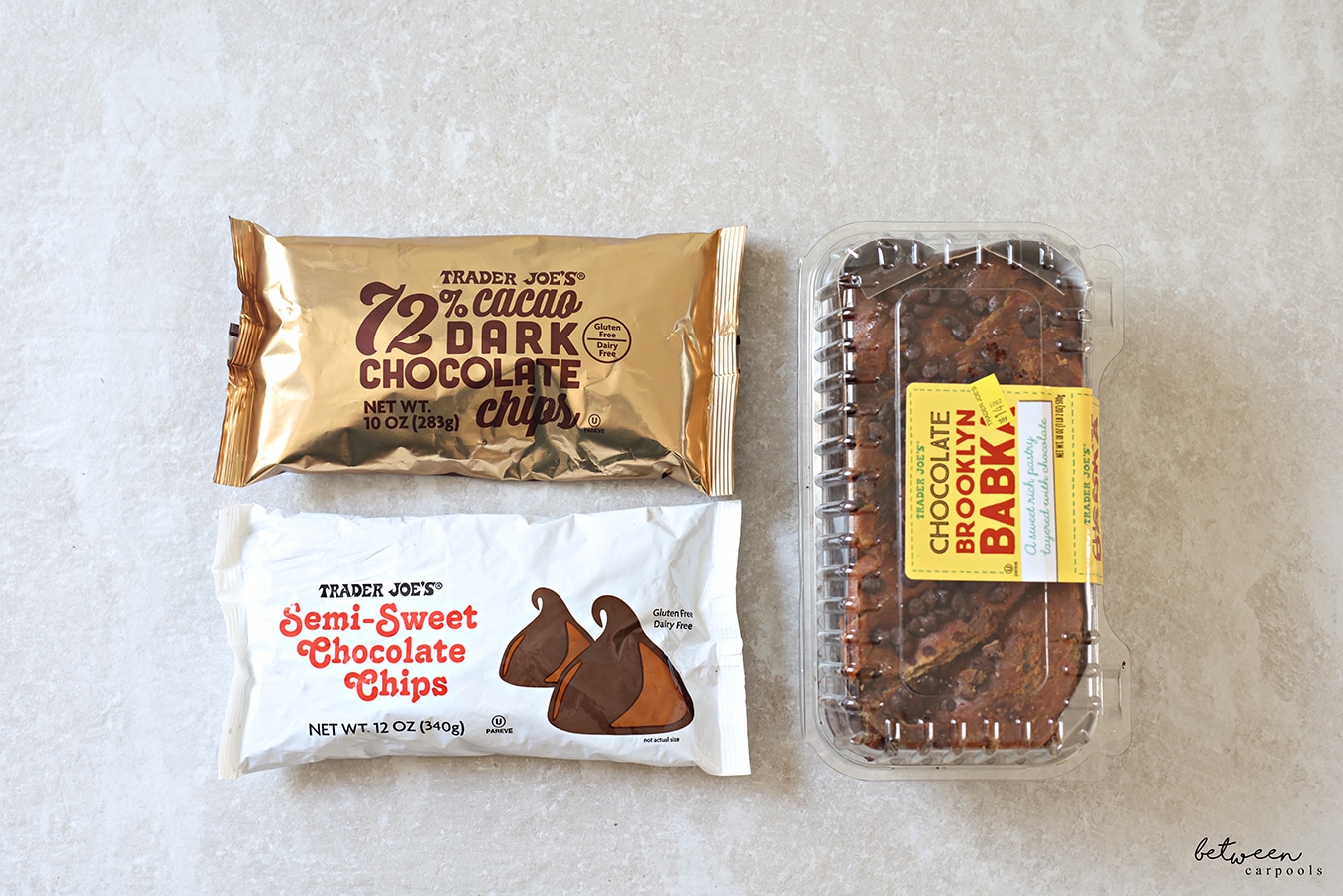 Living in a kosher community, I have plenty of pareve chocolate chips options in my local grocery. However, I'm including these chocolate chips in this roundup for those that don't have those options. They have great flavor and are really the only place currently outside of kosher supermarkets (that we know of) that sell pareve chocolate chips.  
Let's talk about babka. The babka is not your Hungarian grandmother's version. It doesn't come piping hot served with love only Babi (or Bubbie) can give, but it's a nice replacement and you should try it. For a quick dessert, slice babka, and heat and serve with a scoop of cold vanilla ice cream right on top.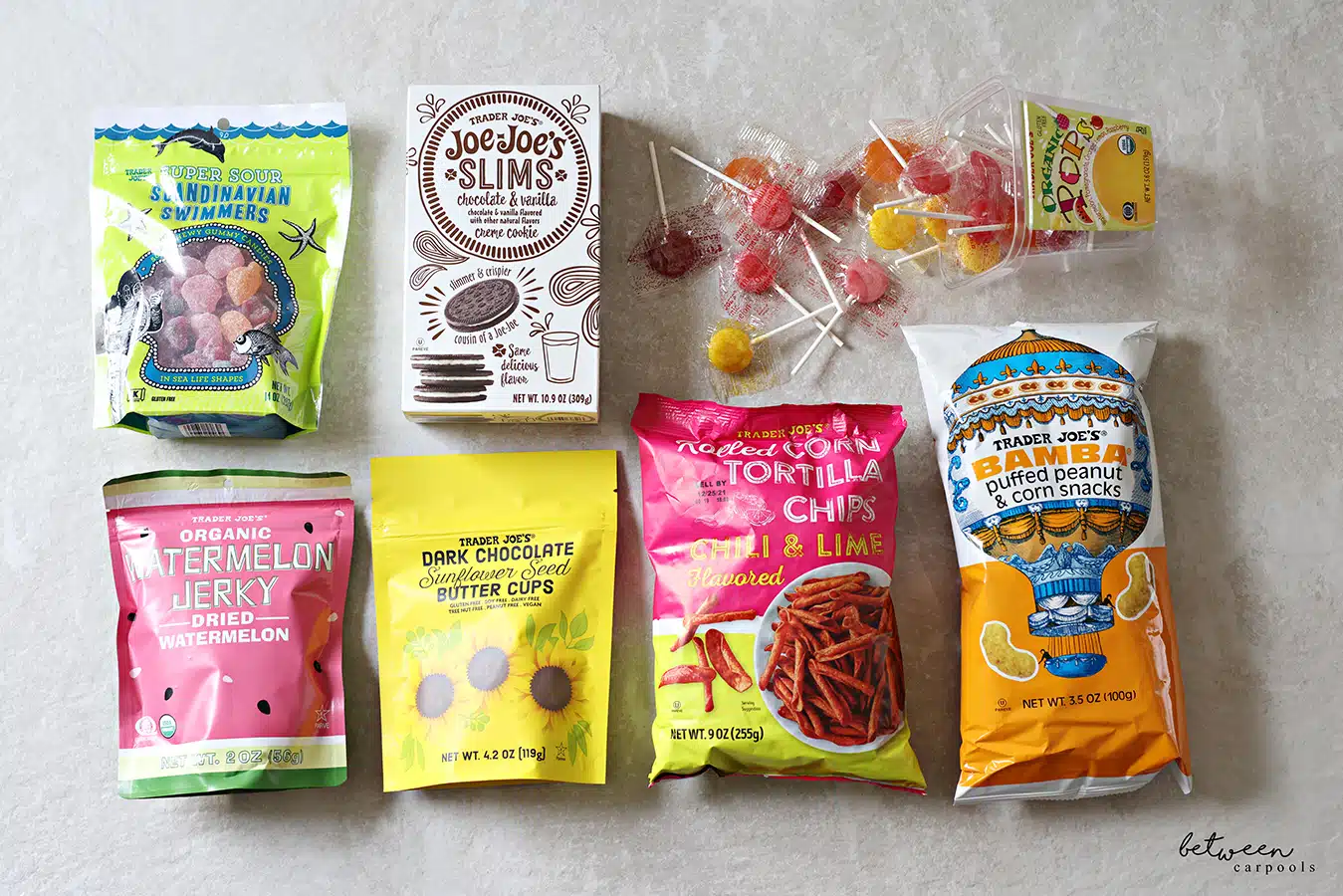 Snacks! It's cool to buy bamba (they say it's Osem bamba and tastes like it!) and oreos that are an off-brand but still taste amazing. But our favorites are the Scandinavian swimmers and Organic pops. They really hit that sweet craving. Chili Lime Tortilla chips and the Dried Watermelon are things I do not like but the kids insist I need to buy. And sunflower seed butter cups are fantastic even if you don't have a peanut allergy.
FOR EXCLUSIVE CONTENT AND A PEEK BEHIND THE SCENES, MAKE SURE TO JOIN OUR WHATSAPP STATUS HERE.