Is it something to worry about? Or should I just wait it out? Some guidance on fevers.
Fever is one of the most common symptoms a pediatrician sees on a daily basis. It is also a frequent reason for office, emergency room and urgent care visits. Parents spend a lot of time, money, and significant stress as they try to bring down their child's fever, while worrying about what it could mean.
What is a fever?
To truly address "fever-phobia" we first need to define what fever is. Fever is any temperature greater or equal to 100.4 degrees Fahrenheit or 38 degrees Celsius.  Anything lower than that is not a fever. The trend of the fever can be important, since it can give us a clue regarding the direction the illness is headed in. However, the number usually does not correlate to the severity of the illness. No amount of fever will give your child seizures, brain damage, or any long term consequence. The exception to this is a separate, unrelated entity called febrile seizures which is usually a harmless condition. For children who have had febrile seizures, treatment with antipyretics like Tylenol or Advil at the time of a febrile illness may allay discomfort and reduce the recurrence of febrile seizures during the same fever episode, but it does not affect the recurrence rate of febrile seizures in subsequent fever episodes.

Fever is not an illness within itself but rather a symptom of an underlying disease. In most cases, fever is a sign that the immune system is doing its job and mounting a response against an infection. The most common cause of fever in otherwise healthy kids is a viral illness. If there are additional findings such as nasal congestion, cough, headache, vomiting, diarrhea or rash, the fever is often the result of the body's immune response to get rid of the underlying virus. Persistent fever WITHOUT any symptoms, especially in non-verbal children should prompt an investigation for less common things such as urinary infection or bone/joint infection.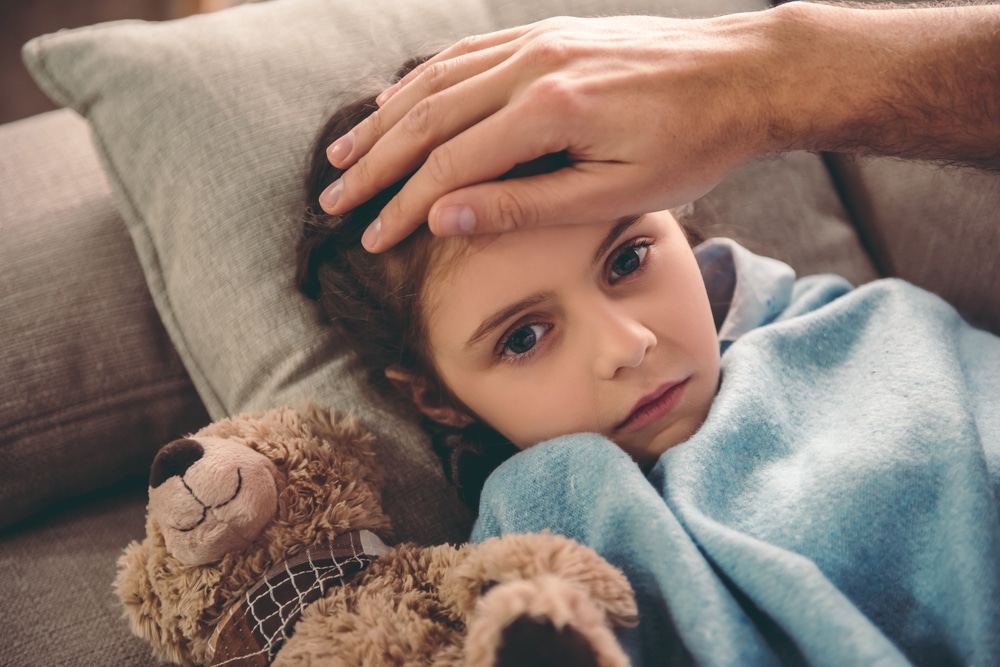 How to Bring Down the Fever
Bringing down the fever is only important if your child doesn't feel well. Physicians generally  recommend giving acetaminophen, otherwise known as Tylenol, or ibuprofen, otherwise known as Motrin. Be sure to check with your pediatrician for the appropriate doses, which depends on the weight and age of the child. If the child is happy, playful and drinking well, it is perfectly safe not to give any medication. If your child feels tired, cranky or refuses to drink while febrile, then attempting to break the fever may be worthwhile. The greatest risk with fever is dehydration, so the most valuable action is encouraging fluids. 
When to See Your Pediatrician
Fever in anyone younger than 2 months. These babies are at high risk of serious bacterial infection due to their immature immune system. Anyone younger than 2 months with a fever should be evaluated as soon as possible. 

Lethargy (a.k.a. tiredness), drowsiness, stiff neck and irritability. These can be signs of serious infections like meningitis and should be evaluated immediately

Refusal to drink, decreased wet diapers/urine output and persistent vomiting and diarrhea, as this is concerning for dehydration. 

Fever longer than 3-4 days without any improvement or other symptoms to explain the source of the fever. This includes coughing, runny nose, vomiting, diarrhea, rash or ear pain. 

Fever in a child who isn't up-to-date on their vaccines. In the era of vaccination, the rates of bacteremia (bacteria in the blood) and meningitis (infection of the fluid around the brain and spine) have dramatically decreased. Unfortunately, kids who lack the protection vaccines provide are still at risk for these illnesses, therefore should be seen immediately if they develop fever. 

Kids with chronic medical problems such as cancer, sickle cell, cerebral palsy and others. 
Fever in childhood is virtually guaranteed, however armed with reassurance and knowing what to look for can help empower parents to worry less and focus on keeping their kids calm and comfortable.
FOR EXCLUSIVE CONTENT AND A PEEK BEHIND THE SCENES, MAKE SURE TO JOIN OUR WHATSAPP STATUS HERE.