It's sweet, it's salty, and it's the perfect ice cream treat to pull out for shalosh seudos (feeds a crowd!).
I was in the supermarket one Friday afternoon – I had already gotten everything I needed. Then, just as my cart rounded the corner of the freezer aisle, something behind one of the doors caught my attention.
It was a frozen version of a chocolate bar, with ice cream in the middle, perhaps some nougat or caramel, and of course nuts. The whole thing was covered in a thin layer of chocolate. I was about the grab it–then I saw the quantity that was in the box: 4 mini bars. That's not going to feed my family. No way. I would need so many boxes.
"What if I make something like this?" I thought. We like having an ice cream treat for seudah shelishit time in the summer. I began brainstorming and grabbing ingredients. I'm not coating each piece in chocolate, but what if we start with brownie on the bottom? I grabbed a box of Duncan Hines and a container of ice cream. Now for the toppings…I found the salted roasted peanuts, a jar of caramel, and some chocolate bars for melting. I was going to make my own 9×13 ice cream dessert and there would be plenty to go around.
Honestly, my first time was not a success. The brownie layer was too thick and not scoopable. The toppings were too much and too heavy. But the Between Carpools team still liked the idea. I brainstormed with Esti Waldman on how we could fix it.
First, we realized, the brownie layer has to be much thinner so it's not so rock solid. That means using only 1/2 the brownie recipe (or 1/2 the boxed mix). That also means it's easy to make two at once!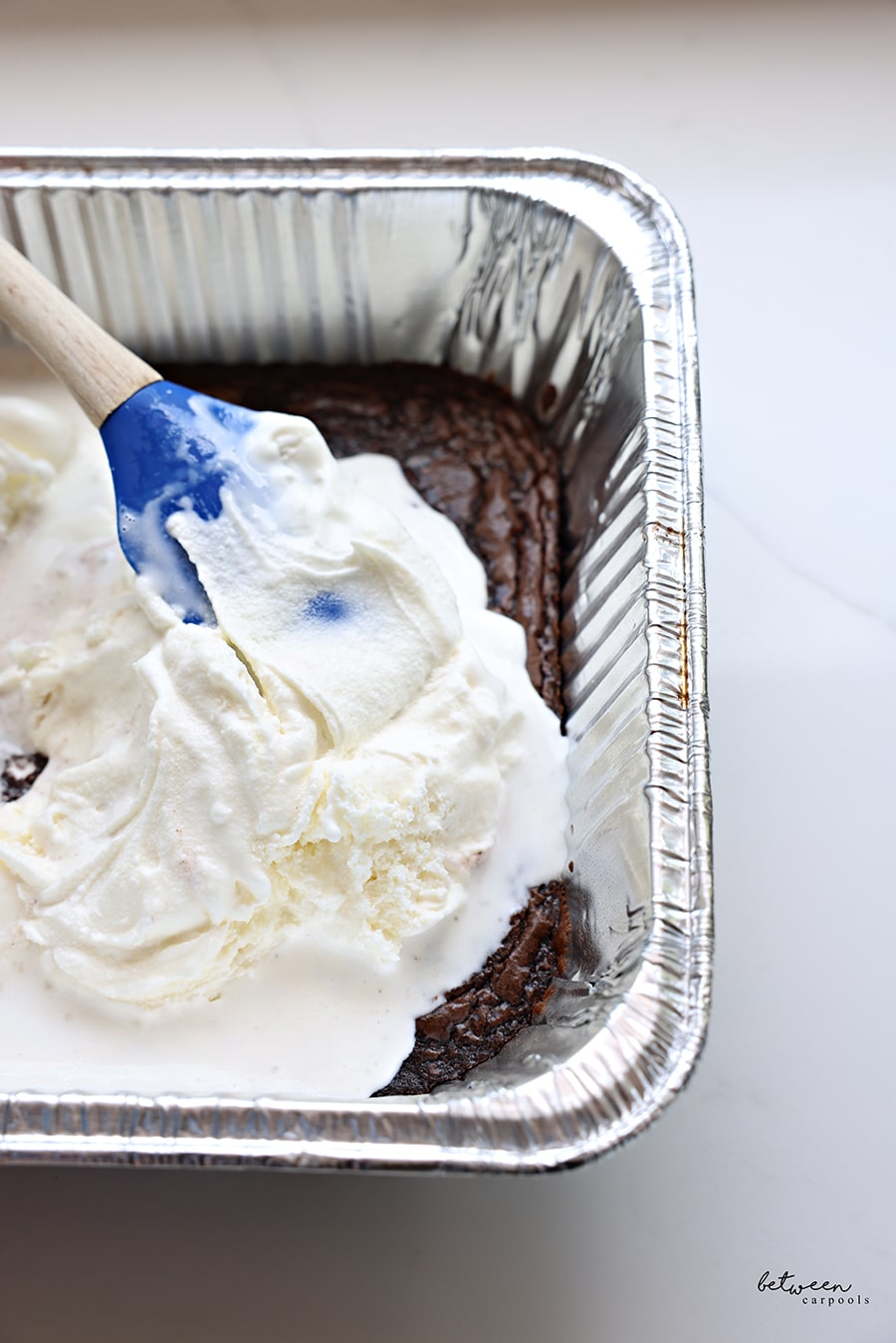 Next, spread on the softened ice cream. Now this would need to go back into the freezer to firm up.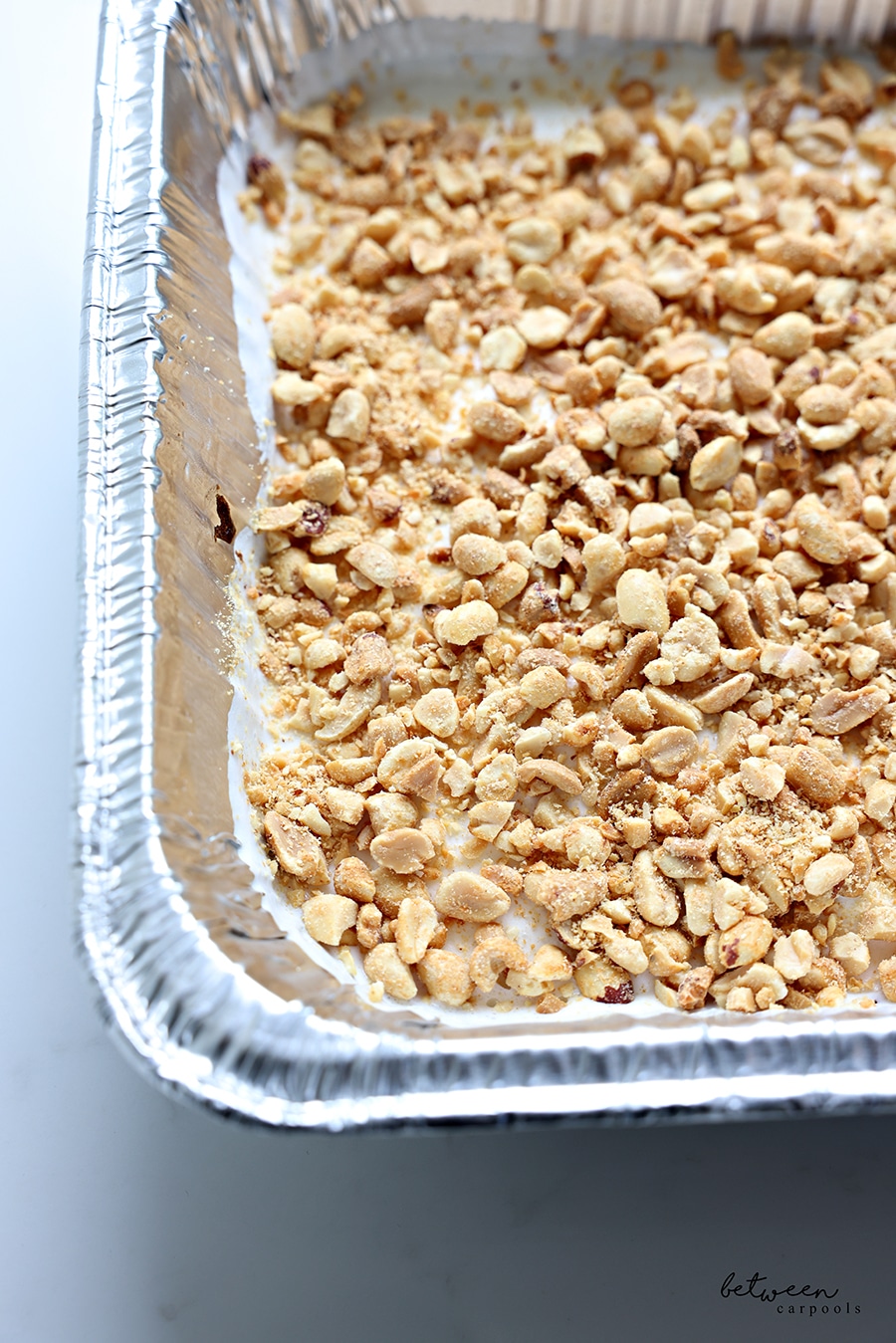 Once the ice cream is firm, sprinkle on the salted peanuts. I didn't use enough peanuts last time. It needs a full layer to balance out the sweet components.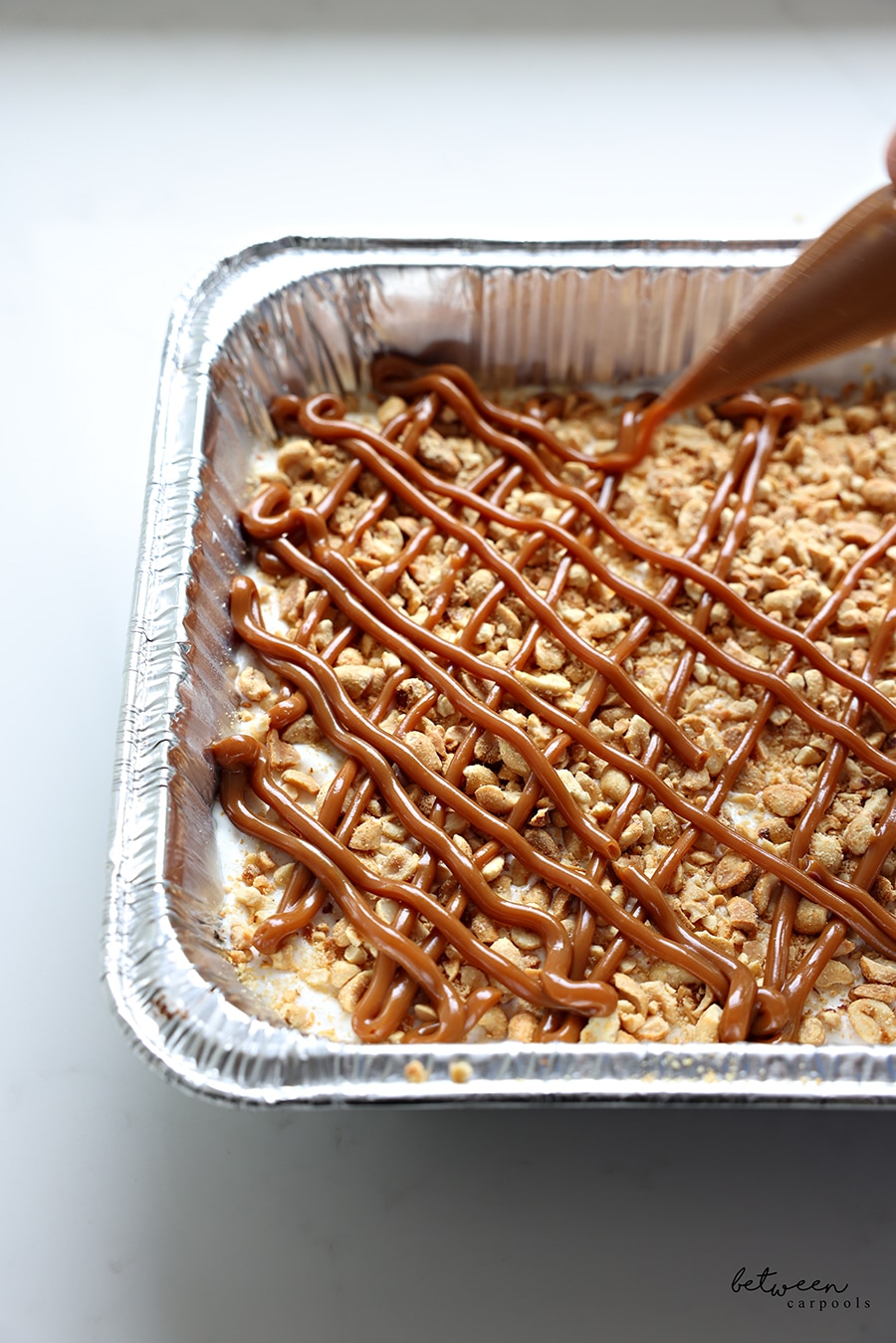 Finally, drizzle on your caramel. The first time around, I spread the caramel in a layer over the top and it was just too much. Drizzles like this are much better. Put your caramel in a piping bag to be able to do this neatly.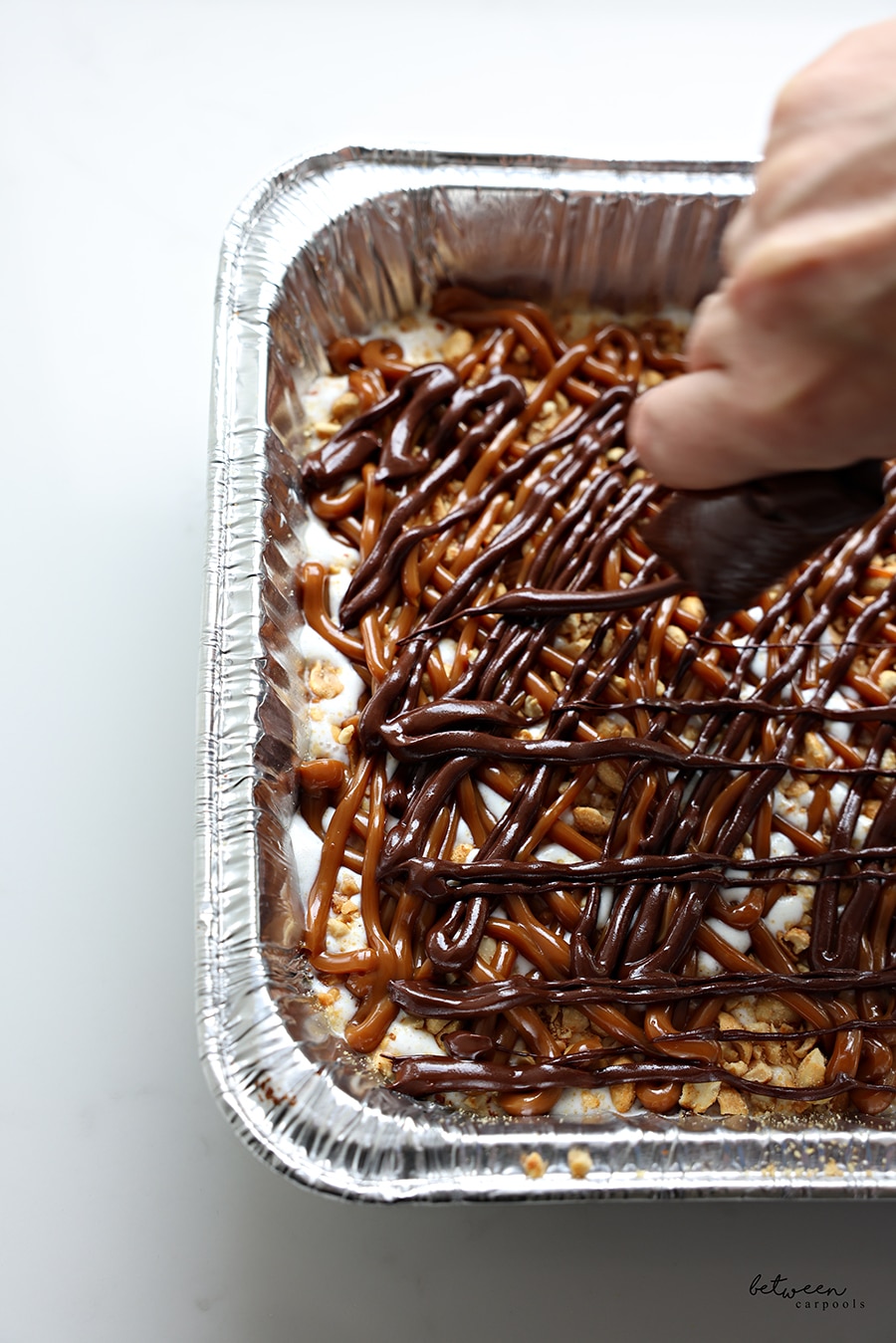 Do the same thing with the chocolate. Zig-zags…then freeze again until firm.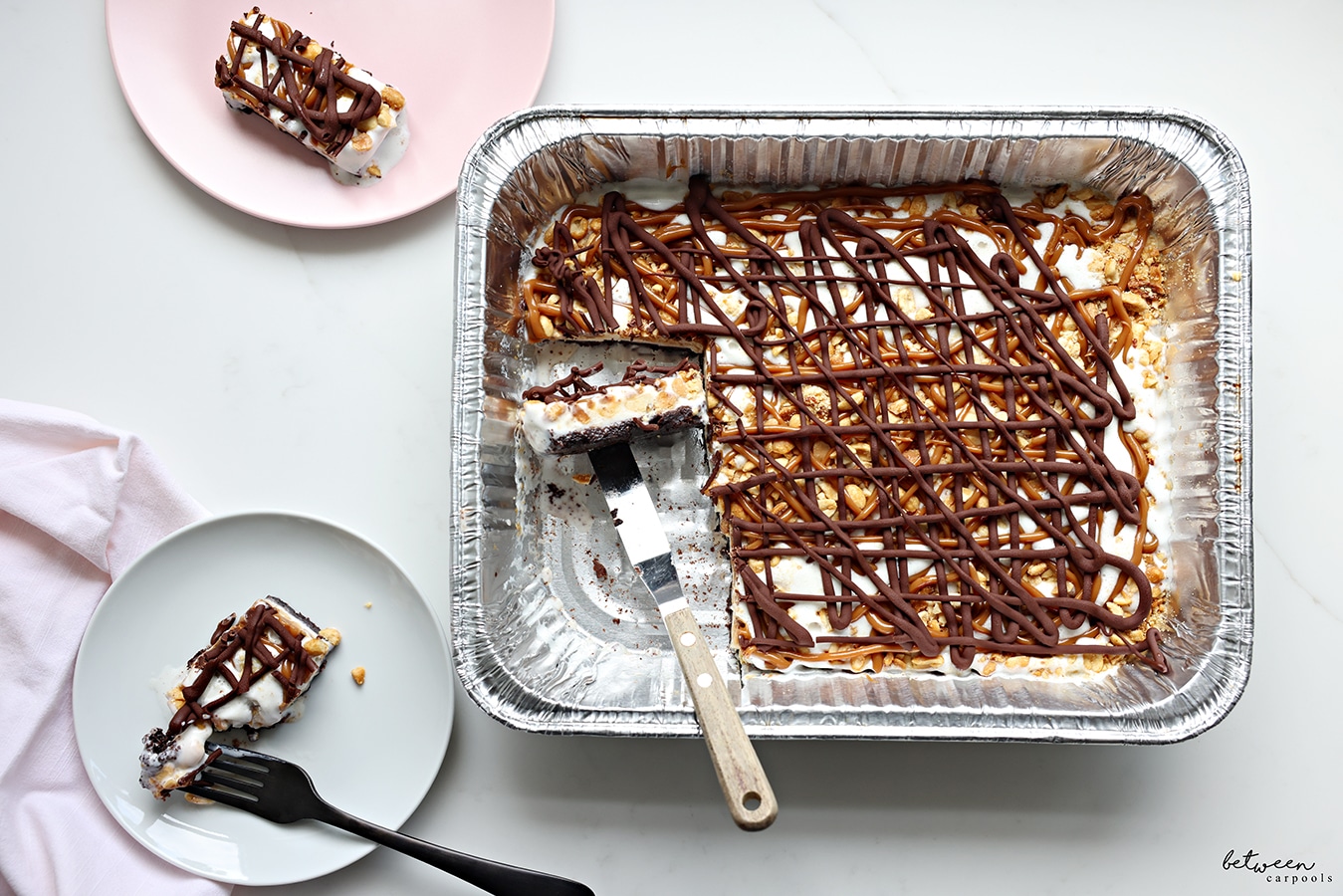 Slice into bars and enjoy! Thank you Esti for taking my "trial and error" and turning it into a great frozen treat.

Frozen 9x13 Chocolate Bar Ice Cream
Because most of the ingredients used are "1/2" of the package, it's easy to make two at once.
Ingredients
½ brownie recipe or ½ boxed mix, prepared according to package instructions
½ (56 oz) container ice cream, softened
2 cups salted roasted peanuts, crushed
½ (10.5 oz) jar caramel
1 (3.5 oz) good quality chocolate bar, melted
Instructions
Prepare the brownie mix and divide into 2 pans (you'll only need one pan for this recipe. Double the recipe or save the other brownies for another use). Let cool.
Spread softened ice cream over cooled brownie. Return to freezer to firm up.
Top firm ice cream with peanuts.
Add caramel to a piping bag. Drizzle over ice cream.
Add melted chocolate to a piping bag as well and drizzle over caramel.
Return to freezer until firm, slice and enjoy!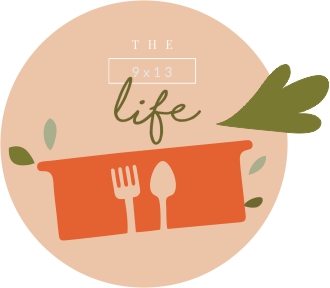 FOR EXCLUSIVE CONTENT AND A PEEK BEHIND THE SCENES, MAKE SURE TO JOIN OUR WHATSAPP STATUS HERE. JOIN OUR WHATSAPP GROUP AND WE'LL LET YOU KNOW WHEN A NEW POST IS UP!