It's still dessert, but this apple date crumble will have you feeling good as you end the meal.
Salads should be healthy. Desserts, not.
I've learned that it's very hard to make a completely healthy dessert that'll give you that after-the-meal satisfaction that desserts are supposed to bring (there are some rare exceptions). Rather than trying to make a dessert healthy, I've found it's much easier to make 'em healthy-ish. 
This has its own problems. When I make a dessert that's healthy-ish, I think it's ok to have that instead of the meal itself (this makes a great breakfast … just top it with vanilla Greek yogurt instead of ice cream).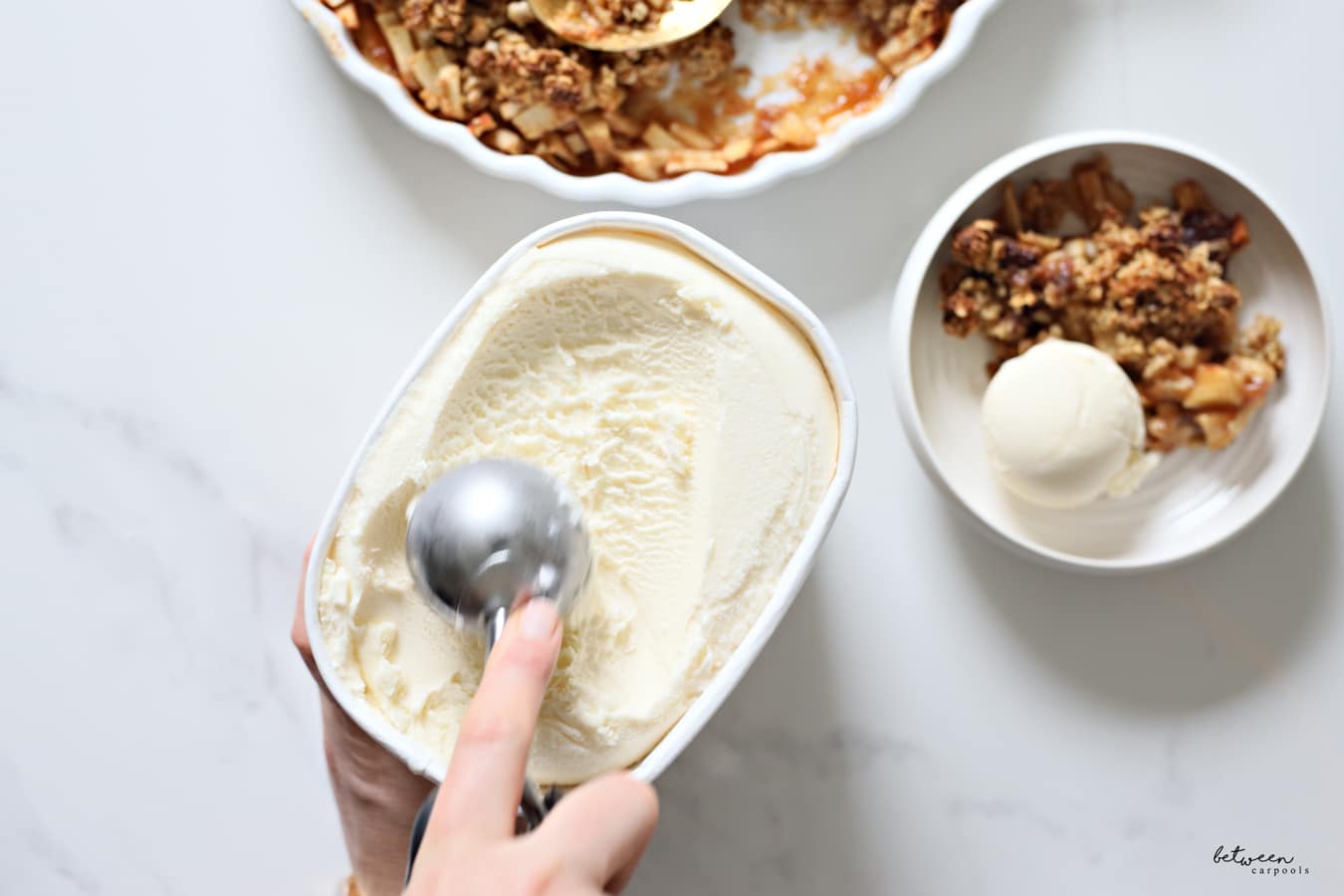 Those who really like "healthier" ingredients can make this using any sweetener they like if coconut sugar, monk fruit, or xylitol is your kind of thing. And it can also be gluten-free if gluten-free oats are used. 
There's one thing that does work very well here, and that's the applesauce/oil replacement. 
I've never had applesauce so successfully replace most of the oil as it does in this recipe (it kinda makes sense, right?). And those dates!  Dates really make apple crumble even better. Don't leave them out! They're like little bites of caramel throughout the mixture
This is the first crumble where the fruit part is the star and I actually want it over the crumble!

Healthy-Ish Apple Date Crumble
Serves:
1 crumble, serves 8
Ingredients
Filling:
3 large or 4 small apples, peeled and diced very, very finely
8 medjool dates, pitted and diced
1 teaspoon cinnamon
1 teaspoon vanilla extract
2 tablespoons lemon juice
2 tablespoons cornstarch
¼ cup applesauce
3 tablespoon water
¼ cup brown sugar (or any sweetener you like)
Crumble:
1 ½ cups oats
½ cup almond flour
1 teaspoon cinnamon
¼ cup brown sugar (or any sweetener you like)
Pinch salt
½ cup applesauce
¼ cup oil
1 teaspoon vanilla extract
Instructions
Preheat oven to 350⁰F.
Combine all filling ingredients in a bowl or directly in the baking dish. I used an oven-to-table that's a bit smaller than a 9 x 13. Mix well.
In a bowl, combine all crumble ingredients. Top apple mixture and bake for 40-45 minutes.