There's a lot of guests coming and there's not a lot of time. So how does Raizy fine-tune her Shabbos prep so it can all get done efficiently?
Recently, my sister, who is a new Chabad shlucha, asked me to help her with Shabbos prep, so I wrote out step-by-step instructions and decided to share it with you too. I'm not a professional cook by any means, but I do need to host lots of guests each Shabbos at my own Chabad house in Manhattan…and since I work all day (and even on Friday), I need the prep to happen really fast on Friday afternoons. 
This is my Shabbos menu, followed by step by step prep instructions and hacks. 
Note: Most of you don't need to prepare as much food as Raizy does weekly. But, her technique of breaking down the steps so that each step is done only once, with the components being used in multiple dishes, may be a helpful one for you that can be adapted to your own menu. Plus it's always interesting to learn what others prepare! -BCP
Friday Night: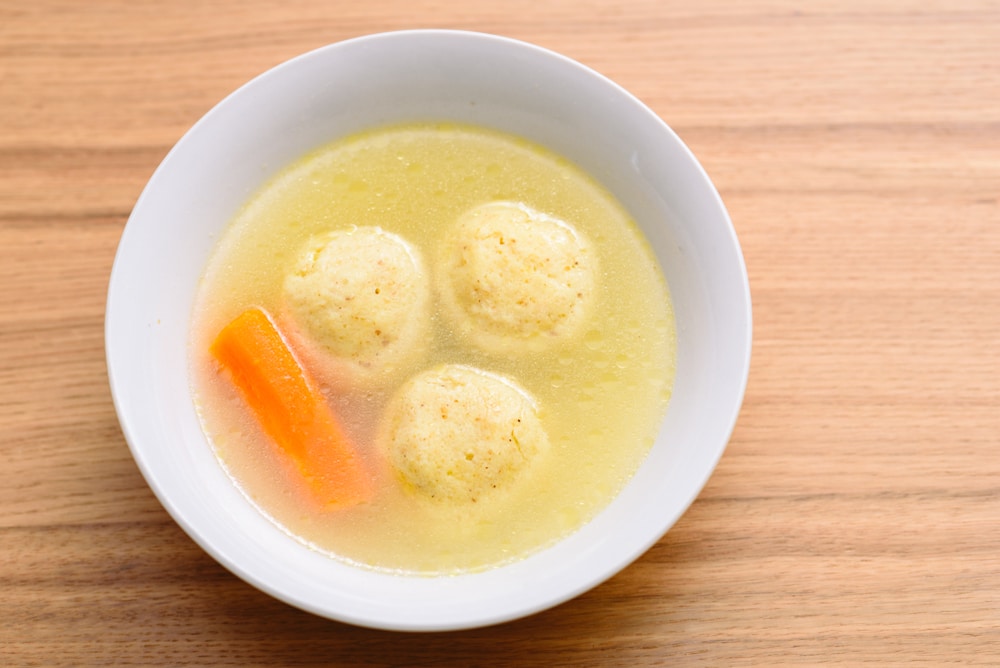 Challah

Tomato Garlic Dip

Olive Dip

Roasted Chickpeas 

Hummus (store-bought)

Gefilte Fish

Green Salad: Kale, tomato, avocado, cucumbers, red onion

Chicken Soup with Noodles 

Chicken with Maple Sauce 

White Rice 

Cherry Tomato Bake 

Pumpkin Soufflé 

Spinach Pie 

Chocolate Mousse 

Pumpkin Chocolate Chip Cake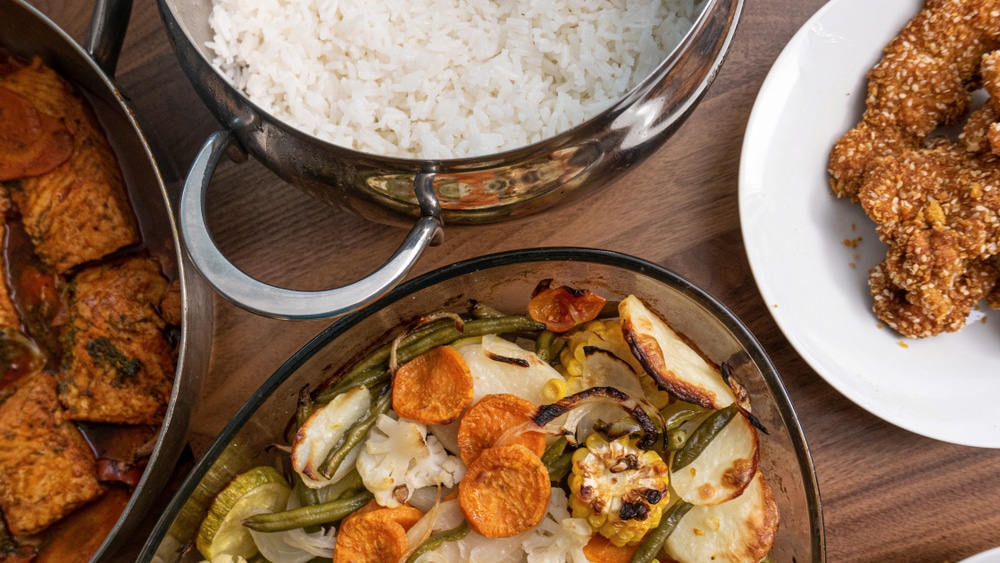 Shabbos Morning:
No-Bake Cheesecake ( sour cream + vanilla pudding mix in crust)

Cereal 
Shabbos Lunch:
Challah with dips (same as Friday night)

Cholent

Grilled Chicken Salad with garlic dressing and roasted chickpeas 

Pasta Salad 

Vegetable Platter – celery, baby carrots, olives, hummus  

Cut Up Fruit – watermelon, cantaloupe, berries 

Pumpkin Cake

Baby Red Potato Salad with pickles, scallions and garlic dressing 
Shalosh Seudos: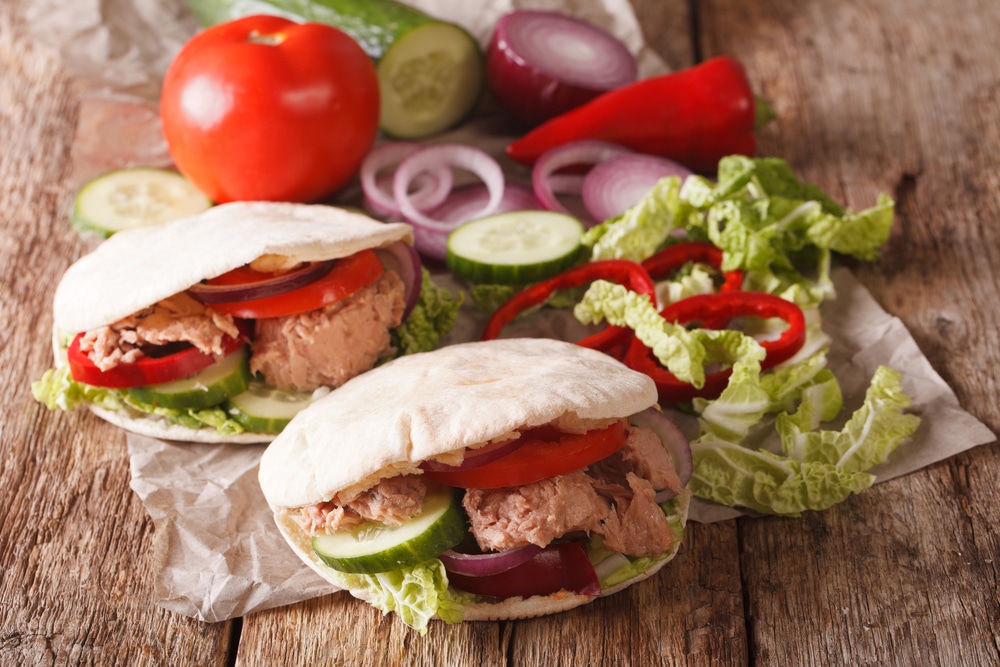 Pita Bread 

Tuna 

Egg Salad 

Salmon in dough with spinach 

Cheesecake 

Coffee 
Step-by-Step Cooking Instructions:
Pulse tons of fresh peeled garlic in the food processor. Set aside some of the garlic for three items: salad dressings, potato salad dressing, and a small amount for cherry tomato bake. 

Saute remaining garlic in a pot with olive oil. When lightly brown, remove about half a cup WITH the oil and set aside. Add a bit more oil, continue cooking two more minutes, then add 2 cans diced tomatoes, dried basil, salt and let simmer on low heat for an hour.

Before you wash blender from the garlic, add can of olives, drained. Blend well then add mayo. This is your olive dip. 

Cook 3 bags of thin egg noodles.

Put aside one container of noodles for soup accompaniment. 

Mix roasted garlic in oil with the remaining noodles. Add a nice amount of soy sauce, lots of dried parsley, and some black pepper. Put in the fridge. This is your pasta salad for Shabbos day. 

Cook baby red potatoes with skin on, set aside. 

Drain chickpeas. Add to a baking pan with olive oil, salt, pepper, paprika, garlic powder, curry, parsley and baharat if you have. Roast at 400F for 30-45 minutes. Put some aside some for the chicken salad that will be served on Shabbos day. The rest is served with the dips on Friday night. 

Sauté 2-3 chopped onions. When brown, take out about half a cup and set aside in fridge for the egg salad (shalosh seudos). Add all the frozen spinach to the rest. Sauté spinach until soft. Add salt, pepper, and remove half of spinach. Put aside for salmon in dough. Then add eggs, onion soup mix, mayo, and almond milk to the rest of the spinach and pour in pie crusts or bake in pie dish for healthier option. Bake at 350⁰F for about 35 min or so, until the top is very firm. 

Roll out puff pastry dough into long rectangle. Lay spinach mix on one side, put fresh salmon fillets on top (if they smell fishy put in a vinegar bath for a minute first, then rinse). put a thin layer of mayo on top of salmon, sprinkle onion soup mix and a bit of thyme on top. Fold over pastry, make slits, egg, and bake at 350⁰F until golden. 

Make the pumpkin soufflé: Mix pumpkin purée with eggs, almond milk, cinnamon and brown sugar and pour into baking dish. Sprinkle cinnamon on top. I always make this with no pie crust.

For cheesecake: Mix one container sour cream with one package of vanilla pudding mix. Put into pie crust and refrigerate. I make 3 cheesecakes using this ratio. 

Bake gefilte fish.

Cook eggs for egg salad. 

Cherry Tomato Bake: Slice tomatoes in half, mix with some olive oil in a glass pan. Combine panko crumbs, fresh garlic (that you put aside earlier), dried parsley, salt, and pepper and some more olive oil. Sprinkle on top of cherry tomatoes and bake at 350⁰F until golden, about 35 minutes. 

Cook rice. 

Make maple sauce for chicken. Combine 1 cup orange juice, 1 cup maple syrup, 3 tablespoons thyme, and 1/2 cup Dijon mustard. Microwave or just mix well. Add a bit of cayenne pepper, black pepper and salt. Pour over chicken and bake. Be sure to set aside chicken for chicken salad on Shabbos. 

Make potato salad. Prepare the dressing: olive oil, red wine vinegar, fresh garlic ( that you put aside before), bit of mayo (about a tbsp), dried parsley, salt, and pepper. Chop pickles small, chop scallions, mix with cooked potatoes, and dressing and refrigerate. This tastes better when dressed in advance.

Prepare the salad dressing for Friday night's salad: Use for Friday night's green salad and Shabbos day chicken salad: Fresh garlic, olive oil, white vinegar, oregano, salt, pepper, lemon, and bit of mayo. 

Bake pumpkin cakes. 

Make chocolate mousse. Drain refrigerated coconut milk, whip the cream part. Melt choc chips in microwave with a bit of oil and some vanilla. Add to whipped coconut cream and beat until incorporated. Serve with pomegranate seeds or blueberries on top. 
Shabbos prep is done!