Fermented pickles have great health benefits and they're worth the wait. 
If you read about my quest to heal my son's eczema, then you read that I tried and failed many times at the challenge of making my own fermented vegetables (Read why fermented veggies are beneficial for health here). If I've learned one lesson in life, it is to never give up! After four attempts to ferment pickles, I finally did it! The pickles are crunchy and crispy and taste way better than any store-bought version.
First and foremost, it is very important to work with clean dry utensils.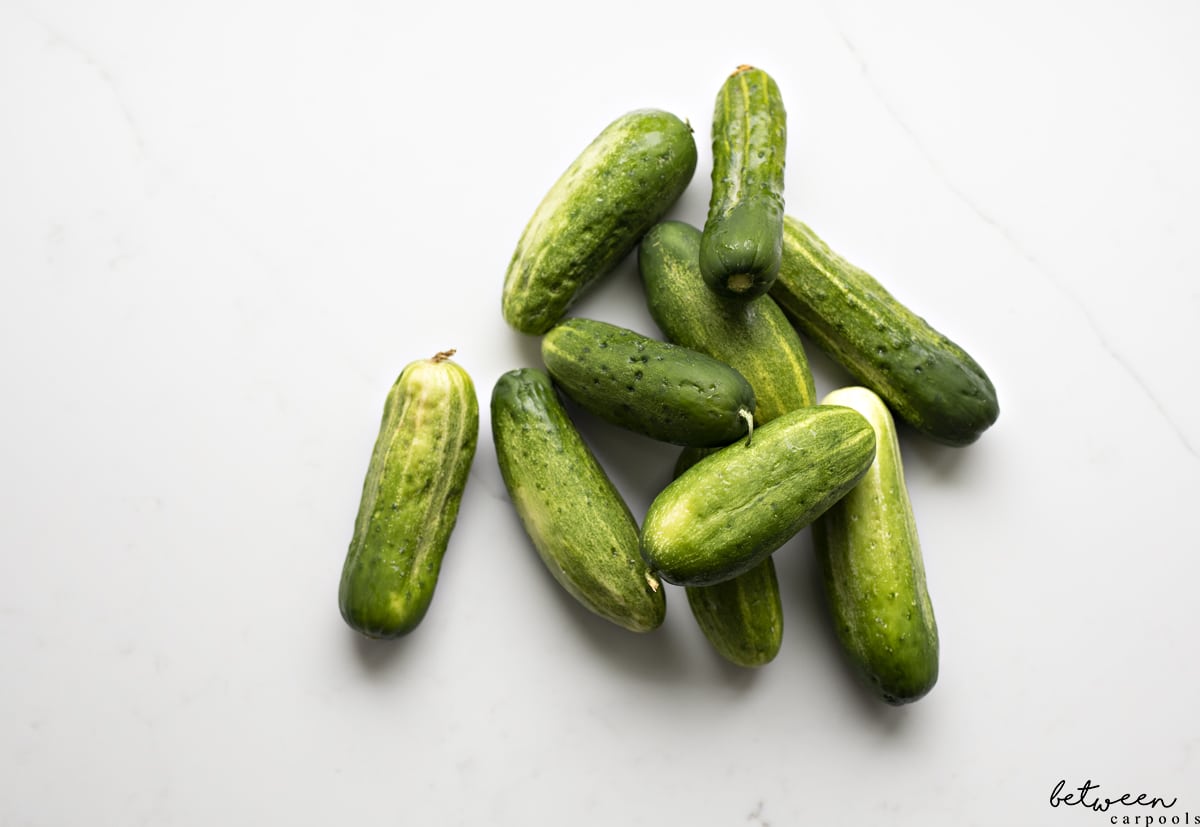 1. First, start by hand-selecting small and firm kirbies (preferably organic). Wash them with plain cold water and dry well.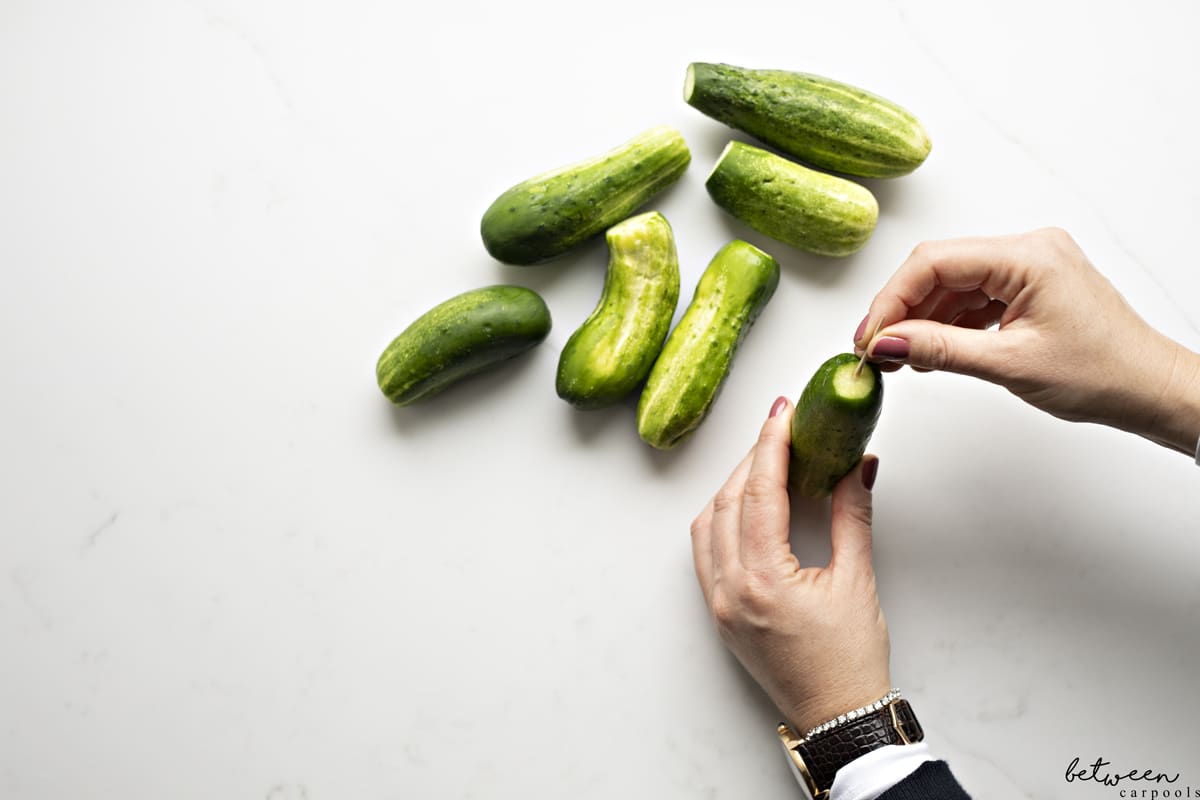 2. Then remove a little piece from the top part of your kirbies (by the stem part) and poke a 1" hole into the kirby with a clean toothpick; this will allow the water to get inside and prevent mushy pickles.
3. Prepare your spices. You can really play around with this part, there are no measurements. Don't worry, you can always add spices when your pickles are done fermenting.  This is my preferred spice list: 4 fresh garlic cloves, coriander seeds, mustard seeds, some fresh dill (about 1/4 bunch), slices of fresh lemon, whole medley black peppers, and for a spicy kick fresh chili pepper.  I also add 3-4 bay leaves (depending on size) they help the pickles stay crunchy.
4. Next, prepare the brine. Always use unfiltered clean well water. If you don't have access to that you can use spring water. It should never be tap or chlorinated water.
For full sour pickles, you need to use a ratio of 95% water and 5% salt. For half-sour pickles use 97.5% water to 2.5% salt. The ratio of water and salt is an important step; this helps the pickles stay crunchy and fresh. Mix the salt and water together, do not pour them into your jar separately (i.e. for 1-gallon water, use 3/4 cup salt).
5. Prepare a clean 2 quart Mason jar. For best results, I would advise you to buy Mason jar airlock lids.
6. When all your components are ready, you can start assembling: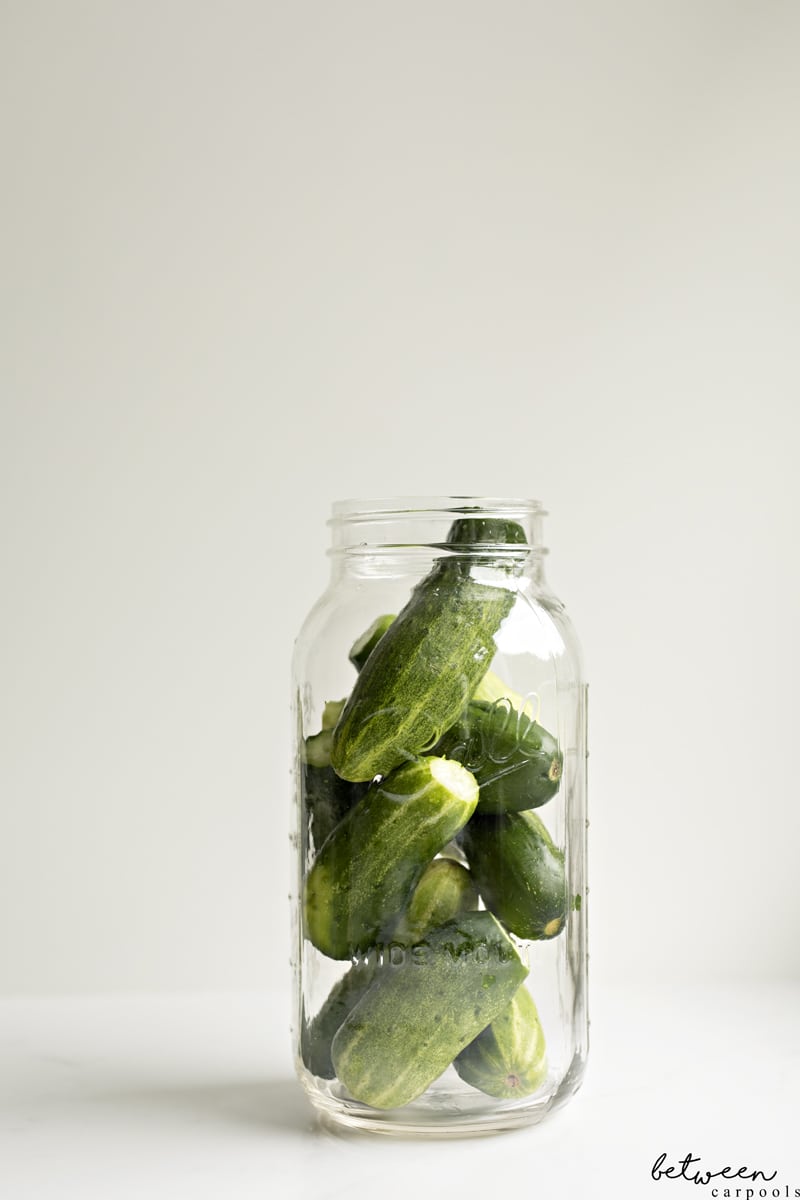 Start by layering your pickles.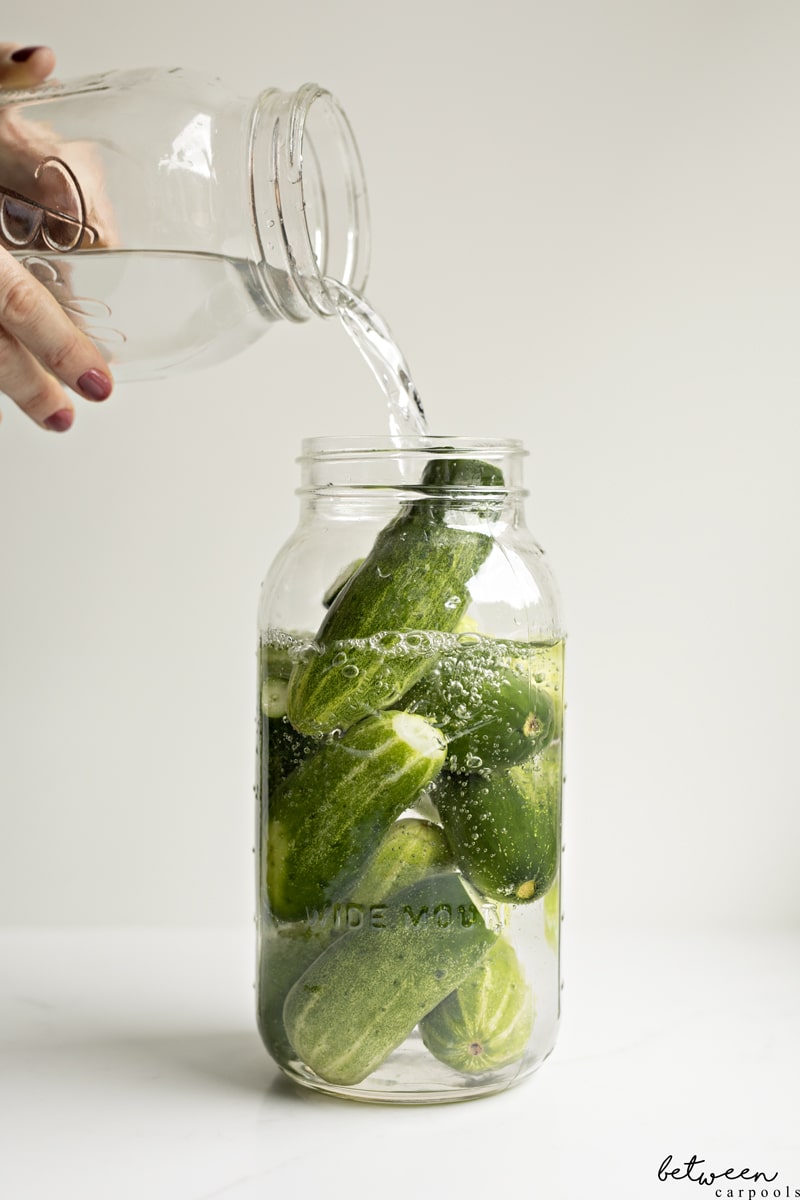 When done, pour the brine into the jar leaving some space for your weights and spices.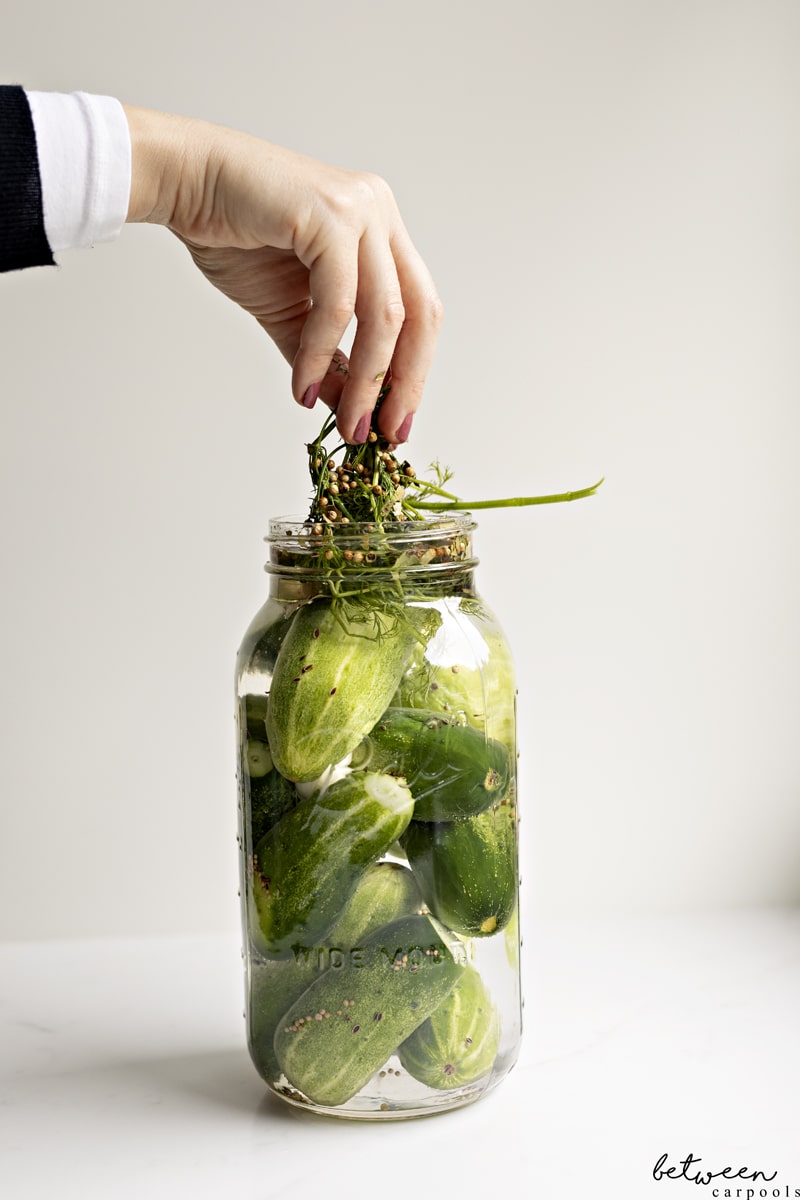 Next, pour in your desired spices adding the lemon slices last.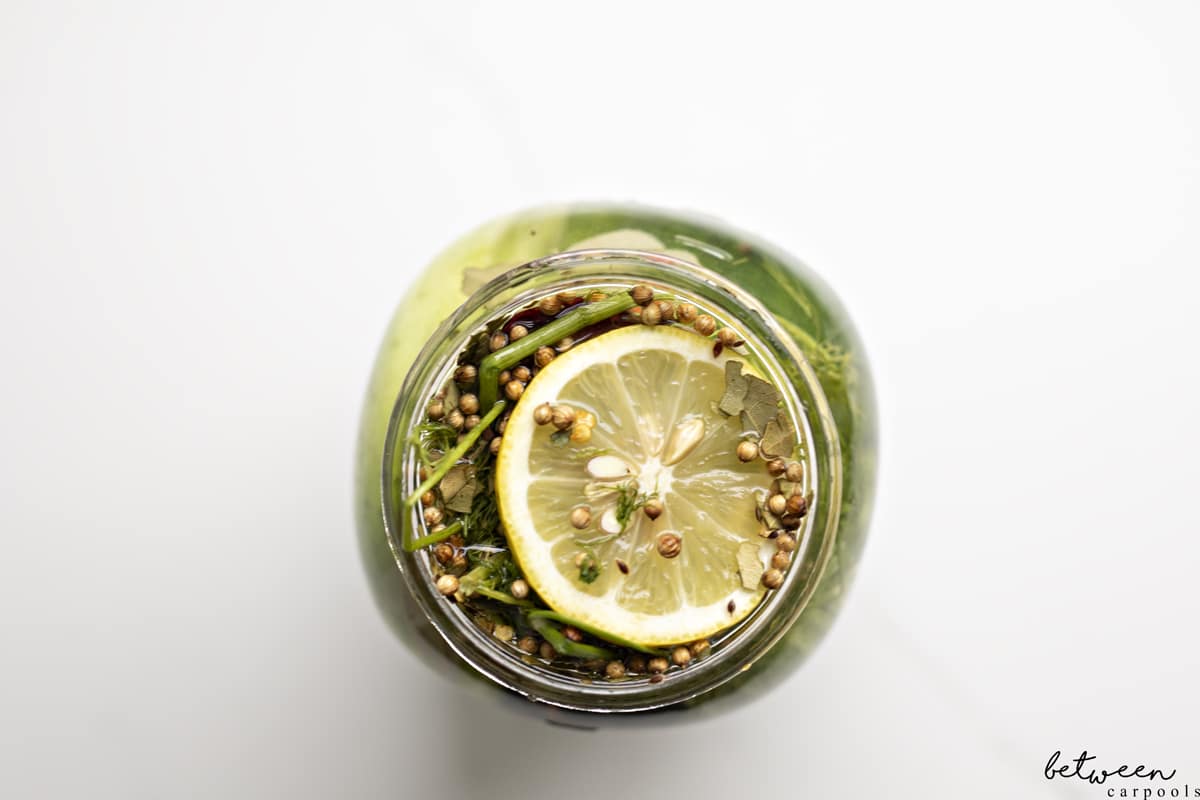 Then add your weights. (I found it unnecessary to purchase expensive weights, I created my own weights by using a small Ziploc bag filled with leftover brine. See bottom note.)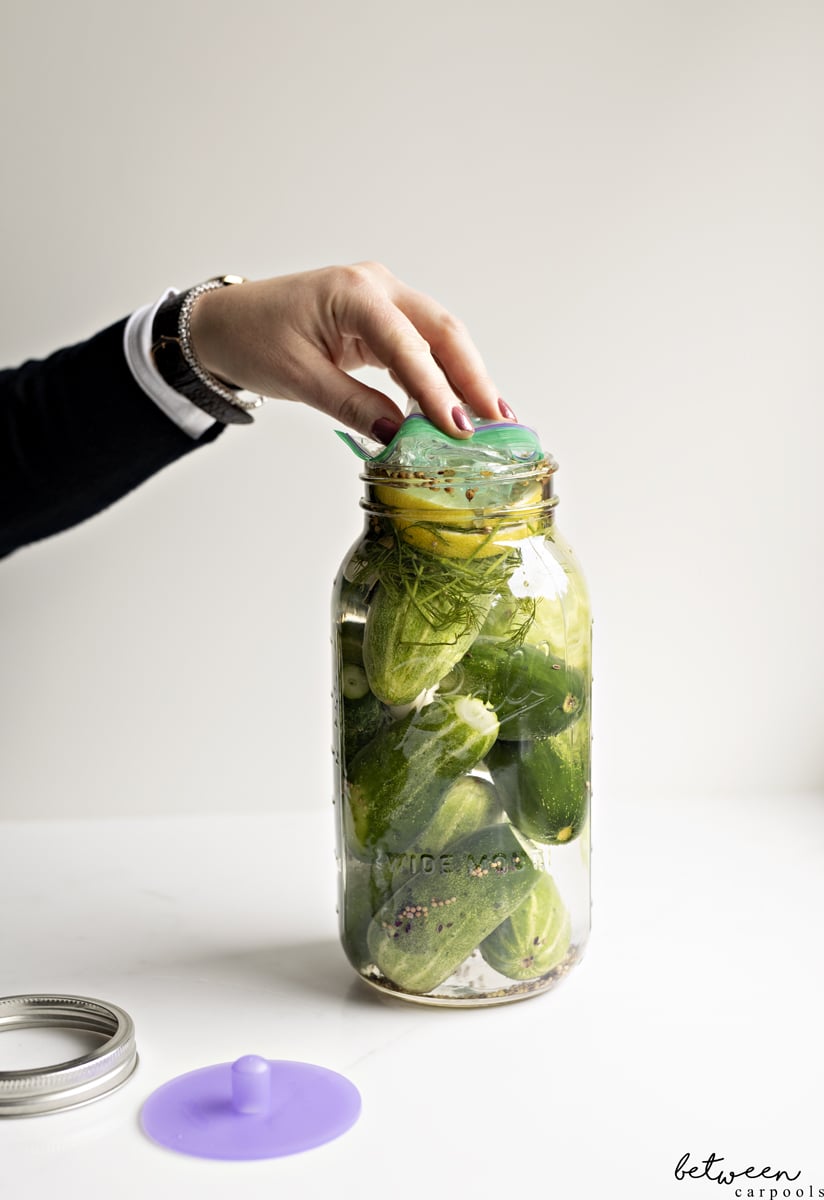 Add 1 weight to the jar and close with the Mason airlock lids. Make sure the lid is closed properly. It's very important that no oxygen enters. The Mason airlock lids allow air to exit but not enter. This method does not require any burping.
7. If you opt to use the standard Mason jar covers, you will need to burp your pickles daily starting on day three. You may also not get the same results as with an airlock Mason jar cover. (Personally, I wasn't successful using this method).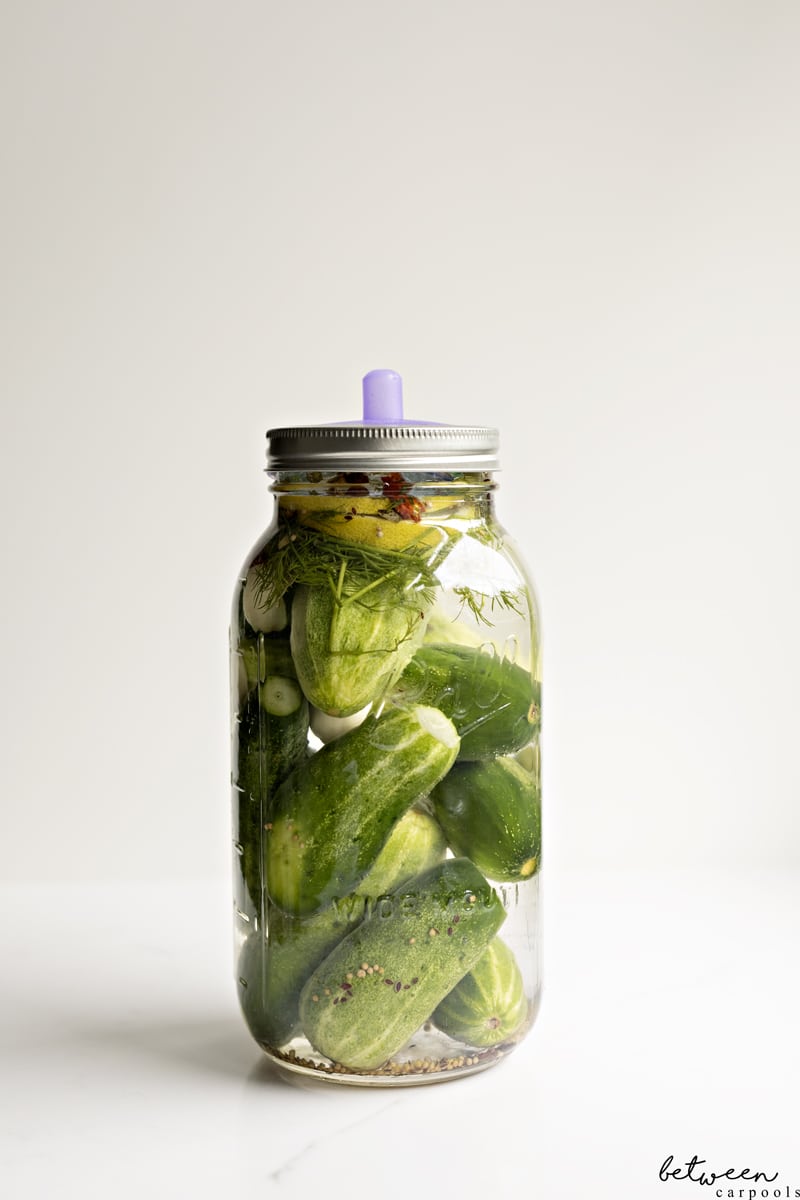 8. Place your jars on a cookie sheet (the brine might leak) and store it in a cool place. For best results do not touch or move it around.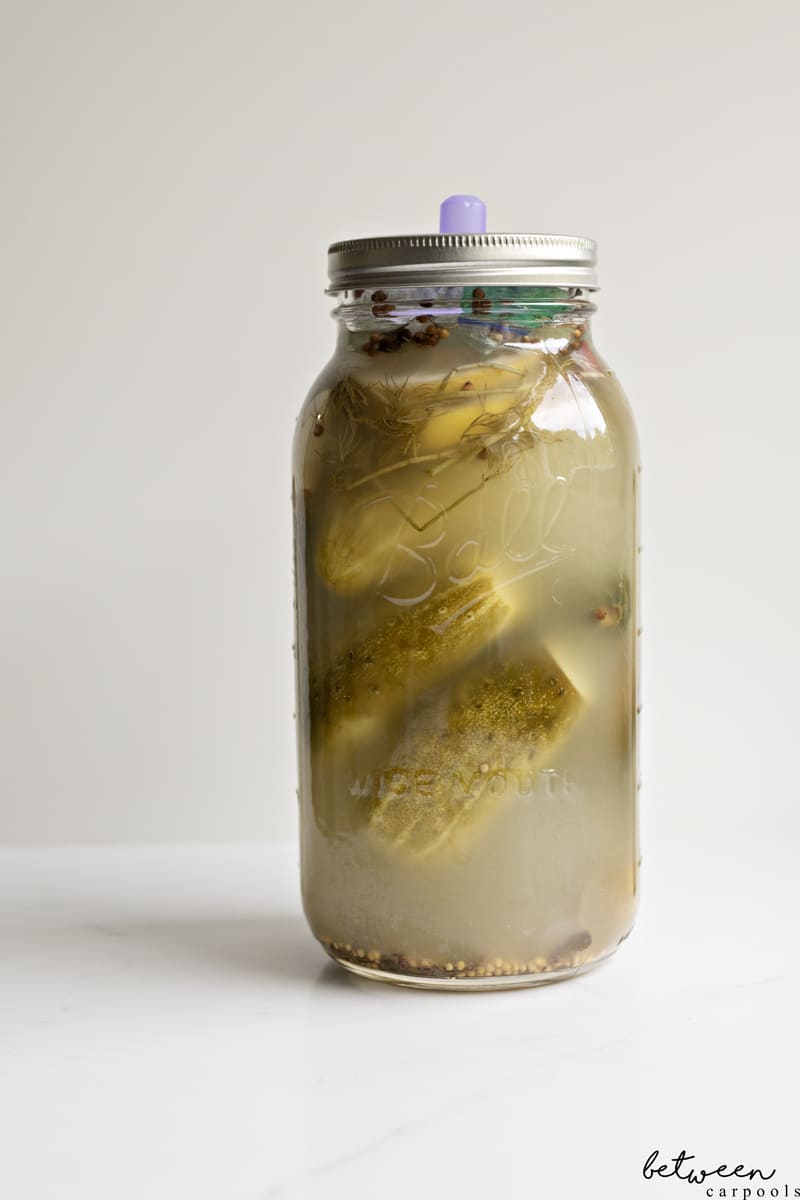 The pickles take 10-14 days to ferment. On the day you start tasting them, if the pickles aren't ready, close the jar and let ferment longer. However, once your jar is opened it needs to be refrigerated. The fermentation will continue in the fridge. Untouched jars can stay 6 months outside if placed in a cool place (I only tried mine for one month and it was no issue). For best results place in the fridge 24 hours before tasting it.
White spots on the pickles are totally normal; they are actually healthy probiotics.
Note: Plastic (such as that found in resealable bags) might release toxins while the pickles ferment. If you don't know the quality of your plastic, it is recommended to buy glass weights. However, you can also try adding your lemon slices last and make sure they properly submerge all pickles. If your pickles aren't submerged they will grow mold.
If you're interested in more information about fermenting, a great book I recommend reading is Fermented Vegetables by Christopher Shockey. The book teaches you how to ferment any type of vegetable.
I would like to thank @mean_meats_by_shmuly for helping me with all my troubleshooting issues and providing me with the below information.