Perhaps your mother has been making them for you for years. But if you need to prepare them on your own, here's a quick guide.
Not all of the simanim need much preparation.
These simanim are not listed in no-cook/cook order, not in order that they are eaten. Let's start with the no-cook items:
Tapuach B'Dvash. There's apples and honey, of course. Simply choose the best apples you can find (We recommend Honey Crisp. See this post for a guide to the best apples for eating and baking). There are also an interesting mix of honeys and flavored honeys out there that add a special feature to the table.
Temarim – Dates are another no-cook siman. You just need to open and check them. Dates are one of those delicious wonders, especially if you spot those big, fresh, juicy Medjool dates at your grocery.
Rimon – Pomegranate. No, it's not pomegranate season this early in the year. For those juicy red seeds, you'll have to wait until December (although there are many groceries who manage to find the best of the best). But, don't be sad if your pom seeds are a bit white, that's normal. For tips on deseeding your pomegranate, see this post.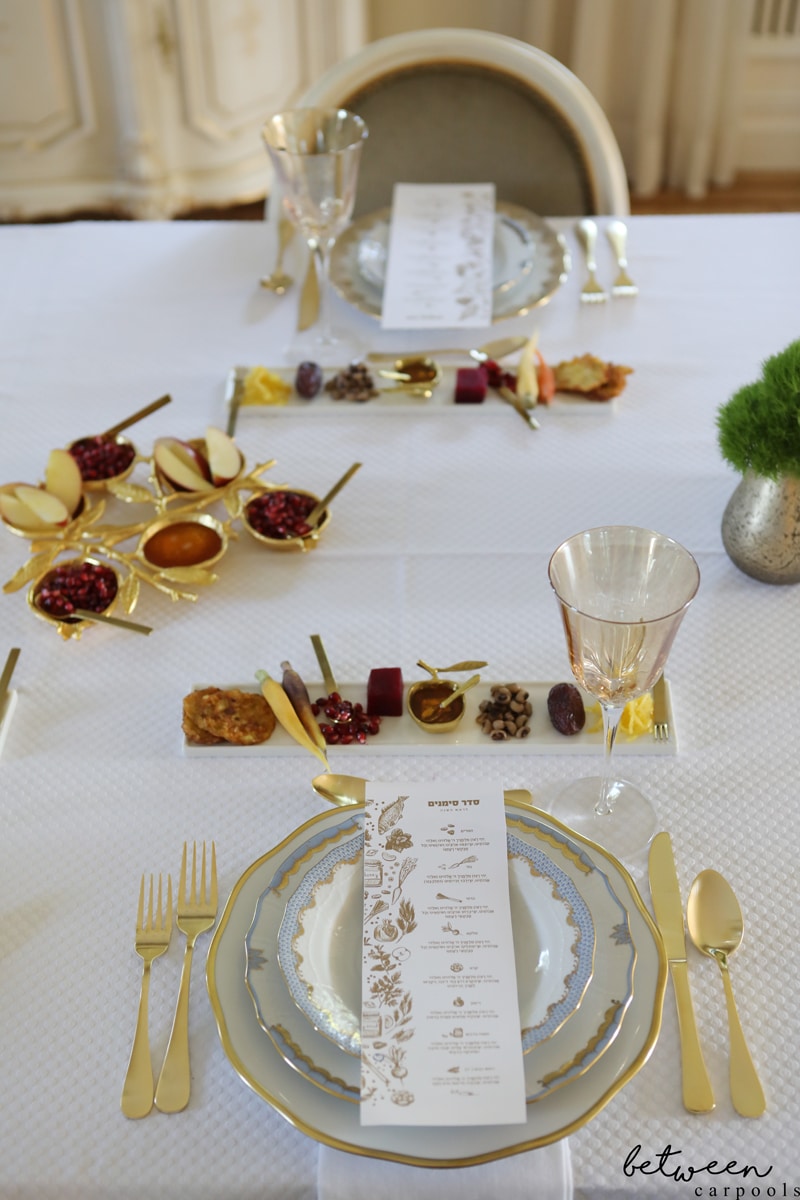 Now, for the items that entail a little prep:
Karti – Leeks. Leek patties are a favorite for both Ashkanazim and Sepharadim. Some also use cabbage for karti.

Leek Patties
This is, surprisingly, a kids favorite. Similar to a latke, this also tastes good at room temperature.
Ingredients
3 large leeks (or 4 small ones), white & green parts only
water, as needed
2 tablespoons oil
3 - 4 eggs
1 tablespoon bread crumbs or matzah meal
salt, to taste
1 pinch sugar
oil for frying
Instructions
Cut the dark green parts of the leeks and discard. Slice the leeks in half lengthwise and wash thoroughly. Cut the leek into strips and dice.
Place leeks into a pot with enough water to cover. Add oil and bring to a boil.
Drain very, very well, pressing out excess water.
Add eggs, crumbs, salt, and sugar. Form the batter into patties.
Pour a thin layer of oil into a skillet over medium heat and bring to a frying temperature. Slip patties into hot oil and fry until browned on one side. Flip patties and brown the other side.
Serve at room temperature or cold.
Silka. 
Ashenazim use beets or beet leaves or spinach. Sepharadim use swiss chard. When using swiss chard, some use just the stalks as they are hard to check. When using checked swiss chard, many make a quiche (similar to a spinach quiche).
Roasted Beet Cubes
Instructions
Preheat oven to 375°F. Wrap however many beets you might need in heavy-duty aluminum foil. Place beets into a baking pan; roast for about 1 hour. Beets are ready when they can be pierced with a fork. Let cool. (You can do this step ahead of time. Roasted beets will stay fresh, refrigerated, for 3–4 days.) Unwrap beets. Peel and cut into large cubes.
Rubia. 
This is either carrots or black-eyed peas, depending on your minhag. Note, black-eyed peas have been known to be infested as of late. Some people check the peas individually and only eat one, others simply have them on the table for symbolic reasons.
Krah – Gourd. Any type of squash. Many have the minhag to use spaghetti squash (sometimes, mixed with sugar water for a sweet version). Others simply use roasted butternut squash or another type.
Rosh Kevesh – Dag. Head of a lamb or fish. Fish is common. We don't have recipes for head of lamb (for that, you'll still have to ask your mother/bubbe). Sepharadim don't use fish, but rather the lamb head or tongue.
You'll find these simanim cards (free download) on our original Rosh Hashanah Simanim post over here.
FOR EXCLUSIVE CONTENT AND A PEEK BEHIND THE SCENES, MAKE SURE TO JOIN OUR WHATSAPP STATUS HERE. JOIN OUR WHATSAPP GROUP AND WE'LL LET YOU KNOW WHEN A NEW POST IS UP!