The Sabich Salad (or sandwich, depending on how you serve it) is one of my favorites. And there's lots of reasons why.
This recipe is from my new book, Secrets of Skinny Cooking, written with Shani Taub C.N. C.D.C. and styled and photographed by Esti Photography. It's available now on Amazon and at your local Judaica store!
This recipe is one of my favorites because it's unexpected and you can enjoy it a couple of different ways, in a salad or as a sandwich (that's why it's in the "Friendly Carbs" chapter).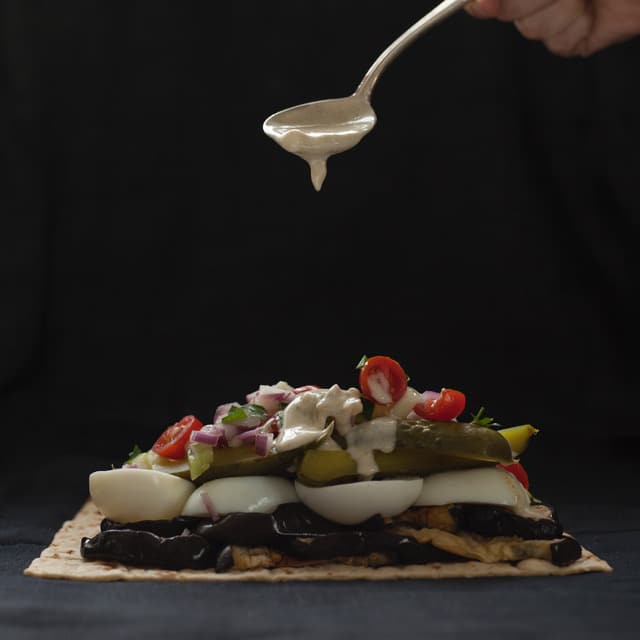 Here's the wrap version. Simply omit the potato and pile up all the ingredients inside your sandwich instead.
Make a big batch of the tahini-style dressing! If you love techinah, it's a great low-cal alternative. Use it as a dip, or over fish, or on any salad where you want some Middle Eastern flavor.
Double the recipe and this is it's a huge, gorgeous, super-filling salad that's worthy for company. When I'm entertaining, I use pretty mini potatoes instead of the larger Yukon Golds. Just boil them until fork tender and toss them in the salad. This is a great option if you want a different, exciting salad that isn't lettuce based.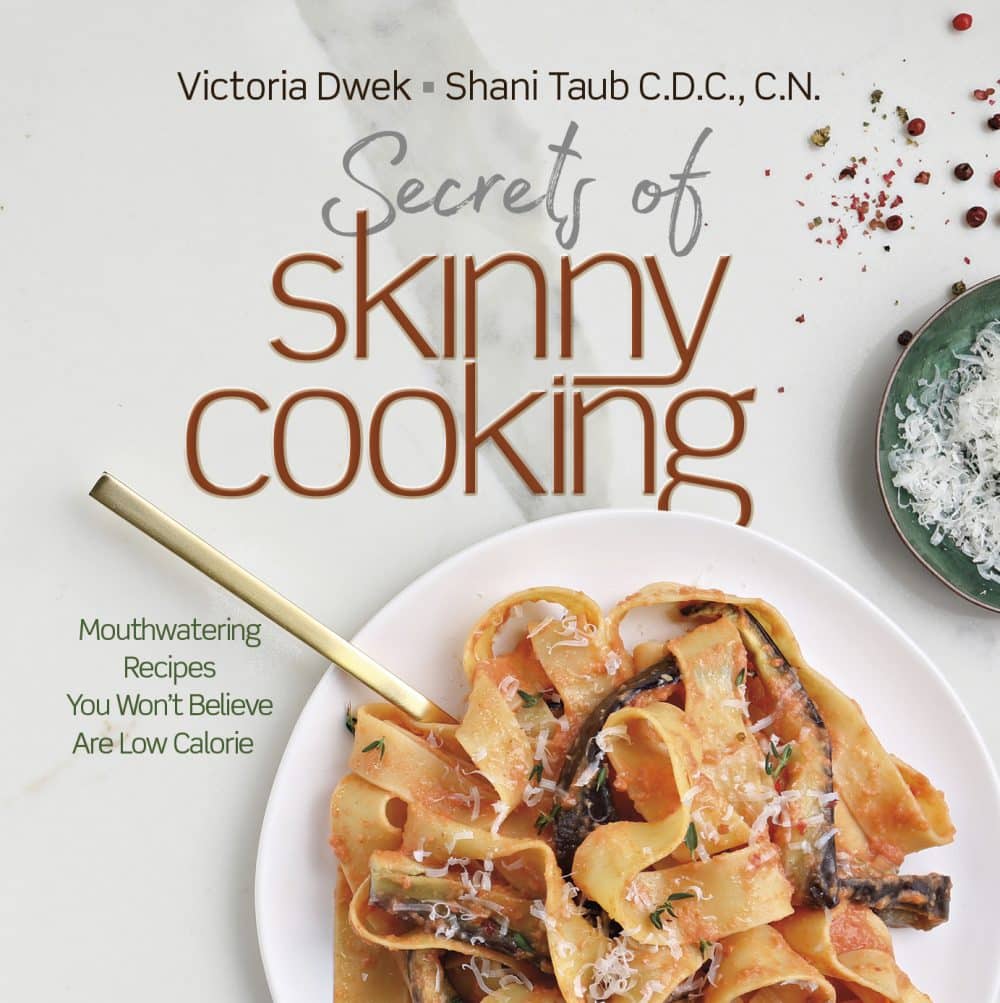 The Sabich
Author:
Victoria Dwek & Shani Taub
Ingredients
1 small eggplant, sliced into half-moons
½ lb Yukon Gold potatoes
4 hard-boiled eggs, halved vertically, whites only
1 pickle, sliced
Israeli Salad:
1 cup grape tomatoes, halved OR 1 diced tomato
½ cucumber or English cucumber
½ red onion, diced
2 Tbsp lemon juice
¼ cup fresh parsley leaves
1 tsp salt
pinch coarse black pepper
Tahini-Style Dressing:
2 Tbsp light mayonnaise
1½ tsp tahini paste
2 Tbsp lemon juice
1½ Tbsp water
1 garlic clove, crushed
1 tsp fresh minced parsley leaves
½ tsp salt
pinch cumin
Instructions
Preheat oven to 425°F. Coat a baking sheet with nonstick cooking spray.
Place eggplant in a colander; sprinkle with salt. Let sit for 20 minutes over a bowl or in the sink. Rinse; dry on paper towels. Place eggplant on prepared baking sheet; bake for 20 minutes.
Add potato to a pot; cover with water. Bring to a boil; cook for 30 minutes, until tender. Let cool; slice or dice potatoes.
Prepare the Israeli salad: In a bowl, combine tomatoes, cucumber, onion, lemon juice, parsley, salt, and pepper.
Prepare the Tahini-Style Dressing. Combine all ingredients.
Toss potatoes with egg white halves, eggplant pickles, Israeli salad, and Tahini-Style Dressing.
Notes
Calories: 226 calories per serving
Want to win a copy of
Secrets of Skinny Cooking
?
GIVEAWAY DETAILS:
To enter the giveaway to win a copy of Secrets of Skinny Cooking
Leave a comment below letting us know what's your favorite part of Between Carpools or what you would like to see more of.
Giveaway is open to U.S. residents (for international entries, prize can only be shipped in the U.S.). Winner will be chosen at random at 10:00 PM EST on Sunday, June 11, 2017.
Giveaway is over! Thank you all for your kind and heartwarming comments! We loved reading each one.