This side of salmon is easy to prep, yet has a spectacular presentation.
One Friday, it was almost Shabbos and I hadn't yet prepared the fish.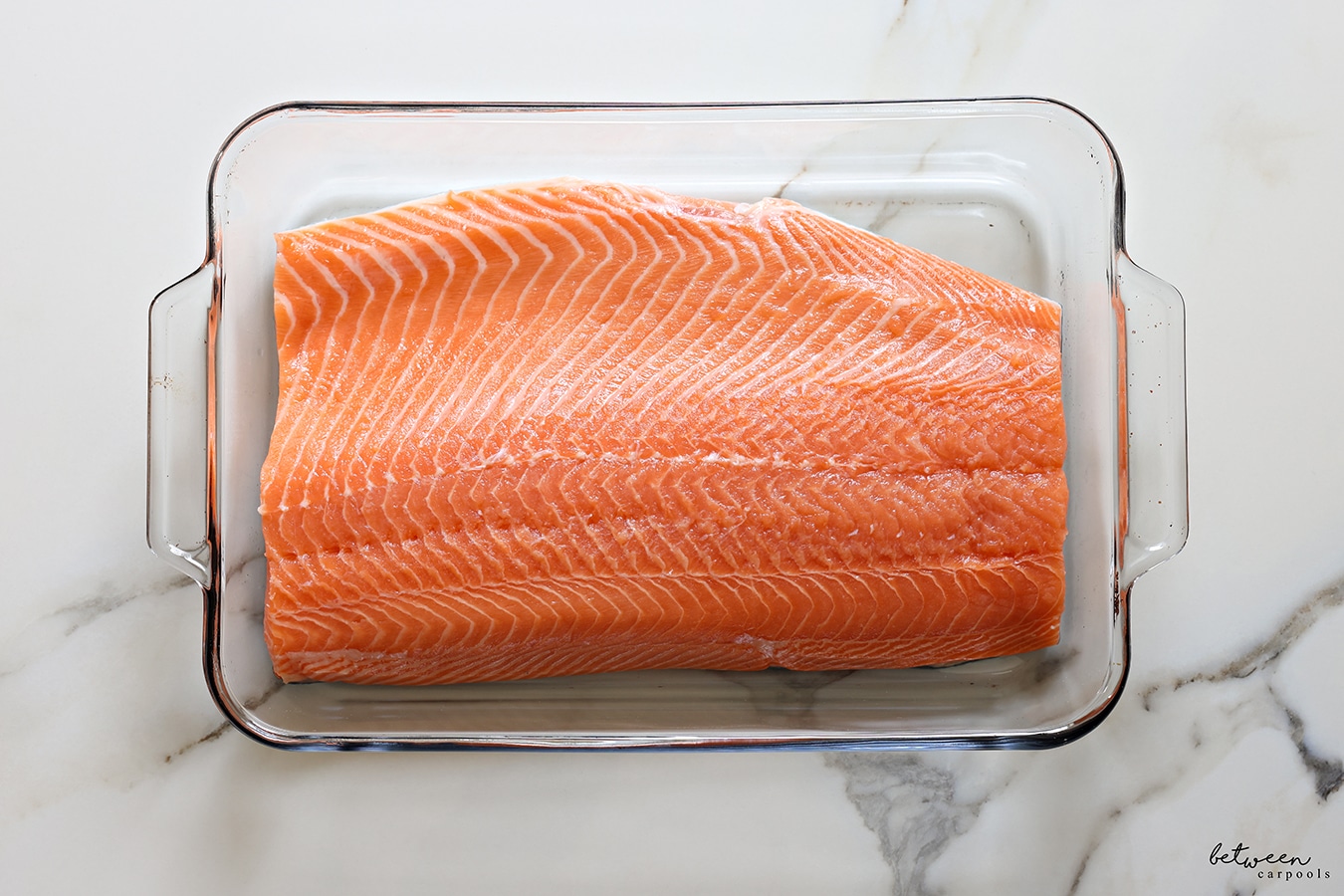 I needed an idea–and fast. So, I grabbed whatever I had available in the fridge. And, you know what? The result wasn't only beautiful, it was also so popular, I've been making my salmon like this ever since!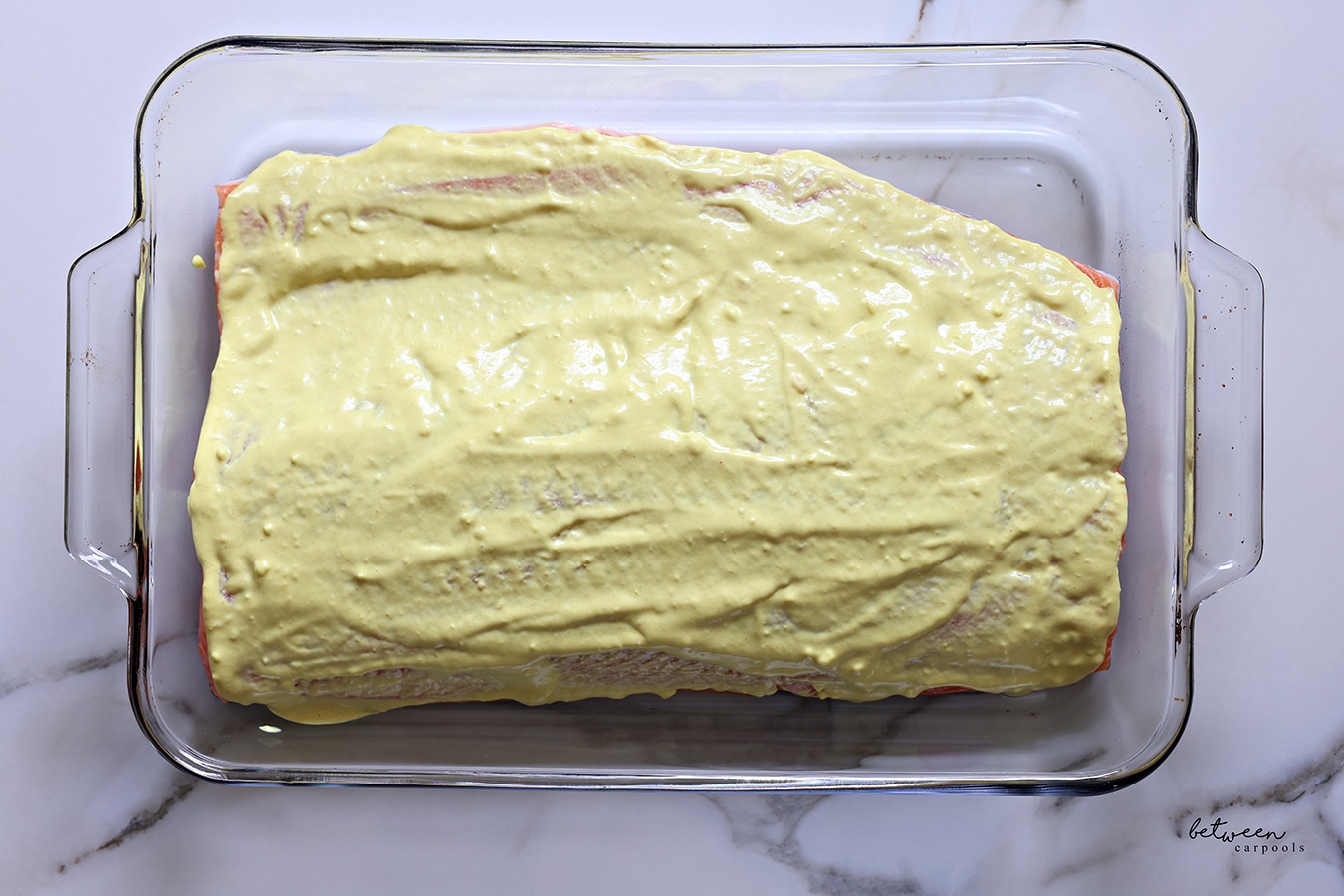 I really think the hardest part of this recipe is mixing the mayo and mustard! (It's that easy.)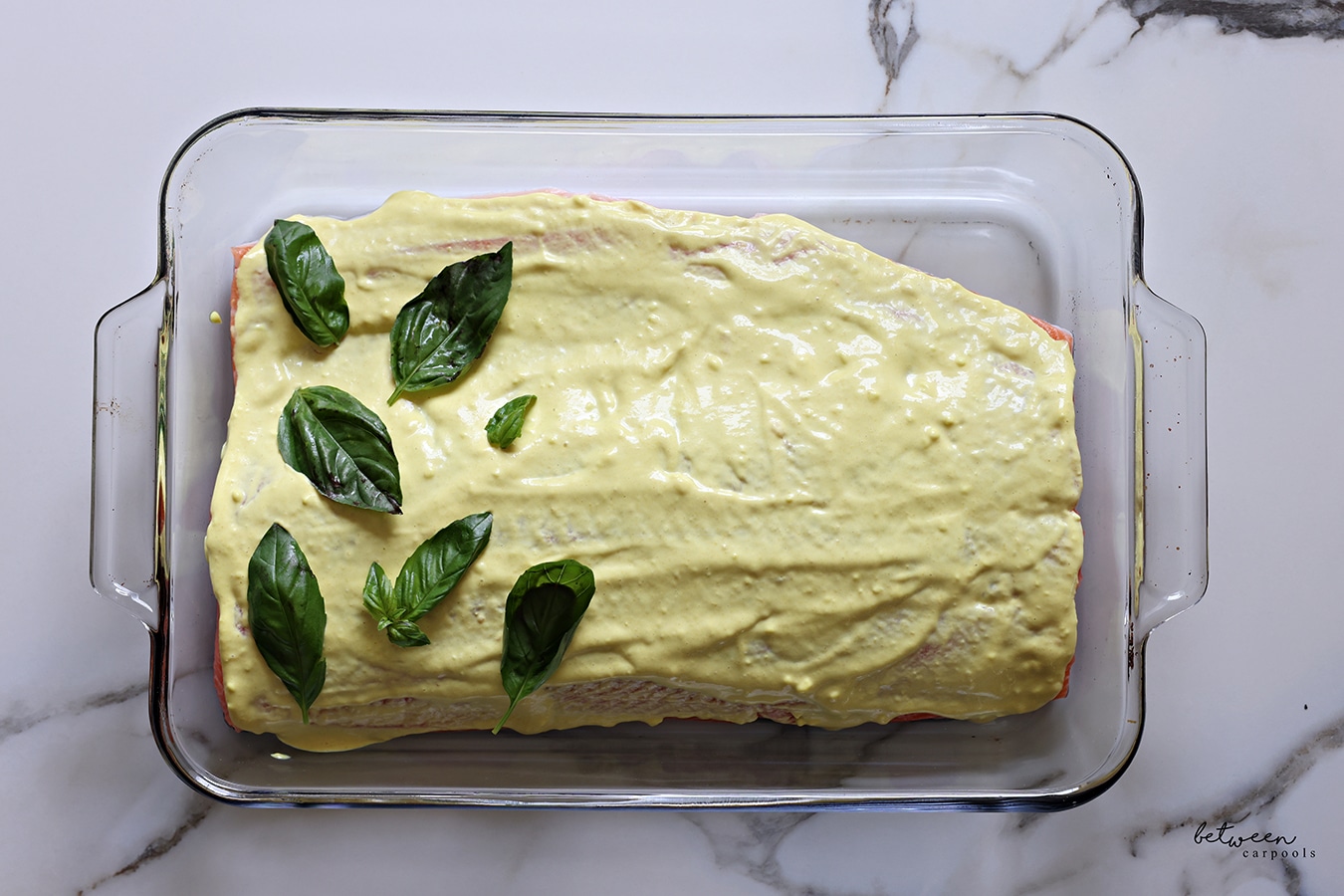 Then we're going to add those fresh basil leaves…there's really nothing like fresh basil. (Note from BCP: We washed and checked those basil leaves you see and since it's just a small quantity, it's not overwhelming!) It's worth not skipping the fresh basil, both for the taste and the looks.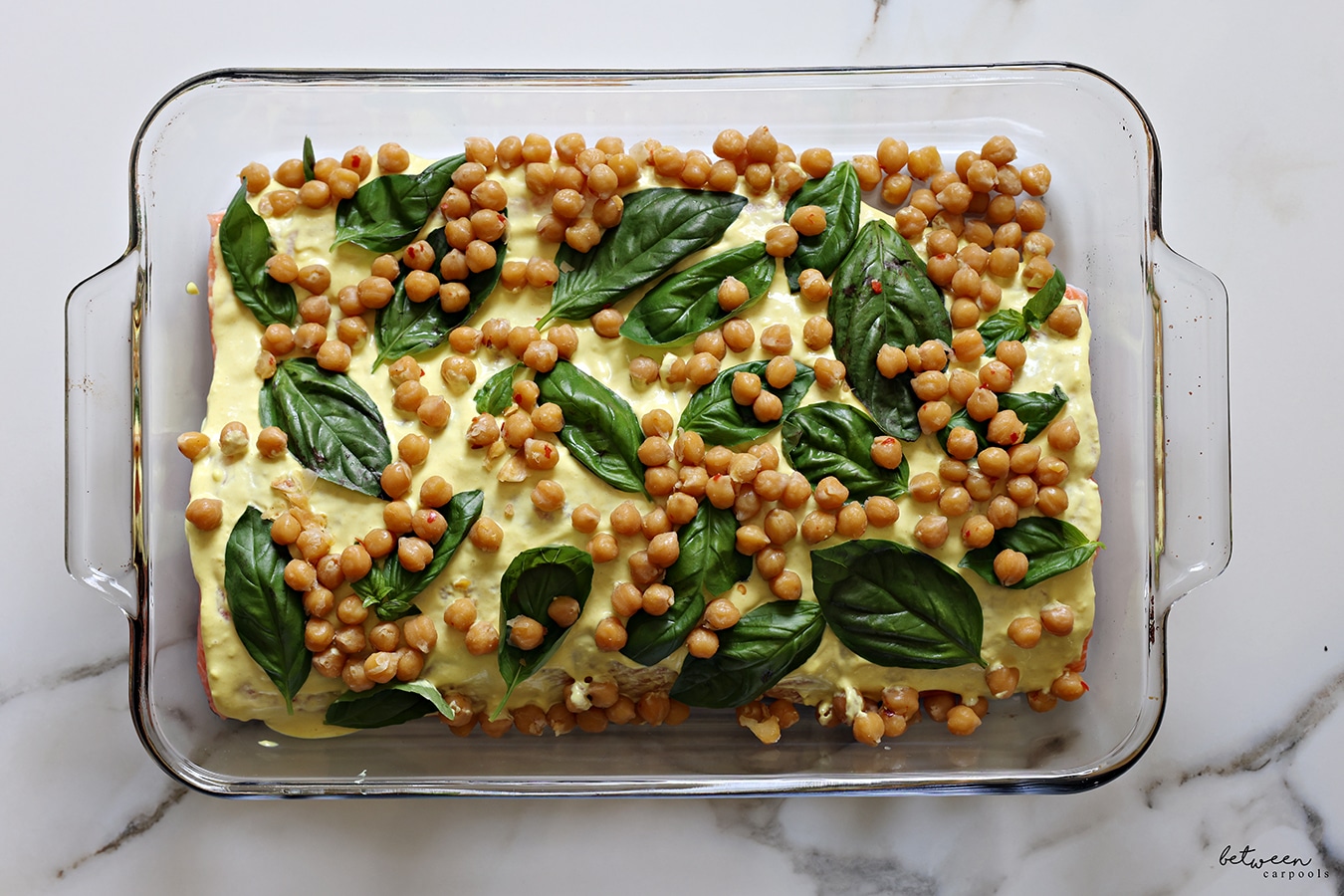 Sprinkle with your chickpeas. Now, all our base flavors are there.
Now we're just decorating with condiments. While all these drizzles I'm going to add now add both flavors and looks, if you want to limit the amount of processed products you're throwing on your salmon, you can choose none or all (but all the different colors of these drizzles makes for a really stunning final presentation!)
I add the teriyaki before baking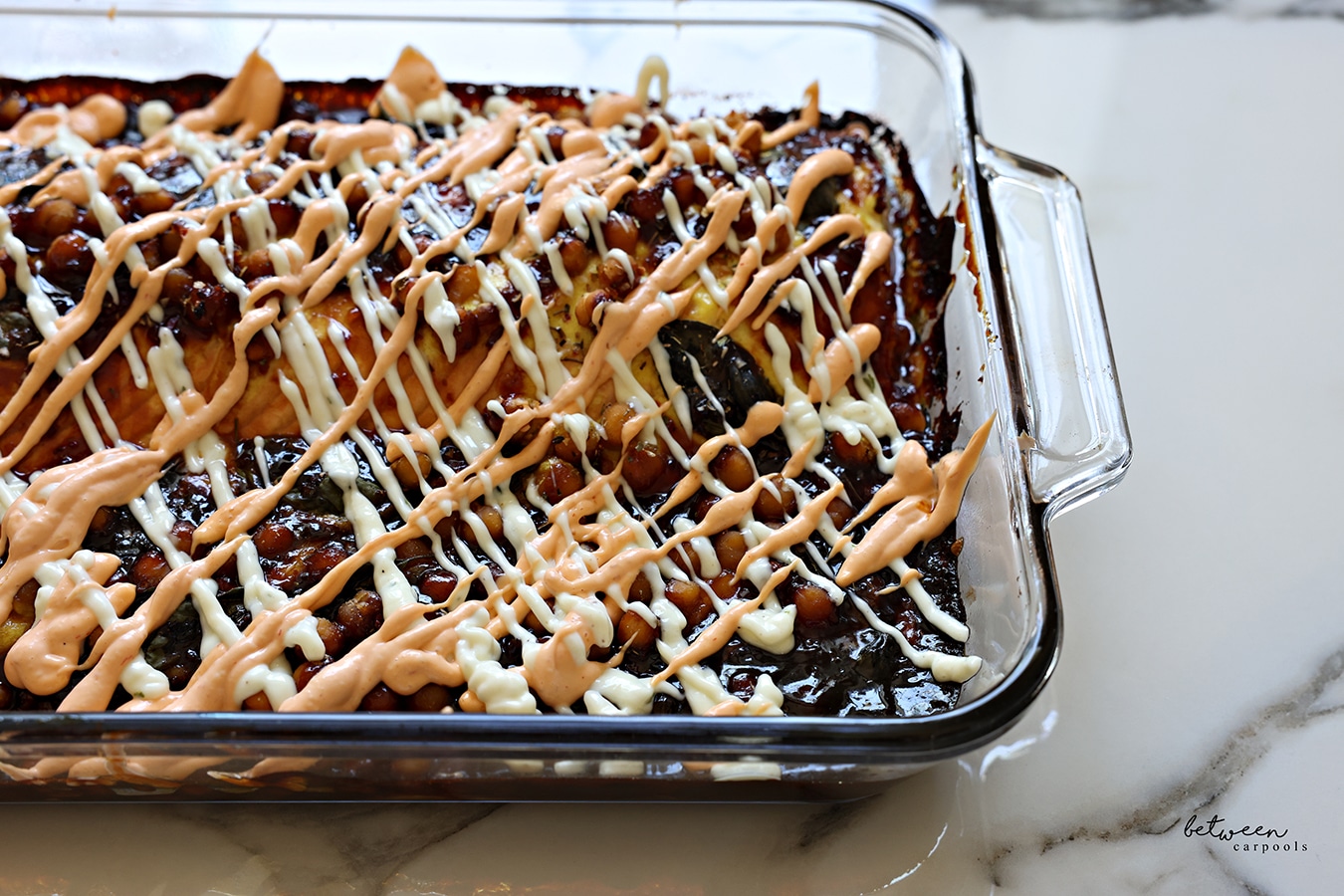 and the mayos after baking for some fresh, pretty stripes. It's a beauty!
Side of Mustard Salmon with Fresh Basil & Chickpeas
Ingredients
1 side salmon, squared off (not the tail)
⅓ cup mayonnaise
3 Tbsp yellow mustard
6 oz cooked chickpeas (such as ½ Golden Taste container)
Mikee teriyaki sauce, for drizzling
2 tsp fish seasoning
Truffle mayo (such as Salad Mates's), for drizzling
Spicy mayo, for drizzling
Instructions
Preheat oven to 420F.
Place salmon in a 9x13 Pyrex baking pan.
In a small bowl, combine mustard and mayo and spread evenly over fish.
Top with fresh basil leaves and chickpeas.
Drizzle with teriyaki sauce and sprinkle with fish seasoning.
Bake for 25 minutes.
When ready to serve, drizzle with truffle mayo and spicy mayo.
FOR EXCLUSIVE CONTENT AND A PEEK BEHIND THE SCENES, MAKE SURE TO JOIN OUR WHATSAPP STATUS HERE. JOIN OUR WHATSAPP GROUP AND WE'LL LET YOU KNOW WHEN A NEW POST IS UP!