You can make a wow fish appetizer without spending extra time in the kitchen.
This recipe goes back years and years, to a time when I was entertaining and asked a friend for some fresh fish ideas. Every so often, when I need a "fancy" fish, I turn back to it. It's definitely evolved over the years (i.e. gotten easier, less ingredients, even measurements, no required overnight marinate) but the results are show-stoppingly the same. 
Re: Type of Fish.
Yes, you can use any type of white fish. Honestly, any type of fish at all would probably work just fine. I've never tried salmon but I can't imagine why it wouldn't. I ask the fishmonger (that's butcher for fish) to cut the fish into pretty even appetizer-size squares. The size would depend on what else you're serving. Cubes work too, especially if this is going on a platter.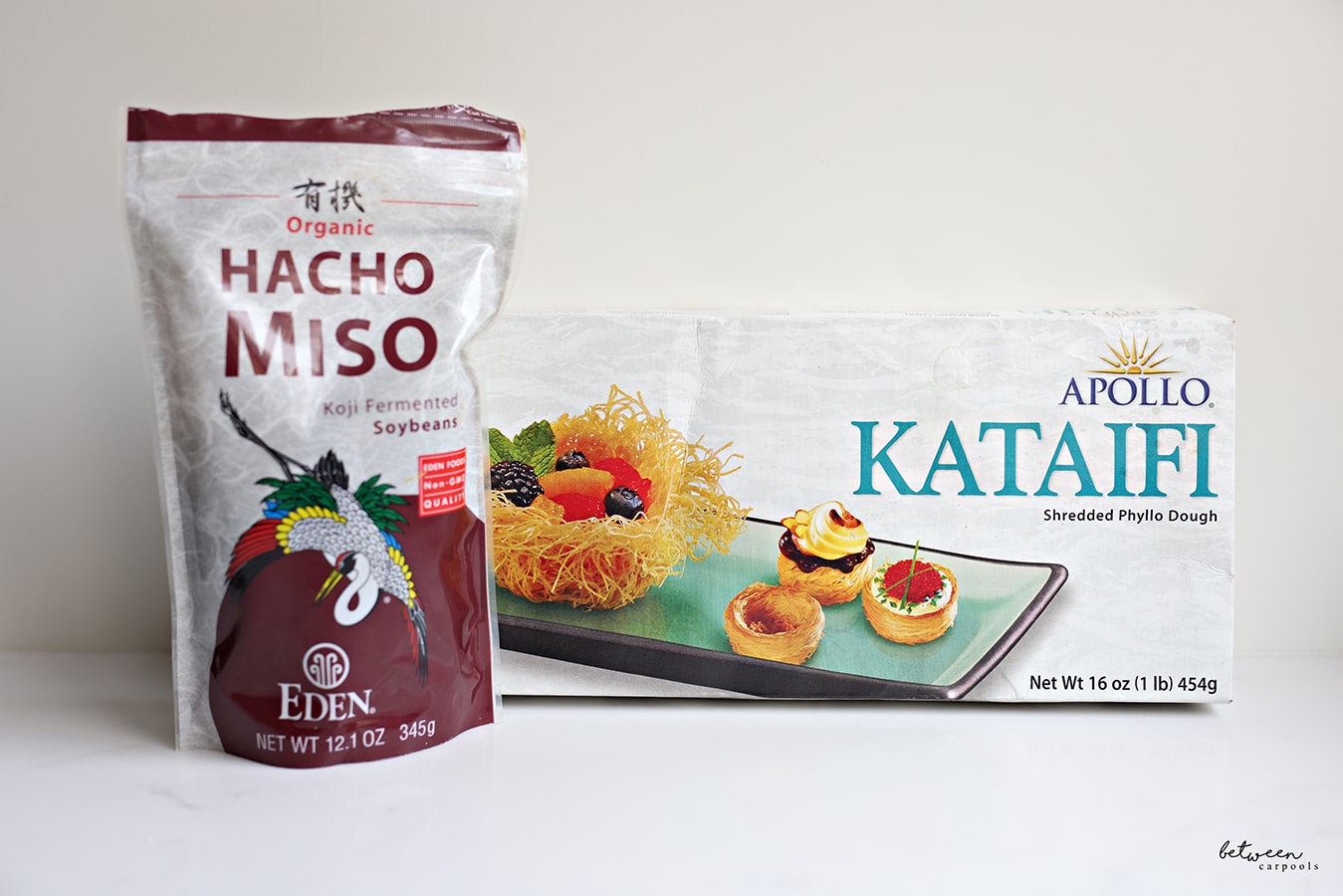 Re: Ingredients.
Yes, this does call for three ingredients which you probably don't have in your pantry! That's what makes it special! It's very unBCP-like to feature a recipe which calls for miso, mirin, and kadaif (shredded fillo/phyllo, available in the freezer) all at once, but hey, this is a special dish without any extra effort, so it's sometimes worth it. 
Re: Advance Prep.
Yes, the miso mixture can definitely be made in advance. The fillo can also be made in advance and stored in an airtight container. The fish can even be brushed with the miso mixture ahead. But bake the fish fresh and top with the fillo when serving. 
Re: Margarine.
When making knafe (a traditional Syrian dessert that's full of dairy goodness, you can see the recipe on BCP right here), shredded fillo/phyllo is mixed with butter. I used margarine here because it's our minhag not to eat fish with dairy. If you do eat fish with dairy, go ahead and use butter. Or, alternatively, if you're looking to keep this on the lighter side, use cooking spray. You'll get the look/effect without the extra indulgence.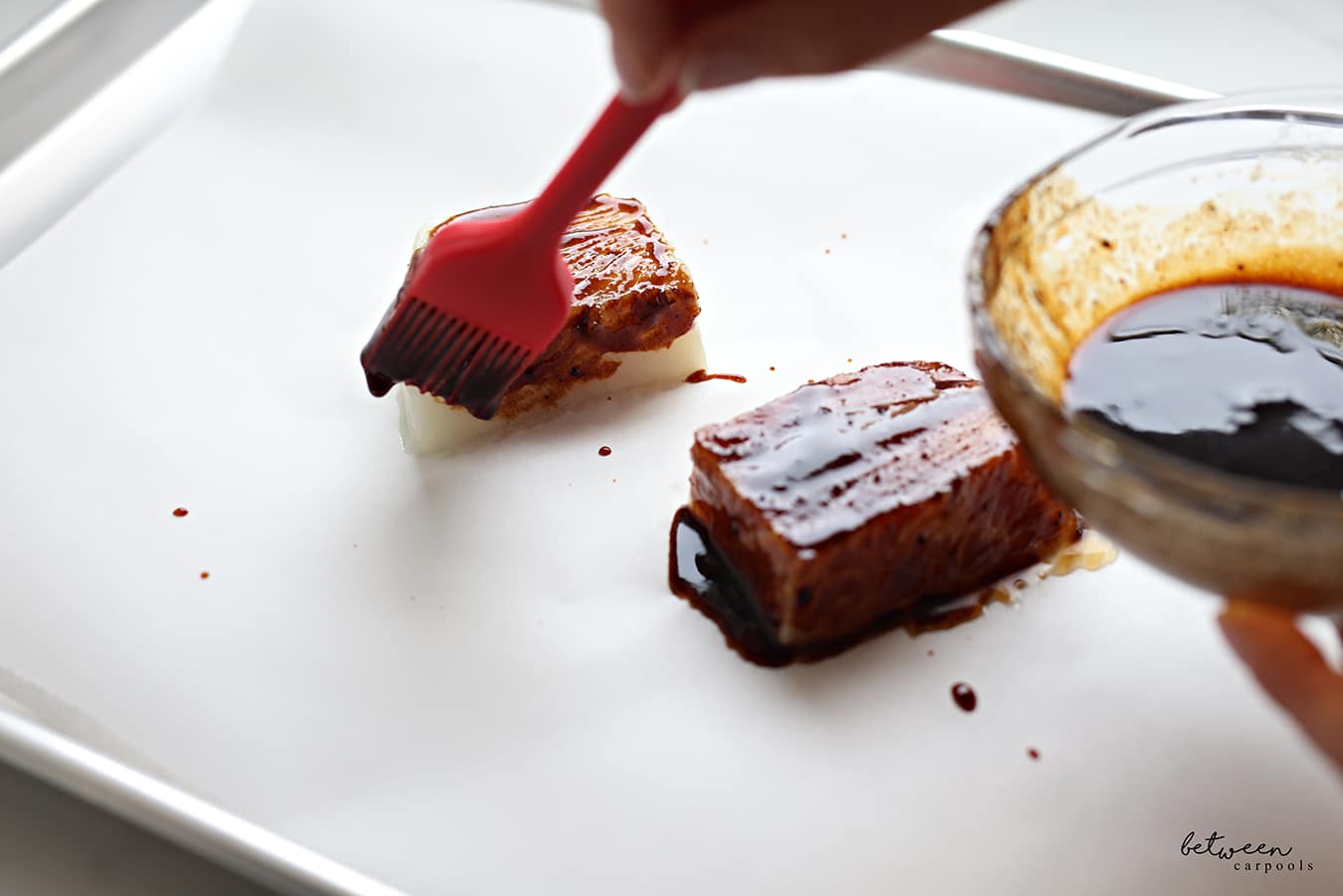 Brush fish with mixture.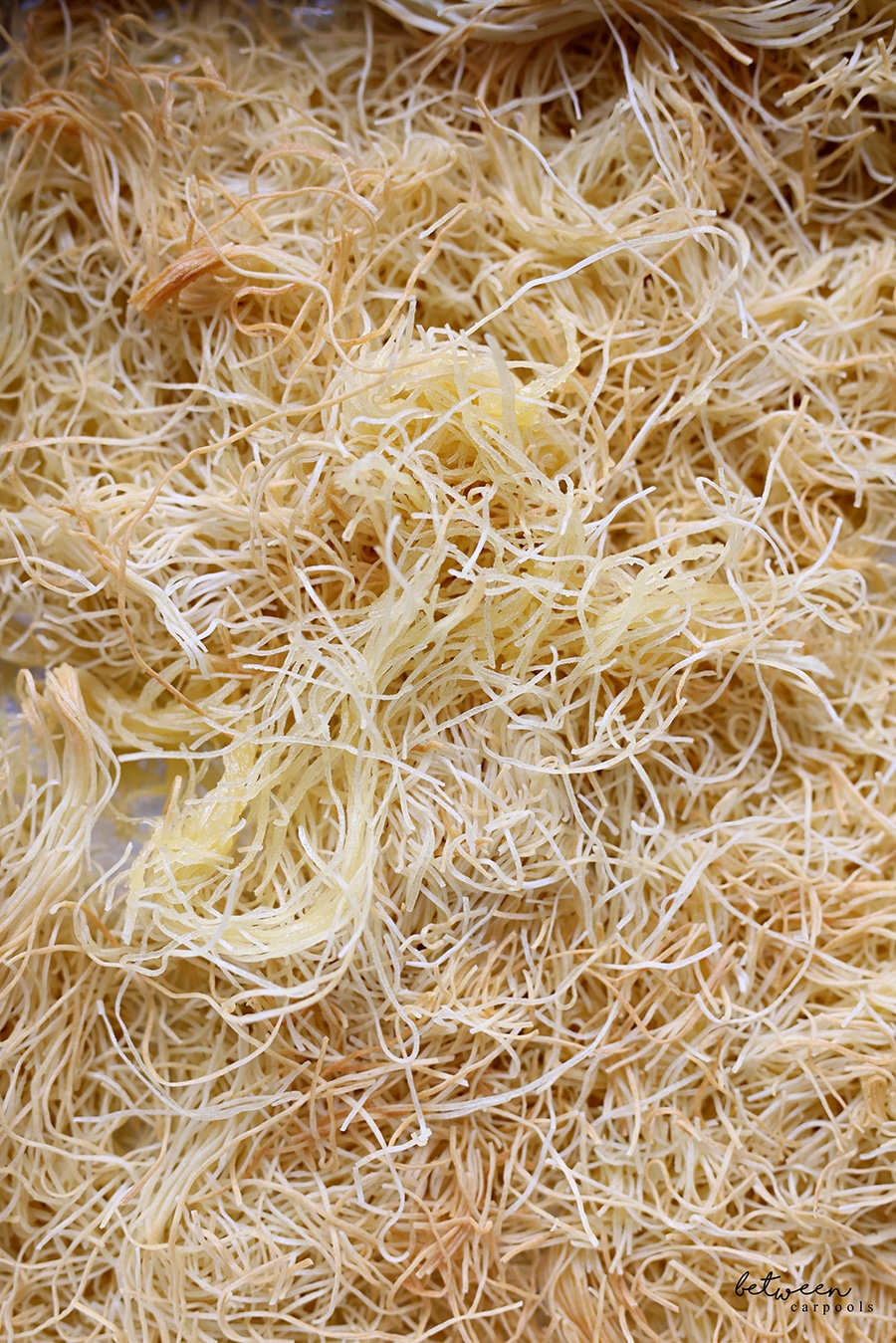 Prepare the crunchy phyllo topping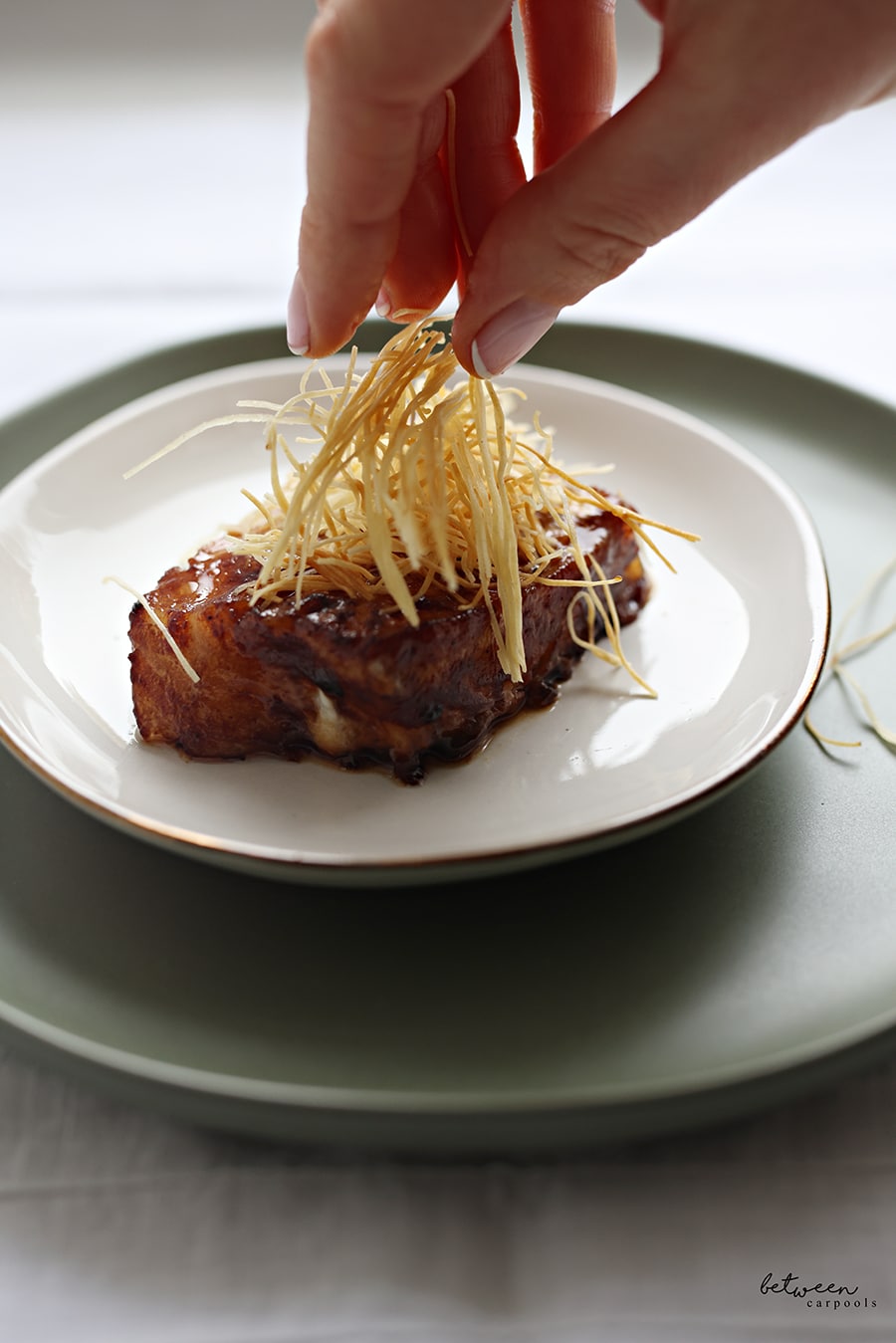 and spread on top of fish when ready to serve.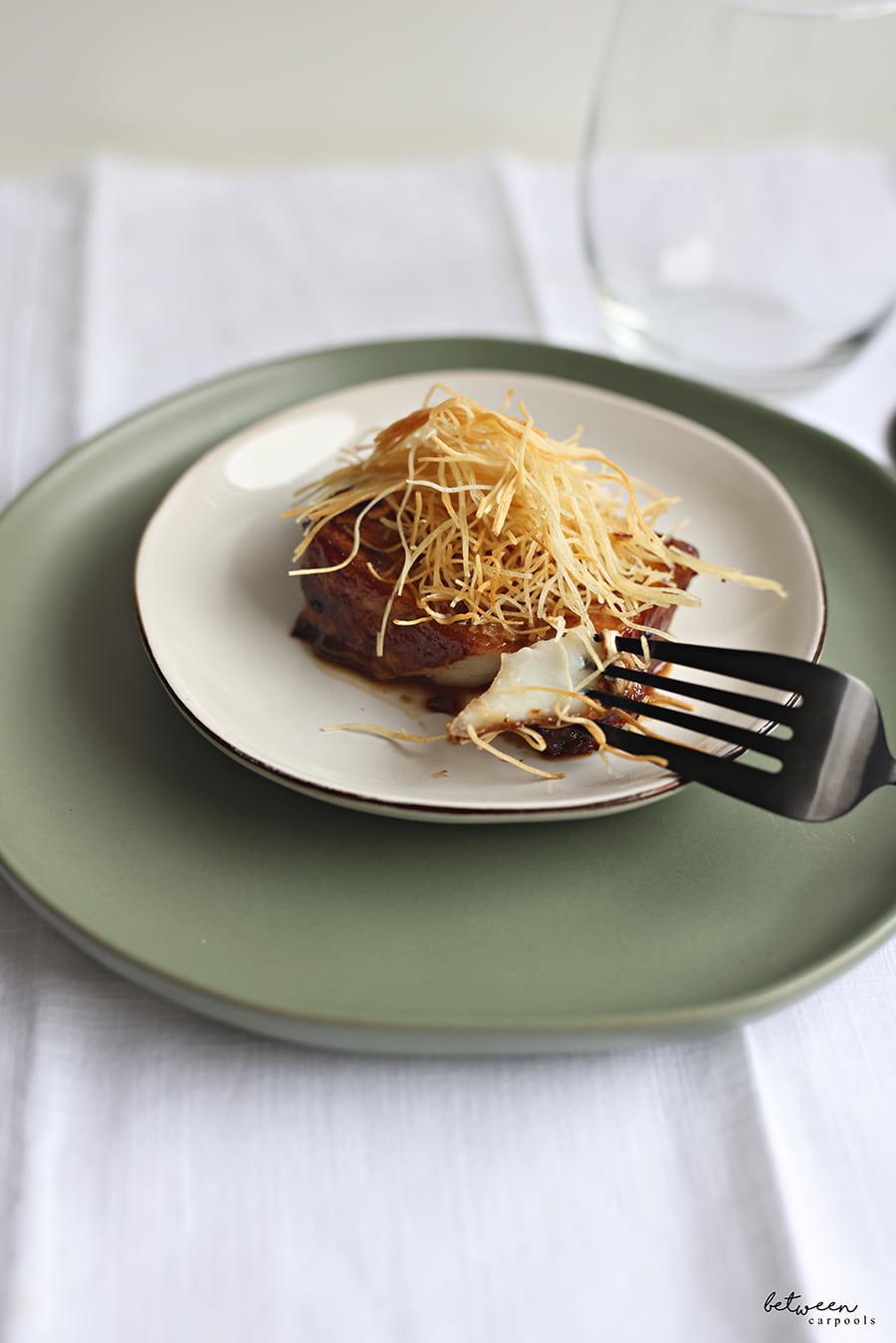 Miso Sea Bass with Crunchy Shredded Fillo Topping
Serves:
3-4 as a main, 6-8 as an appetizer
Ingredients
Fish:
1 ½ lbs sea bass fillets, cut into 4-ounce appetizer portions (or however you like)
⅓ cup miso paste
⅓ cup mirin
⅓ cup brown sugar
Phyllo Topping:
8 ounces shredded fillo dough (Kadaif)
½ cup (1 stick) margarine, melted
Instructions
Combine miso, sugar, and mirin in a saucepan over medium-low heat. Stir until mixture is completely combined and smooth, about 10 minutes. Let cool.
Place fish in a baking pan. Brush fish with mixture. You can choose to bake right away or let the fish marinate up to overnight (you can do this if it's very fresh).
Preheat oven to broil. Place fish on a line baking sheet. Broil about 10 to 15 minutes, until fish is crispy and brown on the edges.
Prepare the crunchy phyllo topping. Preheat oven to 350°F. Line a baking sheet with parchment paper (you can also do this in a 9x13 or any baking pan). Combine shredded phyllo and margarine and spread on prepared baking sheet. Toast for 10 to 15 minutes, until phyllo is golden. Spread phyllo on top of fish and serve.
FOR EXCLUSIVE CONTENT AND A PEEK BEHIND THE SCENES, MAKE SURE TO JOIN OUR WHATSAPP STATUS HERE.