A memoir: How I wrote my first (and probably last) cookbook and almost lost my sanity along the way.
Writing a cookbook isn't as glamorous as you might think.
Sure, holding my cookbook, today, feels great. Seeing my children read it as if it were the latest comic book is something I am still getting used to. And nothing beats cooking up a recipe with your own cookbook open on the counter. Absolutely nothing.
But, halfway through this project, I will not lie, I made my husband promise me never to let me do something so foolish ever again. It was a bit like the crazy talk you say during labor, but stretch that for three, four, maybe five months. Oh, and there's no epidural to numb said pain. It's a slow dragged out process which, eventually,  yields an incredible result: a book. To hold, cherish, and be proud of. I told you it was similar to labor. And I am assuming that the pain is eventually forgotten, because otherwise I don't think there would be more than one book per author (hello Susie, Leah and Victoria, I have newfound respect).
Want to hear a bit of the behind the scenes? What it takes to write a book? I promise, not so glam.
Here is a "diary" I put together, to summarize how it all went down. More or less.
September 2015 People keep on asking me for recipes. Some say I should print a cookbook.
Nahhhhhhh.
October 2015 I really enjoy cooking. I do not enjoy looking for (my own) recipes that are accumulated between 3 huge binders. Maybe I really should consider printing a book.
Naaaahhhhhh.
November 2015 The idea is growing on me. Seriously, this could be fun.
December 2015 This is what I will do: I will email Artscroll and take it from there.
Mid-December 2015 Artscroll wants to see a manuscript. What's a manuscript? No big deal. I Google "What's a manuscript?" Ouch.
I don't have a manuscript! Time to get to work.
Two weeks later: Rough manuscript is typed up and emailed. I am in my hoodie and cozy slippers and haven't left the house in exactly two weeks. Oh, did I mention that I cannot look at Microsoft Word any longer?  Time to go air out a bit while I wait for Artscroll to review my work.
Little do I know that Microsoft Word and I have still a long way to go.
One day later I feel like I'm back in high school waiting for my seminary acceptance letter.
January 2016 Artscroll wants me to come in for a meeting. EEEEEEK!
January 7 2016 Walking into Artscroll is purely fascinating. I make a mental note to bring my kids back to see how books (and gemaras and siddurim!) are printed. I am like a kid in the candy store. I meet Mr. Zlotowitz, the editor Mrs. Eisner, and graphic designer Devorah Bloch. Meeting goes over really well. We are iy"H going to publish a cookbook for September 2016, right before Rosh Hashanah.
Morning of January 8 2016 WHAAAATTTT??? Are you serious?? (talking to myself) Writing a book requires so much work!! Why do you always keep on adding more work/projects/errands/hobbies/etc. to your already full plate?? (still talking to myself).
I open a calendar and discover that between now and July (when the book goes to print) there are midwinter vacation, Purim, Pesach (my first Pesach at home, I might add), Shavuos and roughly 20 photoshoots that are already scheduled. I swallow hard and pull out a Sharpie. The only way to do this is by taking off from work and devoting some time to focus on the book entirely. But, how much time? I mark a big X between Pesach and Shavuos, roughly 7 weeks.
January 11 2016 I email all my clients and let them know that I will be taking time off from work. I contact Daniel Lailah to see if he would consider flying in from Israel to shoot the photos.
January 19 2016 Flight for the photographer is booked. He will be arriving on May 15.  This is becoming real. There is no turning back.
I start collecting visuals of inspiration for the book. Some of them have nothing to do with food, like for example, a Restoration Hardware image of a recliner with dark tones of wood and some soft cloth. That is how I derive inspiration; I will try to recapture that cozy feel while styling a winter soup maybe.
February 16 2016 I am so lucky to be friends with cookbook personalities such as Victoria Dwek and Leah Schapira. We meet at Kava for coffee and go over the hundreds of questions I have for them. They help me start a spreadsheet with all my recipes. We discuss what needs to happen, when, and how.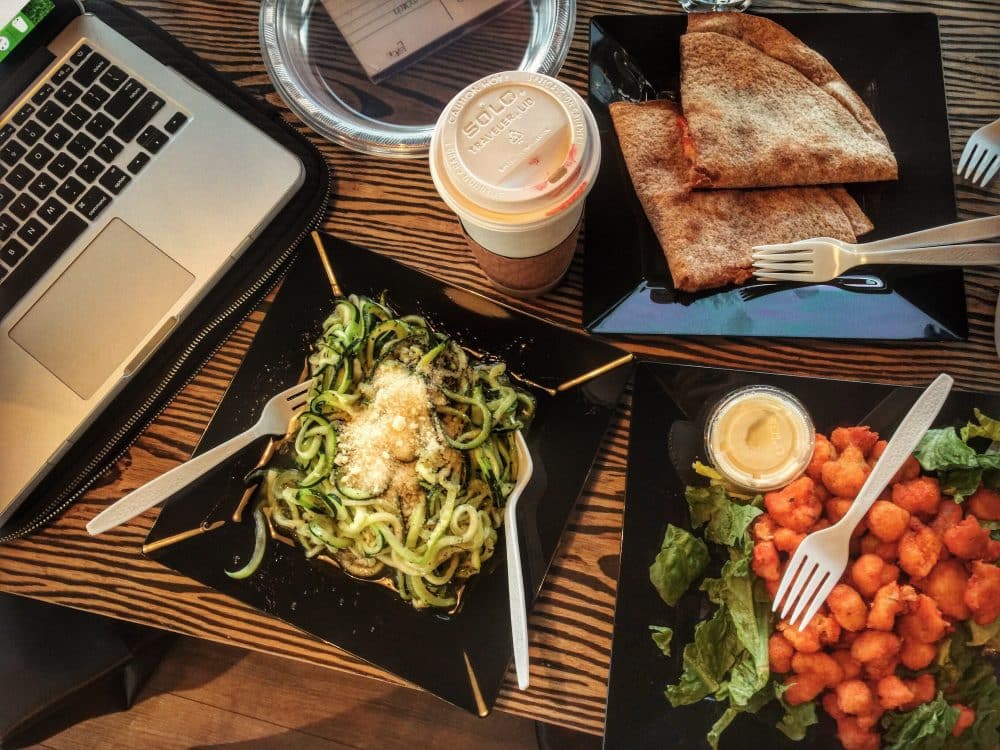 I leave the meeting with my head buzzing, and a huge to-do list.
February and March 2016 Every time I cook, I make sure to open up my laptop and test the recipe that is typed up. My laptop gets filthy (just a side note).
I spend a lot of time editing recipes. Little do I know that what I think is called editing, isn't editing at all. Mrs. Eisner is still going to introduce me to some serious editing.
I ask neighbors, friends, family members, and complete strangers their opinion about which recipes I should include in the book. Picking favorites out of 300 isn't easy. At all. But, I am very specific and uber particular. A recipe that makes it into the book needs to be simply perfect. I scratch off any recipe that has exotic ingredients (aka an ingredient that my local grocery doesn't carry). If a recipe has too many steps it gets nixed as well.
March 2nd 2016 Tara Sgroi, our videographer,  shows up to my house. This will be the first time of many. I have been admiring Tara's work and style for a while now and having her here, in my house, to shoot my videos is such an honor. Within 10 minutes we discover that we both lived in the same city (Lugano!) as young girls. What are the odds? I take it as a sign. We start shooting the Sea Salt Caramels and Brined Turkey videos. My mother-in-law arrives and we shoot the Stuffed Cabbage video. Videos are fun.

March 2016 My children beg me not to prepare Sea Salt Caramels anymore. Which is completely ridiculous and unheard of since caramels are something we all love. This teaches me about the concept of "too much of a good thing." Nine batches in the period of ten days might have been much. The recipe is perfect, I am just testing which size pan I should use. I can (and will) prepare caramels in my sleep.
I finalize with Yael Miller from Miller Creative (uber talent, FYI) about the look and feel of my book. We don't have a name yet, but I am sure it will come.
April 2016 My book is on hold, for a week or two. It is Erev Pesach, after all.
I put an "ad" on Instagram saying I'm looking for an assistant. I get lots of emails. Sorting through isn't easy; finally, it boils down to five candidates. We schedule to meet up right after Pesach for "interviews."
I might not be on my computer all day, but I am in my Pesach kitchen, and I use the opportunity to test and retest all the Pesach recipes.
Pesach 2016 Children are the best at giving constructive criticism, and I love that about them. "Ma, this tastes like a Pesach cookie."
"Well, it is a Pesach cookie."
"Meh, I'd rather eat more Almond Chews. Don't put them in the book. Not good enough."
Child B is 11. He likes cookies and I always listen to what he says.
End of April 2016 Whilst everyone is packing their Pesach stuff away and taking a well-deserved hiatus, I start setting up for the big day: May 15. Lots needs to get done before then.
First two weeks of May My parents are in town and we take a trip together to visit some antique stores. They are having almost more fun than me. We end up with many treasures (read old rusty forks, a bottle of soda that has seen better days….stuff like that) and an old door. Yep, a door. The proof is below. (Victoria this is why you need a minivan.)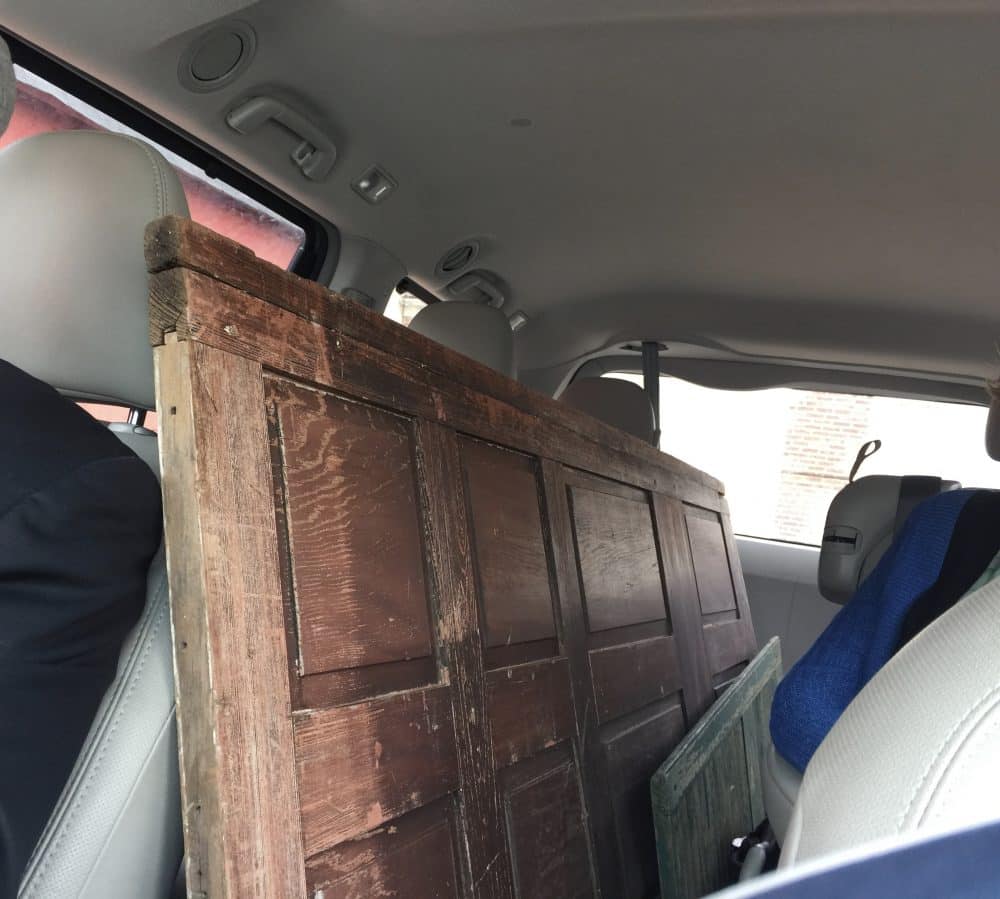 I visit Crate & Barrel, Anthropologie, and many more fun stores.  Linens, napkins, spices…all items we will need for the 2-week long photoshoot.
At night I stay up late either preparing dishes that can be prepared and frozen ahead of time or painting backdrops. My days are really hectic and the real work is yet to come.
Over 100 pictures need to be shot in 2 weeks. Can it be done? Time will tell.
I meet and interview the assistants and decide on Miriam and Jenna, two girls who will prove to become complete lifesavers.
I visit the Prop Shop in Manhattan, a props rental source. I am in prop heaven and a quick stop turns into 4 hours of salivating and spending wayyyy over my budget. This is going to be an expensive (but beautiful) book.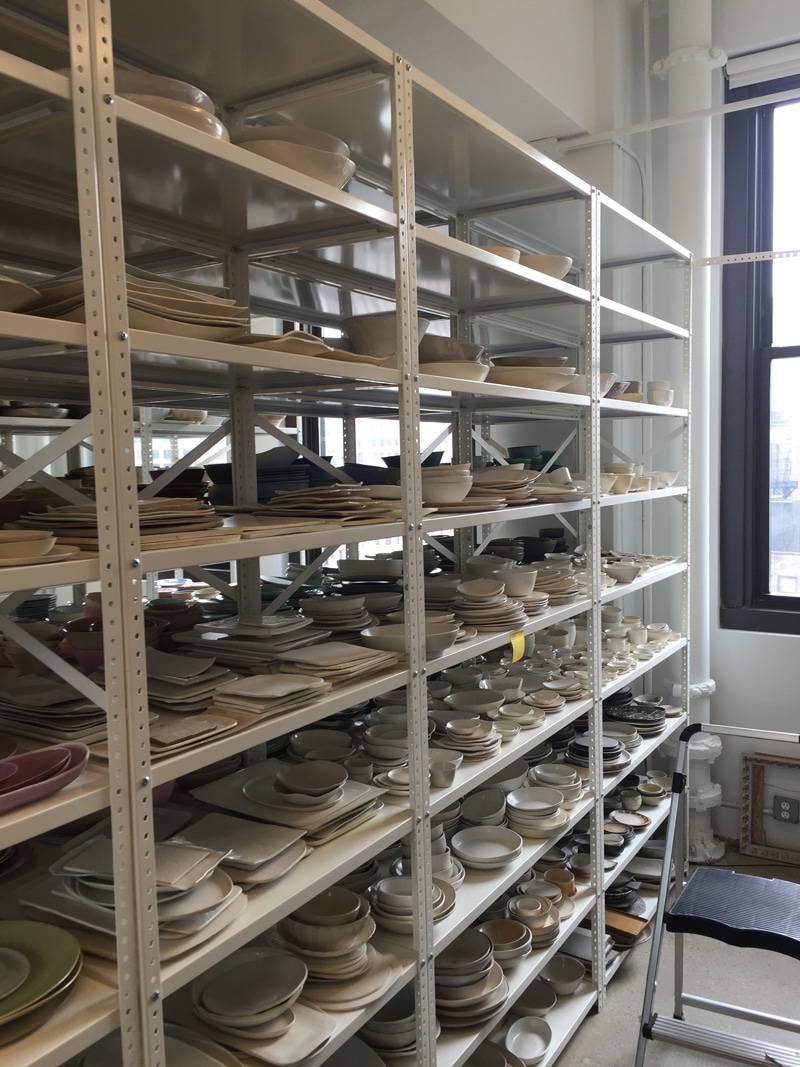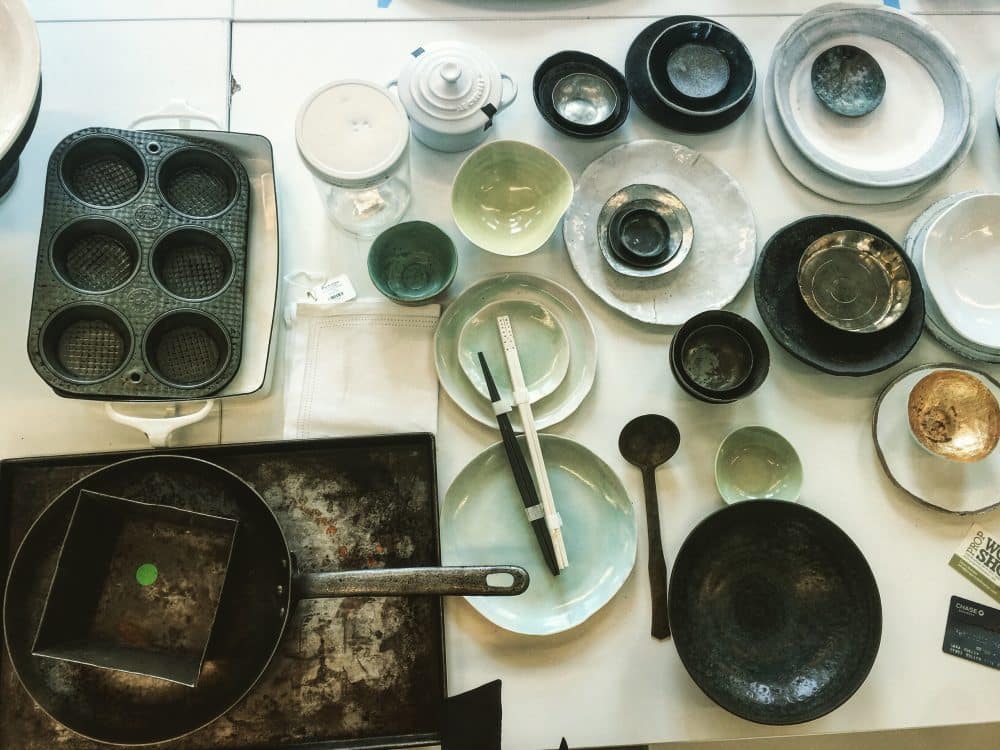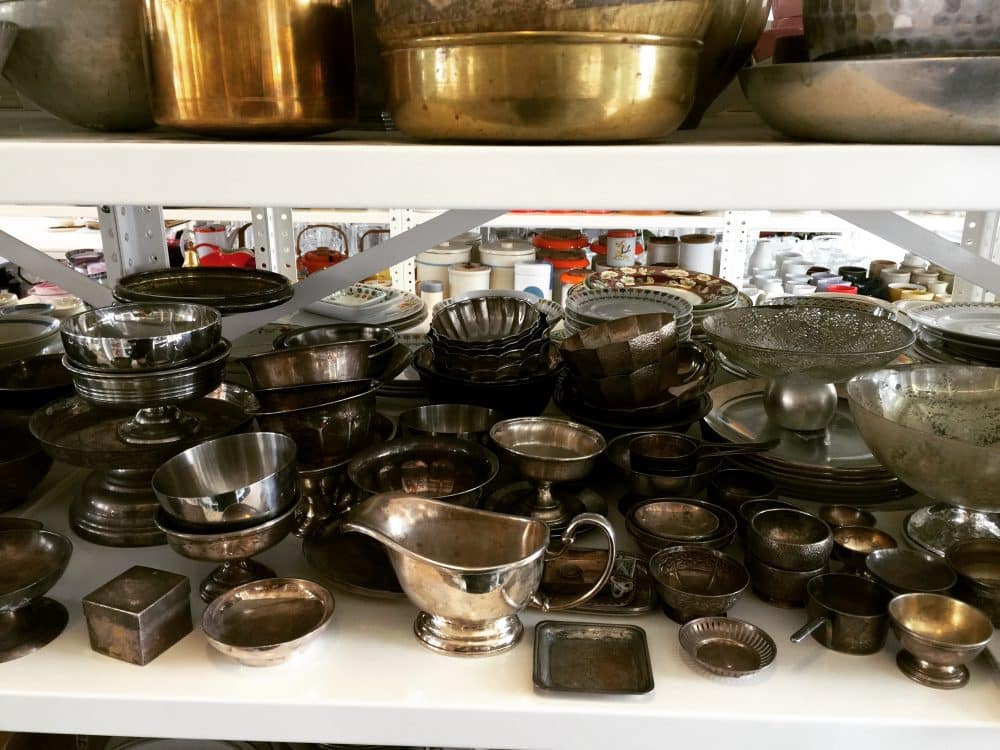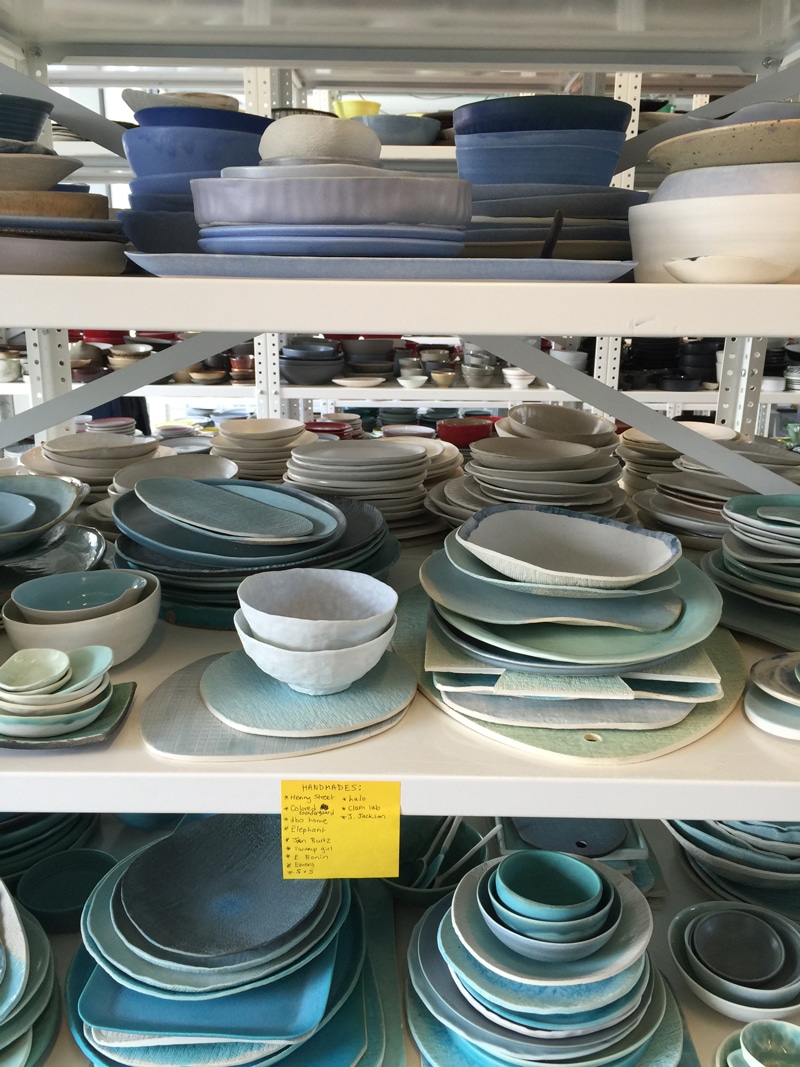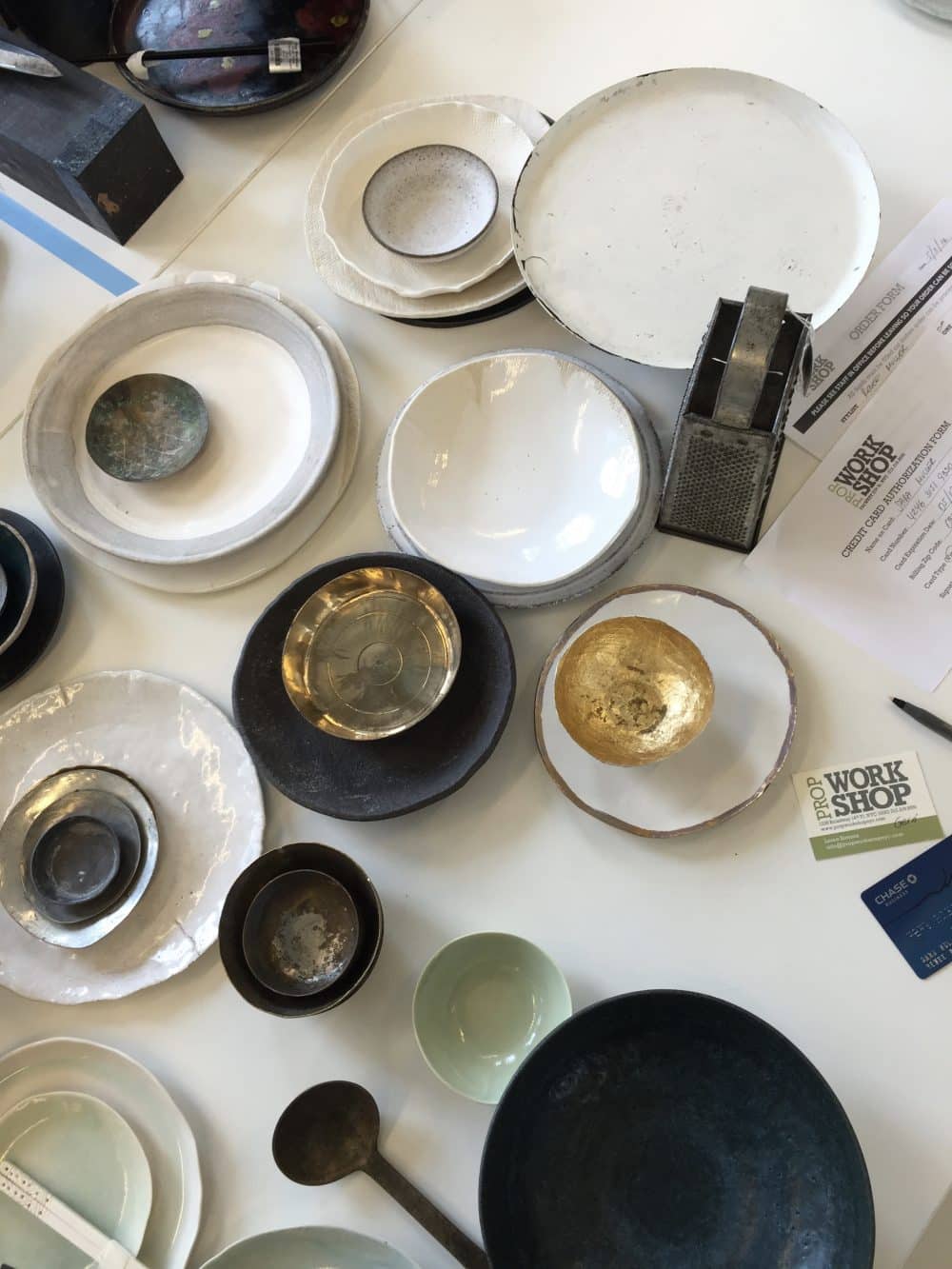 I return home with the props carefully wrapped in miles of bubble wrap. Some of these dishes are really old, delicate, and super expensive.
Two folding tables open up in my studio and the unpacking/sorting begins.
May 15 arrives and so does my "crew." My assistants, the photographer and I get to work. The fun begins. Each day we need to cross about 12 images off the list in order to make it work. That means that while I style a picture, the next one needs to get ready. Sometimes a few at the same time. You would think it is tense but B"H, we manage to keep a pretty calm setting. We start working at around 7:30 a.m. and try to finish at a decent hour.
My children are so sweet and so excited about the project. They are also very happy about all the amazing food being prepared all the time. All their favorite dishes, every day!! How fun is that?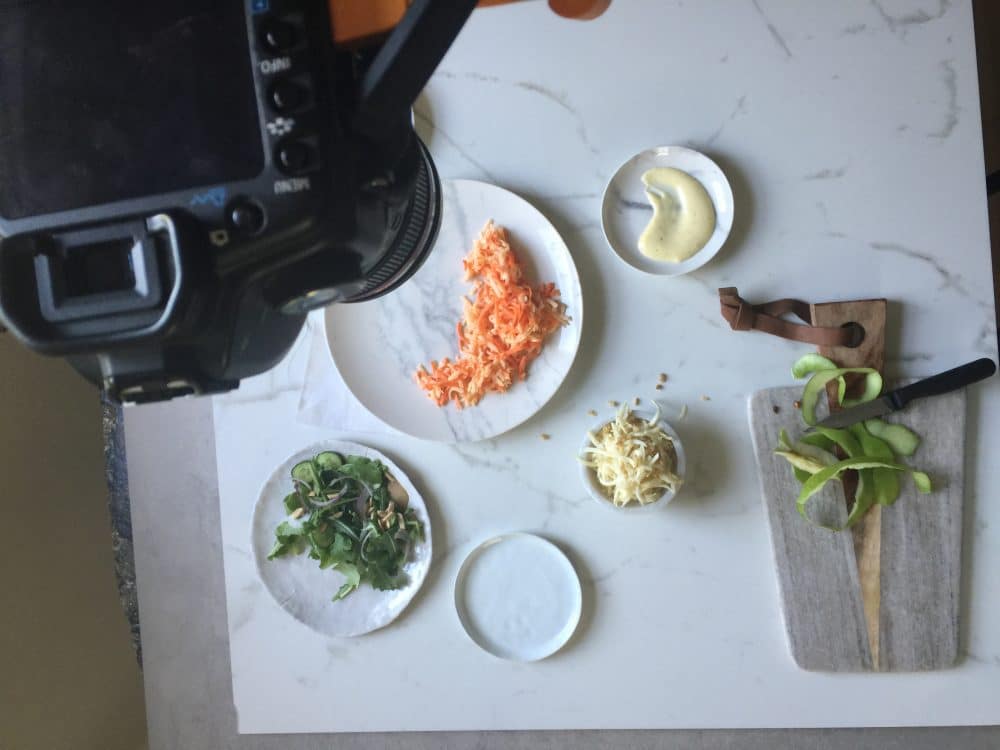 We work and we forget to eat then we eat too much then we don't eat at all then we eat again. Like here: lunch on the fly.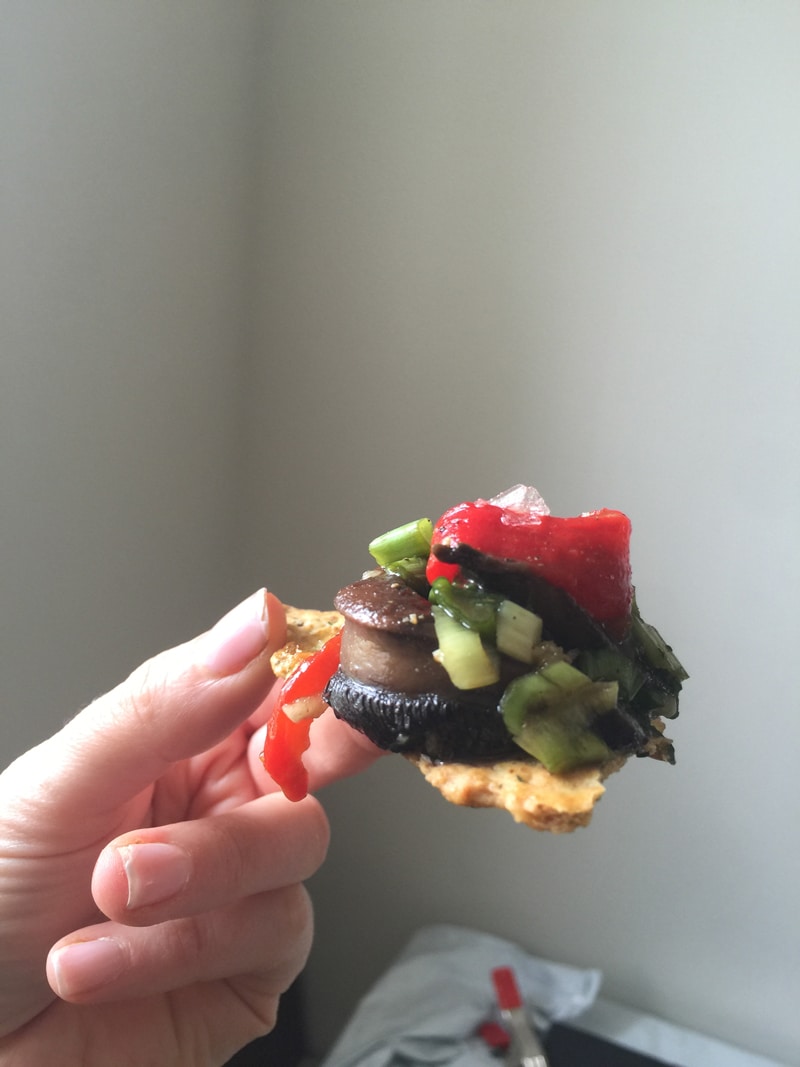 I love the way the book is "taking form," slowly and steadily. Soft but so sharp.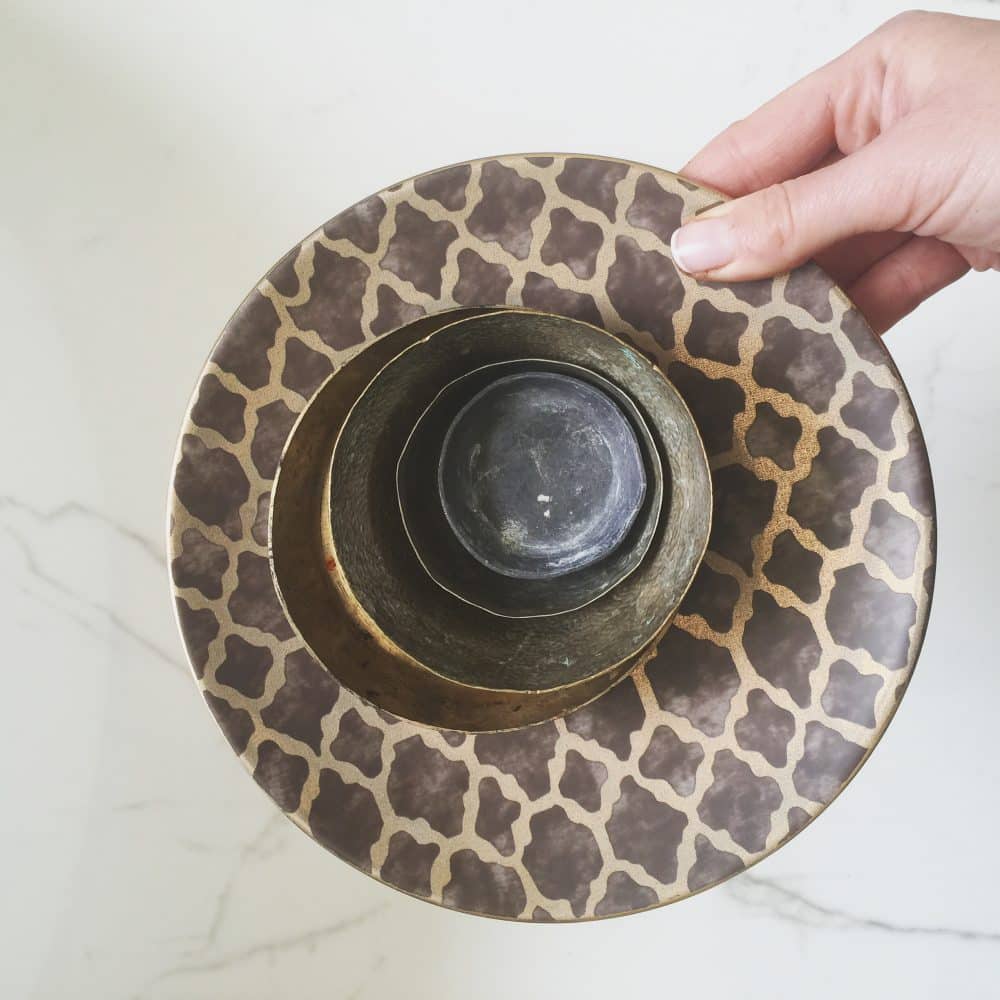 The dishes I have are breathtaking. I want to keep them all.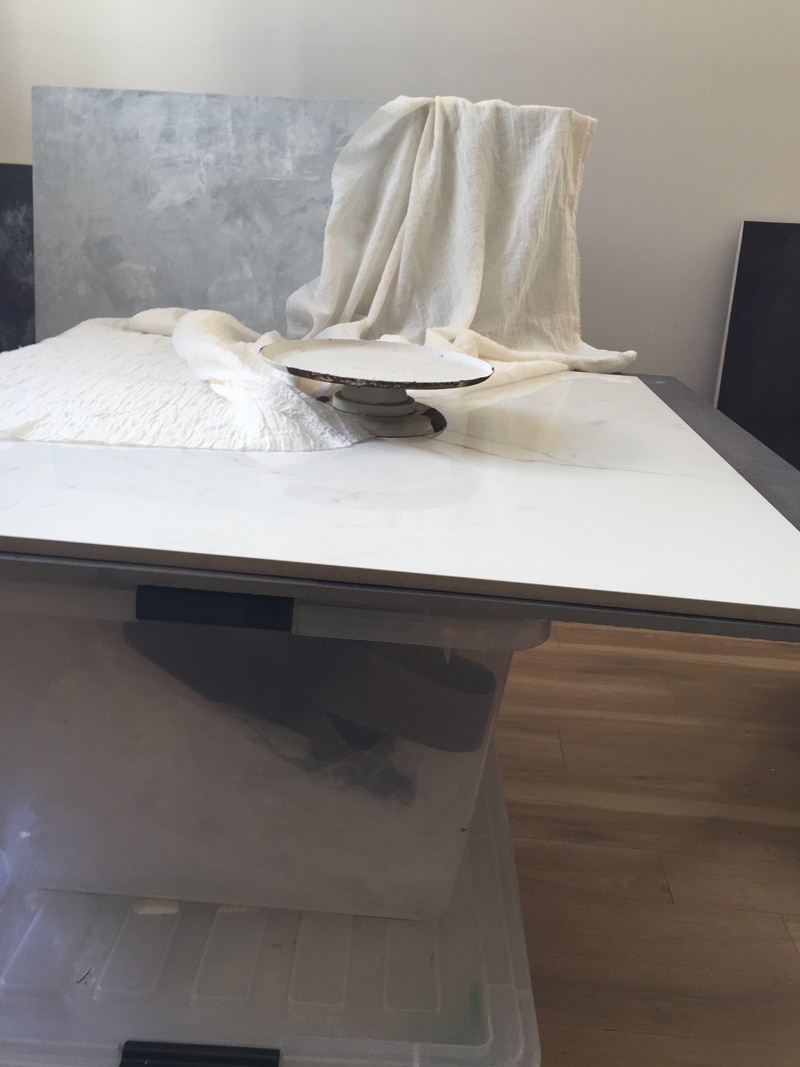 We stop only to take some pictures here and there… I literally do not leave my house at all for an entire week, besides for once when I take my daughter to the doctor.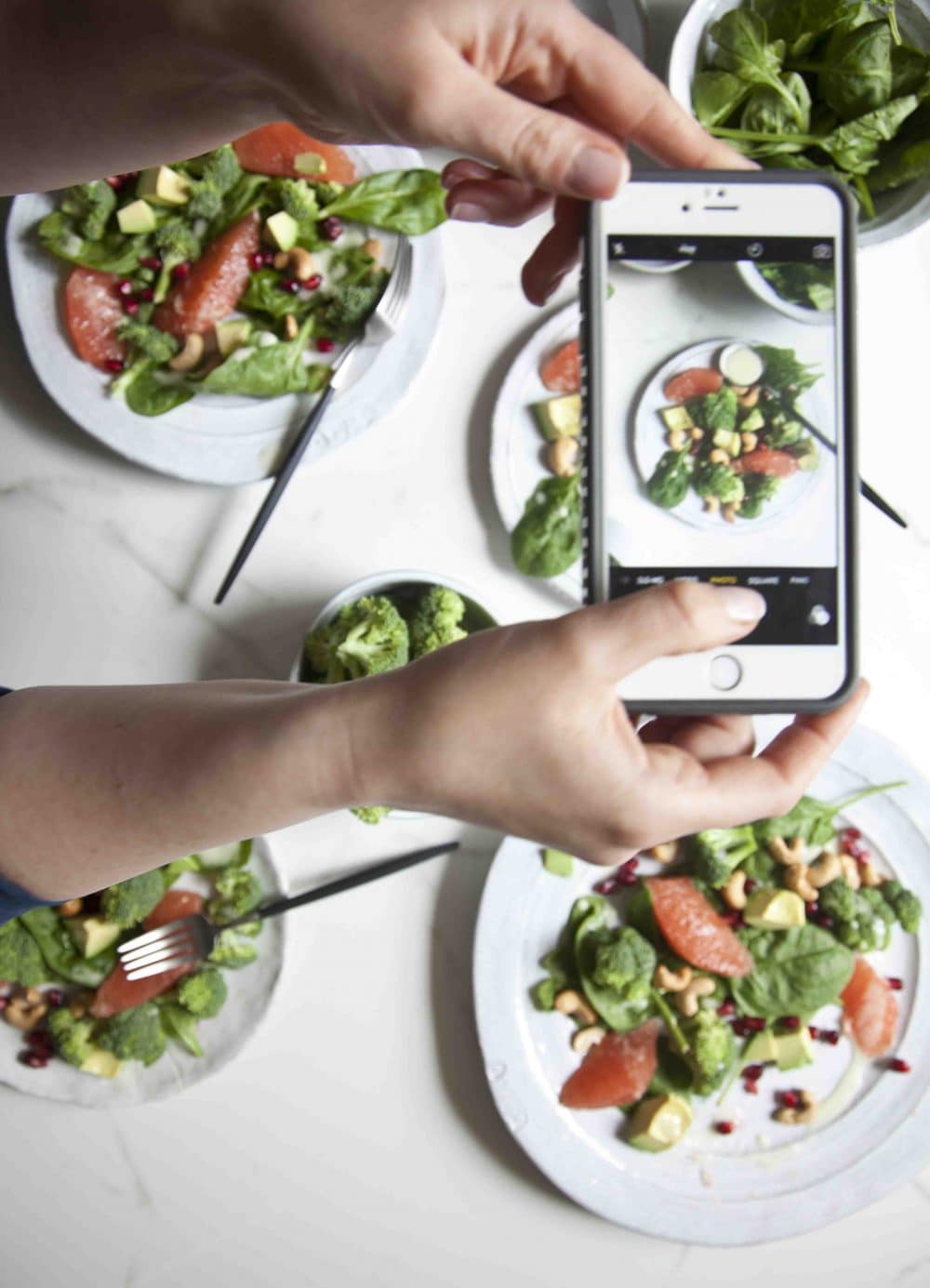 At night, there's cleanup and more cooking. Planning what we are shooting the next day, printing out the recipes for the assistants and making more grocery orders. Oh, about those orders: every day we receive about 3-4 boxes filled with food. There's so much going on in my kitchen, stuff goes missing (I still cannot find my ladle) but hey, it's all part of the fun.
Being super organized is key for a successful day.
I plan and sketch how I will style each dish, and on what surface/look. I keep track of how much of what I did for each section so that it's not boring or repetitive once the book is compiled.
Miriam and Jenna cook the typed out recipes, therefore re-testing everything, which is very helpful because sometimes something might seem obvious to me but to someone cooking it the first time it really isn't. They both make notes on the recipes, which I will review at a later date.
Week Two of the photoshoot: Daniel (the photographer) takes a day off and instead of doing the same I go scouting for more props. Somehow, everything I had wasn't enough.  And we are shooting the cover (just the word makes me tremble). So out I go looking for more props.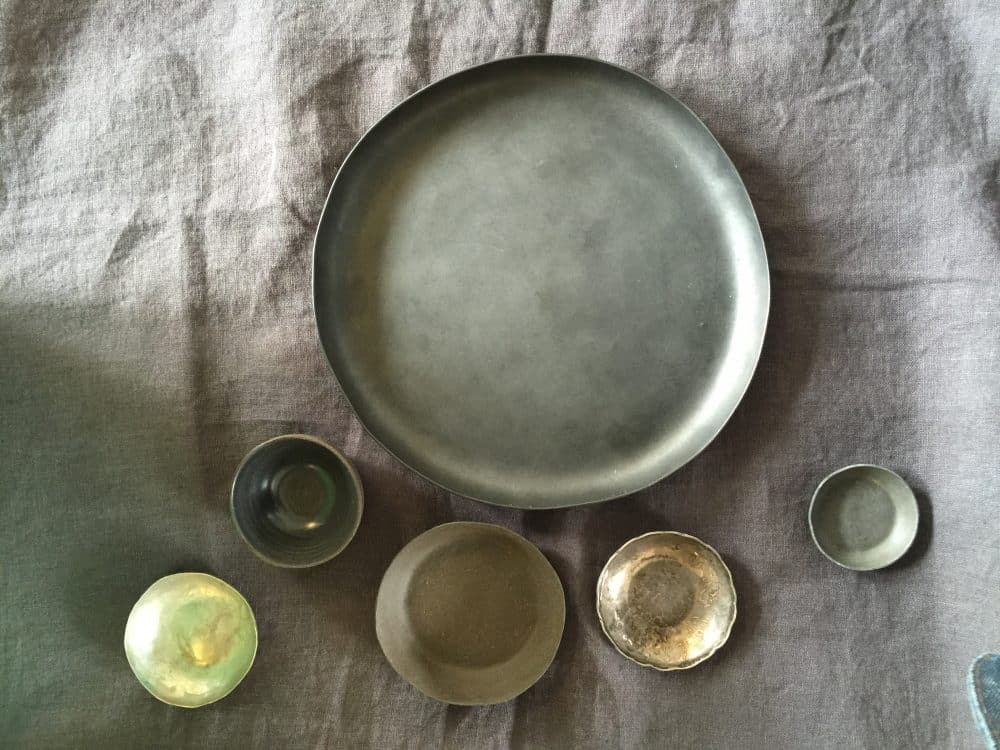 I use this day to decide what I want on the cover. We have a conference call with all the parties involved… this is so complicated.
"Cover needs to have lots of food, needs to look plentiful."
"What type of food?"
"Nothing too intimidating"
"Is fish intimidating? Fish is easy"
"I don't like fish."
"I didn't ask you if you like fish, I asked if fish is pretty."
"No fish. Many people dislike fish."
"Ok, no fish."
"How about a nice London broil?"
"Red meat scares people away."
"A dessert perhaps?"
"Meh, then it will look like a dessert book."
"Oh, I know, a salad! A beautiful, colorful salad!"
"No, it will look like a health cookbook."
"Oy."
"A sandwich?"
"Too simple."
"A roast? "
"Too brown."
"A pasta?"
"Too Italian."
The conversation continued for another 20 minutes or so, after which I concluded two things: I was going to put macaroni and fish sticks on my cover (both are not recipes that one can find in my book) and I will never make everyone happy. Also, I concluded, conference calls are very good for getting headaches, not so good for getting anywhere.
Jokes aside, we settled on shish-kebabs. And more stuff. Here's my sketch:
I know, my cover looks nothing like that. And this is why: at the beginning, there was only one plate, no hands, no kids. This was the cover: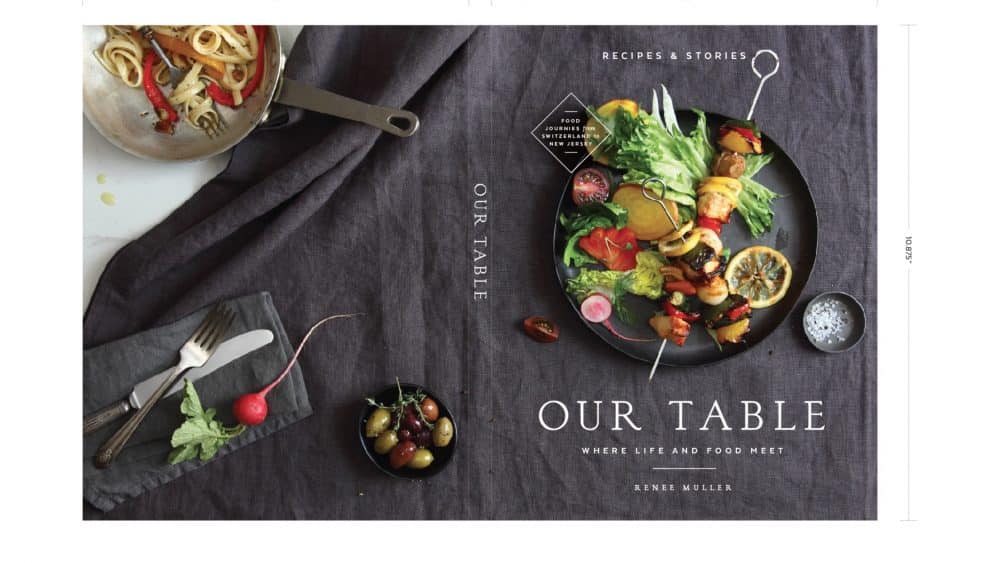 But nobody loved it. We all liked it, but we didn't love it. It was missing something.
Do you agree?
See below: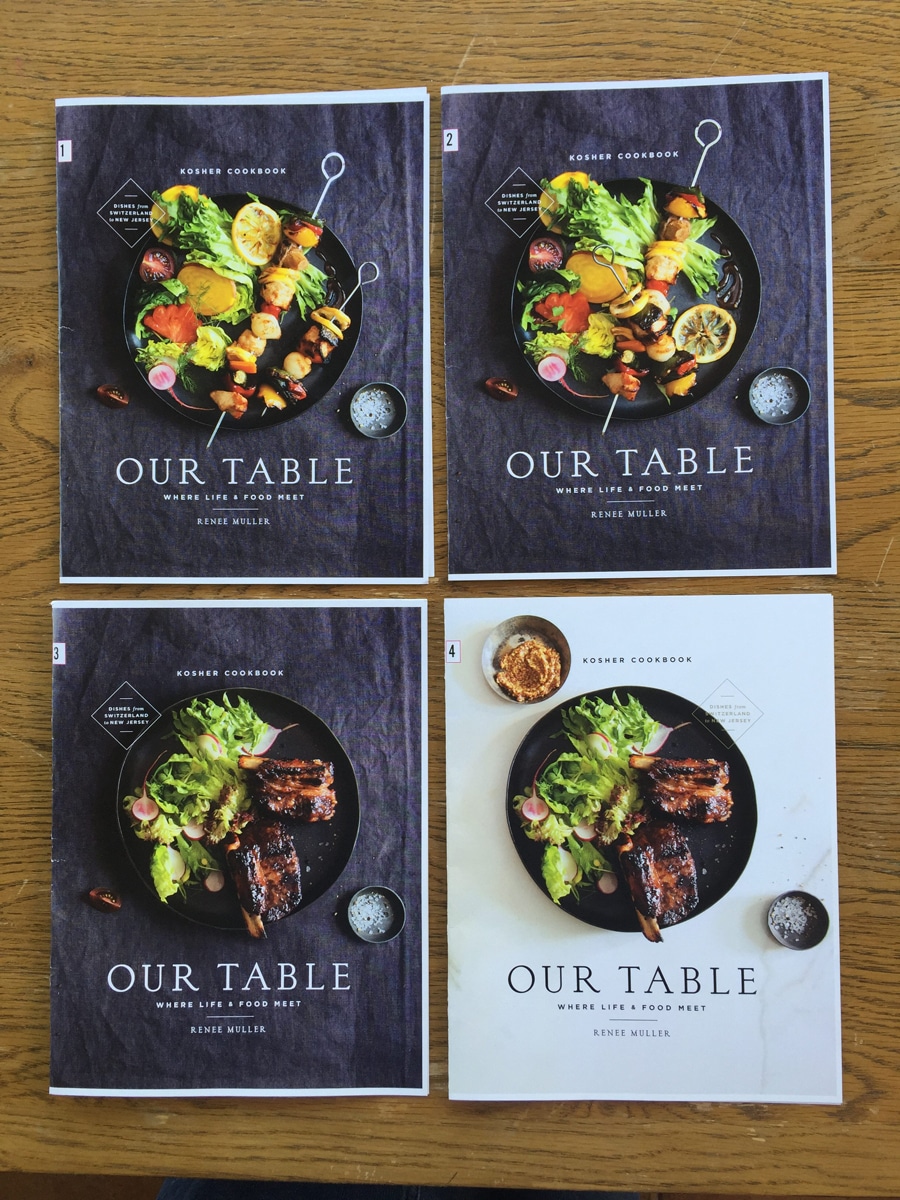 I spent an awful lot of time staring at these cover options. I asked everyone I knew or met and got more and more confused. The more I looked at them the less I liked them.
Then came these options: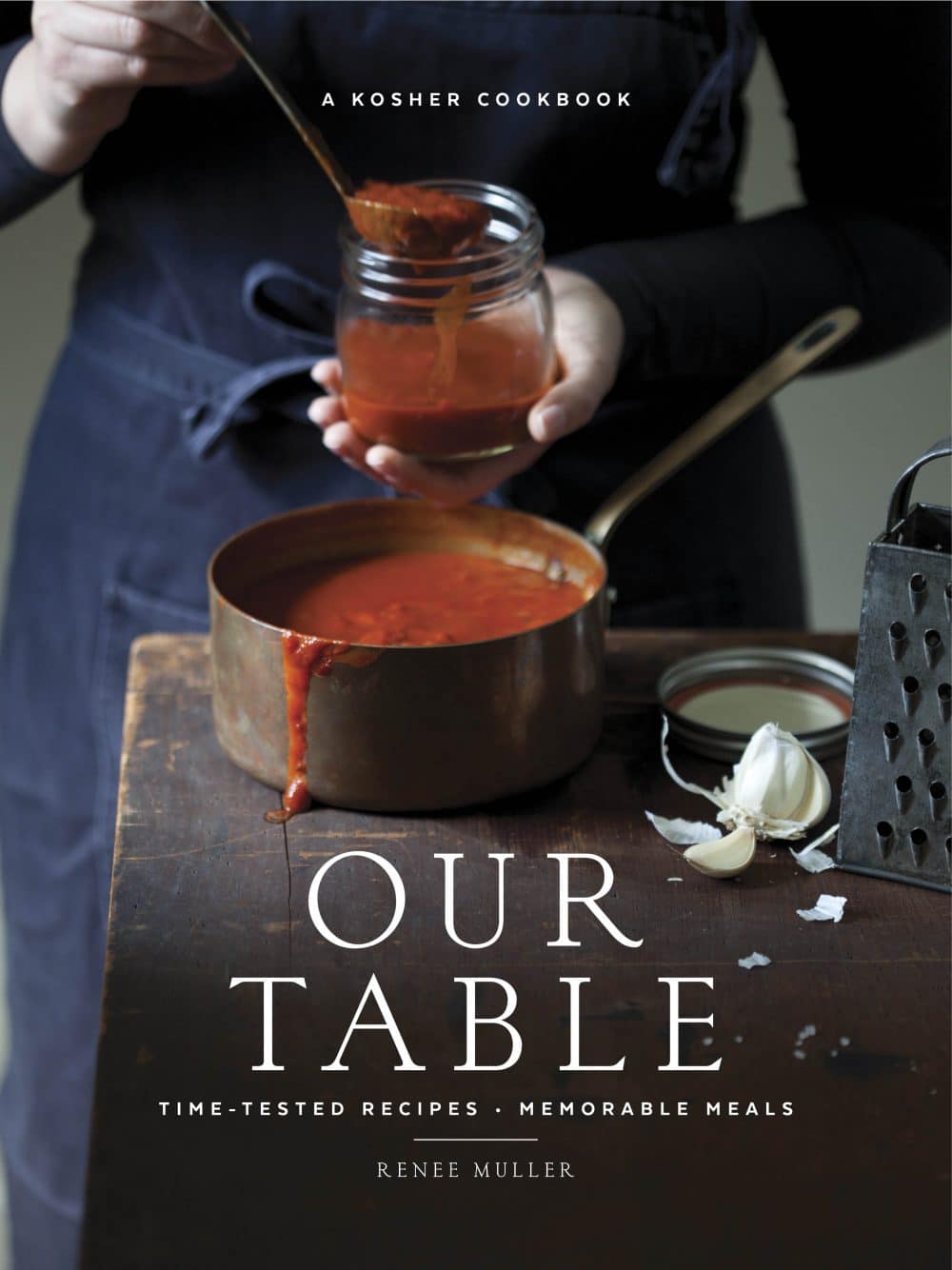 Too Italian. People will think the whole book is a "from scratch type of approach."
Although pretty. But not approachable.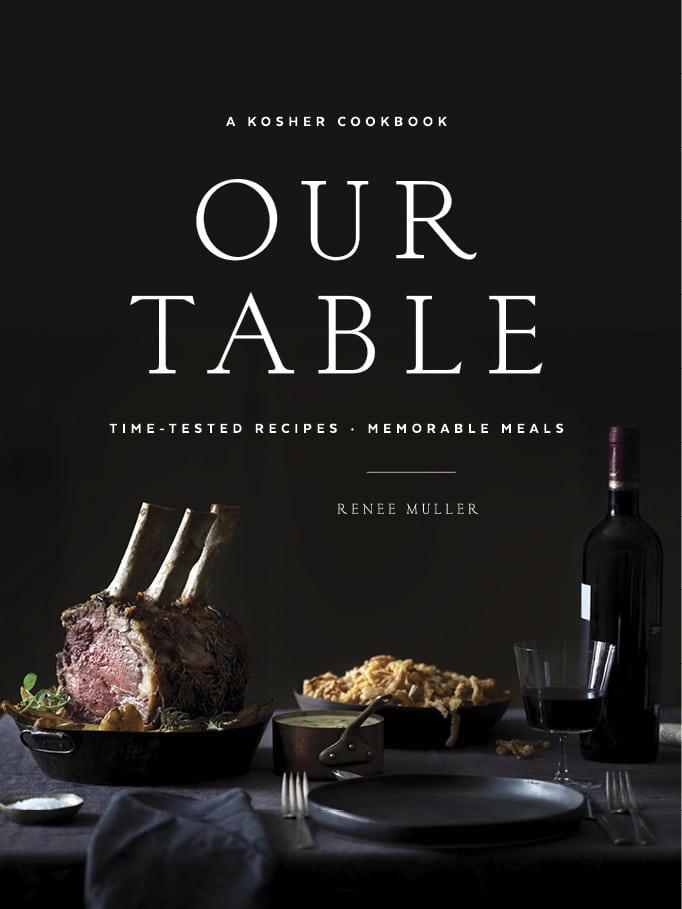 Too intimidating. This cookbook looks so hard.
My gut told me I wanted the book to be approachable, fun, and homey. With heart. That's when we decided to incorporate my children. What is "our table" without my children?
Here are a few behind the scenes shots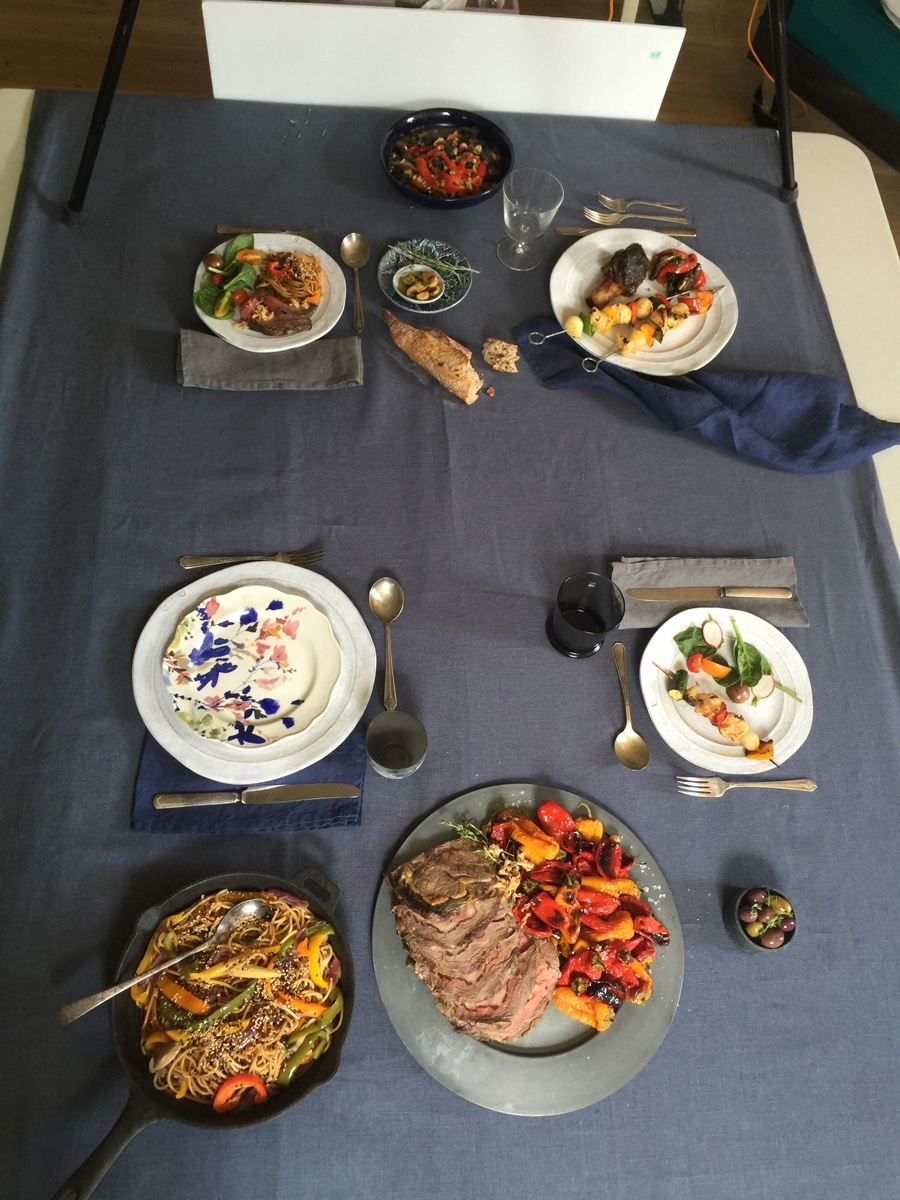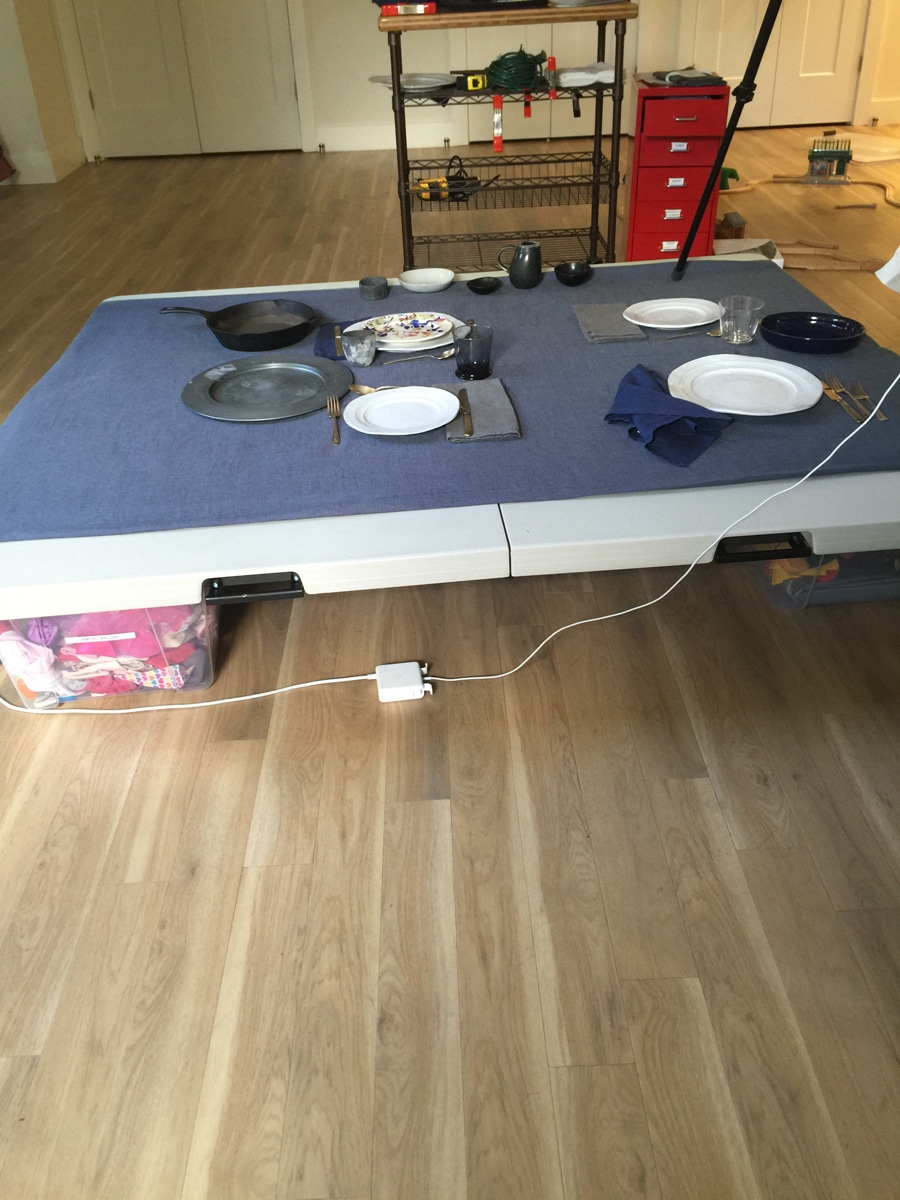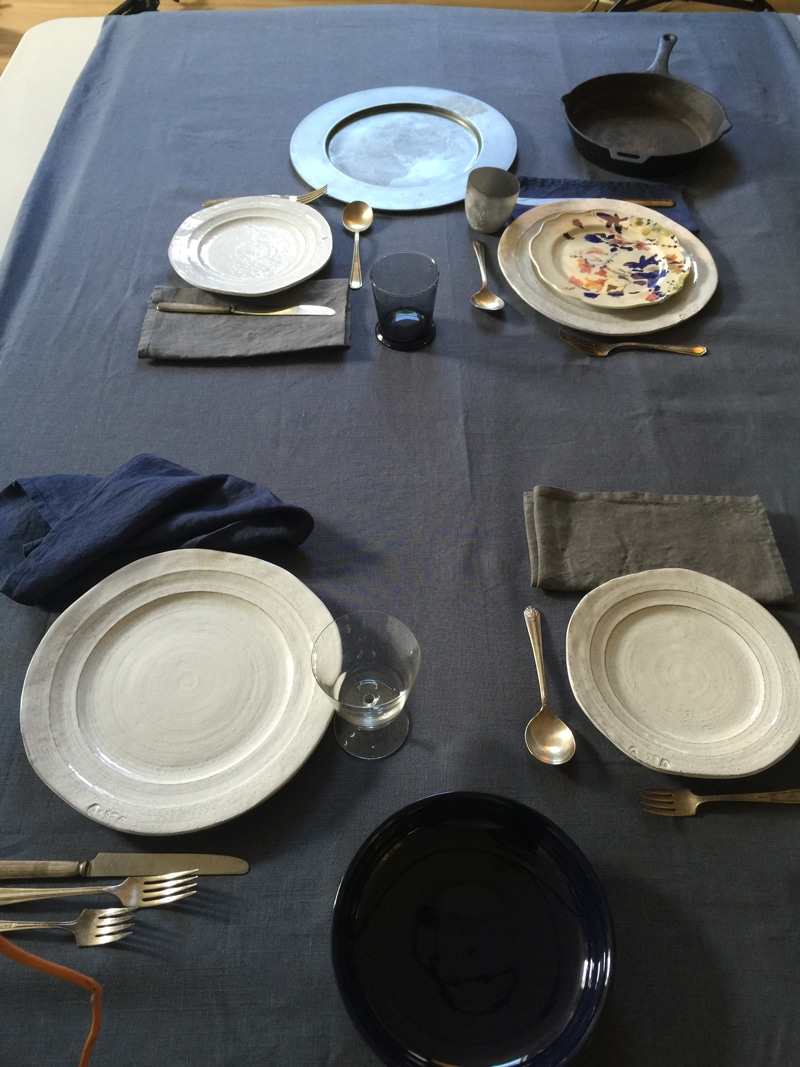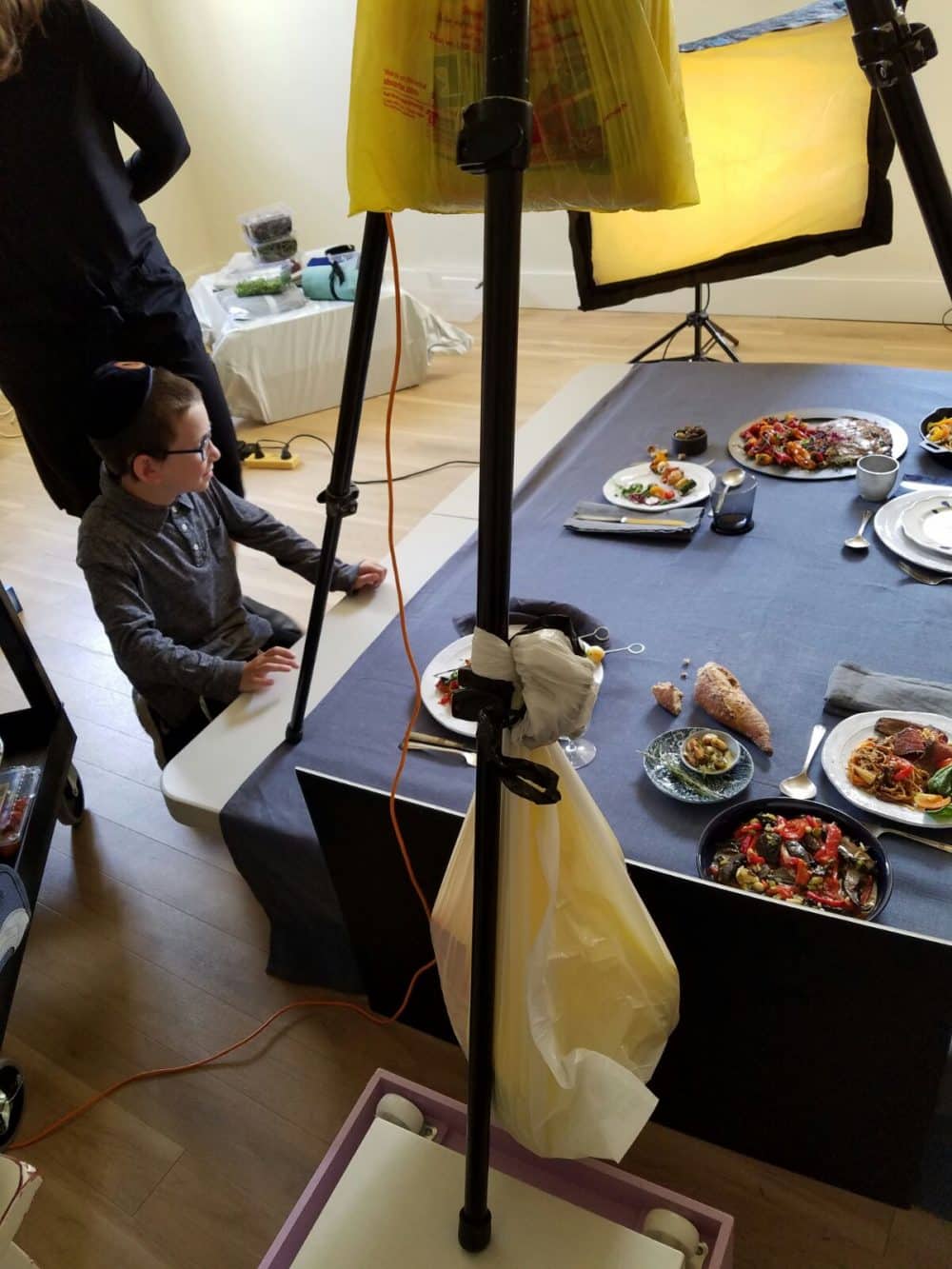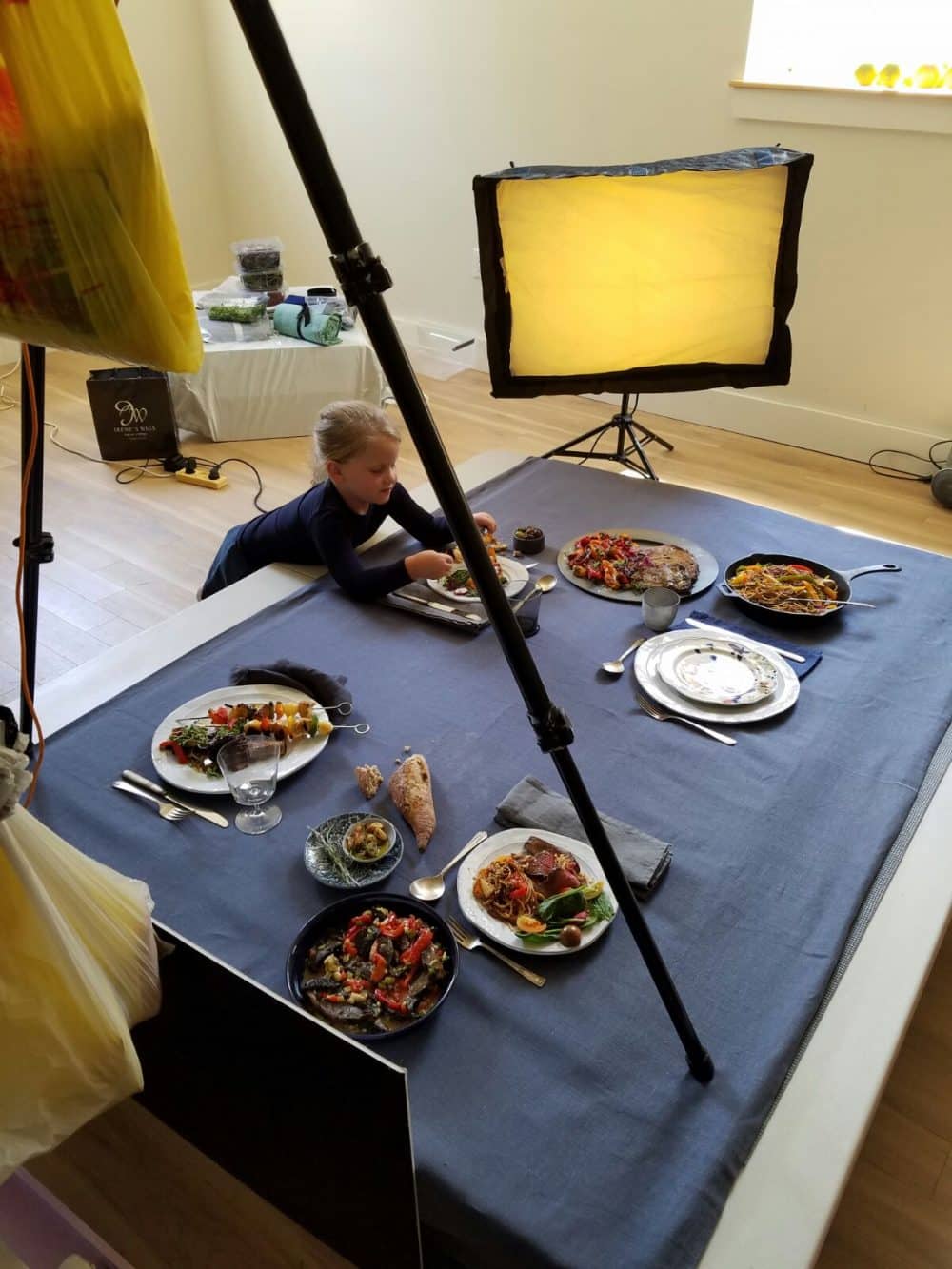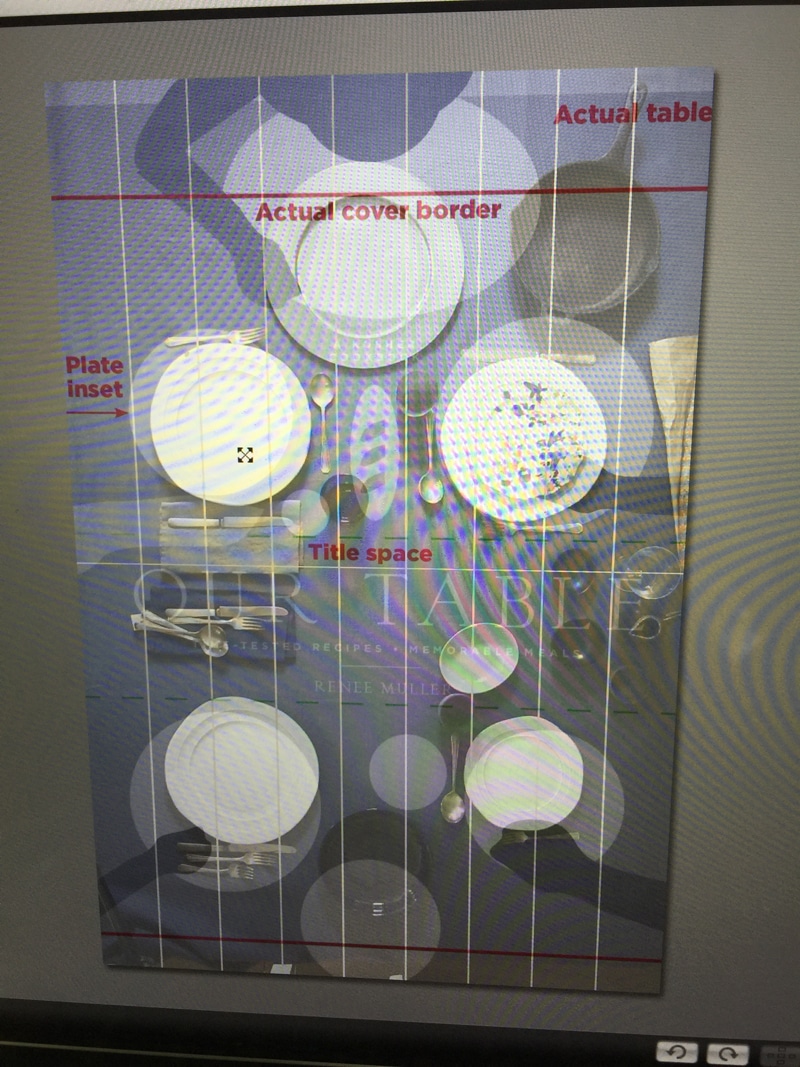 My children loved being part of the cover. And I loved how it made them feel part so part of the book, because it is theirs just as much as it is mine… it is, after all Our Table.
Each child had his turn and the images were stacked together in post. Getting everyone to look perfect at the same time would have been impossible.
I am finally loving the cover.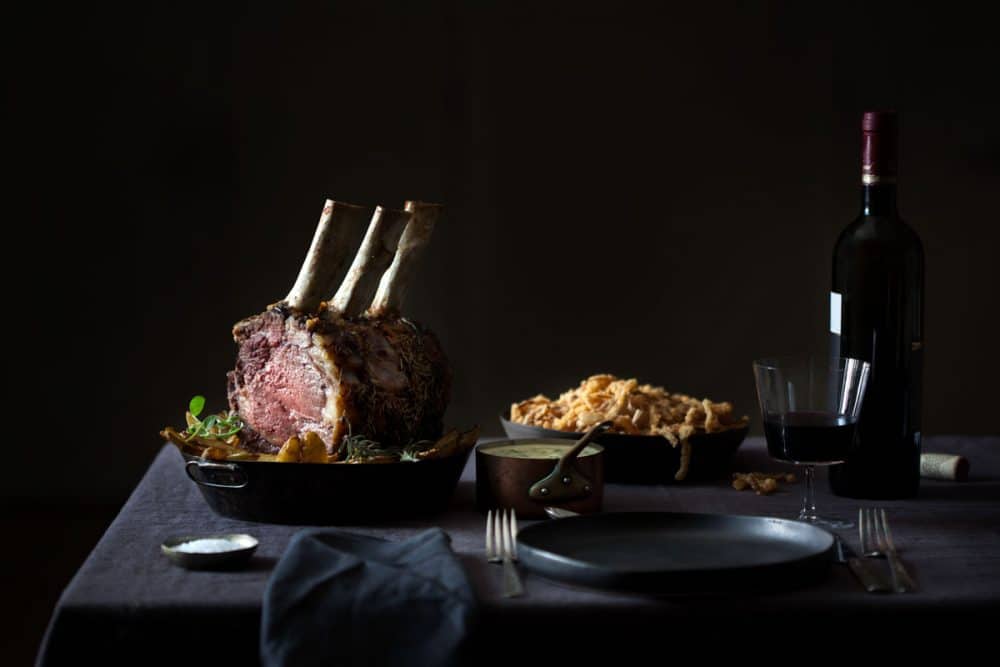 We shoot the last picture and feast over the standing rib roast as a goodbye party. I am almost sad that the photoshoot part is over, I am so exhausted but so happy. This part was fun.
June I thought I would just sleep and do nothing. But no. June was spent shooting videos with Tara, which was so much fun.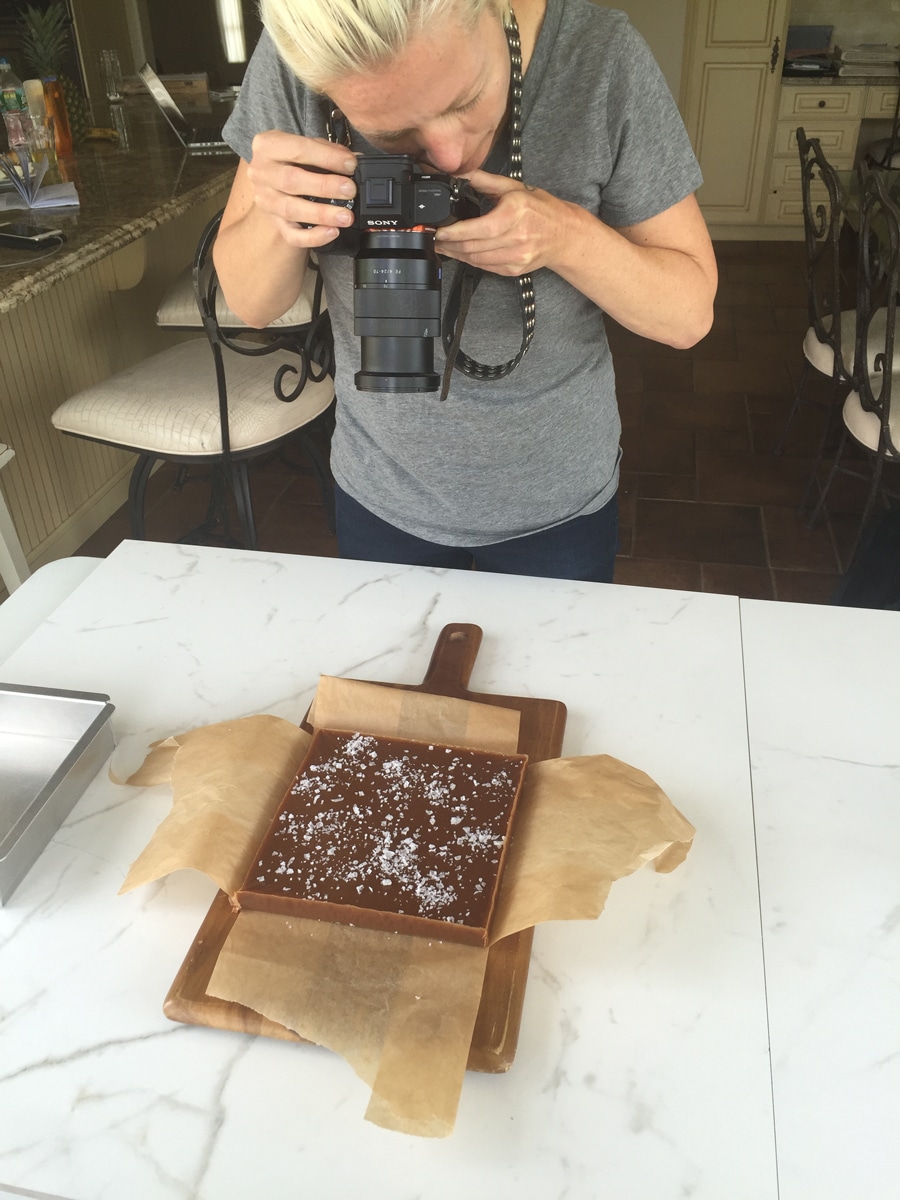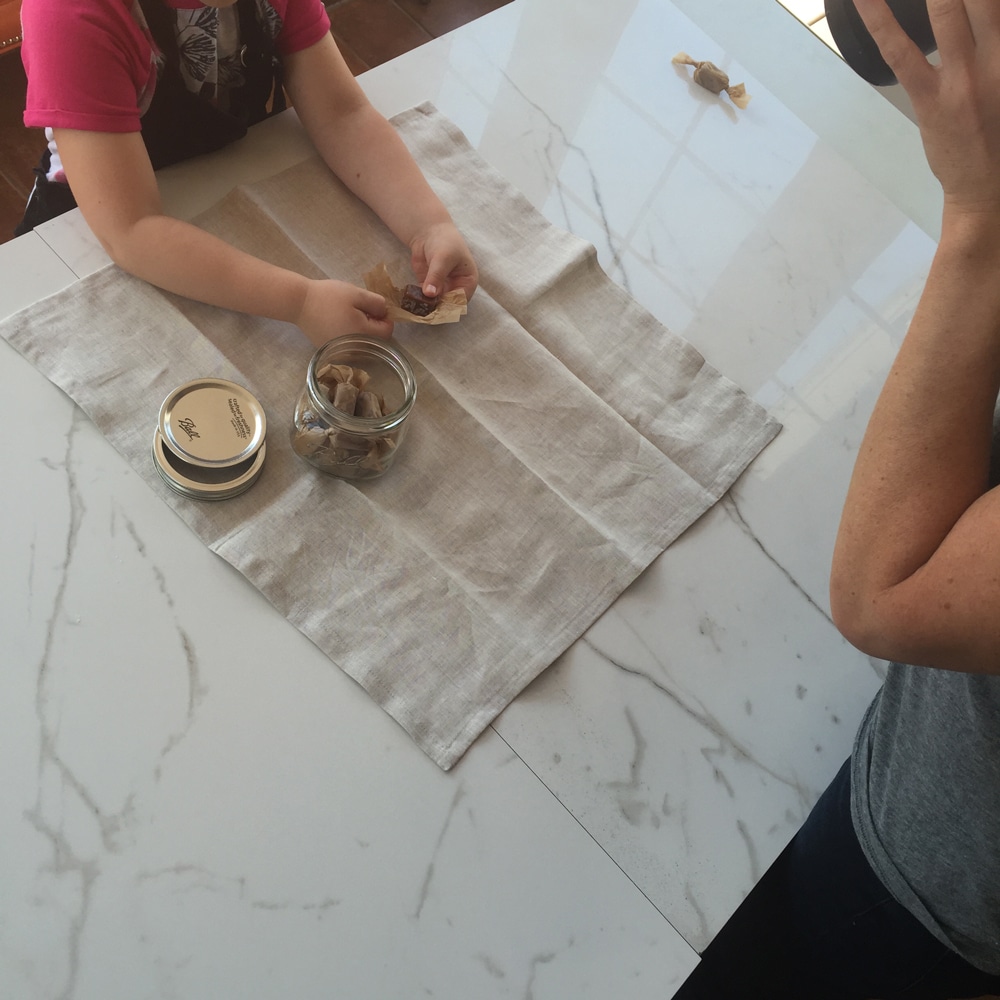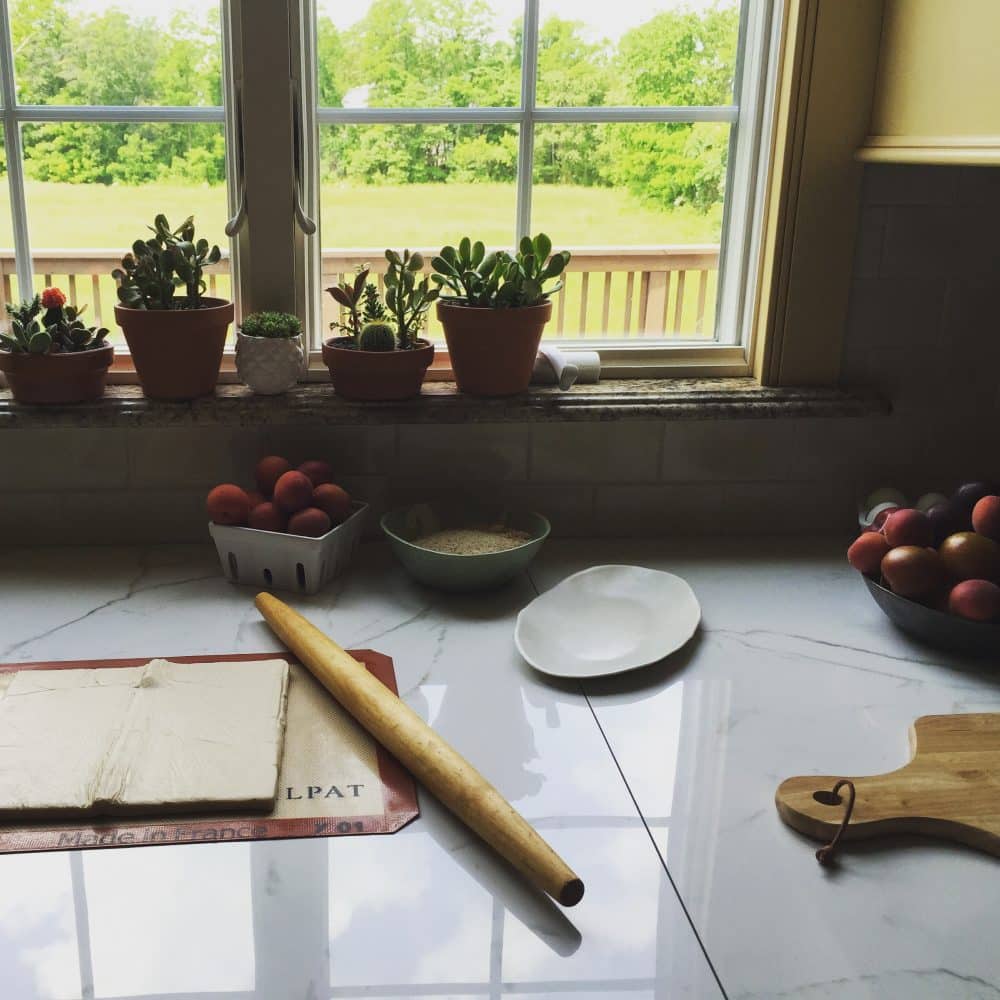 Editing recipes with Mrs. Eisner (what do you mean how much salt??? I don't know. However much feels right. Ok, ok, I will retest it) is less fun. But still, rewarding. Getting a recipe perfect is a nice feeling of accomplishment.
Testing out arbes 4 times in the same week, not as much (yes, I measured and remeasured the salt, the pepper, the sugar, re-tasted and retested. Sprinkles and dashes don't work in cookbooks, apparently.)
July I get very acquainted with Microsoft Word. Every word that Mrs. Eisner edits needs to get approved by me. Every comma, every dot. It is painful, at times.
I take a trip to Artscroll and sit down with the graphic designer, the editor, and work work work on every page every layout. It is a tedious and never-ending job. I remind anyone I meet never to allow me to do this again.
I bake 6 batches of Kaas Potjes. I want to get the filling/dough ratio perfect. It is not fun. Not when you have to. My kids are in heaven though. Kaas Potjes in July?? Who knew?? I am therefore temporarily forgiven for neglecting them while spending every breathing moment with Microsoft Word (aka the enemy).
I write my intros to every chapter, each one takes energy and time. I dream of books and words chasing me.
About 20 (wonderful) women test 6 recipes that need some tweaking. I learn a lot on how to write a recipe so that it is as clear and easy to follow as possible. I appreciate each and every review and bless these women while reading their detailed reports. It is so nice to be part of such a team.
August I get a manuscript in the mail. It is real and tangible. My work, in print. After a moment of giddiness, I get to work. Time to read, read, read, and find as many mistakes as I can. I print a few copies and give one to my sister-in-law (who is an English teacher) to read, one to a friend and one to Jenna (who reads like a computer). We all get to work. Changes get penciled in and then emailed to the editor.
We finalize on the biography and endpaper of the book (the inside pages where I write a dedication to my children)
Rabbi Gavriel Saunders helps me summarize the book for the back cover and does a wonderful job at it.
Videos get finalized and loaded.
We all read read read again until our eyes glaze over and words are swimming in front of us.
Our Table goes to print.
August is over. My summer vacation begins.
September
I receive my first copy and my heart skips a beat as I hold it. I guess it was all worth it, after all.