If I knew this restaurant salad was so easy to recreate, I wouldn't have waited so long to enjoy it again!
Years ago, I ordered a salad at one Miami restaurant. This is what I remember: it had these hot, oozing cheese-stuffed mushrooms that were so good; every bite was delicious.
But there were a few problems with the salad.
There weren't enough mushrooms.

The dressing was eh so the rest of the greens had no flavor. The only worthwhile bites were those mushrooms. 

There was nothing else in the salad. But I really didn't need the missing cucumbers or tomatoes. All I really wanted was more mushroom.
At the time, I always thought I'd go home and duplicate this salad. But I never did.
Until this week when I remembered that salad and got in the mood. And it's even better now than I remember.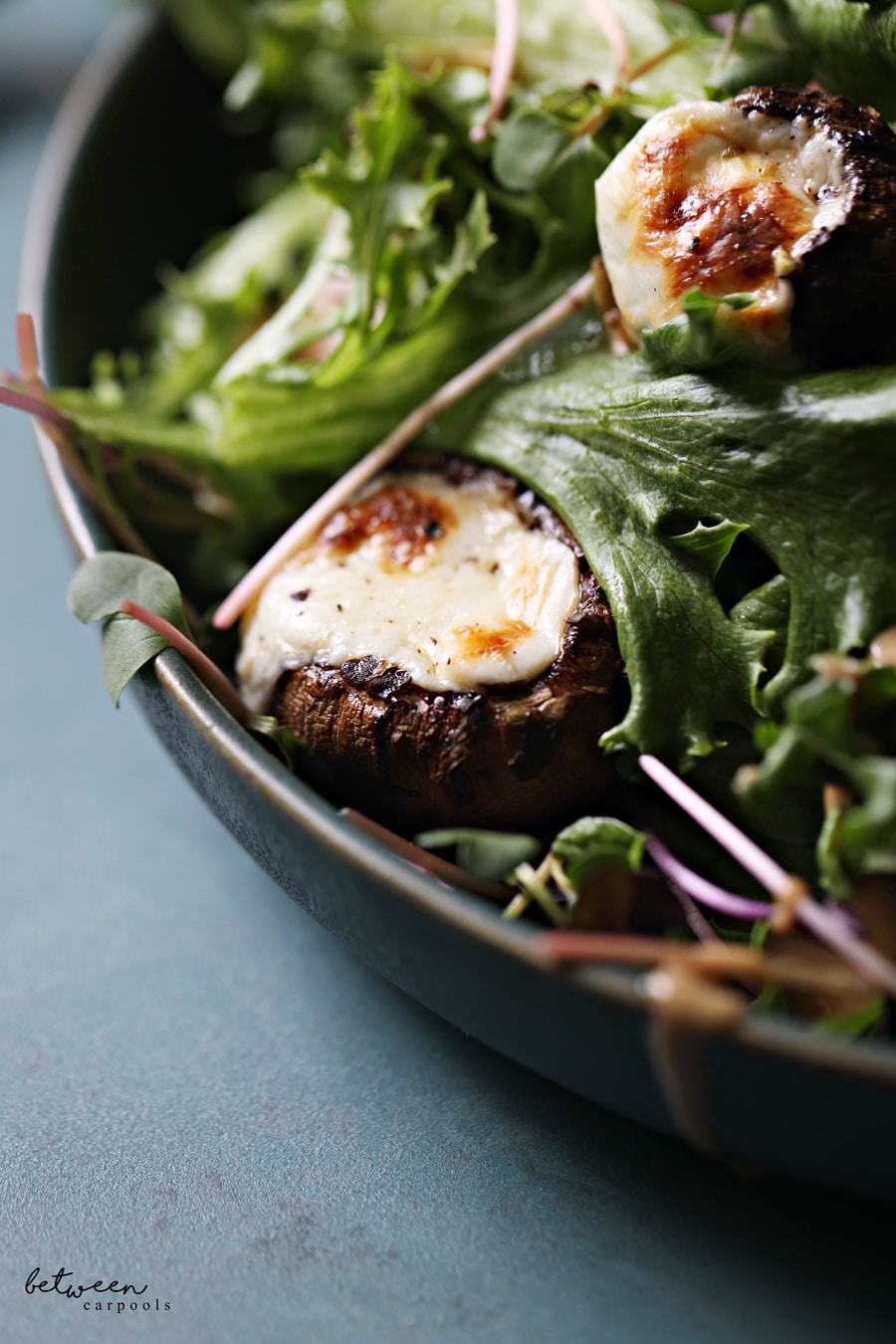 Hot Stuffed Mushroom Salad
Ingredients
5 oz greens
12-16 oz baby bella mushrooms, stems removed
¼ cup balsamic vinegar
2 Tbsp olive oil
½ tsp salt
¼ tsp basil
¼ tsp oregano
Pinch black pepper
4-6 oz fresh mozzarella cheese
Dressing:
Store-bought balsamic dressing (such as Vegitoss) or make the balsamic dressing featured here.
Instructions
Do Ahead: In the Ziploc bag, combine mushrooms with balsamic vinegar, olive oil, and spices. Marinate for at least 1 hour or preferably overnight.
Preheat oven to 350F.
Before serving, pour the contents of the Ziploc bag into a baking pan. Turn mushrooms so the cavity is facing up. Slice mozzarella and place a piece of cheese inside the cavity of each mushroom (it should be big enough to fill up the entire mushroom).
Bake for about 20 minutes, until mushrooms are cooked and cheese is melted.
Serve mushrooms on top of greens and drizzle with balsamic dressing when serving.