Can a Pesach chocolate cake be better than a chametz one?
It's the one cake my children will all agree on, Pesach or not. Chocolatey and dense, it makes you wonder why you don't bake this year-round. Truth is, I prepared one this past Friday (the Friday after Purim) just to make sure all my instructions were easy to follow and on target. And to take pictures, of course. My children came home at around 12 p.m. as the cake was cooling on the counter. Five sets of eyes waited very patiently for it to cool. Lesson learned: Cakes do not cool at all while being watched.
Tatty came home at 1 p.m. and was greeted with shrieks of  "Yay! Mommy made Pesach cake!" That, you will agree, is one funny sentence. Usually, Pesach cakes leave lots to be desired.
The excitement was tangible. The cake was finally cool enough to be cut out of the pan.
By 2 p.m. half of the cake was gone.
By Shabbos morning the cake was history, so we pulled out some leftover hamantashen from the freezer.
I like to bake three or four of these as soon as my Pesach cooking begins. Having them in the freezer gives me peace of mind that on those mornings or afternoons where "there's nothing good to eat" I can pull one out, and save the day.
This recipe is found in my cookbook "Our Table." Since it  went to print, I received lots of and lots of emails. Which is fun! A few women asked me to describe, in greater detail, what it means to whip up whites to a "snow," how to "fold" two batters and so on. I have to say that I was surprised. Doesn't everyone already know that? Guess not. Not everyone was lucky enough to learn these things at the kitchen counter, barely reaching the surface, standing on tippy toes trying to see what is going on. With a giant grin on my face and armed with a spatula ready to "lick" the bowl clean, I remember that was the best place to be.
I therefore decided to add a few images here so that you can easily follow along.
So just pretend I am your Savta.  And pay attention this time.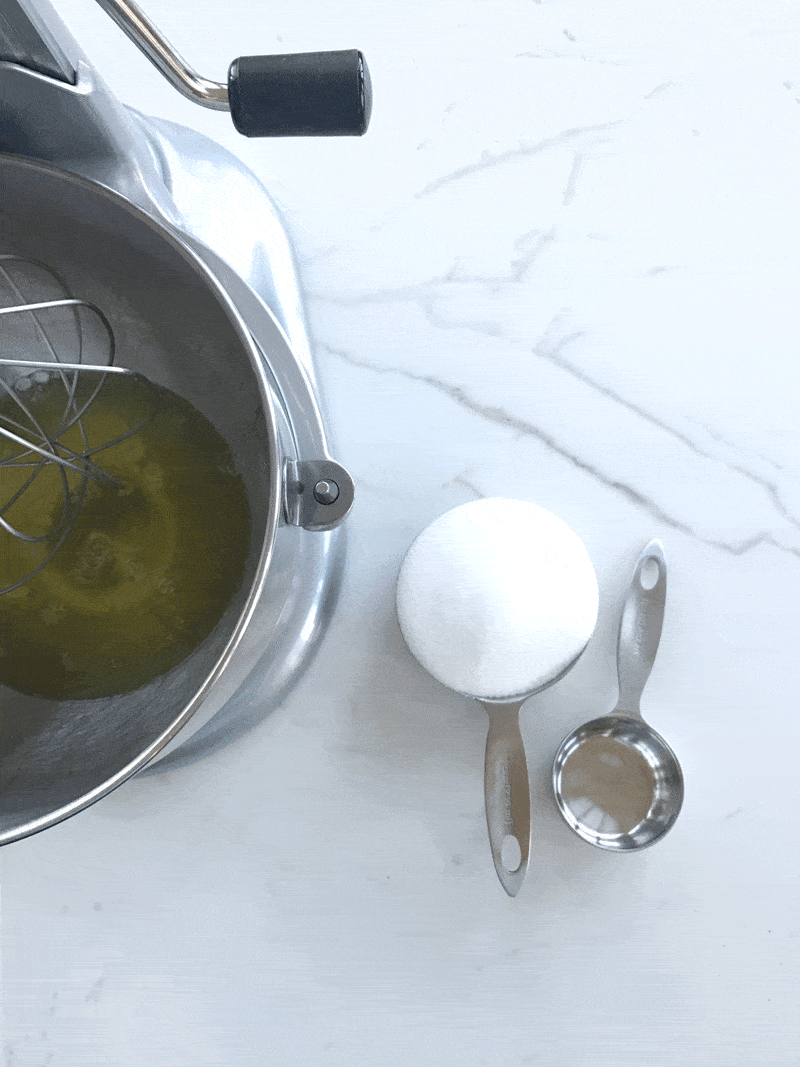 When adding sugar, measure 1 cup. But actually use a ¼ cup measuring cup to gradually add the sugar slowly. Using the ¼ cup measuring cup will ensure you do not rush this. I learned this from Victoria and her famous meringues.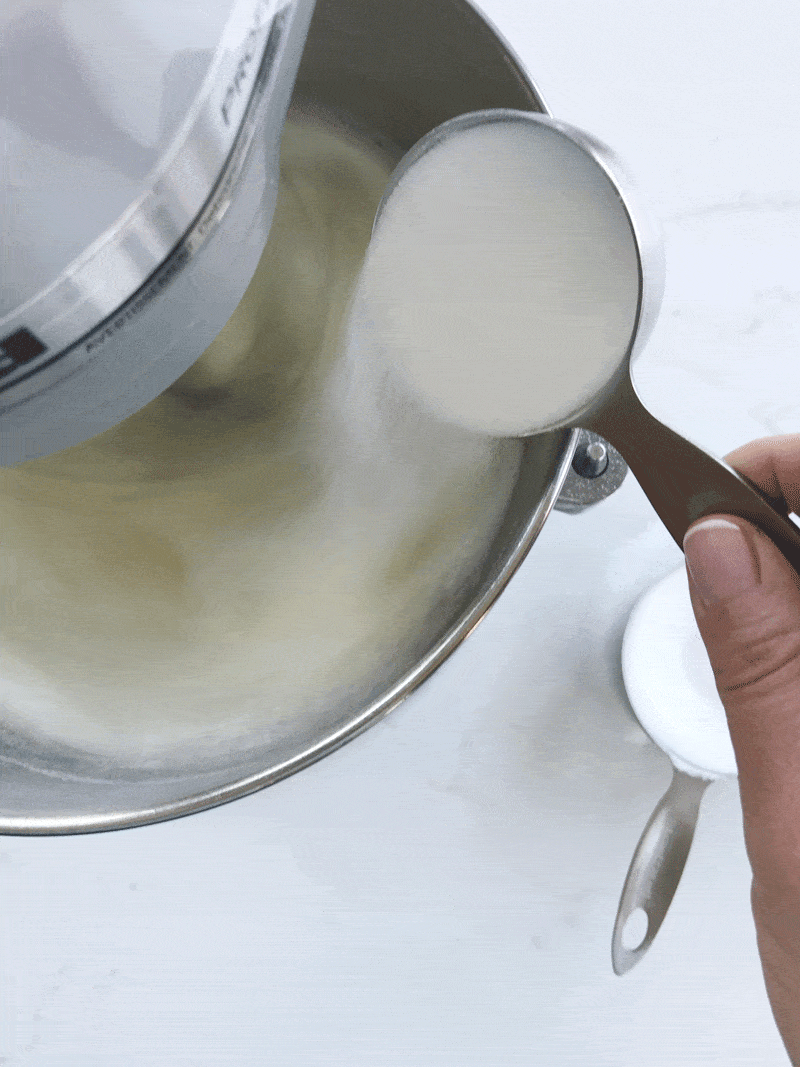 Start adding the first quarter cup in what I like to call the foamy stage.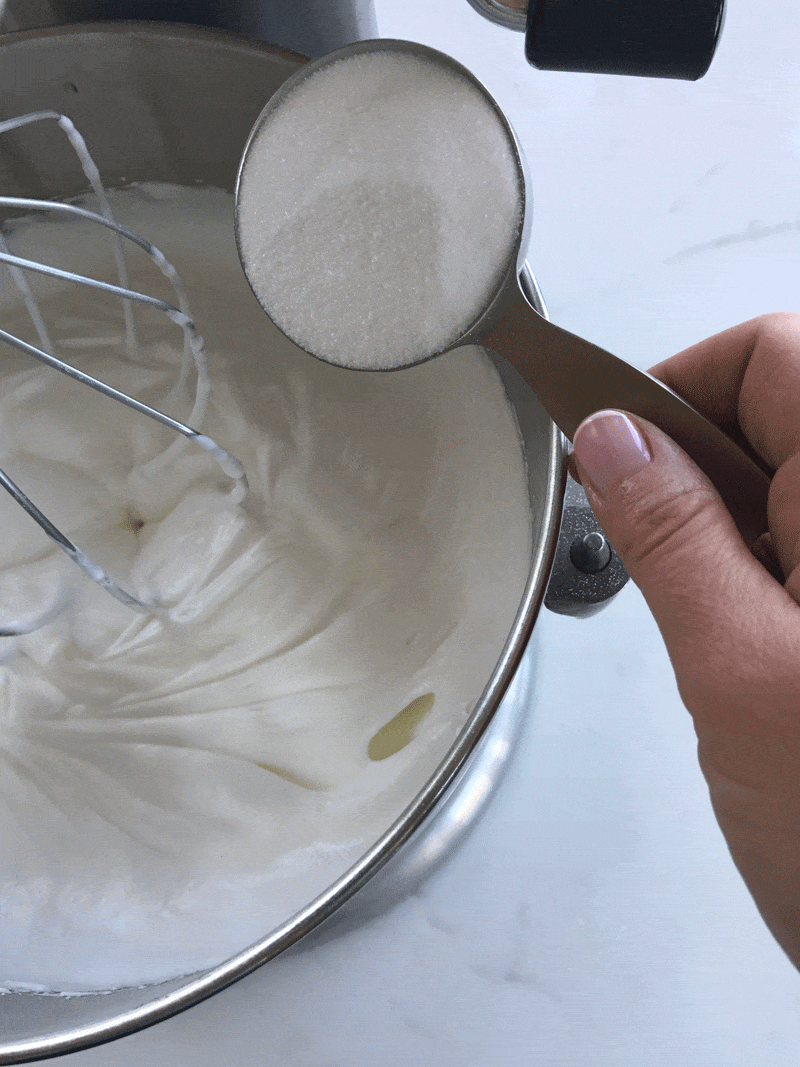 The second time you add a quarter cup it will look something like this.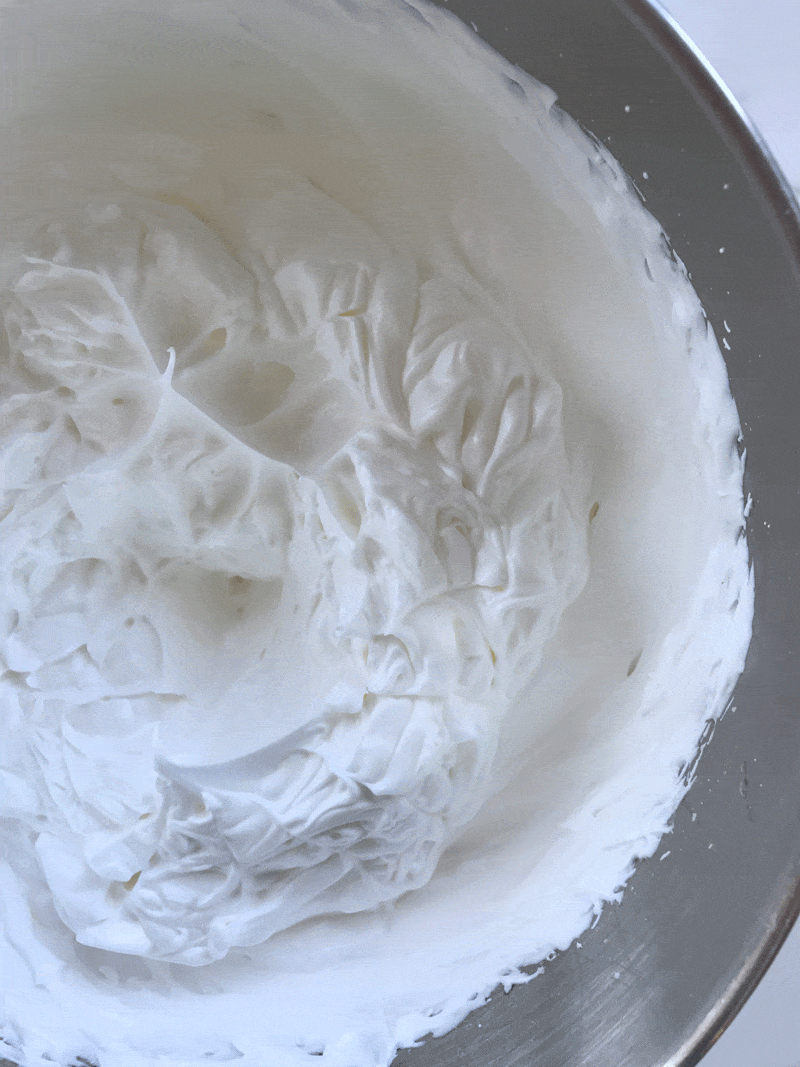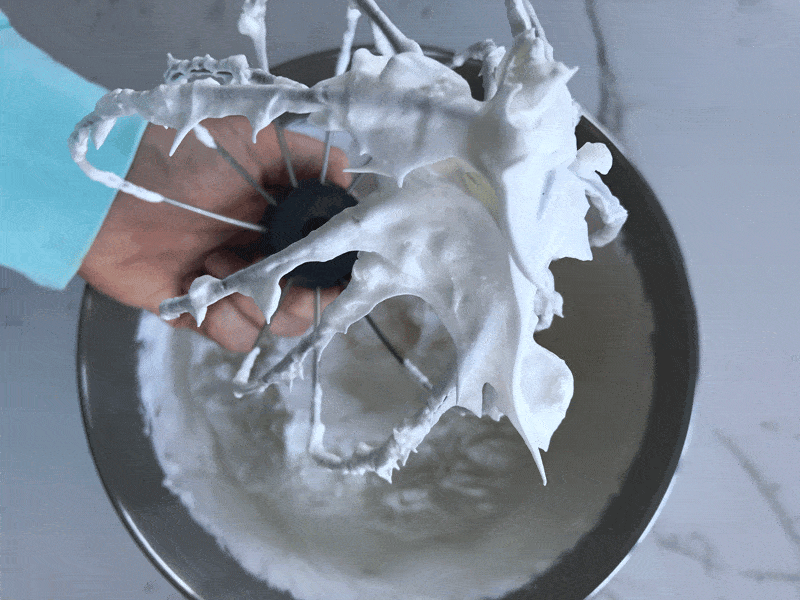 This is what a snow looks like. See the stiff peaks?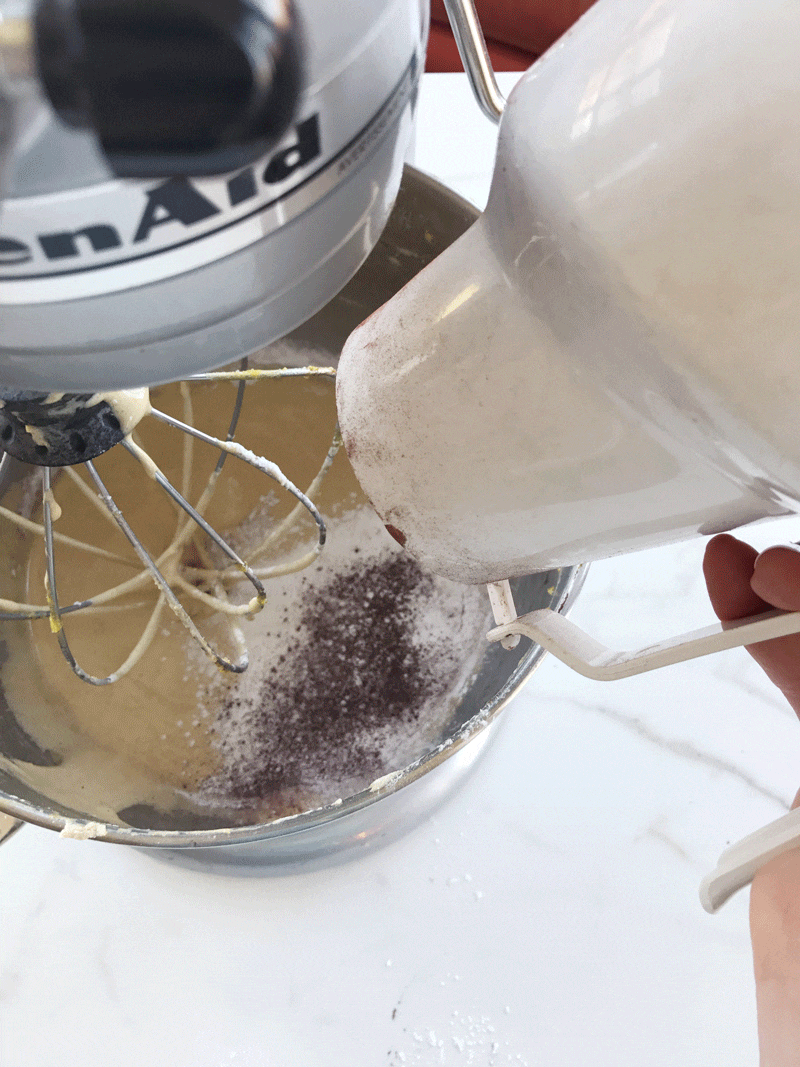 Slowly sift in the cocoa and potato starch.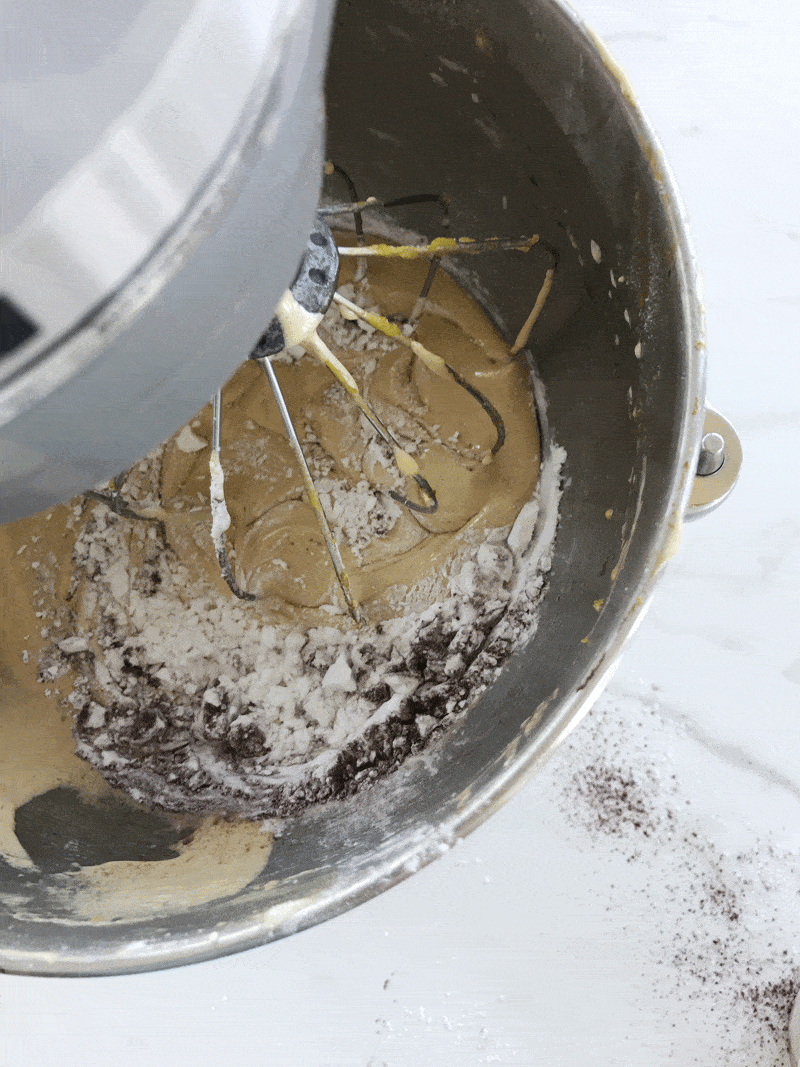 Give a mix after every addition.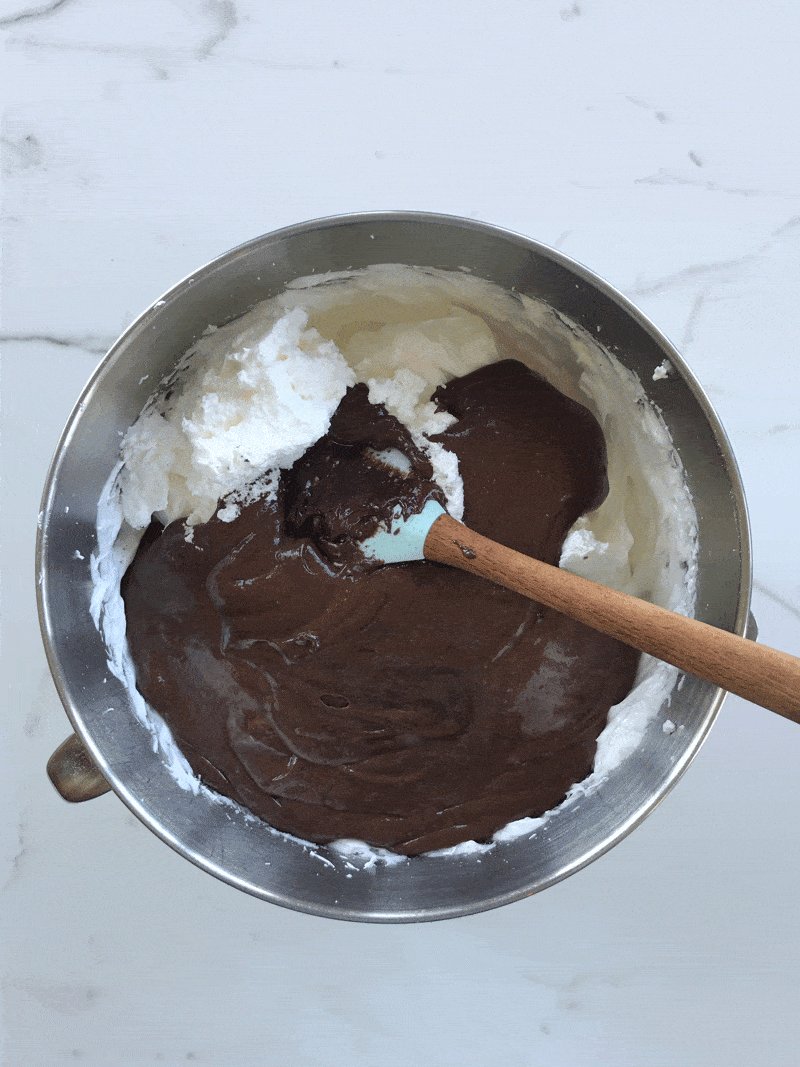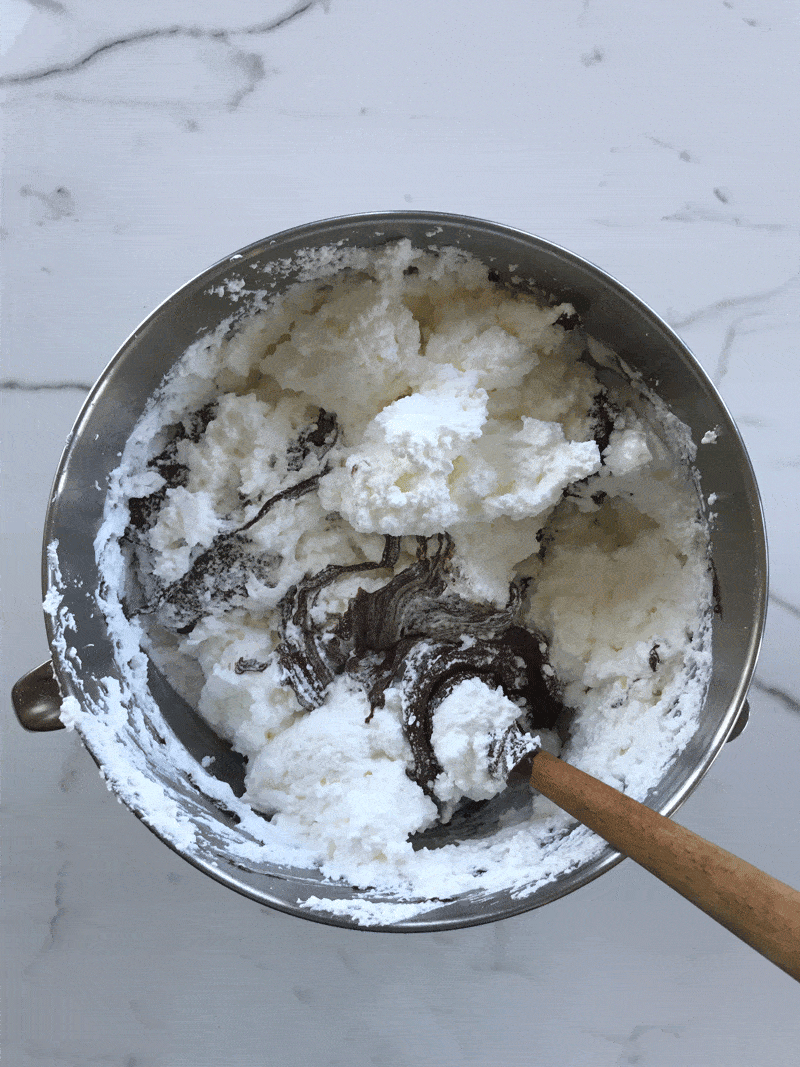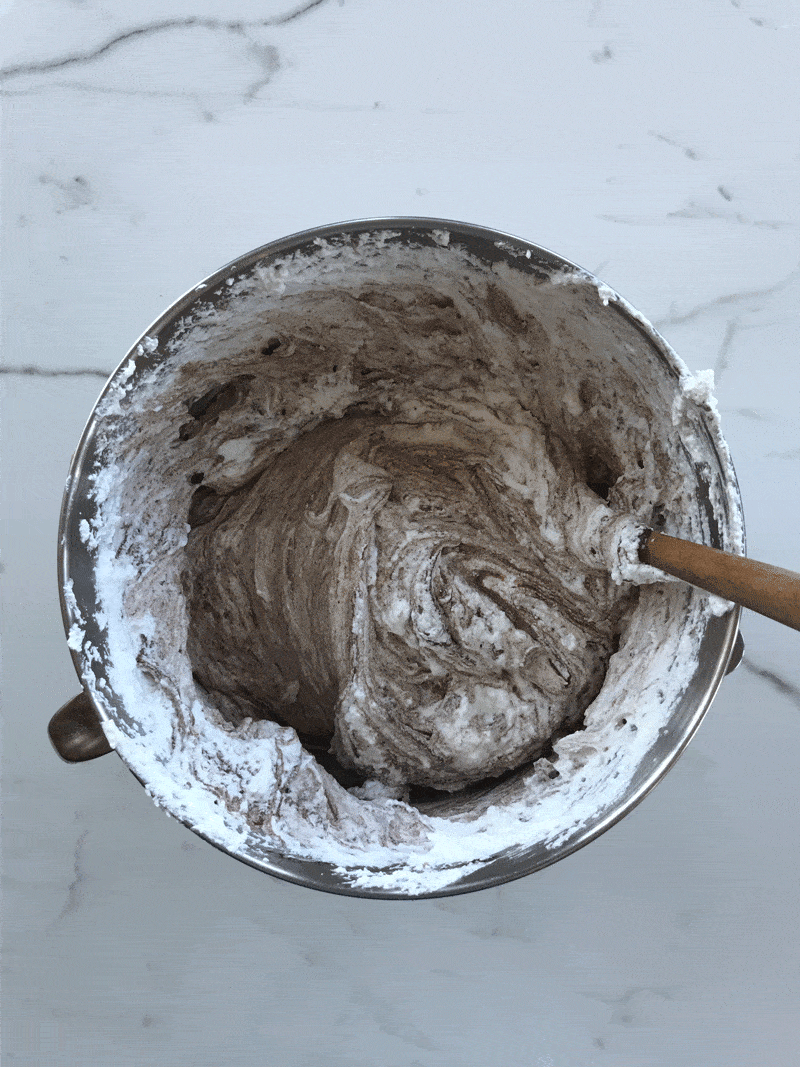 This is what folding looks like. Hang in there and keep working those muscles (yes, folding gets done by hand, and it is not necessarily easy) The key to folding well and not overdoing it is to keep going in the same direction and stopping as soon as the batter is combined. Do not overdo it. You don't want to lose the whole "pouf."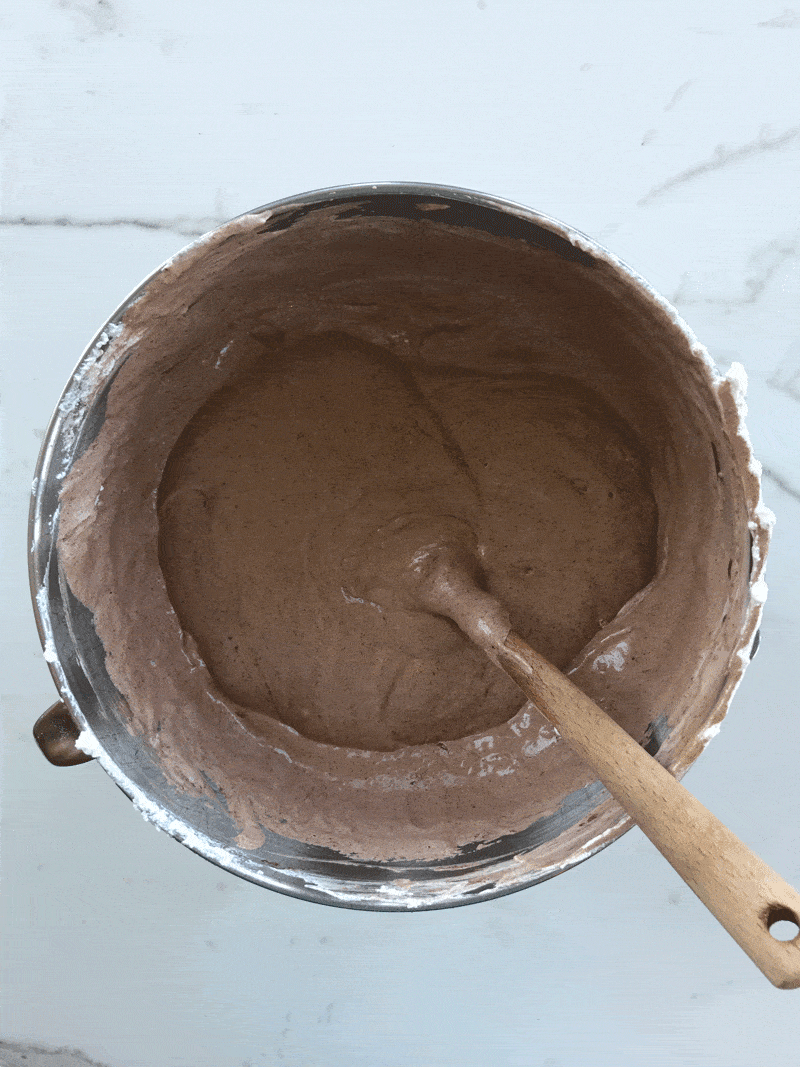 Your batter is ready. Pour it into your ungreased, dry, pan.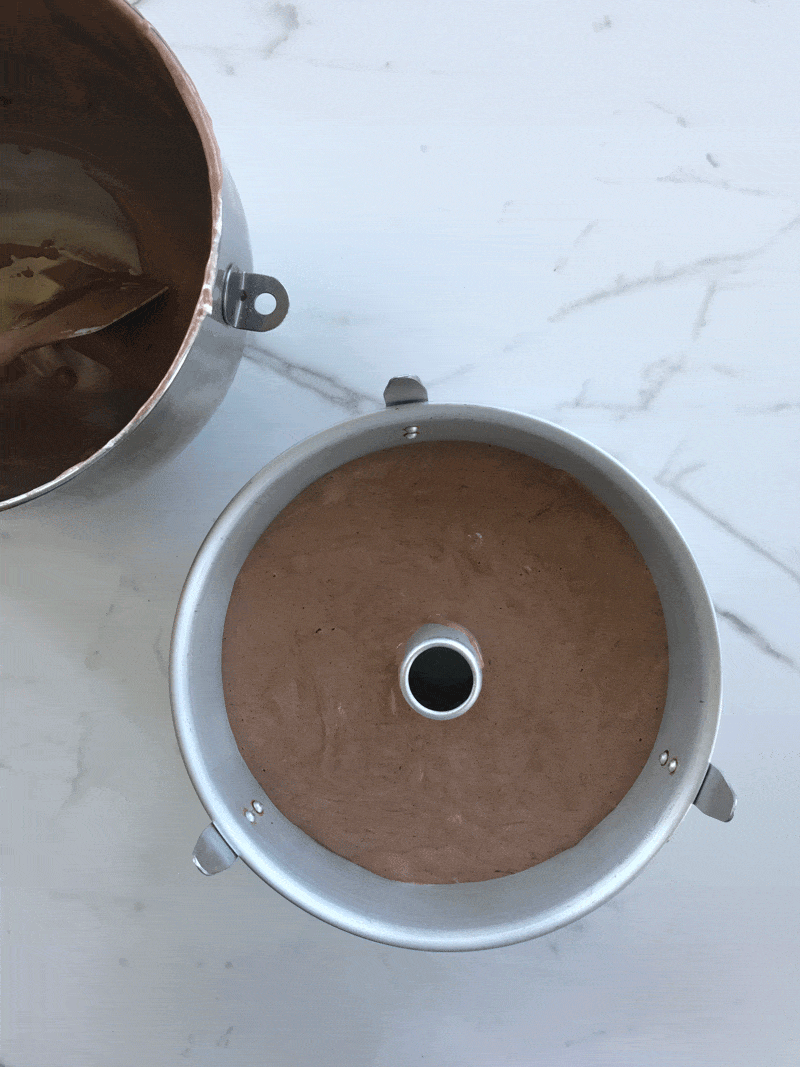 Only use aluminum pans (not the dark coated ones) such as these. I cannot stress this enough.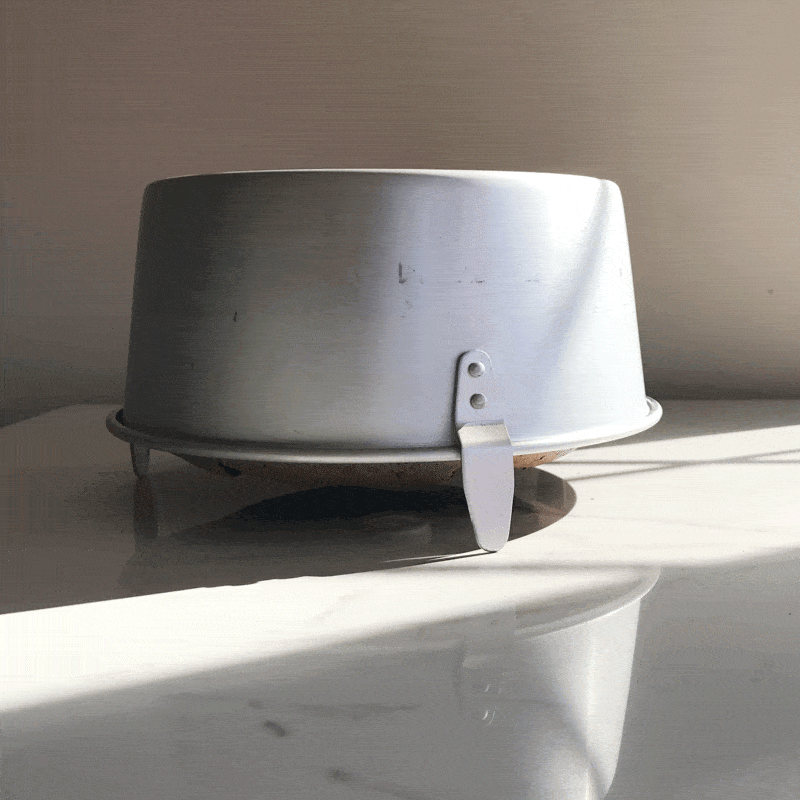 Once your cake is baked, remove from the oven and immediately turn over like this. Don't be scared. This is how it's meant to cool. That's what those spikes are for. Let the cake cool completely. I will sometimes bake a cake right before I go to sleep and cut it out of the pan in the morning.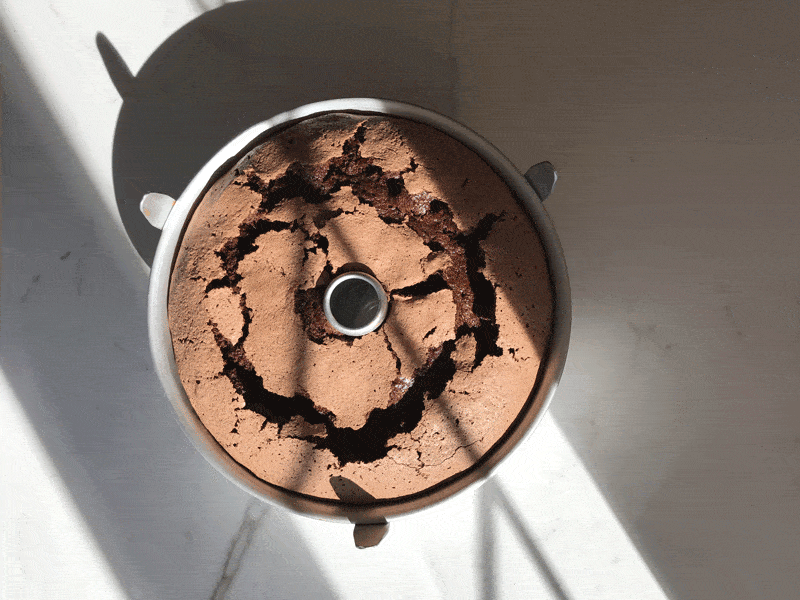 Cake is ready to be cut out. Use a sharp knife to cut through.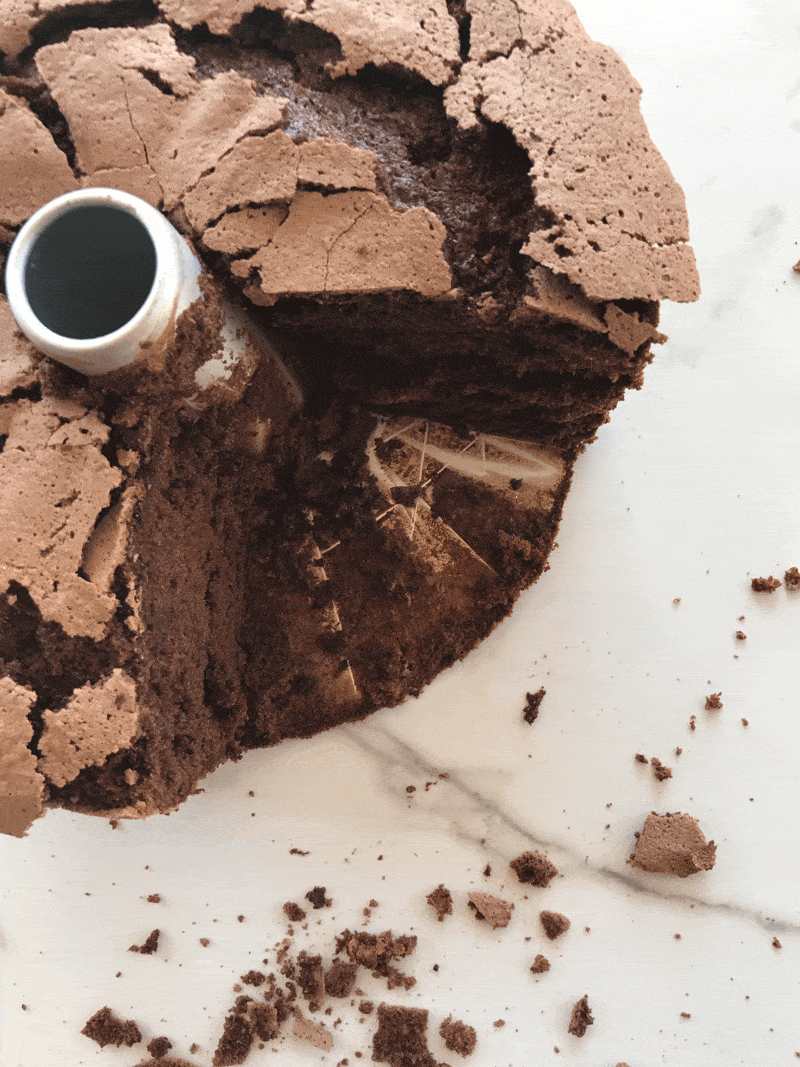 How scrumptious does that look??

Mrs. Lieberman's Miraculous Pesach Chocolate Cake
Ingredients
9 eggs, separated
2 cups sugar, divided
pinch salt
¾ cup oil
1 heaping Tablespoon instant coffee granules dissolved in 1 Tablespoon water
½ cup cocoa
¾ cup potato starch
Instructions
Preheat oven to 350°F.
In the bowl of a stand mixer fitted with the whisk attachment, beat the whites on high speed until foamy. Ever so slowly, add 1 cup of sugar. Beat until stiff peaks form. Set aside.
In a second bowl, beat eggs yolks and salt on high speed. Slowly add remaining cup of sugar, little by little. Beat on high until the yolks are a pale yellow.
Lower speed; slowly add oil and coffee.
Place the cocoa and the potato starch into a sifter. Ever so slowly and gently, incorporate the sifted mix into the egg yolk mixture. Keep stopping, sifting, mixing, stopping, sifting … little by little. Do not rush this. Scrape down sides as needed.
Fold chocolate mixture into the whites, mixing as gently as possible, until incorporated and no white is seen. Pour into an ungreased, dry tube pan; bake for 1 hour. (Do not use a nonstick tube pan! Only a metal one will do.)
Remove cake from oven; invert. Cool for at least 6 hours (better overnight) before cutting cake from pan.
Note: A neat trick I recently learned is to place the cake in its pan, into the freezer, upside down, once it's cool enough to handle. Cut cake out of tube pan when frozen.