This cholent, inspired by a Moroccan Hamin, combines the best of both worlds!
A bit over one year ago, I asked you all for your cholent ideas in this post and you all shared so many variations!
Personally, my family was ready for something new and I had an invitation to experiment. One of the recipes I received during that time was a Hamin recipe from Mia Anahory. I made it one week and it was groundbreaking. Suddenly, everyone wanted to finish the cholent (or hamin) down to the bottom. 
But there were some changes. Back in our cholent post, "Mj" commented about the way his father sautés the onion in a generous amount of oil, and once it's completely brown, adds 3 tablespoons sugar, 2 ½ tablespoons salt, 1 tablespoon paprika (I use smoked paprika), and ¼ tablespoon black pepper. I thought this sounded good and decided to start mine this way as well, instead of simply with a plain onion. This becomes the flavor base of the cholent, and a really good one too.
There are other things that are different. A Moroccan Hamin uses unpelted wheat. We stuck with barley. Also, in Hamin the ingredients are kept "separate." We wanted everything to be mixed together, like in an Ashkenaz cholent. My kids also really wanted that squirt of ketchup, which is common in cholent but not in Hamin. Finally, finally…the toppings. They didn't go for the eggs, but they did still want that kishke and kugel!
In the end, we had a Cholent-Hamin mashup that has been a hit ever since. I'm also going to share the original version below in case you do want to make a traditional Moroccan Hamin (aka "Schena").
It has a few steps, so now let's get cooking.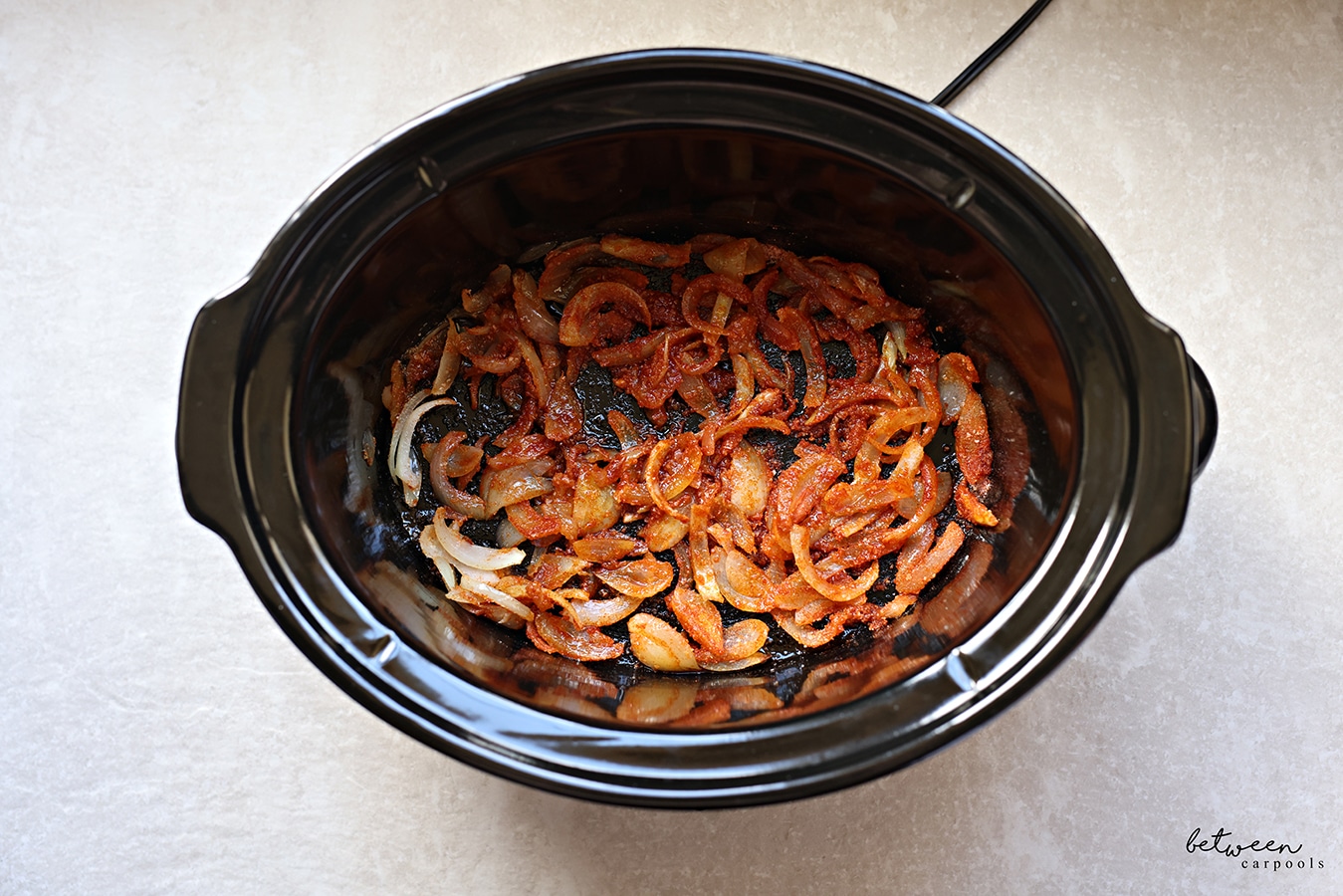 The first layer in the pot is our sautéed onion. I first sauté a sliced onion in that generous amount of oil, and once it's completely brown, add the salt, sugar, and smoked paprika.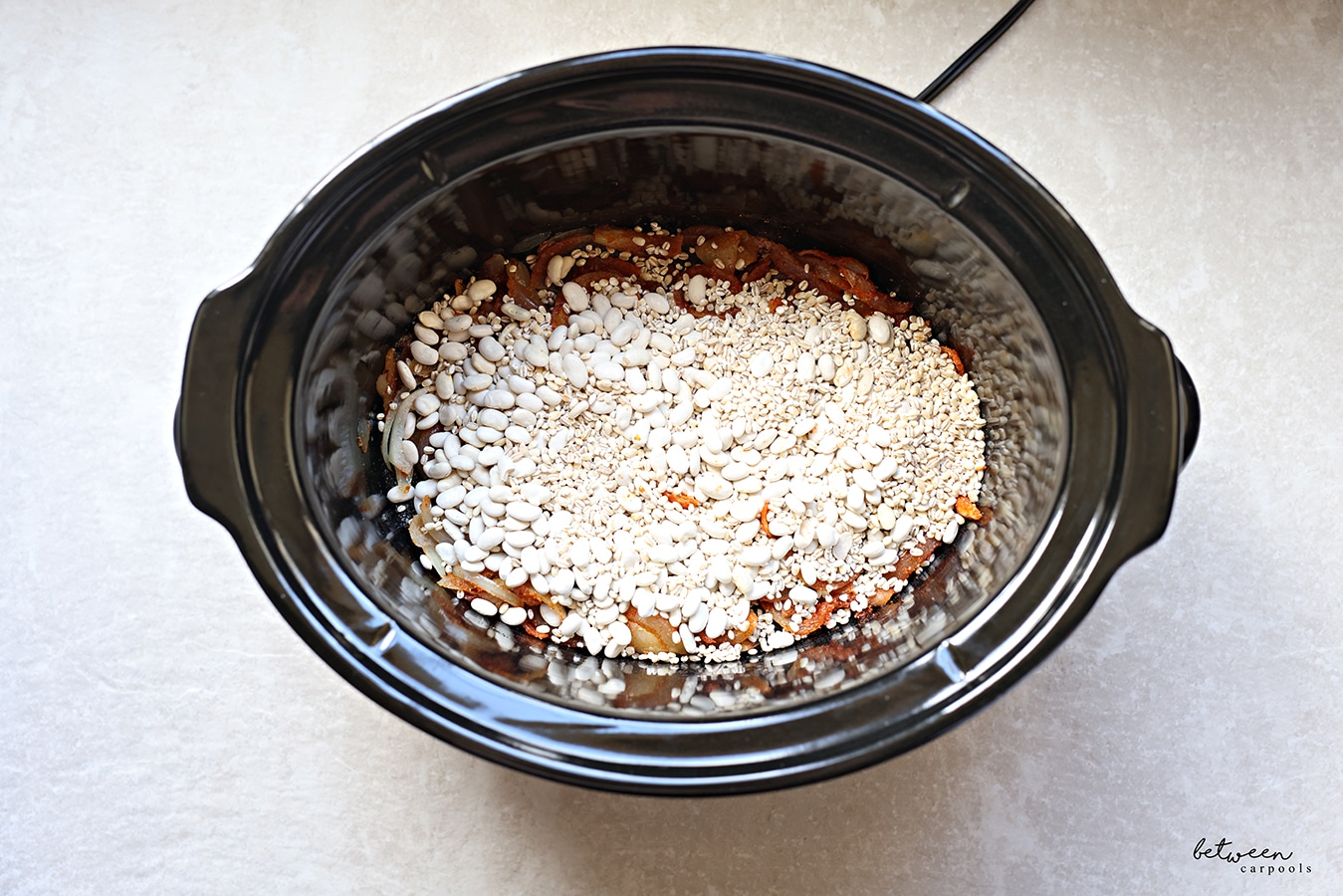 Next comes 1 cup Great Northern Beans and 1 cup barley. The beans MUST be soaked for at least 30 minutes before adding them in (I put them in to soak when I cut the onion). If they don't soak, they'll take longer to cook and eat up so much water, drying everything else out (you can dump them into the cholent with their soaking water). (Note: The beans were not soaked in the photo.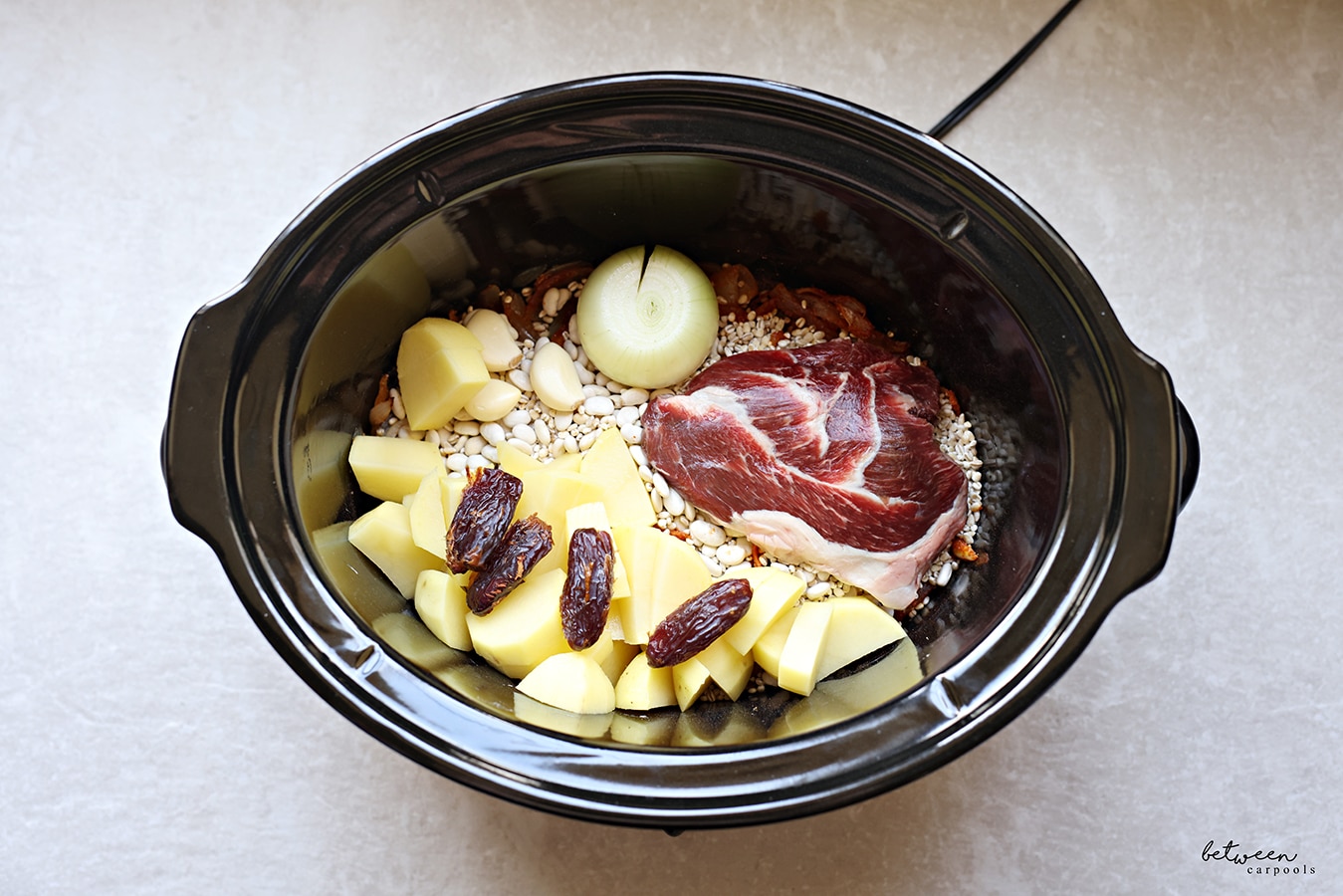 You can mix up these bottom layer ingredients. Next comes the meat, potatoes, 1 whole onion, and a few cloves of garlic. A couple of medjool dates go on top of the potatoes.
For meat, I usually put in either a cheek or a kolichal and a couple of short ribs. As far as the dates, they're one of the secret ingredients…yum! Everyone always asks what those are! (Note: check the inside of the dates when you open them to remove the pit.)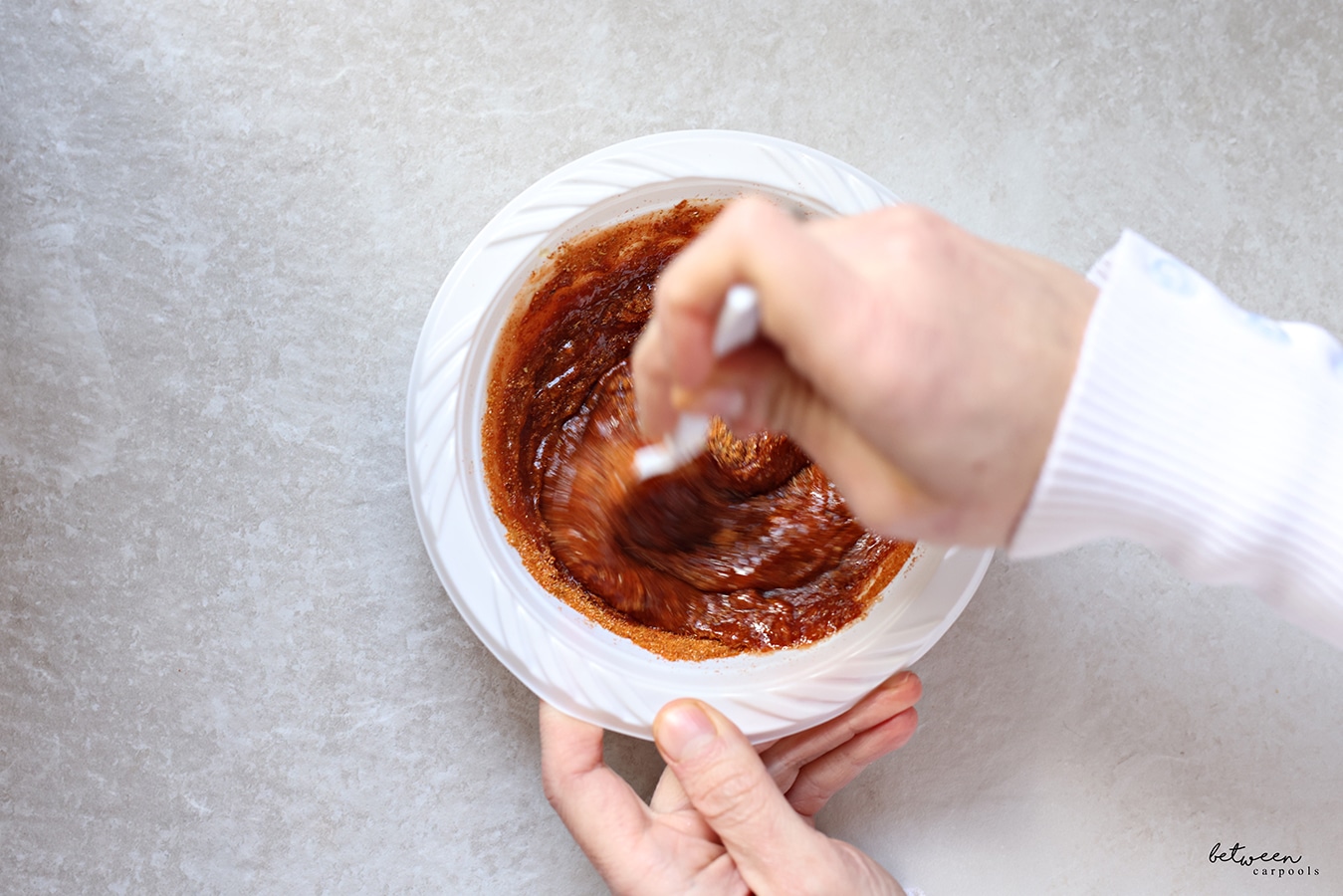 Next comes the spice mix for the top. In a bowl, combine the ketchup, honey, and all the spices. Cinnamon is included in the spices and it really makes the house smell amazing all Shabbos long.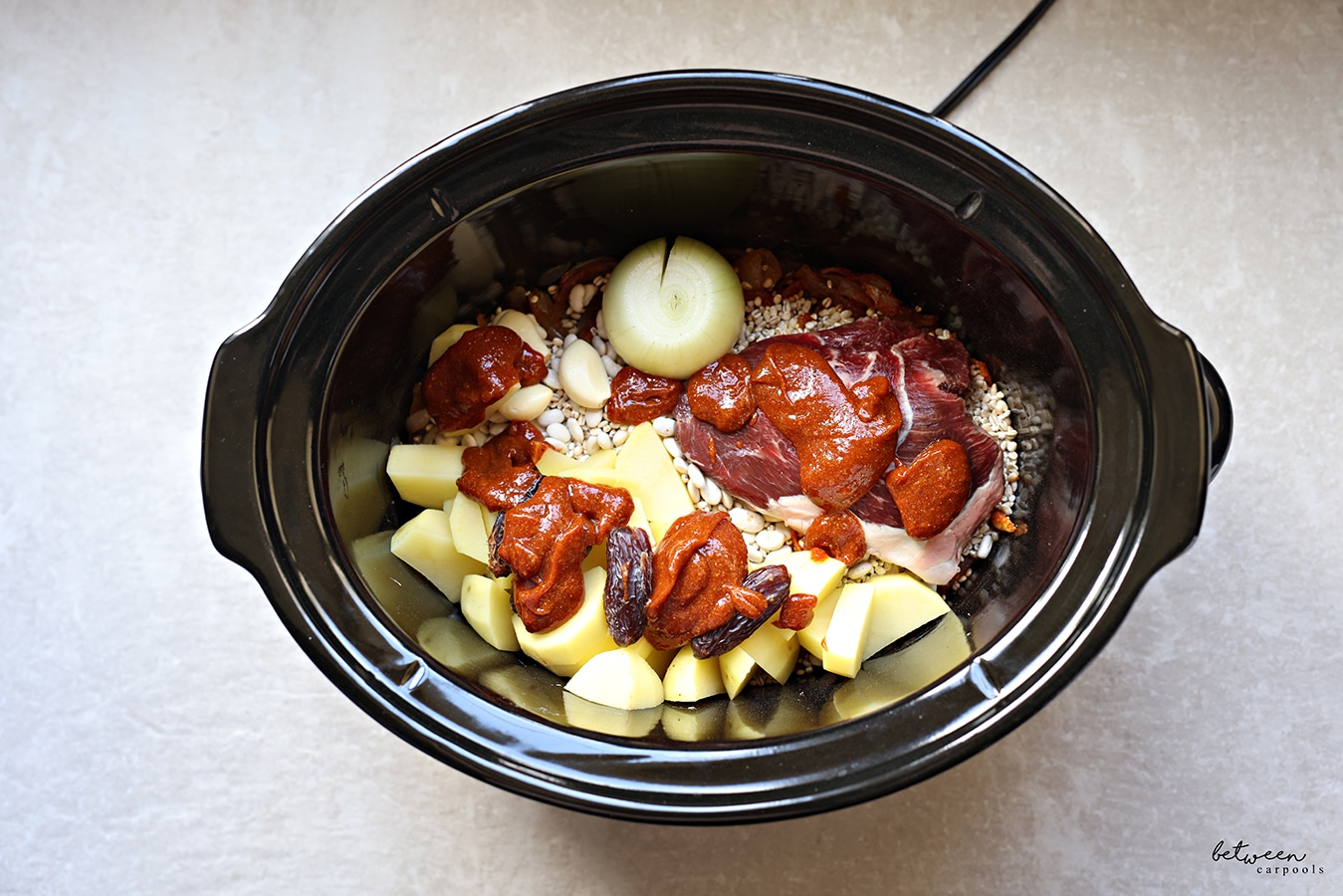 This mixture goes on top of everything.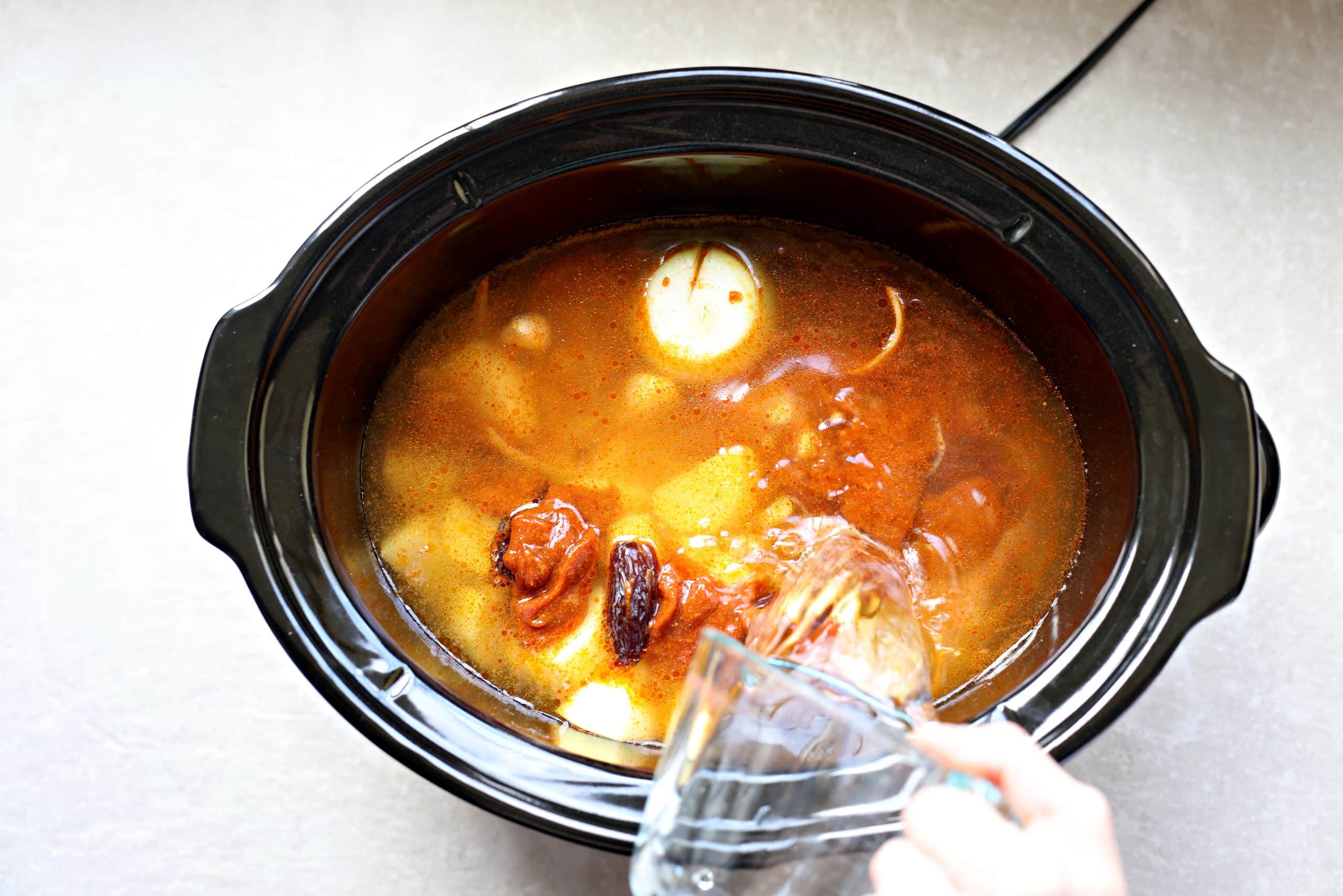 Add the water.
I put the cholent up in the morning and cook on high all day so it's fully cooked before Shabbat. Then I switch it to "keep warm." If you're putting up the cholent late in the day rather, just keep in on "low" until the seudah the next day. I don't have a specific amount of water because I check it throughout the day and add water if needed.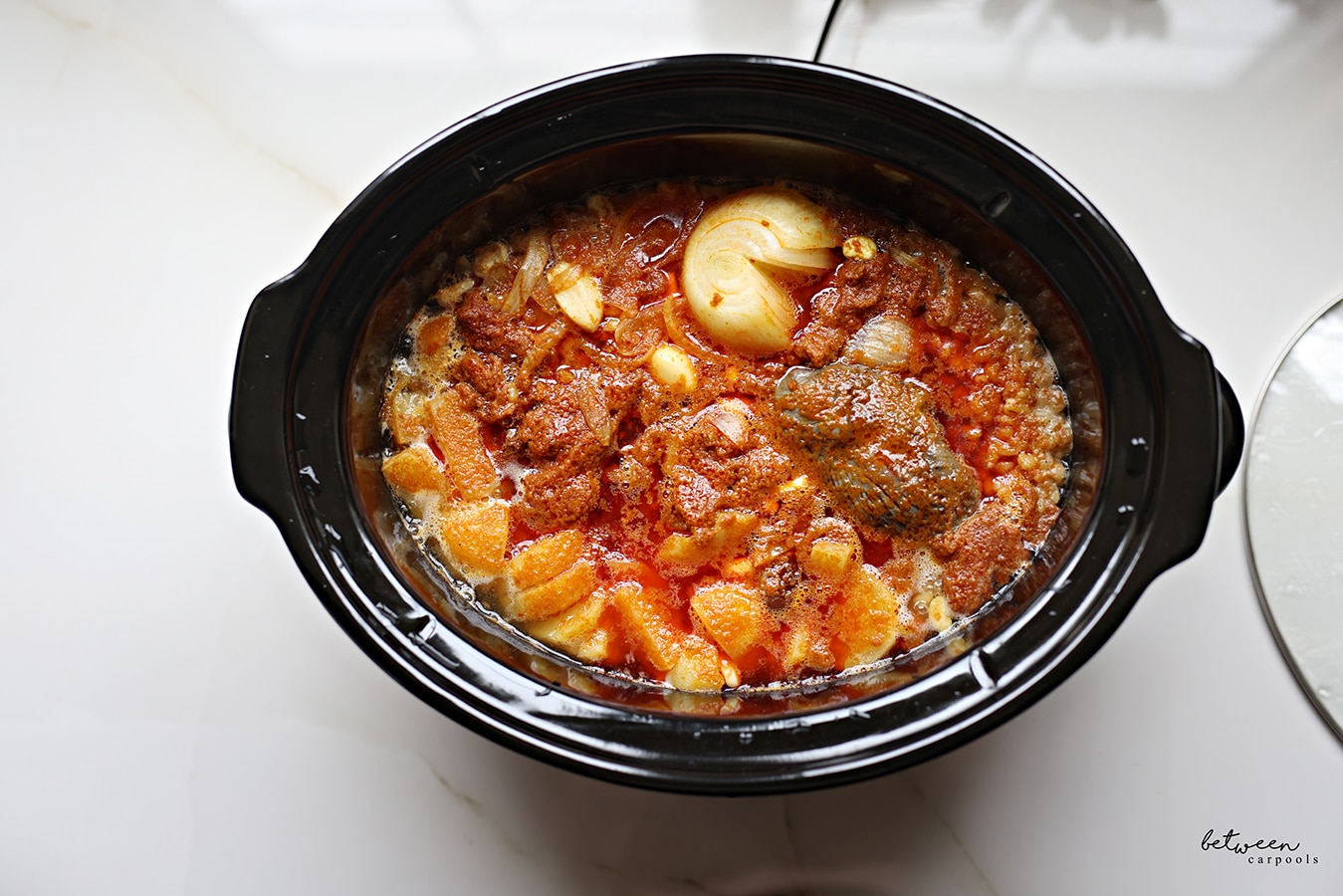 But we're not done. Before Shabbat, I add some slices of kishke, wrapped in foil, and a small potato kugel, also topped with foil. These will be served on the platter. 
Thank you Mia for inspiring the Cholent/Hamin/Chamin that my family (and everyone who tastes it!) loves!

Victoria's Hamin-Inspired Cholent
Ingredients
oil, generous amount
1 onion, sliced
3 tablespoons sugar
2.5 tablespoons salt
1 tablespoon smoked paprika
¼ teaspoon black pepper
1 cup northern beans, soaked in hot water for 30 minutes
1 cup barley
a few garlic cloves
1 whole onion
meat (I use a couple of short ribs and a cheek or kolichal)
potatoes, desired amount
2 dates
Spice Mixture:
¼ cup ketchup
1 teaspoon salt
1 teaspoon turmeric
1 teaspoon cumin
1 teaspoon cinnamon (important!)
1 teaspoon smoked paprika
sprinkle of black pepper
generous squirt of honey
kishke, sliced, wrapped in foil
small potato kugel, covered in foil
Instructions
(Soak beans when you're starting the onion.) Add generous amount of oil to a small saucepan. Add onion and saute until nicely golden. Stir in spices. Add spiced onion to the bottom of the Crockpot. You can do this step ahead!
Add soaked beans and barley and mix.
Add onion, garlic, meat, and potatoes on top of mixture. Add dates on top potatoes.
In a small bowl, combine ketchup, honey, and spices. Add on top of meat and potatoes. Cover generously with water.
Cooking: I usually prepare this on Friday morning and cook it on high until it's fully cooked, then switch to keep warm to it's ready to enjoy both late Friday night and Shabbat afternoon. When cooking on high first, check the water throughout the day to make sure there's enough. I usually add 1-2 cups water at some point in day. f I don't have time to put this up by 10 a.m., and I prepare it later in day, I keep it on low. Make sure it's well covered with water before Shabbat.
An hour or so before Shabbat, add kishke and potato kugel wrapped in foil to the top. If you will be keeping it on low, you can do this right before Shabbat. I'll serve the kishke and kugel (and often the meat) on a separate platter.
Mia tells us
, "A few weeks ago when my mother invited us for Shabbat, she asked me what she should make for chamin, and I said, "Ma, can you make something different?" Well, she made something different alright, and it was an instant hit, and became a favorite in our house!
A Moroccan friend of mine told me it's called Schena (pronounced Secheena).
This chamin requires a little extra TLC, but it's well worth the effort!
I love that this chamin looks so grand; when I have company, I serve the beans in one bowl, the meat and potatoes in a second one, the wheat in a third, and the eggs in a fourth bowl. It looks like I slaved away, but I really made only one thing."

The Original Moroccan Chamin/Schena
Ingredients
2-3 tablespoons oil
1 onion, chopped
1 cup Great Northern Beans, soaked in boiling water for ½ hour
meat (any meat is good; stew meat, flanken, kalichel)
1 small potato per person (Yukon or red potatoes)
a few garlic cloves
1 raw onion
2 Medjool dates
raw eggs (1 per person)
Spice mixture:
¼ cup oil (subbed ketchup)
1 t salt
1 t turmeric
½ t cumin
1 t paprika
½ t black pepper
1 t honey
Before Shabbat:
2 cups unpelted wheat
2 cups water
2-3 tablespoons oil
some salt,
cinnamon,
and paprika to taste
Instructions
Line the bottom of your slow cooker with 2-3 tablespoons of oil. Place onion into slow cooker. Wait until onion turns golden brown.
Add Great Northern Beans. Add meat on top of beans. Any meat is good; stew meat, flanken, kalichel.
Add potatoes on top of meat. I like to use Yukon Gold potatoes or red potatoes, but any kind will do. I usually put one small potato per person.
Then, add a few cloves of garlic, 1 raw onion, and 2 Medjool dates on top of potatoes.
In a separate bowl, combine oil, salt, turmeric, cumin, paprika (Moroccan paprika works best), black pepper, and honey. Mix this spice paste and pour over potatoes, meat, and beans. Let the chamin cook for 10 minutes, absorbing all the flavors.
Then, add enough cold water to cover all of the food in the slow cooker.
Add raw eggs to slow cooker. I usually add 1 egg per person. Let it boil in your slow cooker until right before Shabbat. (I usually boil the chamin on high for a few hours, and then cook on low until it's ready to be served.)
Right before Shabbat, take a 1 gallon food storage bag and inside, put unpelted wheat (wheat with shells), 2 cups of water, 2-3 tablespoons of oil, some salt, cinnamon, and paprika to taste. Put the bag of wheat into the slow cooker, on top of the food, in the liquid of the chamin. (If you're nervous about chemicals from the plastic bag, use cooking bags for the wheat, but I use the cheap food storage bags as I find they work best).
Cover the slow cooker, and let it continue cooking until Shabbat morning. Your house will smell delicious the whole Shabbat! You won't be able to wait to taste this Schena!
FOR EXCLUSIVE CONTENT AND A PEEK BEHIND THE SCENES, MAKE SURE TO JOIN OUR WHATSAPP STATUS HERE.