It's simple, but all you need are these sweet potatoes as the star.
I really, really enjoy Japanese sweet potatoes, more than regular potatoes, sweet potatoes, or any other type. True, they're not in every grocery, but they're available in enough places (I can think of three places that I often shop at that carry them).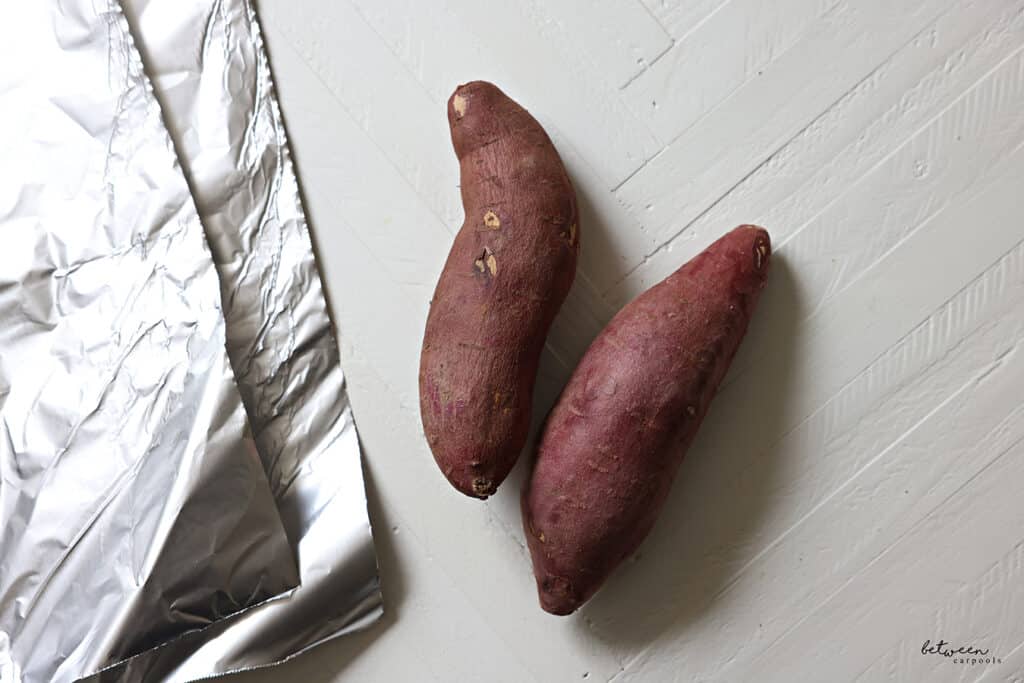 They don't stand out or look so different from the variety of other types of potatoes available.
The skin is purple-ish/red and the flesh inside is white (this is not the purple variety). You may have picked them up before if you ever made this Creamy White Soup.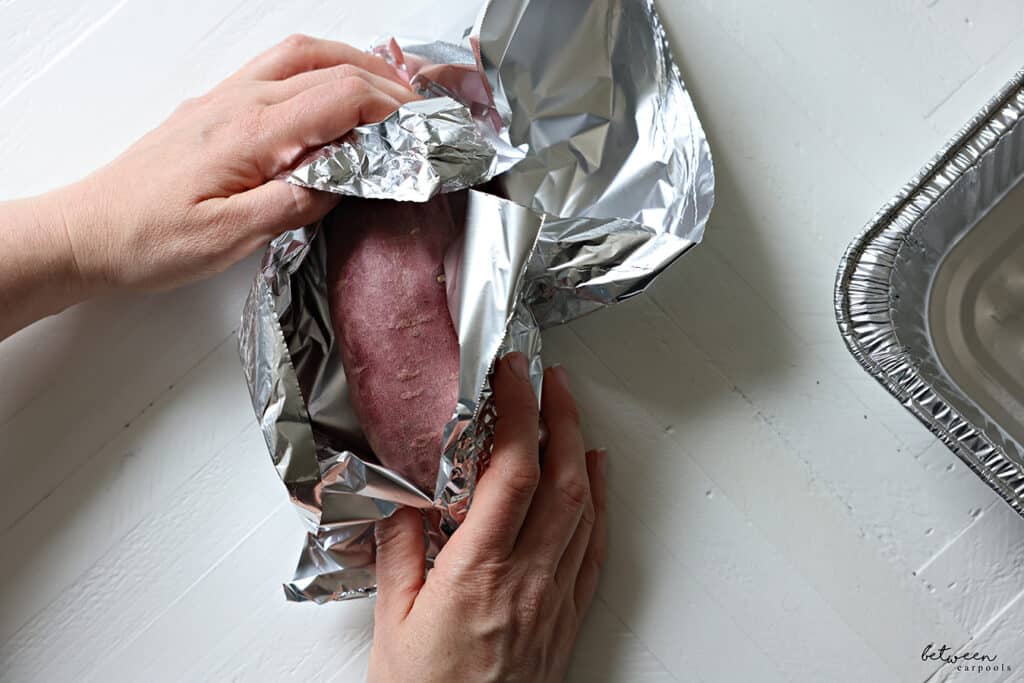 But you really need to know how to prepare them on their own. Because if you think you're going to peel and roast, like you do with every other potato, then you're not getting the best out of your Japs.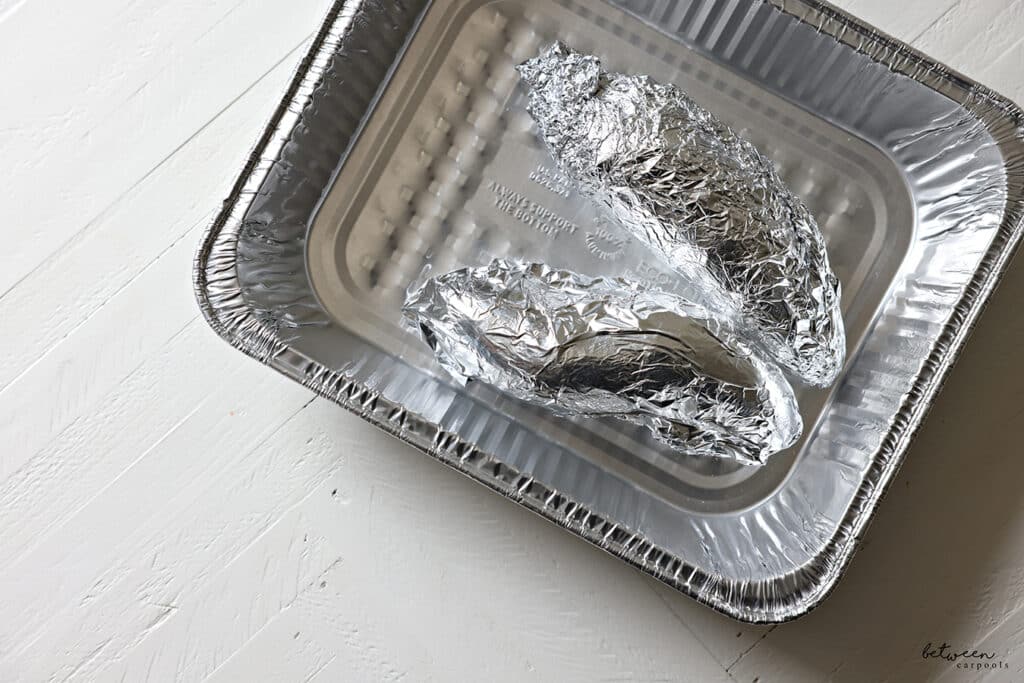 Japanese sweet potatoes are best when they're smooth and creamy. I don't like to rush them. Wrap them in foil and throw them into your oven with your slow-roasting meats on a Friday and serve them in your salad Friday night.
Or, prepare them on the other side of your kitchen and serve in a salad with feta or Parmesan, like in this salad. They're so good, you don't need many more ingredients. Good, fresh crunchy Romaine and a basic Caesar and you're good to go. They're like a "main dish" in a salad.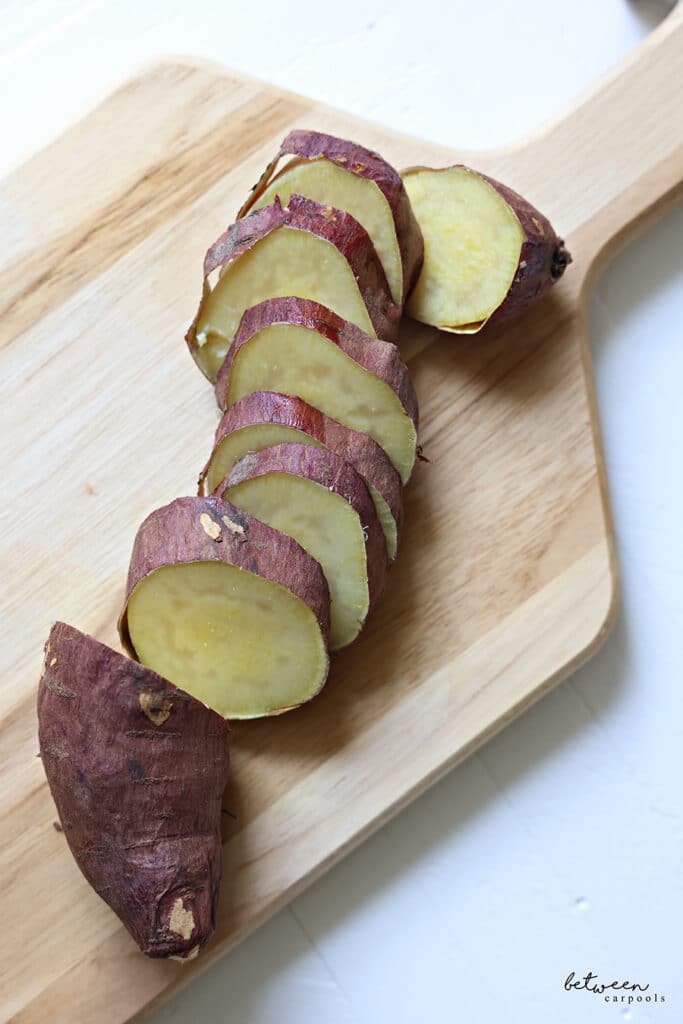 I like to choose the long, thin ones out of the bunch because they'll look much prettier when sliced.
How long to cook these potatoes? It really depends on the size–but this can be around 3 hours at 275°F for 3 hours. I like them when they're butter soft–not like a just-ripe avocado, but like the type of avocado you'd use for guacamole. Sure, you could speed them up by cooking at a higher temperature but I like them best when they're cooked low and slow.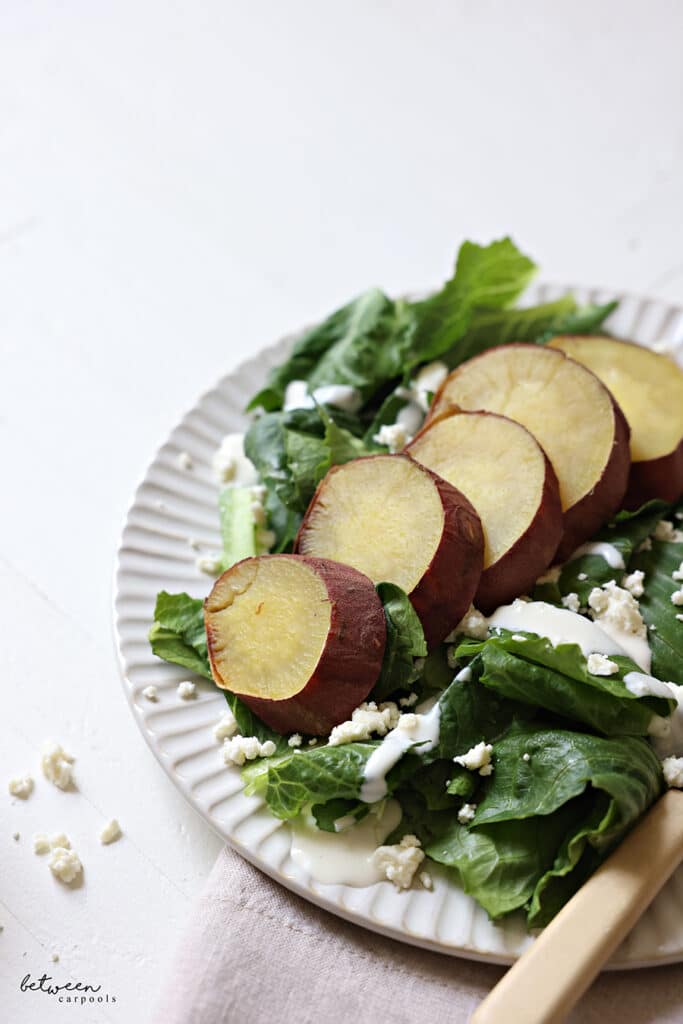 You can totally prepare them ahead of time and then just warm briefly or bring to room temperature. Keep them in the fridge for when you want to enjoy this salad.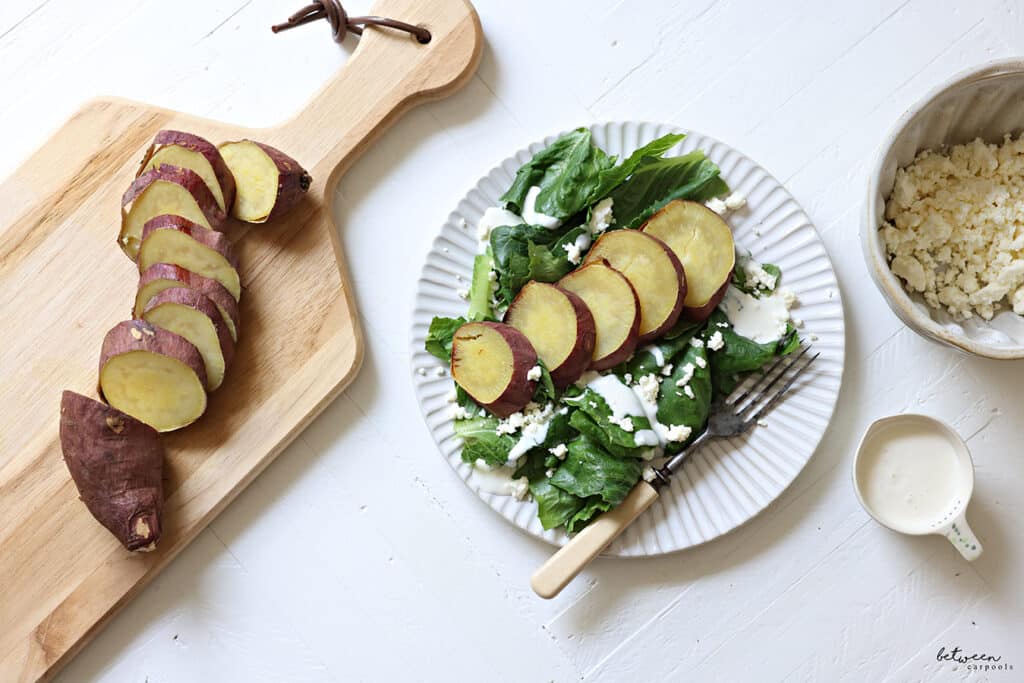 When serving a crowd, I like to serve this salad on a platter with a rim, rather than in a bowl, so I can arrange the sliced sweet potatoes on top of the bed of Romaine.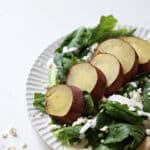 Print Recipe
Japanese Sweet Potato & Feta Salad
Ingredients
1-2

Japanese sweet potatoes

5

oz

chopped Romaine lettuce

2

oz

feta cheese,

finely diced or crumbled

caesar dressing
Instructions
Preheat oven to 275°F. Wrap sweet potatoes in foil and bake for 2-4 hours, until super soft. 

Add lettuce to a platter or individual dishes. Top with feta and sliced sweet potatoes. Dress and enjoy.
FOR EXCLUSIVE CONTENT AND A PEEK BEHIND THE SCENES, MAKE SURE TO JOIN OUR WHATSAPP STATUS HERE. JOIN OUR WHATSAPP GROUP AND WE'LL LET YOU KNOW WHEN A NEW POST IS UP!