These eggrolls can be made now and frozen…fry them fresh and they'll be your family's favorite appetizer this Yom Tov.
Last year, we tasted these eggrolls by chef Yudit Stock – and they immediately were added onto our list of recipes to get for you this year!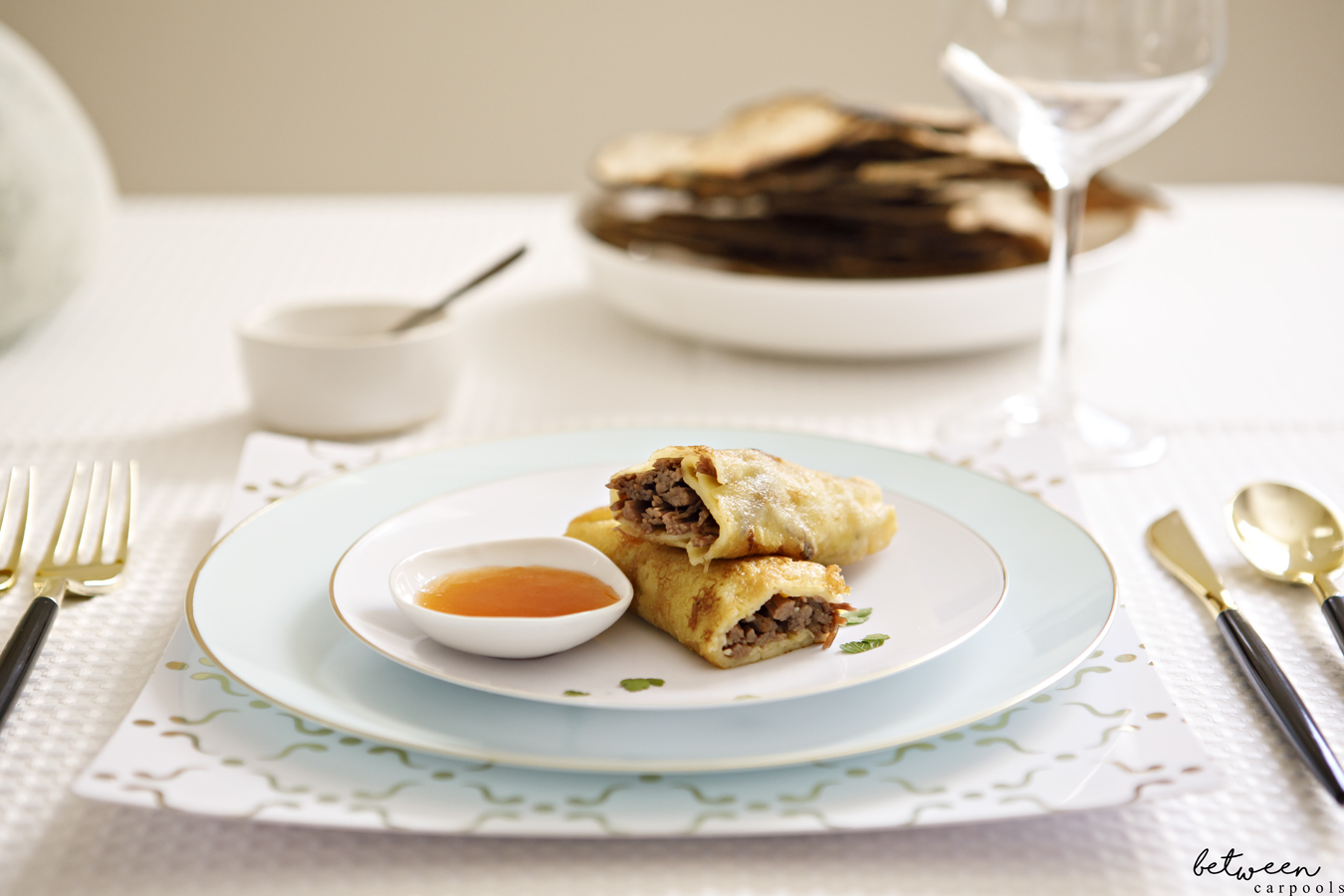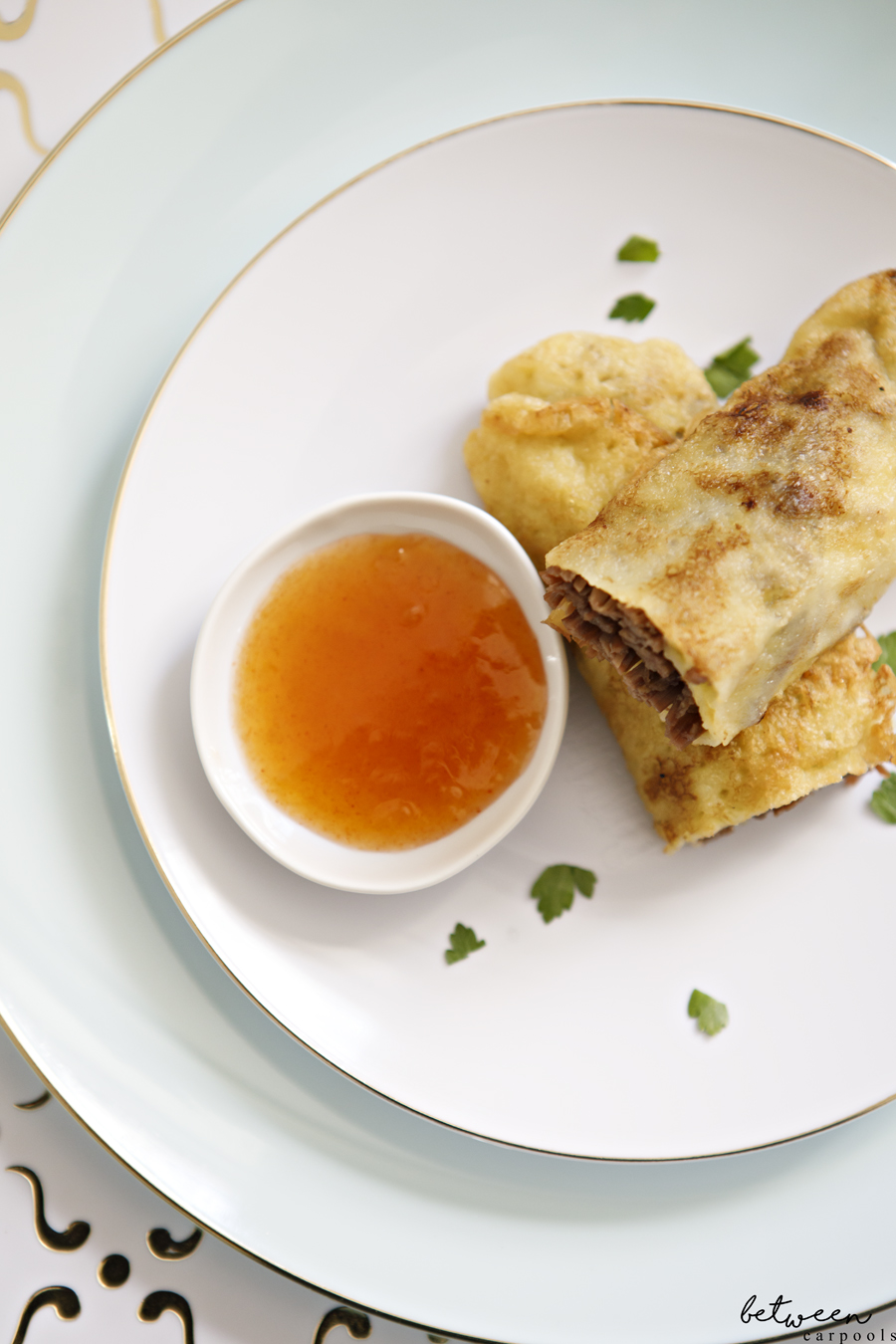 Don't use duck sauce or barbecue sauce on Pesach? You can either use this version of duck sauce that uses minimal ingredients, or make Yudit's quick version of barbecue sauce. She mixes a grated tomato with 1 cup sugar in a saucepan and cooks until she achieves a really thick paste, then mixes in 1 cup wine.
You can serve these eggrolls with duck sauce as a dip. Yudit likes to plate them with some finely diced mango. 
Want to know which dishes we used in these photos? Scroll to the bottom of the post.

Pulled Beef Eggrolls
Ingredients
Crepe:
1 cup potato starch
1 cup water
3 eggs
3 tablespoons oil
Pinch salt
Oil, for frying
Pulled Beef Filling:
1 4-5 pound 2nd cut brisket (pickled ok)
1 - 1 ½ cups white wine
Salt and pepper, for sprinkling
1 whole tomato
Fried caramelized onions
Duck sauce or barbecue sauce, as needed
Instructions
Prepare the filling. Place brisket in a roasting pan. Pour wine over brisket. Season with salt and pepper. Top with fried onions. Place a tomato next to the brisket. Cover well and bake for 4 hours (check at the 2 ½ - 3 hour mark to make sure there is enough liquid in the pan).
Remove from oven and let cool. Once still warm but cool enough to handle, pull the beef into shreds. Mix the beef with a little bit of duck sauce or barbecue sauce to coat.
Meanwhile, prepare the crepes. Combine all ingredients in a bowl. Using an immersion blender, blend all the ingredients until nice and smooth (Potato starch tends to sink through to the bottom, remix if it sinks).
Heat a large frying pan with about a tablespoon of oil. Spoon about ¼ cup of batter into the pan. Swirl the pan, aiming to get the batter to cover the entire surface of the pan.
Once the crepe sets (this will happen quickly, after about a minute or less), flip it over with the help of a spatula. Cook the other side for another half a minute or so. You don't want the crepes to be too done (read crispy). They still need to be soft enough to roll. Once done, place the crepe on a plate. When the next one is done, place it directly on top of the previous one. Continue frying crepes, like this, one by one.
To fill the crepes, place the pulled beef in a thin strip across almost the whole width of the crepe. Fold in the sides and roll up, egg-roll style. Crepes can be frozen at this point.
Heat about an inch of oil in a frying pan. Fry all crepes until crispy on both sides.
To see how to peel a tomato easily click here.
These are the dishes used in the photos (yes, all disposable).