From the teenage boys to the little kids too, everyone loves this not-too-spicy Sweet Buffalo Schnitzel Sandwich.
There's a few people to credit for this recipe. The first credit goes to my four-year-old. One night, when everyone was complaining about the dinner, that little girl had the most unique complaint. She was walking around and saying, in a cute whiny voice, "I want buff schnitz…Mommy, I want buff schnitz."
She had tasted a buffalo schnitzel sandwich from a local takeout one night (those of you who read 'Hello Cook' in Ami's Whisk might remember the night that a huge bee the size of a small bird flew into my kitchen and I couldn't cook) and she, surprisingly, loved it. So not her type. 
The truth is, all my boys liked the buffalo schnitzel sandwich from this particular restaurant the best because it's not really spicy but it's not overly sweet either. And the sauce that goes with the sandwich is liquidy, not thick. Everyone, four-year-old especially, wanted a homemade version. 
The second person to credit is Leah Schapira. I called her and tried to describe the sauce that came with the sandwich that my kids loved. We knew it wasn't the same as the hot sauce in the Hot Poppers from Dinner Done because it's not so spicy and since it's runnier, we knew it couldn't be honey-based.
"Is it sweet chili sauce with a bit of hot sauce?" I asked her. "No, that would work, but sweet chili sauce has pieces in it. There's another sauce I used to use before the days that sweet chili was easy to find and it's smooth with a similar flavor," she said.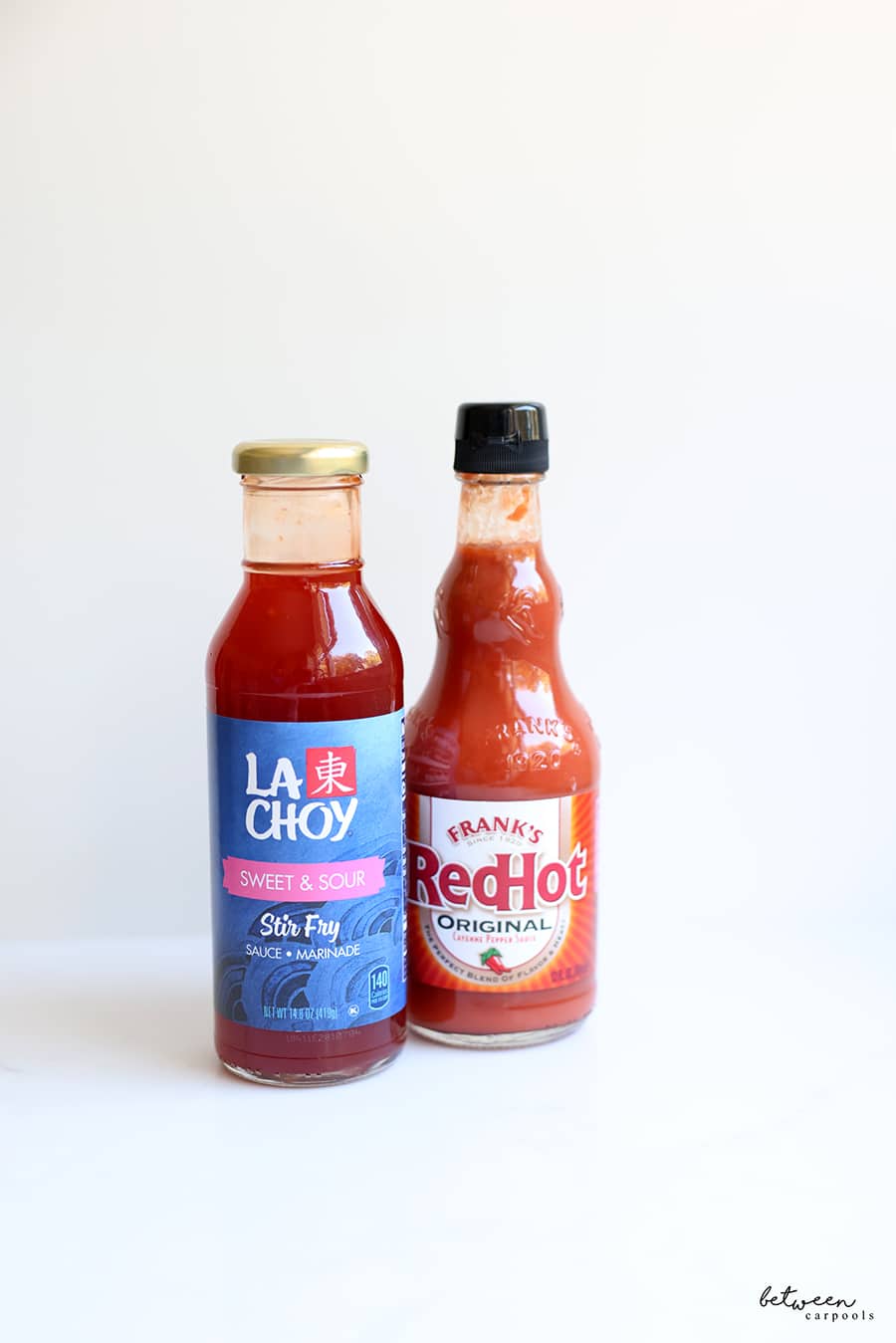 She showed me the sauce in the grocery and tested out the ratios of sauce-to-hot sauce that night.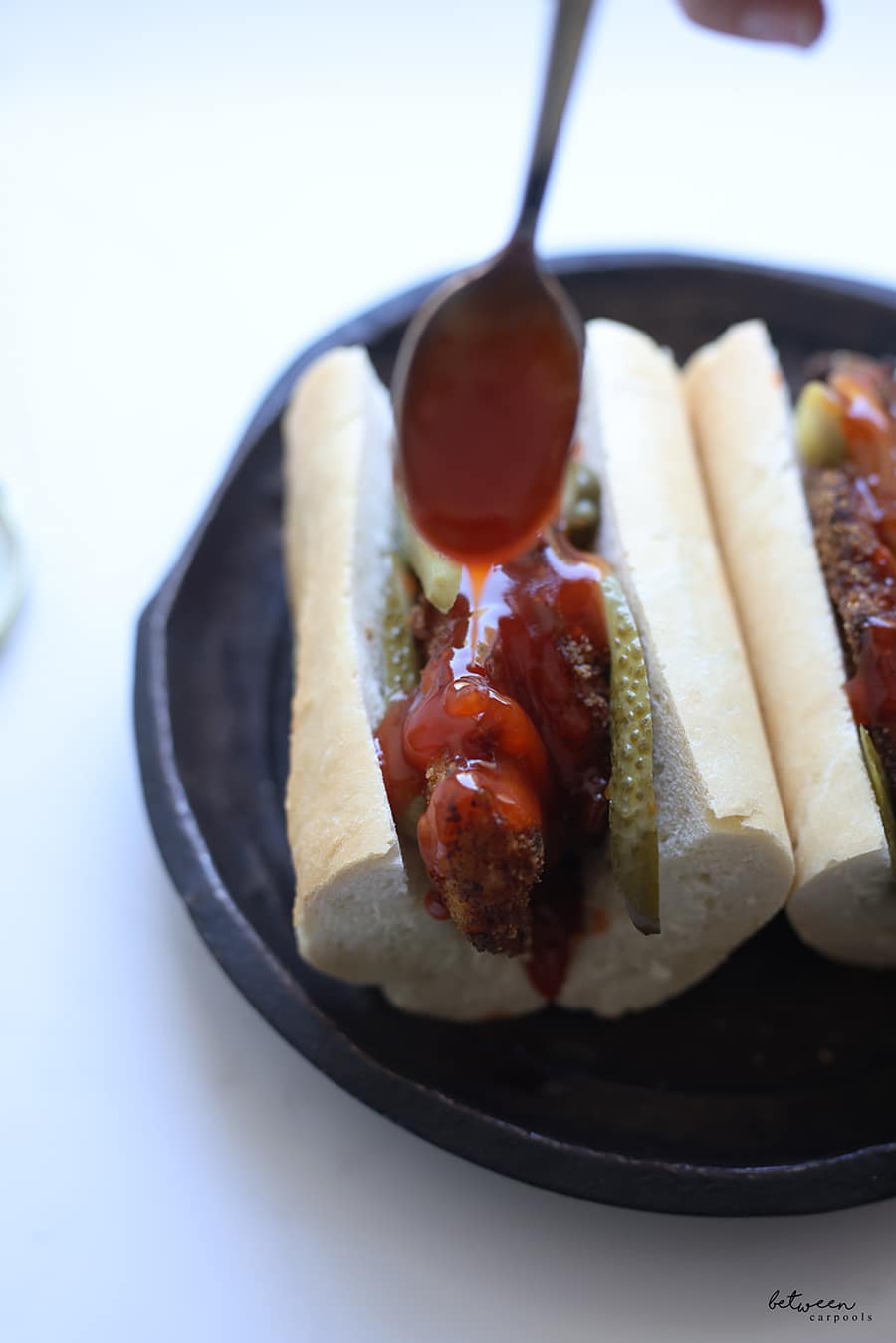 We had dinner. Sweet Buffalo Schnitzel Sandwiches is the simple kind of dinner that everyone loves because it reminds them of a takeout favorite. 
And, really, it's super simple. All you need is good, soft club bread, good pickles, schnitzel, and this not-spicy-with-just-a-little-kick hot sauce.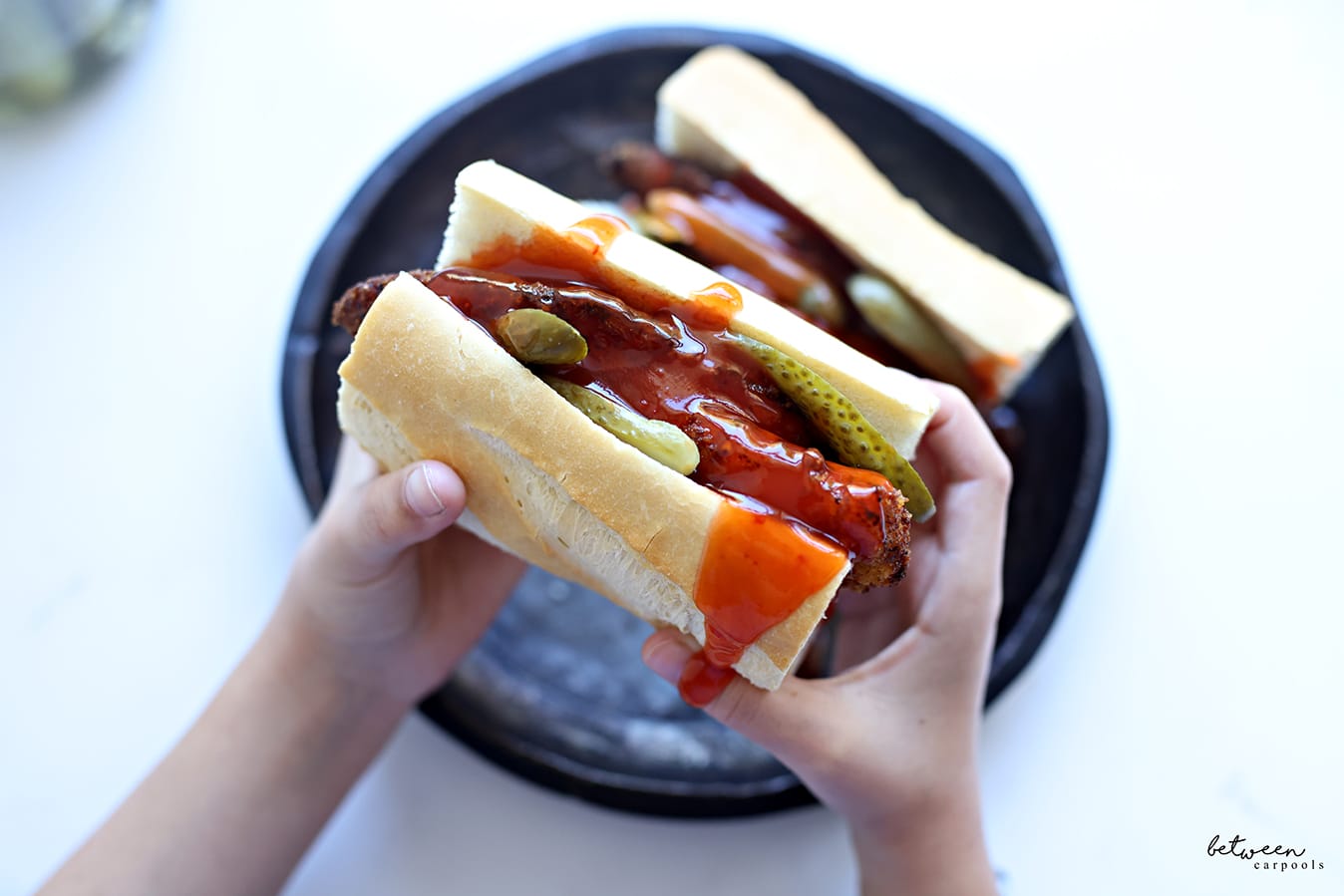 Being that Chanukah is coming up, and you're more likely to fry for dinner, this is a great option. If you want to make an healthier version too, I baked some of the schnitzel and served it on whole wheat bread with simply lettuce and dressing for some family members (i.e. adults). 

Sweet Buffalo Schnitzel Sandwiches
Ingredients
Chicken:
1 ½ - 2 lbs very thinly sliced chicken cutlets
2 eggs
2-3 tablespoons honey
2-3 tablespoons yellow mustard
¾ cup plain breadcrumbs
¾ cup flavored cornflake crumbs (Or any crumbs you like)
Oil, for frying
Sauce:
½ cup La Choy Sweet n' Sour Sauce
2 tablespoons Frank's Red Hot Sauce
For Assembly:
Good pickles, sliced
Good, soft club bread
Instructions
In a bowl, combine eggs, honey, and mustard. Add chicken cutlets and mix to coat completely.
Combine bread crumbs and cornflake crumbs in a shallow dish (or simply use panko crumbs if you prefer). Remove chicken from egg mixture and coat in crumbs. Repeat with remaining chicken.
Heat ¼ inch oil in a saute pan over medium-high heat. Add chicken and fry until coating is crisp and golden. Flip and repeat on other side. Drain on paper towels.
Prepare the sauce. Combine Sweet n' Sour Sauce and hot sauce.
Add schnitzel and pickles to club bread and drizzle with sauce.
FOR EXCLUSIVE CONTENT AND A PEEK BEHIND THE SCENES, MAKE SURE TO JOIN OUR WHATSAPP STATUS HERE.