Frying donuts happens only once a year, so they better be perfect. Avoid these 7 no-gos and they will be.
With Chanukah here a fryfest is impending !  Whether it's the hot oil or the cleanup, there's certainly some work involved with frying at home, but if it's the irresistible freshest doughnuts is what you're after, then making them at home — even if you only do it once a year — is worth the effort. To make frying doughnuts an experience you want to repeat, there are a few key mistakes to steer clear of to set yourself up for success.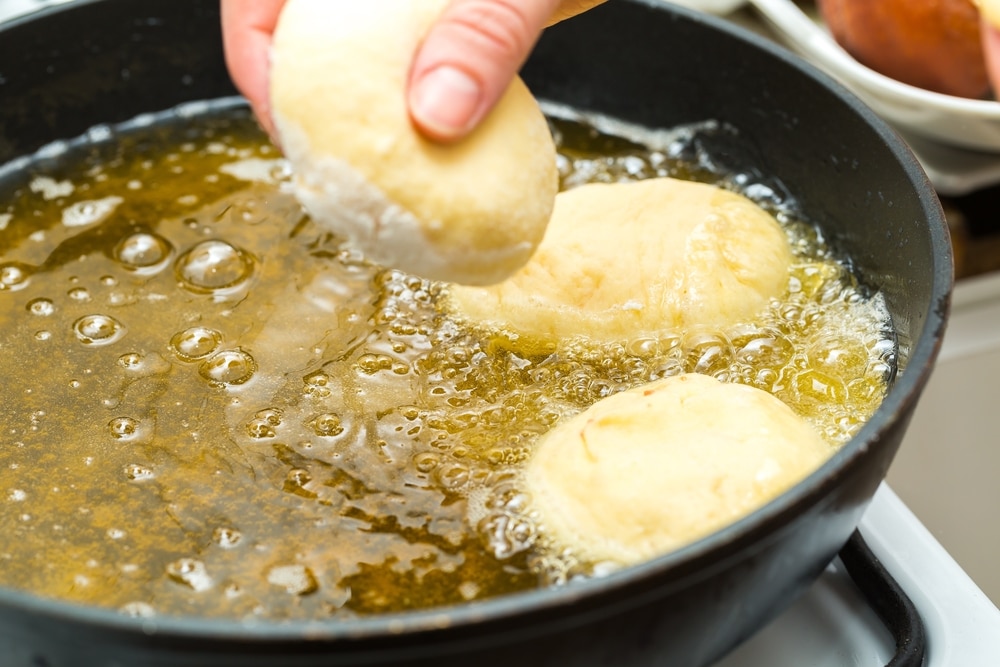 Using a too-small pot.
Hot oil from frying is the last thing you want all over your stovetop. Doughnuts will take up more space in your frying oil than you think, especially as they expand from the heat, so you want a pot that is deep enough to hold at least two quarts of oil, even if you're only frying with one. A pot that is wide rather than tall ( known as a Rondeau/Brazier ) is ideal ( especially for large batches of frying, you can save so much time), giving you space to fry a handful of doughnuts while leaving ample space between them to grow! Your next best option is a Dutch oven, it's great for frying doughnuts, as it easily holds a quart or more of oil with room for three to four doughnuts to fry at a time, plus its dense material holds heat well, making for a more even oil temperature while frying.
Not using a thermometer.
Taking a gamble on perfectly cooked chicken is a whole lot more forgiving than gambling on perfect hot oil temperature. As much as you think you can figure it out, you can't (unless there is some magic superpower I should know more about….) – neither can I! A candy thermometer is a relatively cheap and inexpensive item that can be found at your local kitchen and gadget store. Most candy thermometers have a convenient clip to hook onto the side of the pot to measure the oil temperature while frying. Buy one that has easy-to-read temperature markings, and avoid washing it in the dishwasher to prolong its usability.
A candy thermometer is different from a meat thermometer aside from its appearance.  The main difference between the two is that a candy thermometer can measure temperatures up to 400⁰F. While a meat thermometer can only measure temperatures up to 220⁰F. Oil temperature for frying needs to be at a minimum of 350⁰F.
Frying too many doughnuts at one time
Oh, it's tempting to fry all your doughnuts in one batch- but don't! Doughnuts (and any deep-fried foods) need ample space between them to expand and cook evenly. Cramming to many doughnuts in a pot is a disaster waiting to happen- the oil temperatures will drop drastically – oil that's not hot enough causes the doughnuts to soak up excessive amounts of oil leaving you with heavy limp results. For a doughnut that produces a crispy exterior, with a soft pillowy interior be sure to leave ample space between them to cook evenly.   
Frying at a too-low or too-high temperature.
Doughnuts need just the right temperature to fry to golden-brown perfection without being greasy on the outside or doughy, and raw on the inside. Oil temperatures for deep frying should be in the range of 350-375⁰F. I like to say 365⁰F is the ideal temperature for the oil before placing food in the fryer (and will drop to 360/355⁰F  once the doughnuts go in the pot). Many fearful fryers set the oil temperature too low to avoid burning the oil/doughnuts. Frying at too low of a temperature will have the doughnuts absorb oil instead of cooking it the result is greasy, soggy, doughnuts. Contrarily, allowing the temperature to rise too high will have your doughnuts cook too quickly–the outside burning before the inside is cooked through.
Not adjusting the oil's temperature while you fry.
The temperature of fry oil will fluctuate as you fry. When you add the first batch of doughnuts, you'll probably need to boost the stove's heat to maintain the correct frying temperature. Anytime the oil sits without doughnuts in it, the temperature will rise too. Lowering and hiring the temperatures accordingly is crucial. Keep a close eye on the temperature after adding a new batch of doughnuts and give the heat a small boost as needed. Work quickly to avoid an empty pot overheating while waiting for more doughnuts to fry. Be sure to check the temperature before adding a new batch to make sure you're frying at the right temperature.
Watch the oil's temperature carefully as you fry and adjust the heat as needed to maintain a temperature between 350°F and 365°F. It's better to add doughnuts to slightly hotter-than-desired oil, as the dough will bring the oil temperature down a few degrees, than to too-cool oil.
Avoid adjusting the heat radically to raise the heat temperatures quickly, the temperatures will continue to rise rapidly once you reached your desired temperatures since a lot of heat was exposed. The best way to adjust heat levels is through small adjustments.    
Flipping your doughnuts too many times
We like things to get done, and get done fast! Flipping your doughnuts back and forth lots of times won't make them ready any faster, only hinder them. Flipping the doughnuts back and forth franticly causes the temperatures to drop unnecessarily, and not allowing the doughnuts enough time to cook evenly and develop a golden-brown crust. Doughnuts fry for about a minute on each side. Don't walk away from the pot mid-fry!
Not draining your doughnuts properly.
The secret to crispier doughnuts is a double drain before cooling and coating. Drain the doughnuts over the pot of fry oil for at least 10 seconds (a gentle shake will force oil off the doughnuts) with a slotted spoon. Then move the drained doughnuts to a wire cooling rack so that they aren't sitting in a pool of their own oil before filling and glazing.
For my sufganiyot recipe click here!