Do you love dairy salads with exciting ingredients? We do too. This one, with the addition of quinoa, is filling and so delicious too.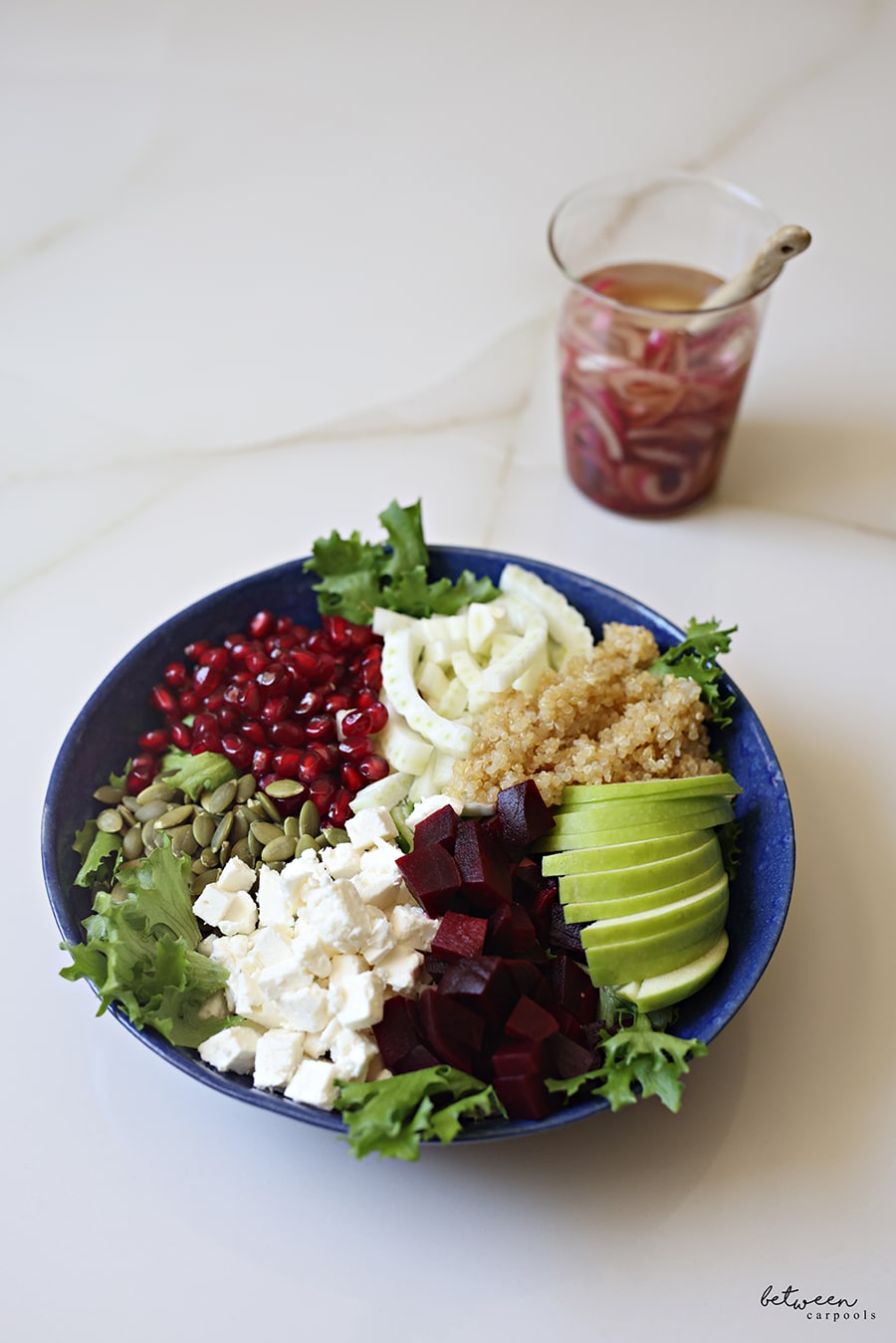 This salad just hits the spot. The quinoa makes it filling, the asian pear or apple adds that burst of freshness and the fennel just…works. Oh, and feta in salads is always a winner.

Beet, Fennel and Asian Pear Salad
Ingredients
For the salad:
Romaine or any lettuce of your choice
1 cup cubed roasted beets (the pre cooked vacuum-packed ones are great here)
1 cup fennel (or celery, if fennel isn't your thing), thinly sliced
1 Asian pear (or granny smith apple), cut into small pieces
¾ cup cooked quinoa
½ cup toasted pumpkin seeds
½ cup crumbled feta cheese
½ cup pomegranate seeds
Balsamic Vinaigrette with steeped onions:
3 tablespoons red wine vinegar
1 tablespoon balsamic vinegar
2 tablespoons maple syrup
⅓ cup olive oil
1 small red onion cut into super thin strips
Salt and pepper to taste
Instructions
Prepare the dressing. Combine vinegars, maple syrup, salt and pepper. Drizzle in olive oil while whisking. Pour over sliced red onions. Let sit for at least a half hour to let onions marinate.
Combine all salad ingredients. Top with dressing and toss before serving.
FOR EXCLUSIVE CONTENT AND A PEEK BEHIND THE SCENES, MAKE SURE TO JOIN OUR WHATSAPP STATUS HERE.