It's easy, everyone loves it, and it's so easy to prep ahead. Enjoy these Apple Crumble Sundaes.
My menu might change year to year on every Yom Tov. On Rosh Hashanah, though, this always makes it to the dessert menu. Apple crumble sundaes appeal to everyone (the kids might leave out the fruit on their sundae) and I don't have to make each component at the same time. The ice cream is store-bought; the crunch can be made at any time and kept in an airtight container. The apples/pears and caramel can also be made in advance. Simply refrigerate after prepping and warm before serving.
Although many might prefer enjoying this in individual servings, my family likes when I serve it family-style. I layer the apples, scoops of ice cream, and crunch in one big platter and then drizzle the whole dish with caramel. The large serving dish makes a big impression when it's carried to the table.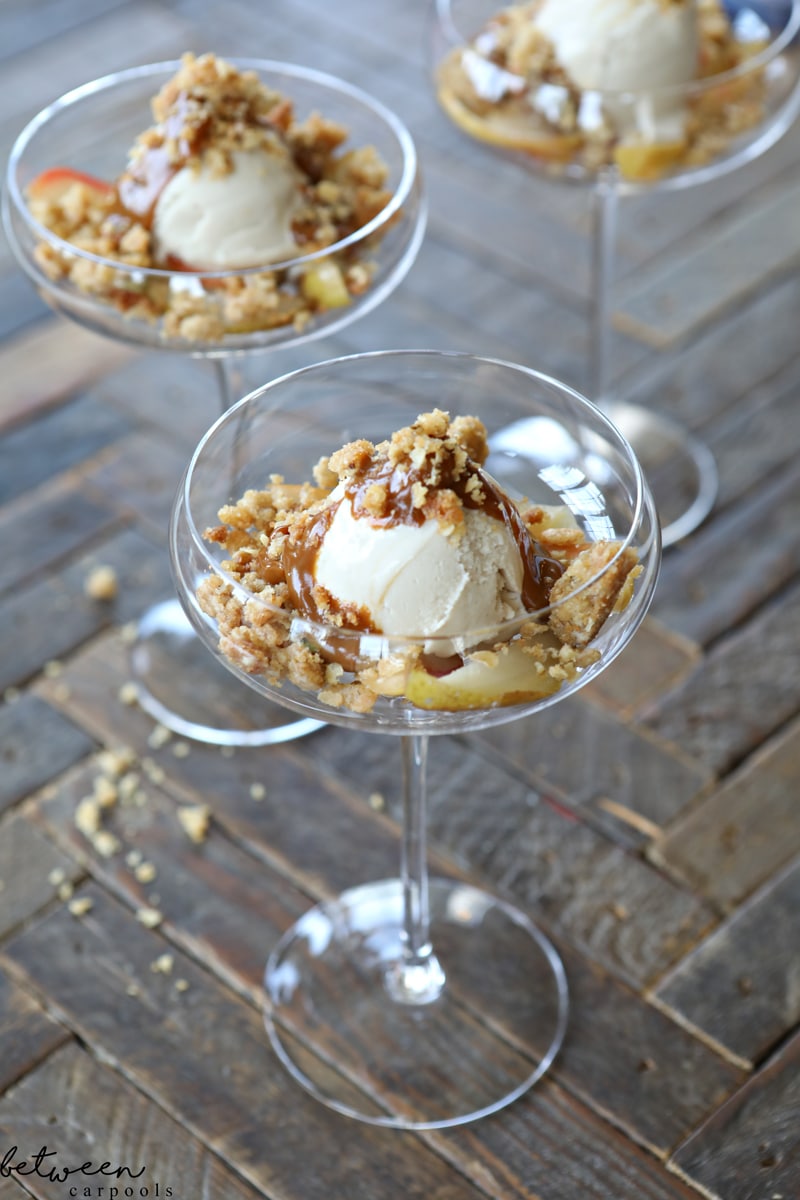 Apple Crumble Sundaes
Serves:
serves 6 (plus extra crunch)
Ingredients
Apple Base:
3 apples, peeled and sliced
3 pears, peeled and sliced
½ cup sugar
2 tablespoons lemon juice
Oat Crumble:
½ cup (1 stick) margarine, at room temperature
½ cup brown sugar
1 cup Rice Krispies
¾ cup oats
¾ cup flour
Caramel (or use store-bought):
1 cup sugar
¼ cup water
1 tablespoon corn syrup
½ cup heavy cream or non-dairy creamer
1 teaspoon vanilla extract
pinch salt
Ice Cream:
1 (16-ounce) container vanilla ice cream (dairy or pareve)
Instructions
In a saute over medium heat, combine apples, pears, sugar, and lemon juice. Cook, stirring occasionally, until fruit is soft and golden, about 20 minutes. Set aside.
Prepare the crumble. Preheat oven to 350°F. In medium bowl, combine brown sugar, Rice Krispies, oats, and flour. Using your hands, knead to combine until coarse crumbs form. Transfer mixture to a greased baking sheet and bake for 15 minutes. Let cool. Crumble and store in an airtight container until ready to use.
Prepare the caramel. Combine sugar, water, and corn syrup (optional) in a medium saucepan. Bring to a boil and boil until the mixture is that perfect, golden caramel color. This is the most crucial part: it'll be deeply golden right after it passes that pale amber color, but don't wait too long or it'll burn. You can swirl the pan as it boils if necessary, but don't stir.
Reduce heat to low and pour in cream very slowly and carefully, whisking to combine. Add salt and vanilla, if using. Let mixture boil for 1-2 more minutes to thicken.
To assemble apple sundae, layer warm apples in the bottom of a dessert glass, add the crunch and a scoop of vanilla ice cream. Drizzle caramel sauce on top of the ice cream. (or serve family-style).
When it's not Rosh Hashanah (or if your custom allows), you can substitute any chopped nuts for the Rice Krispies. Extra crunch left over? Use it as an ice cream topping.
Note for 2023: I recently used the Nut-Free Granola instead of the crunch above. The ingredients are basically the same (I added a little more honey and oil), but I liked the extra crunch of the granola version!