Yes, it's mostly Syrian stuff that might not be in your freezer. 
A second freezer is something that almost every Syrian bride gets soon after marriage. That's because most of the Syrian staples aren't only freezer-friendly, but they need to be made in advance and frozen. They're way too time-consuming to make on a Friday. So, most my freezer staples might not be relevant to most of you, but hey, it's what I freeze. Having a stocked freezer is the difference between a standard Shabbat prep (without company) taking 45 minutes or all day. 
Mazzeh and Syrian staples.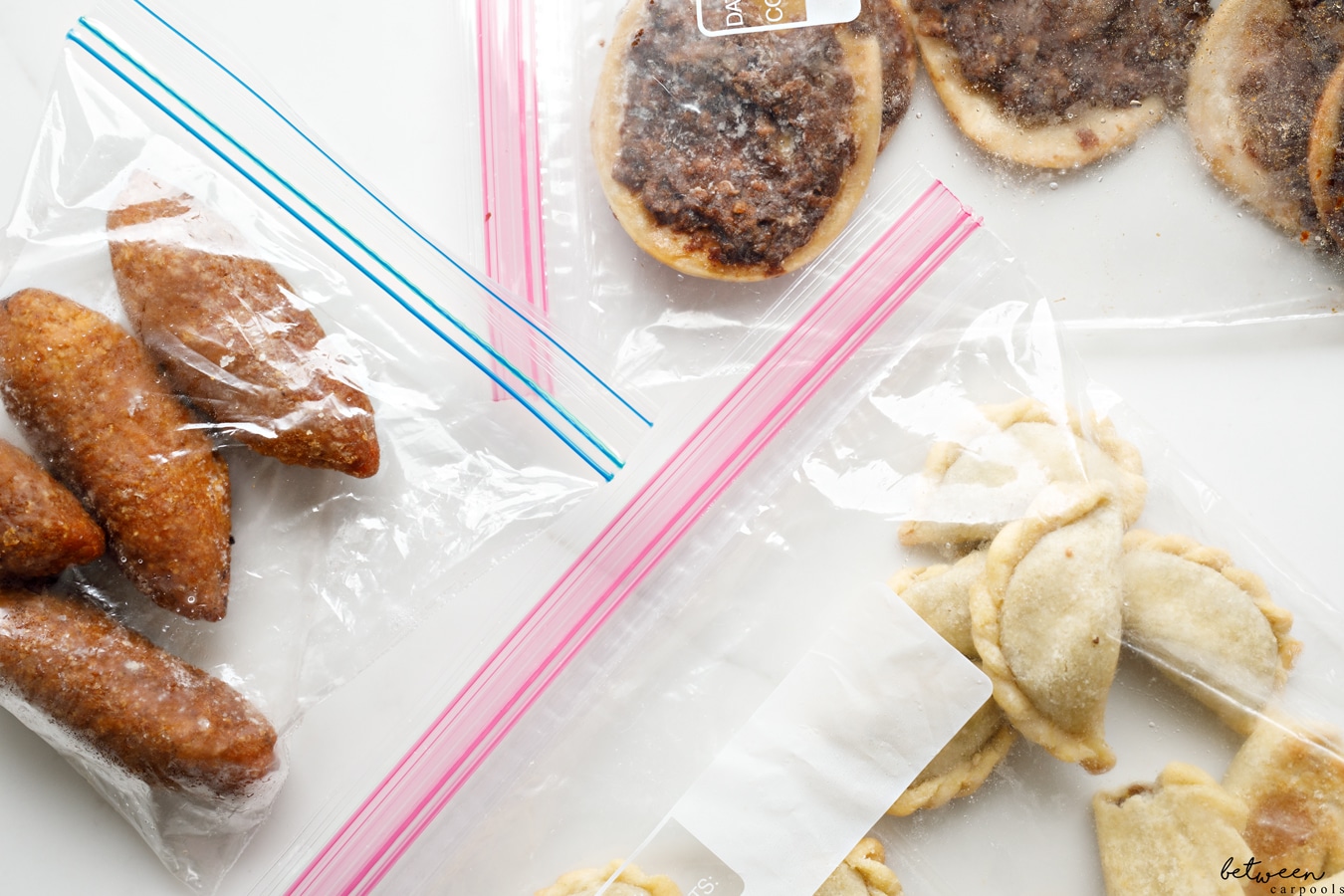 There's always lots of mazzeh in my freezer. On any given week, I might have kibbe, lehme b'agine (click here for the recipe and info on how I prep ahead), sambousak (meat and/or dairy versions), baby hot dogs (franks n' blanks), and knishes (I don't know how the mini hot dogs and knishes came to be included in the mazzeh category, but they're finger food, so they are) in my freezer. I keep them in Ziploc bags, this way, I can just plop them on top of the Crock-Pot on Shabbat morning and they warm up beautifully, staying soft and never getting dried out (mazzeh on a blech is a baaaaad idea).  I also always have a nice supply of yebra (stuffed grape leaves) in the freezer too. Just add to the pan, pour on the sauce, cover, and bake. 
Pulled Beef.
When I prepare pulled beef, I make a big supply. Whenever I buy a roast to pull, it yields enough for several meals. I use either this recipe for pulled beef, using a brick/French roast cut into chunks. If I've made a regular roast and I have leftover, I'll cover it with water, cover the pan, and bake it at 250F until it's really soft and pulls apart easily, then mix it with K.C. Masterpiece Barbecue Sauce. Either way, I always have lots of pulled beef in my freezer and it lasts a really long time. It's easy to thaw just the amount I need for that week, depending on the size of the crowd (just pop it back in the freezer when enough have thawed off the top of the container).
Taco Shells.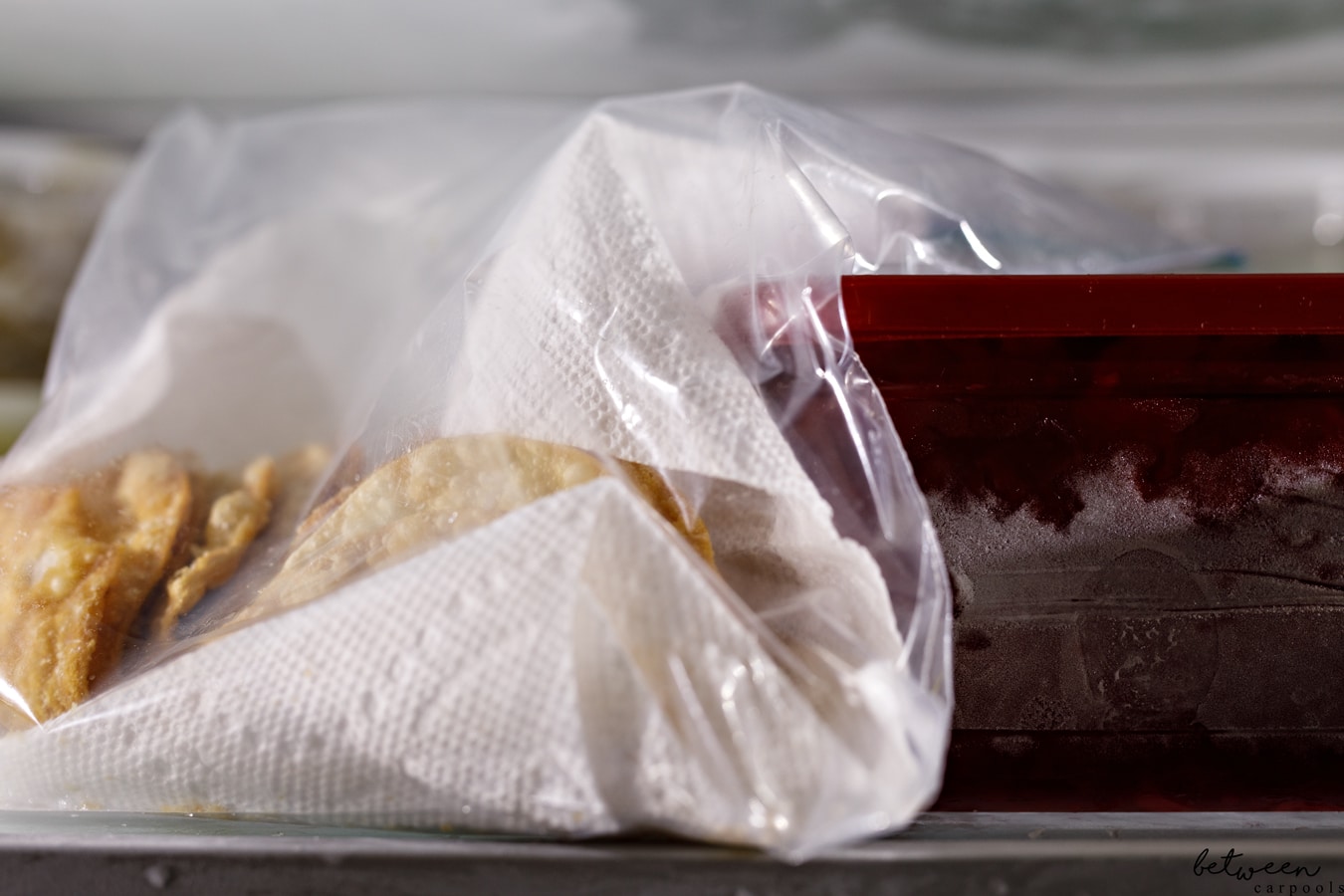 I usually fry a whole pack of wonton wrappers at a time and keep them in the freezer, taking out what I need each time I'm serving the pulled beef tacos. See this post for instructions.
Whole Wheat Challah Rolls.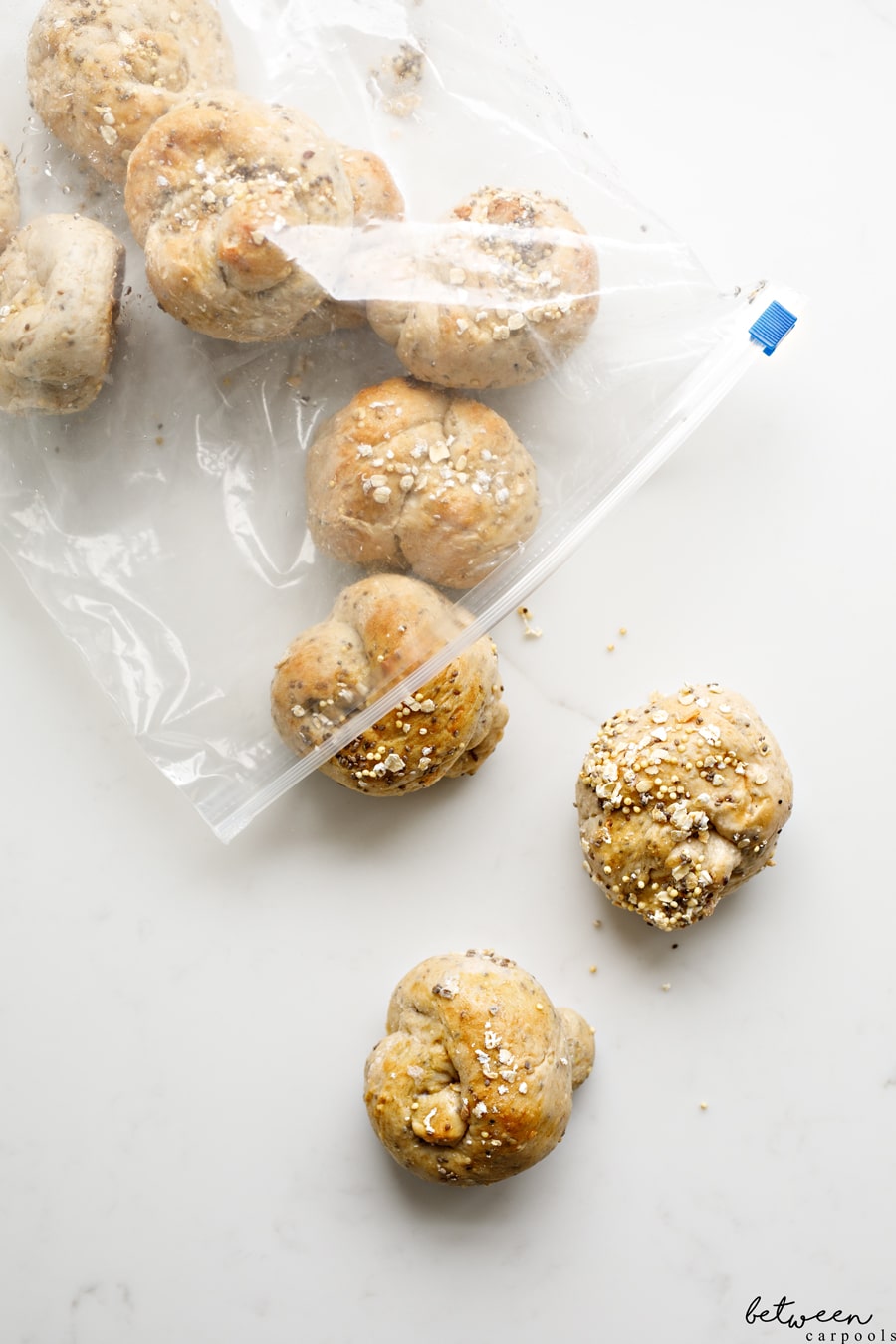 We absolutely love the 5 Grain Challah that Renee Muller posted here. But, there's not usually enough people who prefer whole wheat to take out a whole challah. So, I make rolls that are between 2 and 2.5 ounces, and I can take out a bunch for every Shabbos meal and the whole wheat people are always thrilled. I love having rolls because then I can also enjoy them for seudah shelishit and they're still whole and good to use for lechem mishneh.