You will have your family raving about this 5 grain challah. Guaranteed.
Move over whole wheat challah. There's a new kid on the block. And this one is a 5 grain challah that has seeds, grains, and all kinds of organic stuff that will even make you feel good about finishing that 5th piece of crust you stole from the kid sitting next to you when he wasn't looking.
Ok. That was a long sentence. But you and I both know what I am talking about, and if you don't  know what I am talking about, then wait until you have children who don't eat crusts. (Yeah, like, the best part! Left behind! Amateurs.)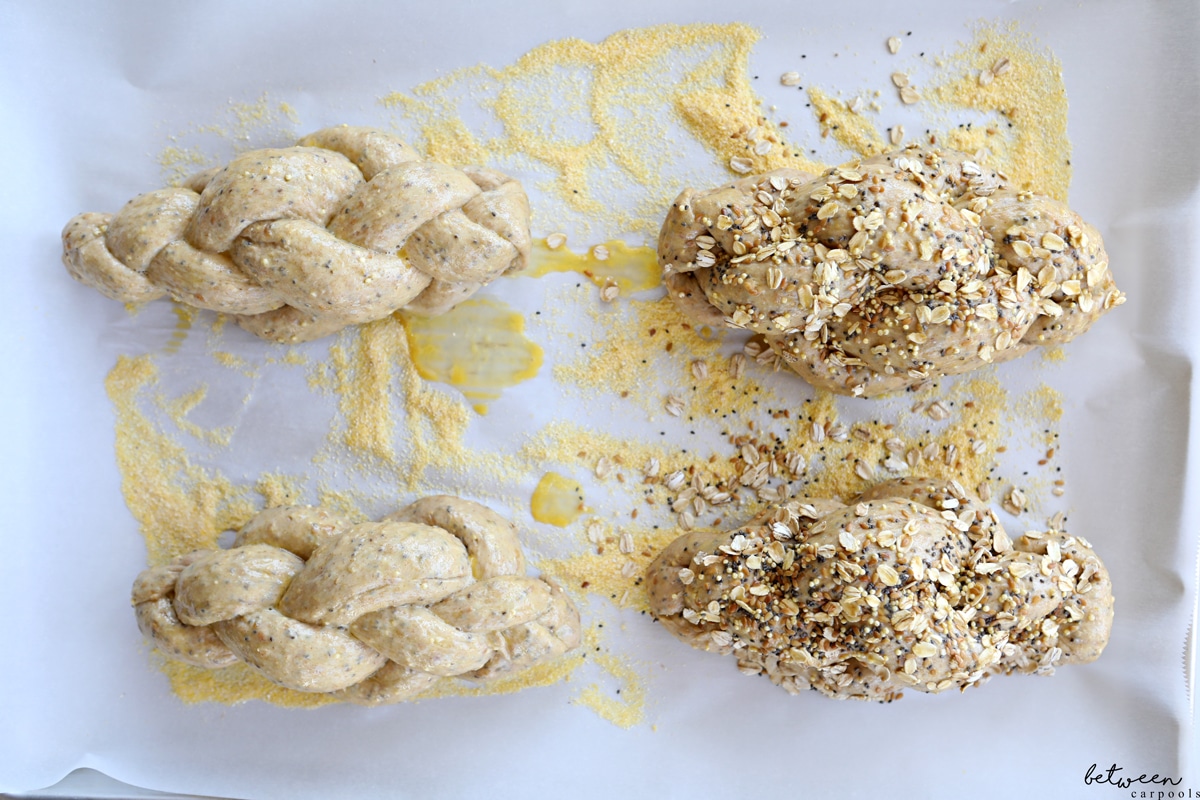 Challah is EVERYTHING. Sitting at the table on a Friday night, hungry and tired, after a long week, we begin our Shabbos meal with the challah. It's comforting, filling, warm and so spiritual. It's the food that feeds our souls.
Make it a good-for-you 5 grain kind and your week will be complete. This isn't just any whole wheat recipe, because this whole wheat has seeds and grains throughout the dough that make you feel like you are eating something so right and so perfect for you…and so tasty! It feels like bread was meant to be this way.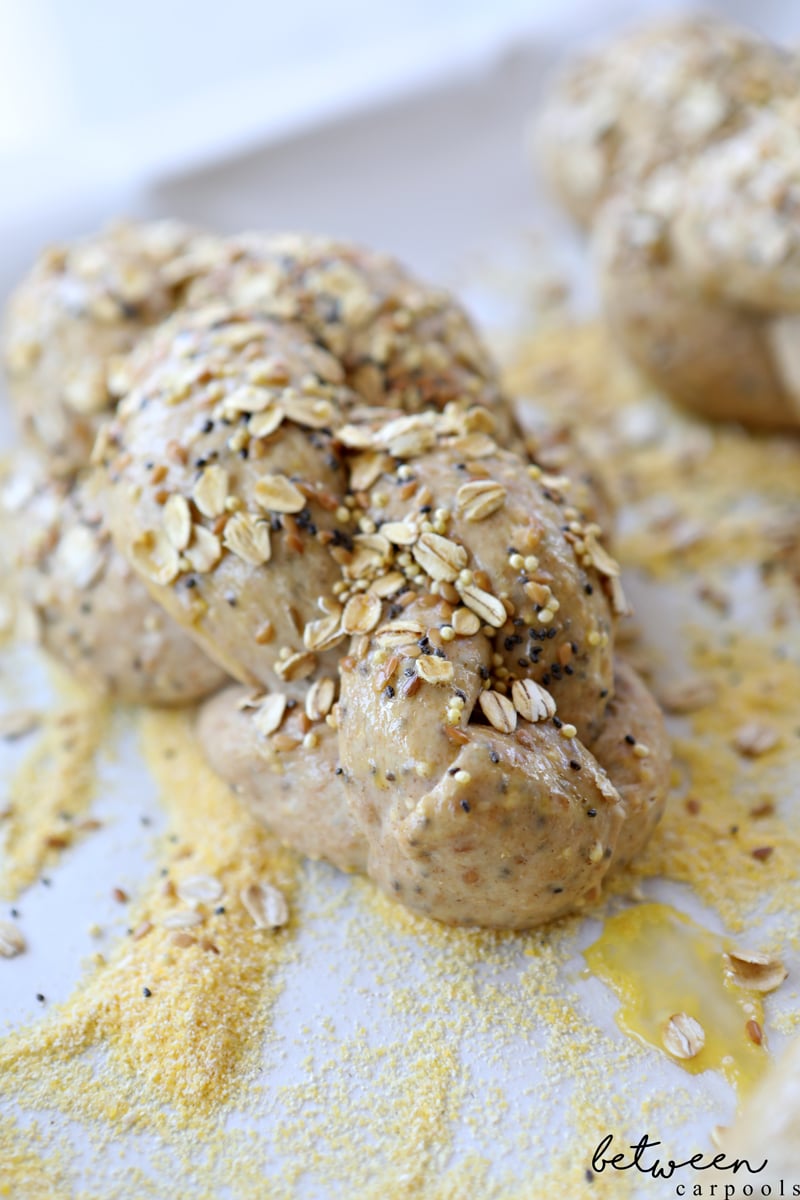 5 Grain Challah
Ingredients
3 ½ tablespoons dry yeast
3 tablespoons sugar
1 cup seltzer
1 cup water
9 cups of 5 grain blend flour
4 ½ -5 cups whole wheat flour (you will decide while mixing if you need that last ½ cup of flour)
½ cup old fashioned oats
½ cup chia seeds
½ cup millet
½ cup golden flax seeds
4 tablespoons kosher salt
3 eggs
½ cup oil
¾ cup honey
4 cups of seltzer
Egg, for egg wash
Toppings we used: everything bagel topping, old fashioned oats, and Maldon sea salt
Instructions
Place yeast, sugar, seltzer, and water in the bowl of your Bosch (or in a large bowl if you are mixing by hand).
In a separate bowl, combine 5 grain flour, whole wheat flour (except for that last ½ cup), oats, chia seeds, millet, and flax seeds.
One the yeast has bubbled and grown a bit, mix in the flour mixture. Add salt, eggs, oil, honey, and last 4 cups seltzer. Mix dough for a good 8-9 minutes, until all combined and elastic. Add ½ cup of flour if dough is too wet. Dough should be a bit stickier than regular white challah dough but it shouldn't be so sticky that it is difficult to remove from Bosch.
Transfer to a bowl that has been well greased and generously grease the top of the dough as well. Cover and let rise in a warm place for 1 hour.
Take challah. Let rise for another hour before braiding braid.
Once braided you can let the challos rise for another 30 minutes. Meanwhile preheat the oven to 375ºF.
Brush challos with egg wash (read here for more information on the topic) and top with whichever topping your family will enjoy (see above for some ideas).
Bake for 15 minutes, then lower oven temperature to 350ºF and bake for another 20- 25 minutes or until golden.