And guess what? This family-friendly crispy beef is also freezer-friendly!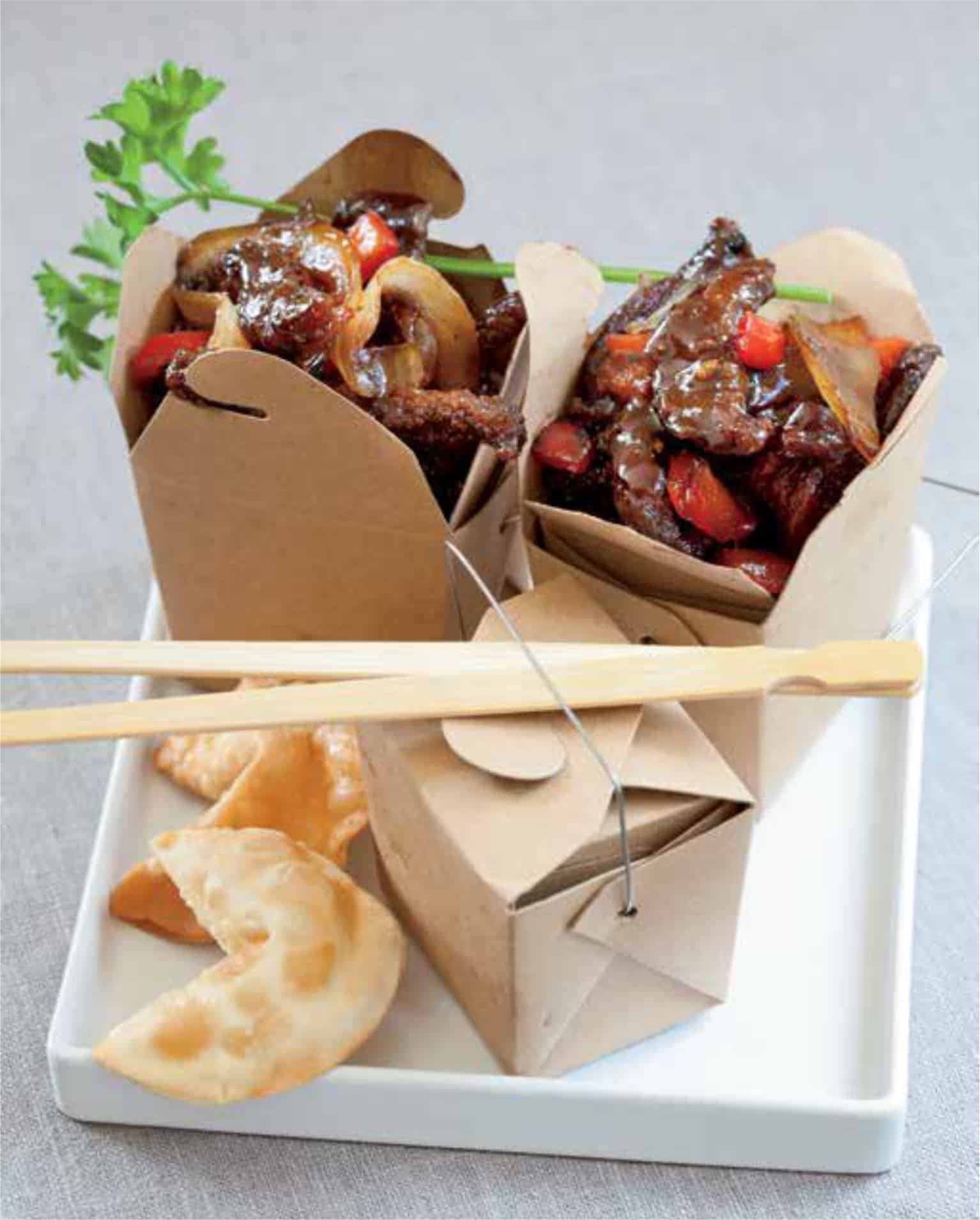 While researching for Starters & Sides Made Easy, we asked lots of people what types of appetizers they love. We had lots of requests for crispy beef, which is thin strips of beef tossed with a sauce and is popular in American Chinese restaurants. Letting the beef sit in a cornstarch mixture is part of the "velveting" process that Chinese restaurants use to tenderize meat.  We tested and tweaked, and with some tips from a Chinese takeout owner, here it is. And though it's an "appetizer" in our cookbook, it's a great main dish too! 
See notes below on how to make this ahead!

Crispy Beef
Ingredients
1¼ pounds shoulder steak, London broil, or skirt steak, cut into thin slices
¼ cup plus 1-2 tablespoons cornstarch, divided
1 teaspoon salt
Pinch coarse black pepper
1 onion, cut into thin strips
2 garlic cloves, crushed
½ red pepper, diced
Sauce:
¼ cup soy sauce
2 tablespoons rice vinegar
11/2 tablespoons honey
4 tablespoons brown sugar
½ teaspoon chili powder (or up to 1 teaspoon if you like spicer)
1 ½ teaspoons cornstarch dissolved in ¼ cup water
Instructions
In a medium bowl, combine meat, ¼ cup cornstarch, salt, and pepper. Let sit 30 minutes.
Heat oil in a sauté pan over medium-high heat. Right before frying, toss meat with an additional 1-2 tablespoons cornstarch. Add meat and fry until cooked through, about 2 minutes per side. Remove meat from pan and set aside.
Prepare the sauce: In a small bowl, whisk together soy sauce, rice vinegar, honey, brown sugar, chili powder, and dissolved cornstarch. Set aside.
Pour out most of the oil from the sauté pan, leaving only 1 tablespoon. Heat pan over medium heat. Add onion, garlic, and red pepper to pan and sauté until onion is beginning to soften but still crunchy, about 5 minutes. Add in sauce and beef and cook an additional 2 minutes, until warmed through.
How to Make Ahead:
To Make Earlier in the Day: If you fry the beef early in the day, toss and heat it with the sauce when ready to serve. 
To Make Really Ahead: You can freeze this completely! Just double your sauce so there's plenty of liquid to rewarm the entire dish in a covered baking pan. NOTE: The meat will be tender, not crispy.