Does the type of egg wash you use really make a difference? Can you use just leftover egg white or do you need to crack open a new egg? We took the task to heart, and tested 9 different ways you can top your challah.
This post is part of a "Shabbos Potluck," where lots of popular kosher bloggers are sharing Shabbos recipes along with some thoughts on, "What does Shabbos mean to us?" Well, since there's five girls behind Between Carpools, it's possible that we'd give five different answers. But there's still lots to agree on…and the first thing we'd say is that there's a certain thrill upon waking up on Friday morning, knowing that today will be devoted to preparing for Shabbos. As it gets closer, it's more exciting. Here's a day where we get to get rid of all the "stuff" we need to deal with and everyday life, peel it all away, and devote ourselves to everything that's really meaningful. Whether that's bonding with our spouse and kids around the table, davening without worrying about running late to carpool (of course, that needs to always get in there), and perhaps reading and getting inspired by a real book instead of a screen. How happy do you feel when you wake up Shabbos morning, think for a second what day it is, and then remember…it's Shabbos?
And, of course, good food is very important part of oneg Shabbos, so we're happy to take part in today's Shabbos Potluck. So we're showing you different ways to glaze your challah. Read on for some great tips!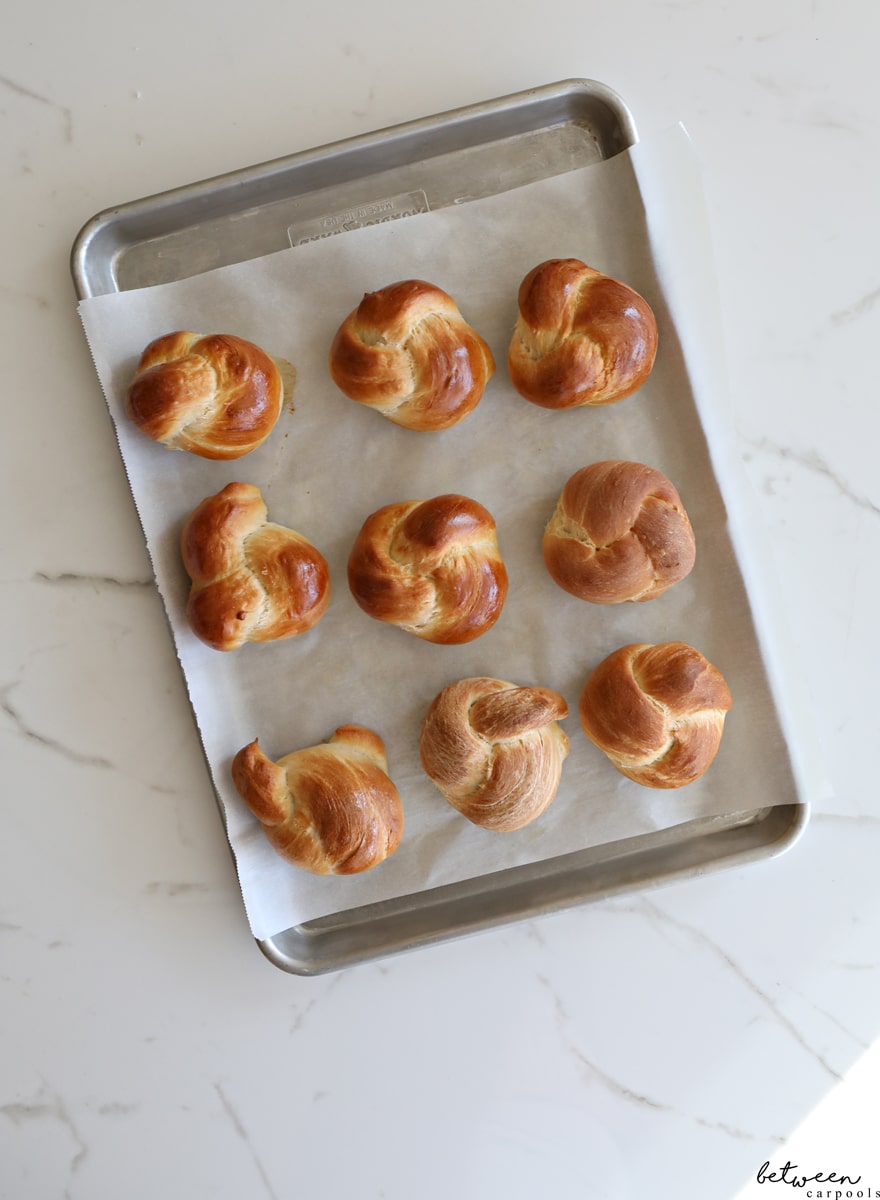 Top Row; L-R – double egg wash, whole egg, yolk only
Double egg wash is when you brush the egg wash on the rolls before it rises and again after it rises, right before placing it in the oven.
Middle Row; L-R egg white, egg with sugar, no egg wash
Bottom Row; L-R (egg-free options): maple syrup, olive oil, honey with some water to think it out
So which was best?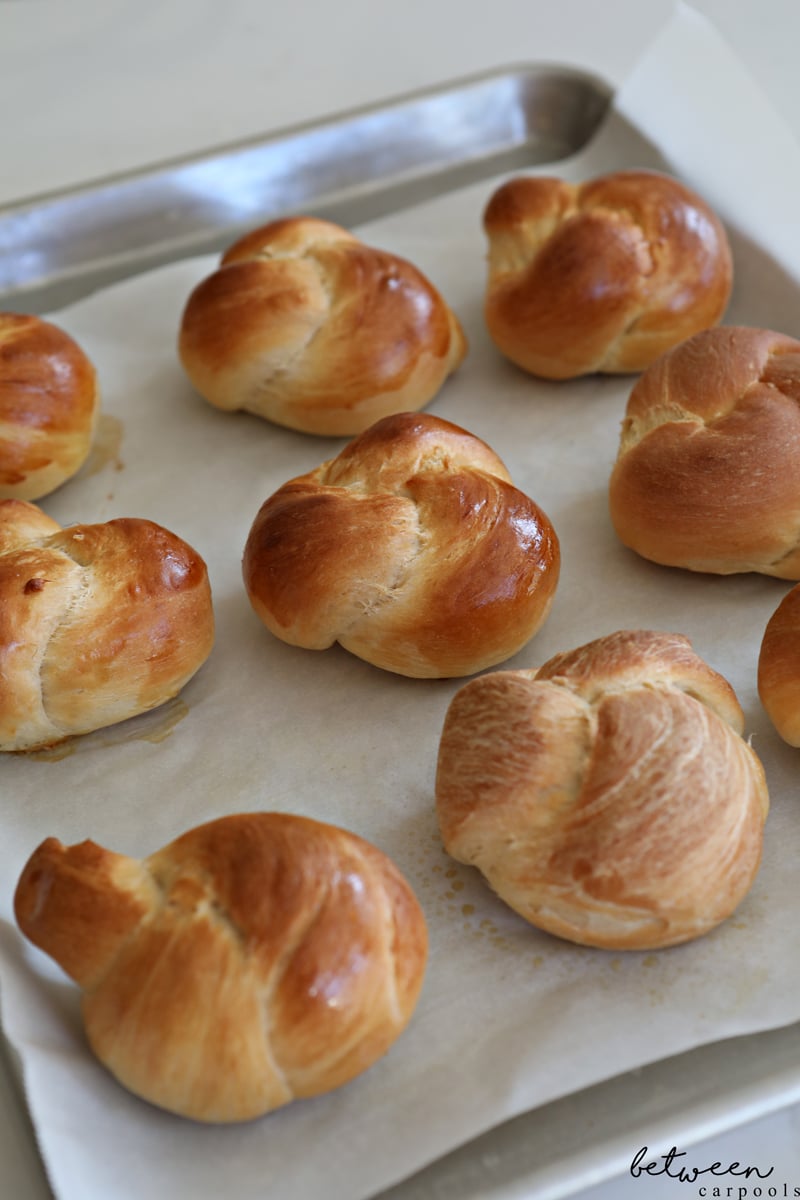 The shiniest egg wash was the middle one; the egg with a little sugar in it. Coming in close second was the egg yolk.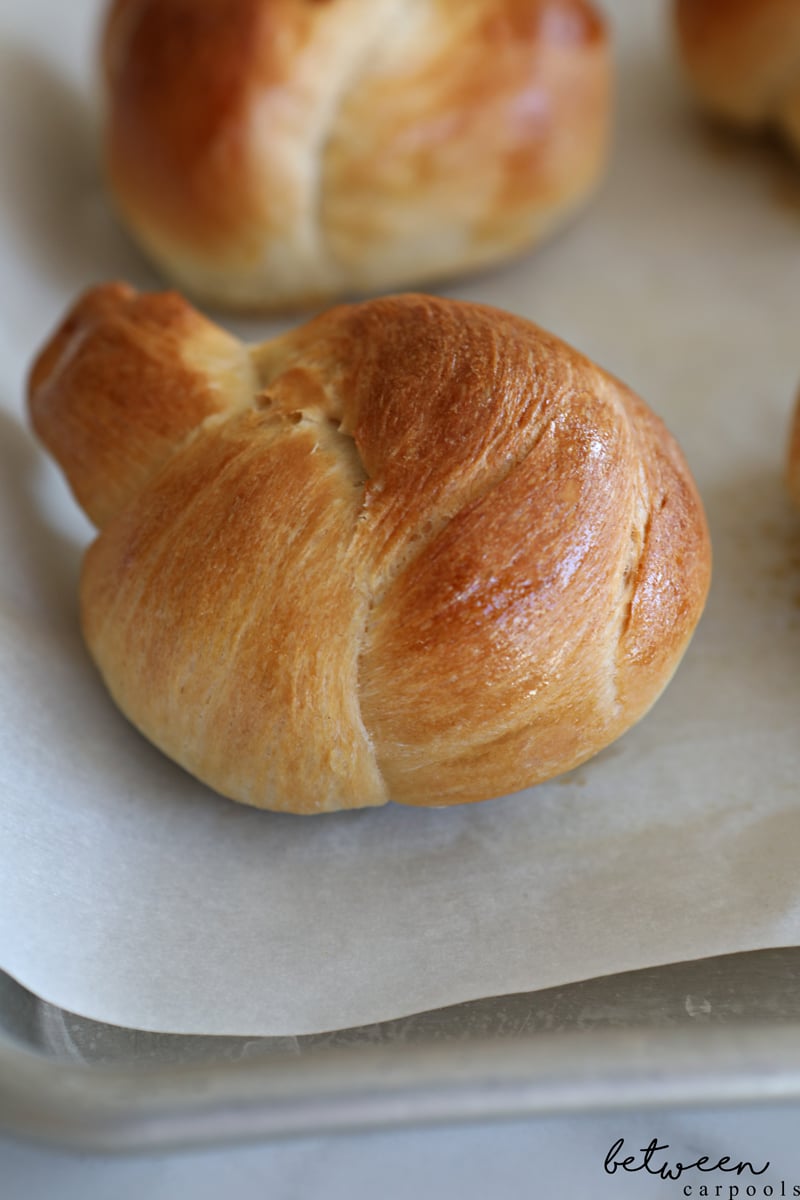 The best egg-free version was hands down: maple syrup. (So yes! It's possible to get some shine without egg!).
Now that our egg wash is set, want to learn how to braid these round challah rolls? Click here.
See other potluck recipes:
Challah:
How to Hack a Challah by @cookinginheels
Appetizers and Salads:
Roasted Eggplant Salad @spiceandzest
Salatim @thekatamonkitchen
Red snapper with charred potatoes, tomatoes & lemons by @thesugarboxmtl
Mains:
Lamb Roast by @peaslovencarrots
T'Bit: Iraqi Slow Cooked Chicken and Brown Rice by @sinamizrahi
Roasted Veggie Platter @kitchentested
Dessert:
Dark Chocolate Peanut Butter Cups by Beth Warren
Funfetti Dessert Bites by @busyinbrooklyn
Sticky Pecan Challah Hamentashen by @joyofkosher