Rorie makes grilled chicken cutlets, stir-fried broccoli, and mashed Japanese sweet potatoes
Living Full n' Free is very simple and delicious but I never said it was easy. Planning ahead, making a weekly menu, organizing, shopping, and cooking is crucial if you want to fill your kitchen with healthy food. I try to always have muffins in my freezer along with frozen fruit for smoothies and frozen veggies and cutlets for a quick dinner. "Bare" air-dried apple chips, "the good bean," chickpeas, and pre-measured nut bags make great easy snacks that can stay in your pantry, car, or purse for weeks.
One of my best tips for making healthy meals manageable is to prep the night before for the next night's dinner. Yup, as I'm warming up the dinner I made last night (which can take 15-20 minutes) I start preparing the next night's dinner. This way it can cook while we eat, clean up, and do bedtime. When my kids get home they need attention and help with homework. They are also hungry so unless I'm home a half hour or so before them to throw it all together, it's too hard to start from scratch and have a real dinner ready in time. By prepping the night before, it relieves a lot of stress.
Some days I treat myself to a Crock-Pot dinner. I put it up early in the morning and leave it on low all day. The amazing aroma that greets me at the door is amazing and it almost feels like I'm eating out because I haven't cooked!
On nights when none of that advance prep happened, I'll throw together this quick, simple, yet very healthy easy meal in 20 minutes.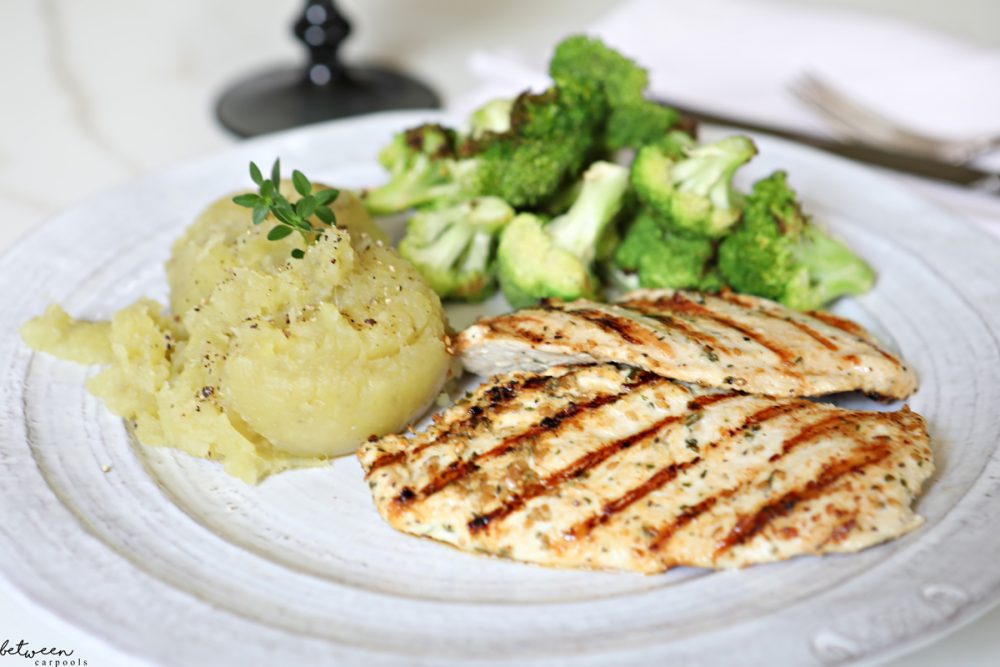 Grilled Chicken Cutlets
Ingredients
1 package (about 1 ½ pounds) chicken cutlets, butterflied
Marinade:
1 tablespoon olive oil
Juice of 1 lemon
1 teaspoon garlic salt
1 teaspoon minced onion
½ teaspoon coarse black pepper
1 teaspoon dried parsley (crunch the flakes between your fingers to activate)
2 teaspoons toasted sesame seeds
Instructions
Combine all marinade ingredients. Add chicken. This chicken is best marinated overnight but the chicken can be seasoned and grilled right away.
Heat an outdoor grill or a grill pan. Add chicken and cook for 3-4 minutes per side.
Japanese Sweet Mashed Potato
Japanese sweet potatoes are purple on the outside and yellowish-white on the inside. They are very sweet and have a buttery texture.
Ingredients
4 large Japanese sweet potatoes, peeled and cubed
Salt to taste
1 tablespoon coconut oil, or oil of choice
Instructions
Place cubed sweet potatoes in a pot of water and bring to a boil. Lower heat and cook until potatoes are soft.
Drain water, leaving a small amount in the pot. Mash potatoes using a potato masher or a fork. Add in coconut oil while potatoes are hot and season with salt to taste.
Grill Pan Grilled Broccoli
Though this recipe can be made in a regular frying pan, a grill pan gives it those lines that lend the dish that extra charred look. Broccolini, broccoli's more elegant cousin, is easier to check for bugs. You can also use the greenhouse-grown version to avoid checking issues. Don't throw away those stems – in this dish, using the stems adds great flavor and crunch.
Ingredients
1 tablespoon oil
2 (12 ounce) boxes greenhouse grown broccoli, cut in chunks
Sea salt or Himalayan salt, to taste
Black pepper, to taste
Simply Organic Garlic Herb Seasoning, to taste
Instructions
Heat oil in a grill pan or frying pan. Add broccoli and cover the pan with a lid (or a tin pan or foil).
After 5 minutes, uncover, season with salt, pepper, and garlic herb seasoning, and continue to cook uncovered for another 3-5 minutes.